Ecuador, La Tri lista para la Copa mundial

Fuente
---
Conocida como La Tri, la Tricolor o Los de la mitad del mundo, Ecuador es una selección que con todo respeto es considerada de segunda categoría, pocos son los que ven a Ecuador como un referente o un rival de peso y siempre se le coloca en cuanto a poder por debajo de otras selecciones incluso no clasificadas a la copa del mundo como lo son Chile y Colombia, hablando de las selecciones de América del Sur.
Pero esto es desconocer el buen camino que hizo Ecuador para clasificarse a su cuarto mundial, y todo lo que esta selección puede aportar, pero creo que incluso ir de 'Underdog' es beneficioso y podría quitarle peso a esta joven selección para darles el factor sorpresa.
Known as La Tri, La Tri-Color or half of the world Team, Ecuador is a team that with all due respect is considered second-rate, few are those who see Ecuador as a reference or a weighty rival and is always placed in terms of power below other teams even not qualified for the World Cup as are Chile and Colombia, speaking of South American teams.
But this is ignoring the good way that Ecuador did to qualify to their fourth world cup, and all that this team can bring, but I think that even going as 'Underdog' is beneficial and could take weight away from this young team to give them the surprise factor.
POS
TEAM
GAME
WINS
DRAWS
LOSSES
PTS
1
BRA
17
14
3
0
45
2
ARG
17
11
6
0
39
3
URU
18
8
4
6
28
4
ECU
18
7
5
6
26
5
PER
18
7
3
8
24
Clasificada como cuarta en una de las clasificatorias más parejas del mundo, Ecuador comenzó la primera mitad siendo realmente arrasadora y contundente, y perdiendo esa intensidad a medida que se acercaba el final de la misma, teniendo en cuenta que junto a Uruguay, Ecuador y Perú, Colombia y Chile tuvieron oportunidad de clasificarse matemáticamente hasta la última fecha de eliminatoria, demostrando que es una de las eliminatorias más competitivas del planeta.
Como un Venezolano que nunca vivió o cree poder vivir ese sentimiento (Al menos no hasta el mundial de 64), ver como los Ecuatorianos sintieron y celebraron la clasificación a un nuevo mundial es una sensación mágica, y más allá de esas personas que tienen sus preferencias, el mensaje de confianza y apoyo a La Tri es el común denominador entre la población ecuatoriana.
Ranked fourth in one of the most evenly matched qualifiers in the world, Ecuador started the first half being really strong and overwhelming, and losing that intensity as the end of the qualification period approached, taking into account that together with Uruguay, Ecuador and Peru, Colombia and Chile had the chance to qualify mathematically until the last qualifying match, proving that it is one of the most competitive qualifiers on the planet.
As a Venezuelan who never lived or believes he can live that feeling (At least not until the 64 World Cup), to see how Ecuadorians felt and celebrated the qualification to a new World Cup is a magical feeling, and beyond those people who have their preferences, the message of confidence and support for La Tri is the common denominator among the Ecuadorian population.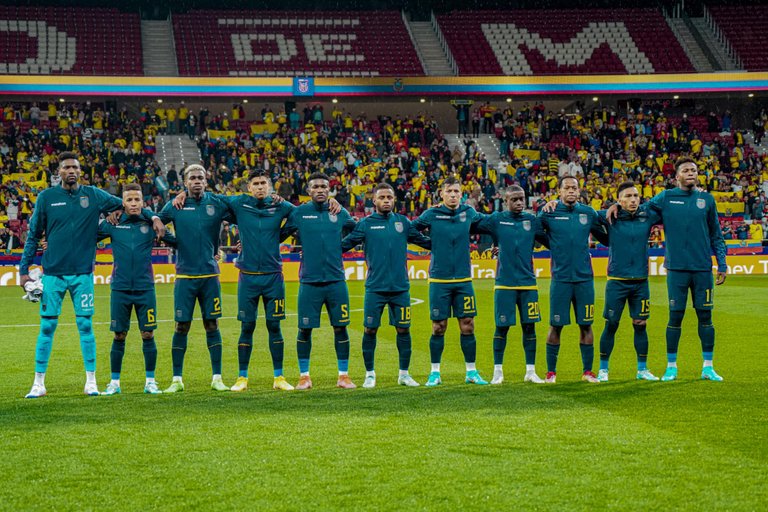 Fuente
Una de las 5 selecciones más jóvenes de las 32 clasificadas a este mundial, promediando 25.6 por debajo de Ghana, Estados Unidos y Ghana, lo que a los jugadores de Ecuador les falta de experiencia le sobra de intensidad y pasión, velocidad y resistencia, demostrando un estilo de juego sumamente rápido y opresivo, capaz de agotar a los rivales. La mayor debilidad de Ecuador viene siendo su falta de definición, incluso en sus goleadas, las llegadas al arco no son proporcionales a su cantidad de goles y es que siempre les termina faltando ese último toque, esa buena definición, esa última patada precisa que termine en un grito de gol, en resumen llegan mucho, causan mucho peligro, pero son más los disparos que no quedan dentro de la red.
Ecuador quedó seleccionado para el Grupo A de este mundial, en donde se encuentra con un grupo donde no es favorito a clasificarse y donde cada rival es una gran amenaza.
One of the 5 youngest teams of the 32 qualified to this World Cup, averaging 25.6 below Ghana, United States and Ghana, what Ecuador's players lack in experience they have in intensity and passion, speed and endurance, demonstrating an extremely fast and oppressive style of play, capable of exhausting opponents. Ecuador's biggest weakness has been its lack of definition, even in their victories, the number of goals they score is not proportional to their number of strikes and they always end up lacking that last touch, that good definition, that last precise kick that ends in a goal shout, in short, they arrive a lot, they cause a lot of danger, but more of their shots do not end up in the net.

Ecuador was selected for Group A of this World Cup, where it finds itself in a group where it is not a favorite to qualify and where every opponent is a great threat.
POS
TEAM
GAME
WINS
DRAWS
LOSSES
PTS
1
QAT
0
0
0
0
0
2
ECU
0
0
0
0
0
3
SEN
0
0
0
0
0
3
NED
0
0
0
0
0
Primero Ecuador tiene el honor de estar como rival de los anfitriones en el partido inaugural, donde todo apunta a una victoria de La Tri, cinco días después se enfrenta a la naranja Mecánica de Holanda, uno de los equipos favoritos en esta copa mundial y cuatro días más tardes se enfrenta a los leones de Senegal, una selección africana que en situaciones normales sería considerada una más, sin embargo, llega con figuras capaces de sorprender a cualquiera lideradas por el candidato a balón de oro Sadio Mané.
Ni los Cataríes, ni los Holandeses y mucho menos los Senegaleses son rivales sencillos, Ecuador se encuentra en un grupo donde cada partido se jugara como una final y no tiene margen de error, pero en palabras de su técnico Gustavo Alfaro, tiene plena confianza en el buen nivel de su plantilla y el mundial es muy diferente a las eliminatorias y amistosos, lo ocurrido en partidos pasados ya no importa y tanto él como los jugadores son conscientes de la responsabilidad y reto que tienen por delante.
Ecuador has the honor of being the rival of the hosts in the opening match, where everything points to a victory for La Tri, five days later they face the Clockwork orange of Netherlands, one of the favorite teams in this World Cup and four days later they face the lions of Senegal, an African team that in normal situations would be considered one more, however, arrives with figures capable of surprising anyone led by the golden ball candidate Sadio Mané.

Neither the Qataris, nor the Dutch and much less the Senegalese are easy rivals, Ecuador is in a group where every game will be played as a final and has no margin for error, but in the words of its coach Gustavo Alfaro, he has full confidence in the good level of his squad and the World Cup is very different from the qualifiers and friendlies, what happened in past matches no longer matters and both he and the players are aware of the responsibility and challenge that lies ahead.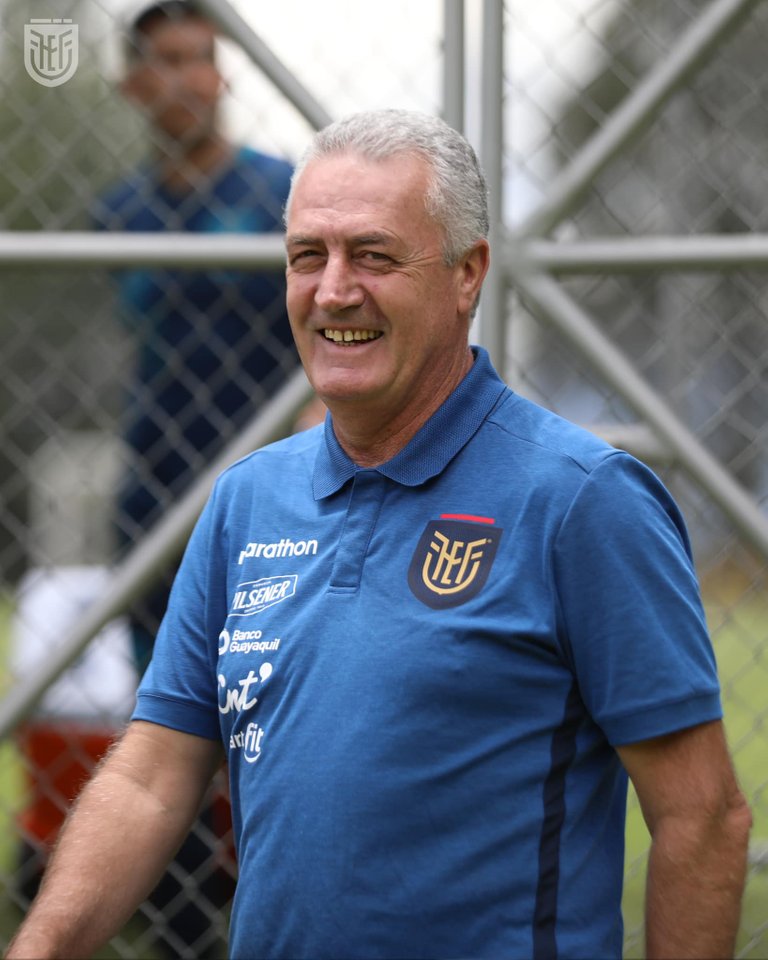 Fuente
La polémica ha estado rodeando a La Tri desde hace mucho tiempo, y aunque no hay nada confirmado, se conoce que serán los últimos partidos dirigidos por Gustavo Alfaro los de este mundial, esto debido a diferencias con la Federación Ecuatoriana de Futbol (FEF) quien habría impuesto la no convocatoria de Byron Castillo para evitar sanciones por parte de la FIFA, caso que lleva más de 6 meses en discusión en tribunales entre la Federación Chilena y la Ecuatoriana.
En palabras de Alfaro, él no es abogado y no es a quien le corresponde dictar sentencia, pero si es el encargado de las convocatorias y no admite que le toquen a sus jugadores, por lo cual aunque sigue siendo un rumor, todo apunta a que sea cual sea el final que tenga esta copa del mundo para Ecuador será también la despedida de Gustavo Alfaro.
Controversy has been surrounding La Tri for a long time, and although nothing has been confirmed, it is known that Gustavo Alfaro's last matches will be the last ones in this World Cup, due to differences with the Ecuadorian Football Federation (FEF) who would have imposed the non-call-up of Byron Castillo to avoid sanctions by FIFA, a case that has been under discussion for more than 6 months in court between the Chilean and Ecuadorian Federations.

In Alfaro's words, he is not a lawyer and it is not his job to pass sentence, but he is the one in charge of the call-ups and he does not admit that they touch his players, so although it is still a rumor, everything points to the fact that whatever the end of this World Cup for Ecuador will be, it will also be Gustavo Alfaro's farewell.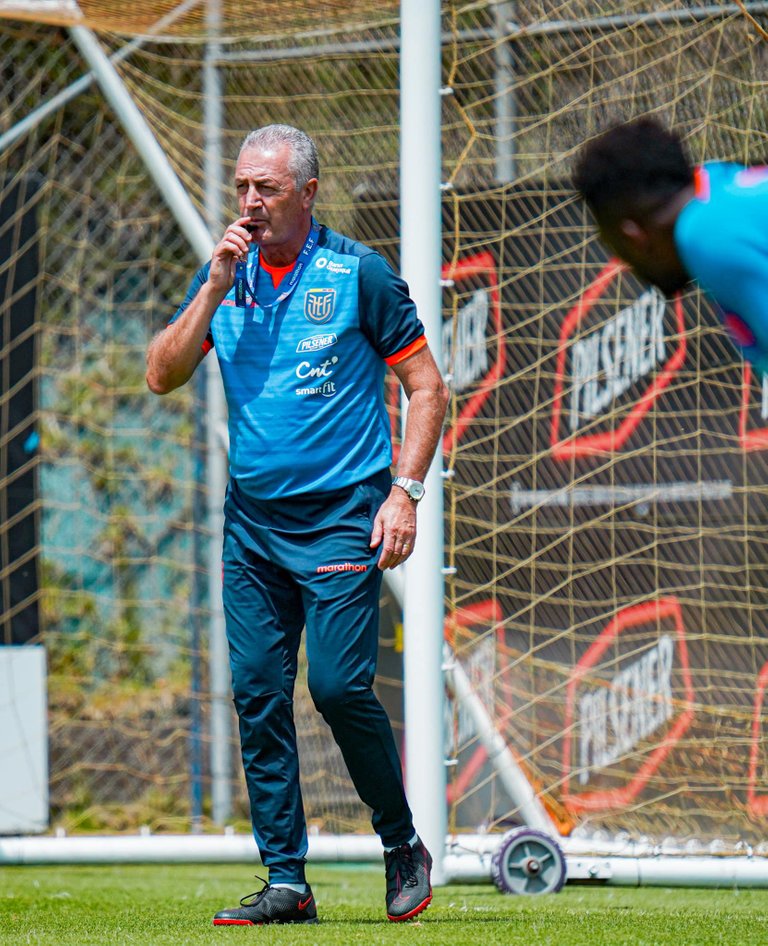 Fuente
A la posible salida de Alfaro y la no convocatoria de Byron Castillo, se suman acusaciones de un jugador el cual alega no fue convocado por ser de tez blanca y racismo dentro de la selección, también la convocatoria sorpresiva de un jugador de la segunda división Ecuatoriana con poca experiencia internacional y la siempre temida falta de gol que sigue acarreando Enner Valencia en la selección.
En lo personal tengo dudas sobre la convocatoria, tales como la actualidad de Alexander Domínguez portero titular de la selección Ecuatoriana, frente al recientemente campeón Hernán Galindez e incluso el buen nivel de Moisés Ramírez, sin embargo, supongo que la experiencia que aporta Domínguez prela en las necesidades del profesor Alfaro.
In addition to the possible departure of Alfaro and the non-call-up of Byron Castillo, there are also accusations from a player who claims he was not called up because of his white complexion and racism within the national team, as well as the surprise call-up of a player from the Ecuadorian second division with little international experience and the always feared lack of goal that Enner Valencia continues to carry in the national team.

Personally, I have doubts about the call-up such as the current situation of Alexander Dominguez, the Ecuadorian national team's starting goalkeeper, against the recently champion Hernan Galindez and even the good level of Moises Ramirez, however I suppose that the experience that Dominguez brings preludes the needs of Professor Alfaro.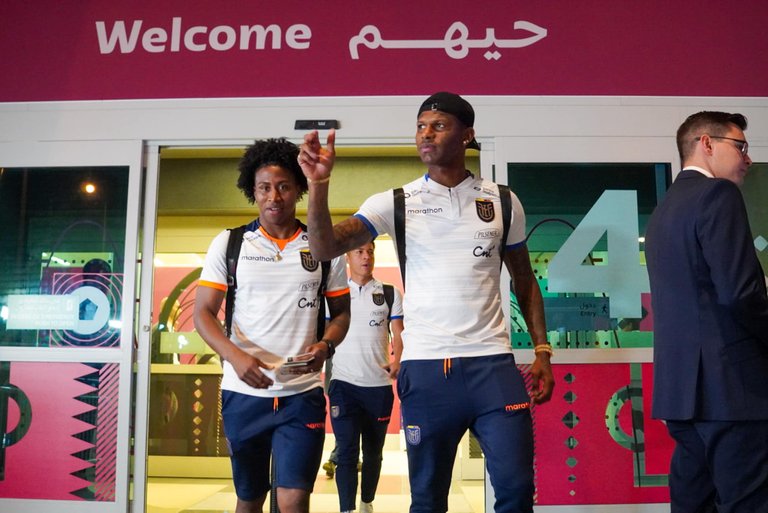 Fuente
Jugadores a destacar hay muchos, la figura de Gonzalo Plata, ídolo de esta selección Ecuatoriana, o la presencia en defensa del buen momento que acarrea Piero Hincapié, junto a Robert Arboleda, Jackson Porozo y Romario Ibarra, se suman a la experiencia de jugadores como Moisés Caicedo y Ángel Mena, figuras cada uno en su club.
La verdadera sorpresa es sin duda Kevin Rodríguez, jugador de la segunda división de Ecuador al cual ni siquiera la prensa Ecuatoriana le hacía seguimiento y del que se conoce muy poco, sin embargo, Alfaro no tiene más que palabras de apoyo y halagos para con este jugador, lo cual para algunos es sospechoso y a mí me inspira confianza.
Mientras Enner Valencia y Michael Estrada son esos delanteros a los que todos están acostumbrados, Kevin Rodríguez y un muy buen nivel del también recientemente convocado Djorkaeff Reasco anuncian que mientras todos tienen miedo a la falta de definición, estos jóvenes tienen la oportunidad de ser quienes marquen la diferencia y aprovechen mejor esta oportunidad de destacar y sudar la camiseta de la selección.
There are many players to highlight, the figure of Gonzalo Plata, idol of this Ecuadorian national team, or the presence in defense of the good moment of Piero Hincapié, along with Robert Arboleda, Jackson Porozo and Romario Ibarra, in addition to the experience of players like Moisés Caicedo and Ángel Mena, each one of them figures in his club.
The real surprise is undoubtedly Kevin Rodriguez, a player from Ecuador's second division who was not even followed by the Ecuadorian press and about whom very little is known, however, Alfaro has nothing but words of support and praise for this player, which for some is suspicious and for me inspires confidence.

While Enner Valencia and Michael Estrada are those strikers that everyone is used to, Kevin Rodriguez and a very good level of the also recently called Djorkaeff Reasco announce that while everyone is afraid of the lack of definition, these young players have the opportunity to be the ones who make the difference and take better advantage of this opportunity to stand out and sweat the shirt of the national team.
🆚
DAY
HOUR
STADIUM
QAT
ECU
20/11
10:00 AM
Al Khor Stadium
NED
ECU
25/11
11:00 AM
International Jalifa Stadium
ECU
SEN
29/11
11:00 AM
International Jalifa Stadium
Y para despedir el post presentación de la que para mí puede ser una de las selecciones sorpresa de este mundial, decir que más que fe o esperanza, esta selección debe demostrar todo el talento que tienen y esta será la oportunidad precisa para que muchos de estos jóvenes demuestren de que están hechos. A Falta de poco para que se de el pitazo inicial de la copa del mundo y a pesar de la gran cantidad de dudas sobre como afecten las polémicas, o sobre estar en el partido inaugural, incluso sobre no ser favoritos y los resultados no favorables en los amistosos, todo eso debe quedar atrás y disfrutar los aproximadamente 90' minutos por partido que nos deje esta hermosa selección.
Bajo la etiqueta en redes de #HaremosHistoria, yo los invito a seguir a La Tri.
And to say goodbye to the post presentation of what for me could be one of the surprise teams of this World Cup, to say that more than faith or hope, this team must demonstrate all the talent they have and this will be the precise opportunity for many of these young people to show what they are made of. With just a short time to go before the starting whistle of the World Cup and despite the many doubts about how the controversies will affect, or about being in the opening match, even about not being favorites and the unfavorable results in the friendlies, all that should be left behind and enjoy the approximately 90' minutes per game that this beautiful selection will leave us.

Under the hashtag #HaremosHistoria, I invite you to follow La Tri.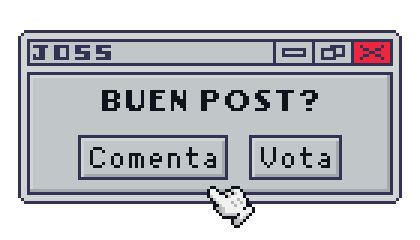 1. Flags for the charts, courtesy of Emojipedia and available for public use.
2. All photos courtesy of La Tri press group on their social networks.
---
---