[ESP/ENG] Hasta que salio humo blanco en la casa de los Padres/ Until white smoke came out of the Padres' house.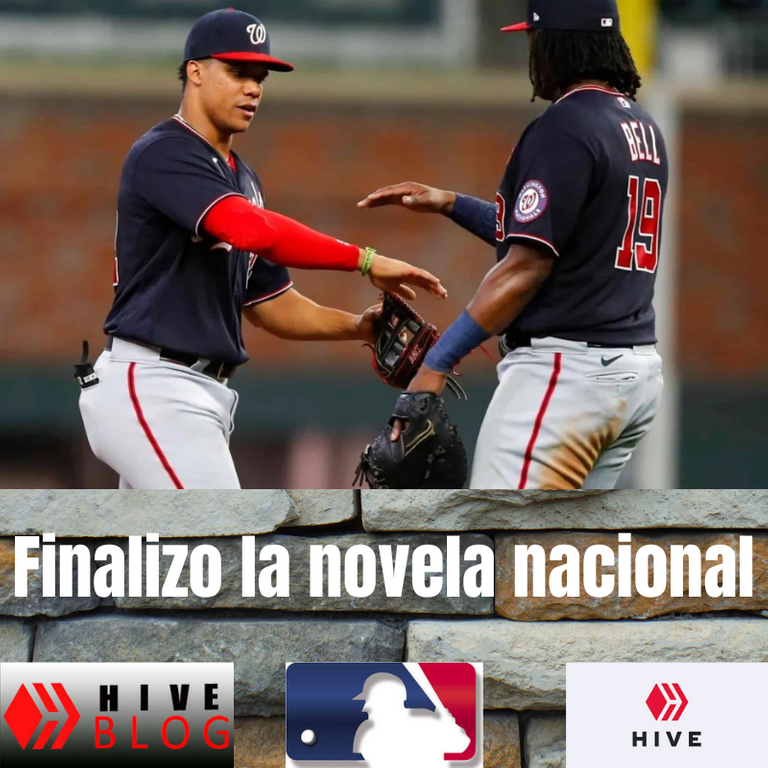 Fuente de la foto usada para realizar esta publicacion, Juan Soto Josh Bell


La fecha límite de cambios es hasta el día 2 de agosto a las 6 de la tarde, esto sin tener que pasar por la figura del Waivers, los dos primeros días de este mes han sido sumamente movidos y en las horas que restan seguramente queden unos 2 o tres cambios más, hay cambios que se hacen para mejorar el rendimiento de un equipo, mientras que otros se hacen por obligación o simplemente para quitarte un dolor de cabeza y el ataque de los fanáticos que dependiendo de la ciudad son bastante hostiles.
Traigo este tema a la publicación debido a que los Yankees de New York lograron desprenderse de Joe Gallo y lo mejor de eso, es que lograron conseguir un pelotero del futuro por este jugador antes mencionado, el cambio lo hicieron con el equipo de los Dodgers de los Ángeles, dicho tema del jugar estaba trayendo una problemática con la fanaticada del equipo, que de paso es tan tradicional en la MLB. Y que además de eso te alivia el bolsillo, ya que bajas un poco la nomina y quizás eso te pueda algo de holgura para poder hacer un movimiento más. Antes de la salida de Gallo, los Yankees se hicieron de los servicios del pícher Carlos Rodon, que llega desde San Francisco.
Con este movimiento New York queda con una rotación bastante fuerte de 5 pichers, en donde resalta Cortes, Montas, Germán, Cole y Rodon, a mi parecer ellos han sido el equipo que mejor se reforzó y no deberían tener problemas en obtener el banderín de la división del este de la liga Americana, y si ya eran favoritos para estar en una serie mundial, pues ahora mucho más, y son los rivales a vencer por los Astros de Houston y por los equipos que piensen representar a la liga Nacional.

The deadline for changes is until August 2 at 6 pm, this without having to go through the Waivers figure, the first two days of this month have been extremely busy and in the remaining hours there are probably about 2 or three more changes, there are changes that are made to improve the performance of a team, while others are made by obligation or simply to remove a headache and the attack of the fans that depending on the city are quite hostile.

I bring this topic to the publication because the New York Yankees managed to get rid of Joe Gallo and the best thing about it, is that they managed to get a player of the future for this player mentioned above, the change was made with the Los Angeles Dodgers team, the issue of playing was bringing a problem with the fans of the team, which incidentally is so traditional in the MLB. In addition to that, it relieves your pocket, since you lower the payroll a little and maybe that gives you some slack to make one more move. Prior to Gallo's departure, the Yankees acquired the services of center fielder Carlos Rodon, who arrives from San Francisco.

With this move, New York is left with a very strong rotation of 5 pitchers, where Cortes, Montas, German, Cole and Rodon stand out. In my opinion, they have been the best reinforced team and should have no problems in obtaining the American League East Division pennant, and if they were already favorites to be in a World Series, now even more, and they are the rivals to beat for the Houston Astros and for the teams that plan to represent the National League.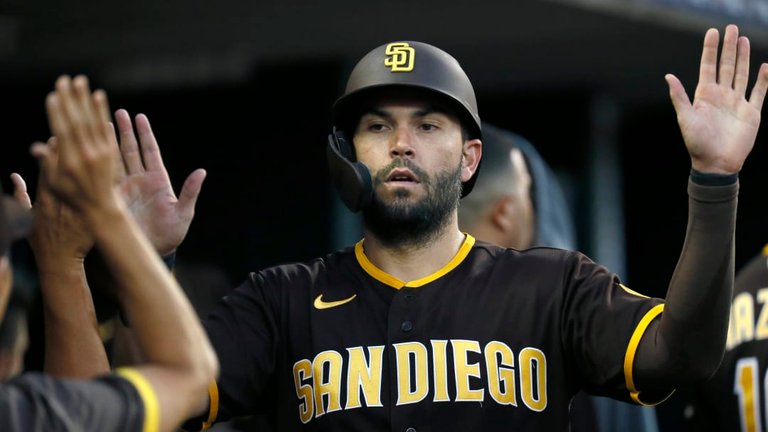 fuente de la imagen usada, Eric Hosmer
Se logró lo que tanto se esperaba, es que los Padres de San Diego lograron hacerse del pelotero más codiciado en los últimos días, desde que se supo que el mismo no iba a renovar con los Nacionales, mucho se especuló con respecto a cuál sería el destino de Soto después del 2 del mes en curso, pero esa novela de dimes y diretes ha llegado a su fin, y es que no solo se trajeron a Juan, con él llego su compañero de equipo y jugador de la inicial, Josh Bell, par de jugadores que le cambian el rostro a cualquier equipo, si a estas dos nuevas figuras de los Padres le sumamos el pronto regreso de Fernando Tatis, será un duro rival en la pelea de los comodines.
Pero este movimiento no fue nada sencillo, para ponerle más drama, el pelotero Eric Hosmer estaba incluido en el combo por Soto y Bell, hasta allí todo iba muy bien, solo que en el contrato de Hosmer hay una cláusula que dice que el jugador puede frenar un cambio si en el mismo están diez equipos que el jugador incluyo, pues que creen, los Nacionales estaban en esa lista, ya cuando estaba casi listo el cambio, se tuvo que volver a negociar el mismo, para sustituir el inicialista, se buscó a otro con mucho poder y que San Diego no quería dejar ir, pero si quieres algo bueno, debe dejar ir algo bueno, se trata de Luke Voit, horas mas tarde lograron salir de Hosmer que fue enviado a Boston, en donde no podía ejercer veto alguno.
Como dato Curioso, el equipo de los Nacionales desde hace 4 Temporadas ha sido el mayor vendedor y peloteros de calidad, recordemos que Max Scherzer y Trea Turner salieron del equipo rumbo a los Dodgers, también salió de ese equipo Brice Harper, Anthony Rendon y el día de hoy el máximo exponente o jugador franquicia que tenían. Algo ocurre en esta organización que no pueden retener a sus mejores jugadores, y eso indica que los años por venir para este equipo serán largo en medio de una reconstrucción y veremos si continúan esa ciudad o que realmente aspiran sus actuales dueños.

The San Diego Padres managed to get the most coveted player in recent days, since it was known that he was not going to renew with the Nationals, there was much speculation as to what would be the fate of Soto after the 2nd of this month, but that soap opera has come to an end, and not only did they bring Juan, with him came his teammate and starter, Josh Bell, a pair of players that change the face of any team, if we add to these two new figures of the Padres the soon return of Fernando Tatis, it will be a tough opponent in the fight for the wild card.

But this move was not easy, to put more drama, the player Eric Hosmer was included in the combo for Soto and Bell, so far everything was going very well, only that in Hosmer's contract there is a clause that says that the player can stop a change if in the same are ten teams that the player included, well what do you think, the Nationals were on that list, When the trade was almost ready, they had to negotiate it again, to replace the starter, they looked for another with a lot of power and that San Diego did not want to let go, but if you want something good, you must let go of something good, it is Luke Voit, hours later they managed to get out of Hosmer who was sent to Boston, where he could not exercise any veto. 

As a curious fact, the Nationals team for 4 seasons has been the biggest seller and quality players, remember that Max Scherzer and Trea Turner left the team to the Dodgers, also left that team Brice Harper, Anthony Rendon and today the maximum exponent or franchise player they had. Something is happening in this organization that they can not retain their best players, and that indicates that the years to come for this team will be long in the midst of a reconstruction and we will see if they continue that city or what their current owners really aspire.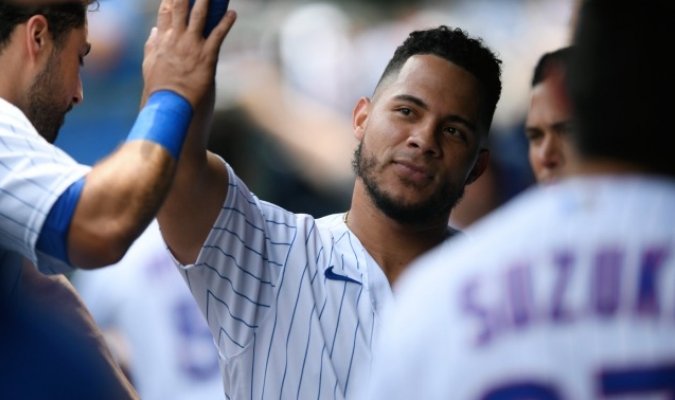 fuente de la fotografía, Wilson Contreras
Al parecer uno de los cambios más esperados, ya no va y es el del receptor perteneciente a los Cachorros de Chicago, Wilson Contreras, este movimiento junto con el de Soto ha sido de los más esperados y con mayor cubrimiento mediático, al parecer los de Chicago están pidiendo mucho por el Venezolano, se habla de 4 Prospectos y no todos los equipos están dispuestos a entregar lo mejor de sus granjas y mucho menos piensan sacrificar su futuro, seguramente si los Mets querían a Contreras, Chicago les debe haber pedido a su prospecto número 1, él también careta, Francisco Álvarez.
Dicho jugador está llamado a ser el titular de la posición para la venidera temporada, más que el futuro de los Mets ya se podría decir que es su presente, es una verdadera lástima que no se haya llegado a un acuerdo, pero a veces los equipos se quieren armar un gran conjunto cediendo solo aun pelotero, así como los contratos muchas veces son exagerados, creo que los cambios de peloteros han llegado a esa tónica.
Al momento que estoy terminando esta publicación, son exactamente las 6 de la tarde, y ya no se han notificado otros cambios que sean relevantes, pensé que los Mets iban por más y que los Medias Blancas serian agresivos a la hora de armar un equipo que le dé lucha a los Mellizos y a los Guardianes. Porque de esa división dudo que salga algún comodín. Ahora nos enfocaremos en analizar estos dos meses de temporada regular, pero ya hay unos equipos que son claros favoritos, aunque siempre habrá sorpresas.

It seems that one of the most expected changes is not going to happen and it is that of the catcher belonging to the Chicago Cubs, Wilson Contreras, this movement along with that of Soto has been one of the most expected and with more media coverage, it seems that Chicago is asking a lot for the Venezuelan, There is talk of 4 Prospects and not all teams are willing to give the best of their farms and much less think about sacrificing their future, surely if the Mets wanted Contreras, Chicago must have asked them for their number 1 prospect, he also face, Francisco Alvarez.

This player is called to be the starter of the position for the upcoming season, more than the future of the Mets, it is a real shame that an agreement has not been reached, but sometimes teams want to put together a great team giving up only one player, as well as contracts are often exaggerated, I think the changes of players have reached that tone.

As I am finishing this publication, it is exactly 6 o'clock in the afternoon, and no other relevant changes have been notified, I thought that the Mets were going for more and that the White Sox would be aggressive in putting together a team that would give a fight to the Twins and the Guardians. Because from that division I doubt any wild card will emerge. Now we will focus on analyzing these two months of regular season, but there are already some teams that are clear favorites, although there will always be surprises.


---
---