Jurgen Nobert Klopp. That's the post!

This German has been making a good name for himself and pushing Liverpool Football club to glory. I always remember how he promised to change us from doubters to believers when he first joined Liverpool in 2015. Back then, I was still struggling with academics at University so, I didn't have the time to be a football fan. I started watching club football in 2017 and this man has truly delivered on his promise.
We are all believers. In Klopp we trust and we fully stand with him in all his tactical decisions at the club. He also deserves every piece of respect he is getting from the fans, the management crew, the players and the footballing world as a whole. He is currently in the running for the first-ever quadruple in the history of English football. He goes one game at a time and we love the man. The man is a legend.
---
Klopp's Effect is felt in our starting XI
---
When the man joined, he had a starting XI of Mignolet (GK), Clyne (RB), Skrtel (CB), Sakho (CB), Moreno (LB), Lucas (DM), Emre Can (DM), Coutinho (AM), Milner (LW), Lallana (RW), Origi (CF).
Now, he is currently working with Trent (RB), Virgil (CB), Konate (CB), Matip (CB), Robbo (LB), Fabinho (DM), Thiago (AM), Hendo (CM), Keita (CM), Salah (RW), Mane (LW), Diaz (LW), Bobby (CF), Jota (CF)... Plus a bunch of quality players who are yet to cement a place in the starting XI.
What you see above would be very confusing if you don't know a lot about football. Those that are well informed about the game will easily spot the difference in the quality of the team and how we've been able to improve since Jurgen took over.
The man's footballing philosophy is electric and fun to watch. It is called Gegenpressing (german for Counterpressing) and he has been able to build a team that presses with intent. To give proper courtesy to the playing style of his team, I will be writing on 'gegenpressing' in the nearest future. Hehe.
---
The problem we all saw
---
Jurgen's contract with Liverpool is supposed to expire in 2024 and he has said on several occasions that he would take a break from coaching to get a much-needed rest. Whenever we see what he is doing with Liverpool, we get excited and we all laud his effort. I for one, can't speak enough of how much I appreciate having him as our gaffer.
But, he is meant to leave in 2024 and it will send tears down our cheeks. Where on Earth can we find someone as charismatic as Jurgen? We have great respect for him and we want him to stay and do more for Liverpool. We want more of him. It truly would be terrible to see him leave in 2024.
---
Finally!
---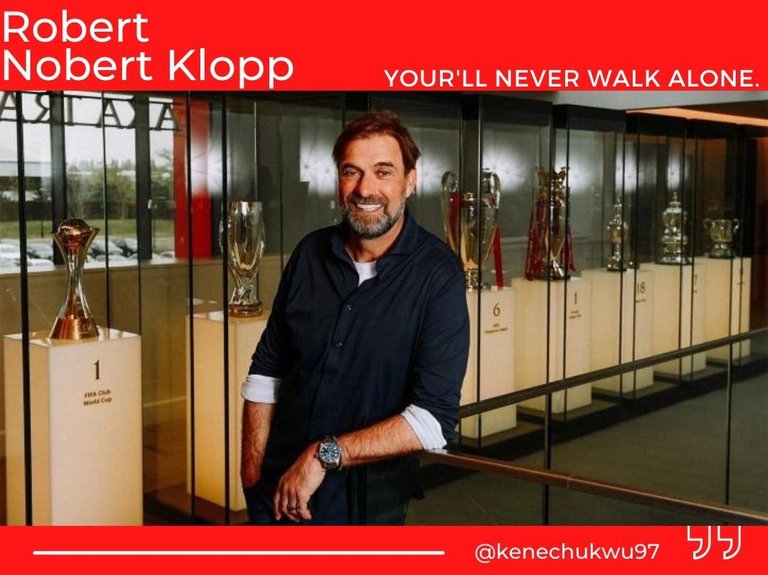 Jurgen Nobert Klopp did it. He just extended his contract with Liverpool. He will be staying with us till 2026. Wow!
First and foremost, thank you Ulla (Jurgen's wife) for playing a big part in this decision. According to Jurgen, Ulla asked, "are we gonna leave these people in 2024? Is that realistic?".
His family turned out to be a big factor that played out in his decision to extend his contract with us. It's always like that with those in his line of business. The job can take them anywhere but whenever they are in a place that suits them and their family enjoys it, then there is always a chance of extending their stay.
You need to see the terms of the contract. Wow! A lot will be happening within the next 4 years. The man has the license, and backing of the club management, to bid for players he wants to bring to Liverpool. I'm so glad!
---
My reaction to this news
---
I first saw the update on Twitter. Jurgen Nobert Klopp was trending and we didn't play any game yesterday so, I was very curious to know what's up. Hehe. The first set of tweets I saw was from some pundits and Twitter influencers. For me, most of them are not reliable so, I didn't take their words for it.
Then, I went to check my notification. I got a couple of buzzes from Liverpool Fc's Twitter page. Lo and behold, the Twitter page was filled with multiple video clips and tweets about 'the man'. It was unbelievable!
My instant reaction was priceless. I love the man! Let's rule Europe 😋.
Thanks For Not Missing Any Full-stop Or Comma
Header image taken from LFC and modified using Canva Pro
Also published here.
---
---