No element of surprise as Everton got punished in Merseyside

Football is pretty much an unpredictable game, but the stats of each team speak for themselves.
That's why we often see a Head to Head comparison of each team before each game. The quality of the team matters a lot. Their squad depth cannot be overlooked. The winning mentality of the squad and the history of the club is always considered. The crop of players is also an important factor.
Let's go wild with this;
For example, a team that has Messi, Neymar, Mbappe and Cr7 will always have the stats in their favour whenever they are paired against a bottom table team in, let's say, NWL - dunno what that stands for. Hehe. But you get the gist.
Here comes the element of surprise.
Even when it's obvious that a team have everything in their favour, there is always an element of luck that causes an upset in the expected result for each game. We've seen it on several occasions.
Perhaps, that's why a lot of Liverpool fans expected something similar from our Merseyside neighbours tonight. Talking about the game that was played between Everton and Manchester City.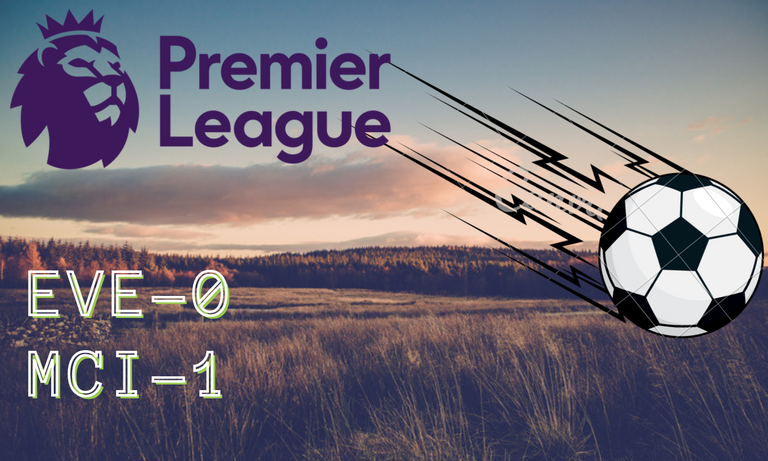 Everton vs Man City
O - 1
Yeah, it was an away game for Manchester City. They came from Manchester to secure the maximum point in Everton's Stadium.
Going by the stats, you can see that Man City are the league leaders at the moment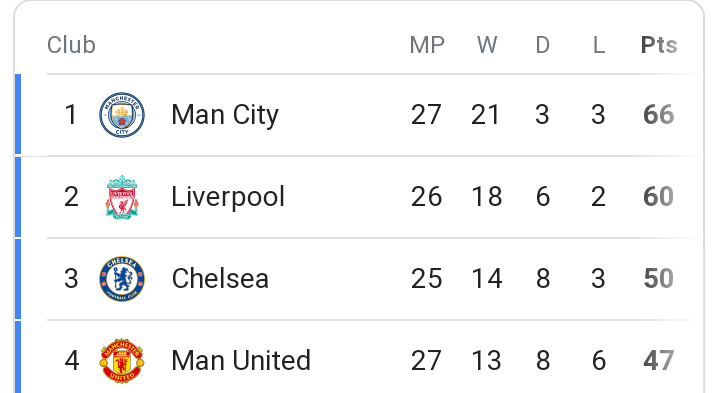 While Everton is in 17th position.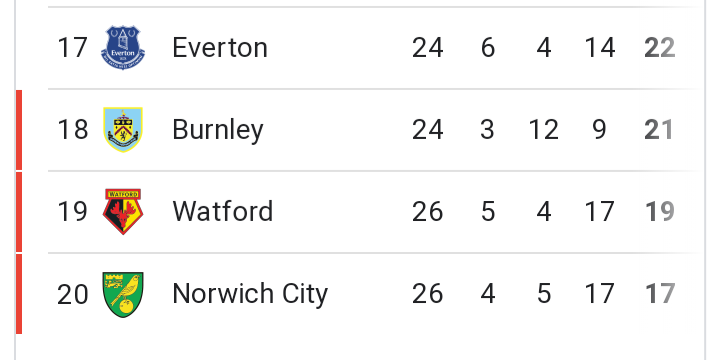 Struggling to escape from relegation before the end of the year. A bitter relegation struggle.
With this alone, the game between both sides was already marked as an easy 3 points for Man City. The bookmarkers were even predicting a mercilessly run of riot from City, but that didn't play out in today's game.
Everton managed to keep Man City toothless for most of the game. After a goalless first half, I checked Twitter and noticed that people had their eyes on this game. Liverpool fans for the most part were hoping for a miracle to happen. I was also hoping that Everton will at least manage to secure a point from this game as that will help to reduce the gap between Manchester City and Liverpool.
Everything was going pretty well until 82 minutes into the game. Michael Keane who has been maintaining a decent performance since the beginning of the game ended up committing a defensive blunder. Foden reacted quickly and Everton got punished.
---
And that's it
---
To be fair, I didn't expect much from Everton before the game started, but their performance tonight made me hope that they would manage to grind out a result. Unfortunately, a minnow is still a minnow.
I felt gutted to see them lose in that manner, but that's it. Their struggle continues while Manchester City continues their decent record. The good news is, the title race is still on.
All eyes on Sunday's finale between Liverpool and Chelsea FC.
Thanks For Not Missing Any Full-stop Or Comma
Also published here
The header image is designed by me
Screenshots from goal.com
---
---