Fantasy Premier League Gameweek 11 discussion.
Hello everyone. I was thinking about posting about Fantasy Premier League on a regular basis in the future. I'm hoping to come across some people who are already involved in fantasy premier league competitions. And for those who haven't begun playing yet, I will strongly advise them not to do so because it is quite addictive hehe. However, if you are a true football enthusiast, you will like being a part of this community.
Gameweek 11 :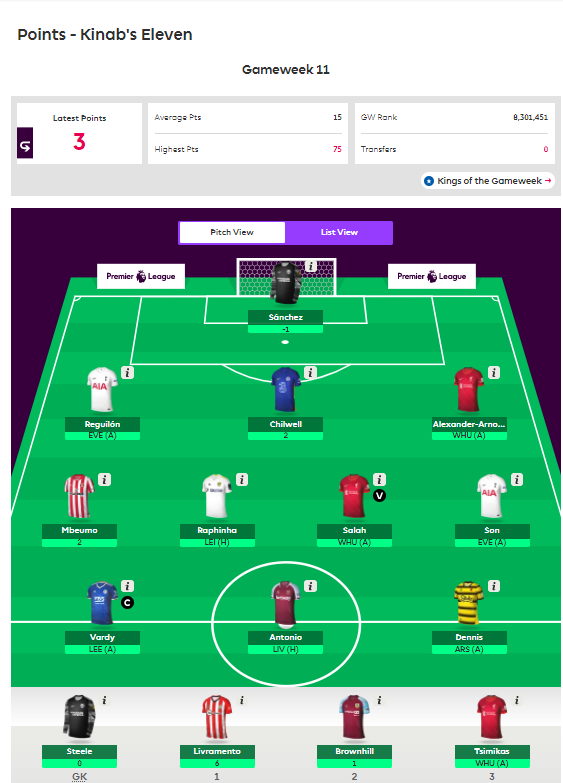 Source
Over the course of this game week, I've made a few gamble transfers. I've Mbeuma in the starting eleven. Because of this, I haven't tried Livermento as a starter. I predicted that Norwich City would lose because they had not managed to win in nearly 22 matches. However, I was mistaken. Norwich City has finally achieved victory in a competitive match. They were successful in defeating Brentford by a score of 2-1. And it lost me a couple of fantasy points as a result.
Then I was hoping to get good returns from Sanchez as well. It was his home match and his opponent was Newcastle United. I figured at the very least I'd receive a clean sheet of points from him. But, alas, it was not to be! Instead, I received a minus one point from him as a result of his receiving a red card throughout the match.
Now, from the very first matchday, I've received three points from three different players. Sanchez, Chilwell, and Mbeuma are the players in question. Now I'm hoping to get good points from the rest of the players. Especially from my captain Vardy. Otherwise, it will be a difficult week for me because I will not receive an average number of points. As a result, I anticipate receiving positive feedback from Son, Salah, Raphinha, and Vardy.
Thank You
If you need any kind of advice regarding playing FPL then don't forget to comment. I'm always available for any kind of help. Thank You for reading.
---
---