Mbappe, the talk of the town!
Supporters are everywhere. The world is too small. It only takes seconds for news to reach from one ear to another. The world of football is like any other sports world but the much support and discussion opportunities football creates, not even half of that is created by other sports. I am not comparing, instead, I am trying to spread the love for football even more. We the enthusiasts of football are the ones who continue to make the community grow, so let it be from the point of view of a supporter or rival, we are there to make big news of football with every sweat of our body.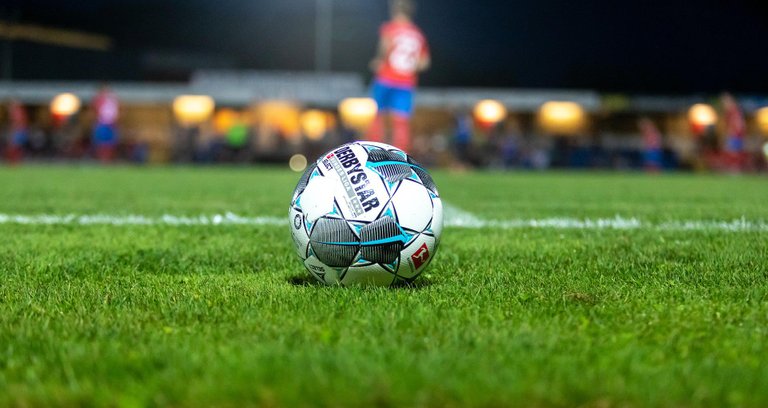 While checking out a few updates on Fox News, I was not particularly happy with the new updates. So, I went on and tried to do some research but on the first go, I came across something that bothered me. No particular reason for it but many of you might assume that I hate Mbappe but it is not like that, you can trust me when I say that. It is just that anything which is too flashy bothers me at times. Let me again confess, that I have no personal issue with him.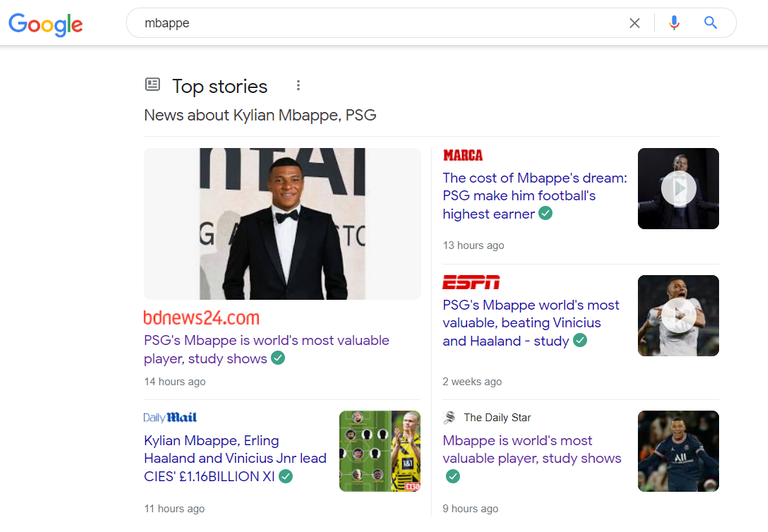 As I searched out his name and also, beforehand I checked out the updates of PSG, I came across some TOP STORIES that Google had to shape with me. As my keywords were mbappe, Google wanted to share his top stories with me and I was interested but what fell in front of my eyes, my entire mood shifted.
The headlines created a frown on my forehead. They read: "PSG'S MBAPPE IS WORLD'S MOST VALUABLE PLAYER, STUDY SHOWS", "KYLIAN MBAPPE, ERLING HAALAND AND VINICIUS JNR LEAD CIES' £1.16BILLION XI", "THE COST OF MBAPPE'S DREAM: PSG MAKE HIM FOOTBALL'S HIGHEST EARNER", "MBAPPE IS WORLD'S MOST VALUABLE PLAYER, STUDY SHOWS", etc.
Are you kidding me, that was my first thought. 5 different news channels but all are sharing the same information, also with the same title, I was much worried about the creative and technical side of the media. Are we backdated or are we moving further away from putting our effort? Had we become more competitive or taking the credit is all that matters now?
All the headlines remain the same and so does the data inside of it. Also, do not be mistaken,Mbappe is surely not the world's most valuable player. However, by the statement that they claimed it is precisely referred to the kind of salary he receives now. I do not believe that a person becomes valuable if he/she earns the most reputed salary.
Yes, he is a star and that is it but giving him the title of the valuable asset just triggered me somehow. I am yet contemplating insearch of the reason but I just feel it is not right. In terms of earning status he is the current rich earning lad among the players and many are still waiting to digest the fact while others are utterly proud of it. What I am thinking is that, everytime his name is mentioned, somewhere or the other, the name of PSG shines too, do you not think that now he is the current asset of PSG and he is taking the whole floor?
It has been possible for Real Madrid and their attempt of making their contract open to the media before Mbappe could choose or resign. Furthermore, the most catchy headline according to me is "THE COST OF MBAPPE'S DREAM: PSG MAKE HIM FOOTBALL'S HIGHEST EARNER". The headline even makes sense and along with it, is up to the point. My stand point is only one and that is, let the world not loose its creativiity.
Thank you -
I hope you all enjoyed reading and relating. Support me by commenting, reblogging, and liking. Support me by commenting, reblogging, and liking. You may visit my blog for a variety of artworks, crypto discussions, and sports discussions. My expertise in the artwork is watercolor and sketching. I occasionally write about crypto. I love football and sometimes keep my ears for spicy updates on sports. Do share your review, it will guide me to make some better content. Thank you all.
---
---