First bet: Expect a giveaway soon
Greetings!🙌
It surprises a lot of people when I tell them that I don't do sport betting and I don't even have any single idea about those betting slangs like "7.5 odds", "playing it over," etc. And hey, I do talk about sports; in fact, I can skip a meal to watch a football match.
I don't just like betting; that's why my interest has not been there, but I have a lot of friends who play bets and tag me along to squander some portion of the money when they win.
Yesterday, while working like I want to win a gold medal in being a workaholic, an unsaved number kept calling my phone. 1, 2, 3,... 8 missed calls, and I refused to pick them up. I wonder why people are not reasonable enough to stop at just two calls. I intentionally snubbed because of the way the person was calling, and before I knew it, the number sent "55599x6.." as a SMS.
"Oh! A scammer," I muttered with smiles and dropped my phone.
Immediately I dropped the phone, the number began to call again. 1, 2, and 3 missed calls, and I still refused to pick. At the fourth call, I decided to pick and pour some sense into the scammer's brain.
"Hello, Good afternoon, I know you're busy. Sorry for my calls. It's me, your neighbor. Please help me go play that game in the Bet9ja shop. Check your sms; I sent a code to you." The guy rushed me immediately I picked up the call, and I guess he was not having airtime because he could have at least allowed me to slash him first.
"Oh! Sorry, I didn't save this number; that's why I didn't know it's you calling. I haven't done betting before; how do I do it?"
He rushed to explain better and pleaded that I use my N200 to play the game, and when he comes back, he will give me back the money.
I just okayed.
I went back to work and did that till 6:30 p.m.
After work, I had my bath, dressed up in casual wear, and headed to the Bet9ja shop.
I got there, met the operator, and told him I want to play a game. He asked for a code, and I called it for him. He entered it into the system, and when he's about to play, he asked me to check the games on the screen to see if they're okay so he can continue, and I smiled, knowing fully well that I don't know a single thing on the table.
"Yeah, continue"
He clicked, clicked, clicked, and handed me the slip. I didn't bother to check the slip to know the potential amount to be won.
It was when the guy called me to know if I had played the game that I checked the slip to see the potential winning at N39,700. Wow! N200 to win N39,700.
I don't know how it happened; I just began to nurture an entitlement mentality. At least I'm entitled to N10,000 from the money if he wins because I used my money to play that and I also sacrificed my time to do that. So I began to pray the games would come out favorably because the weekend will get 'detty'(enjoyment)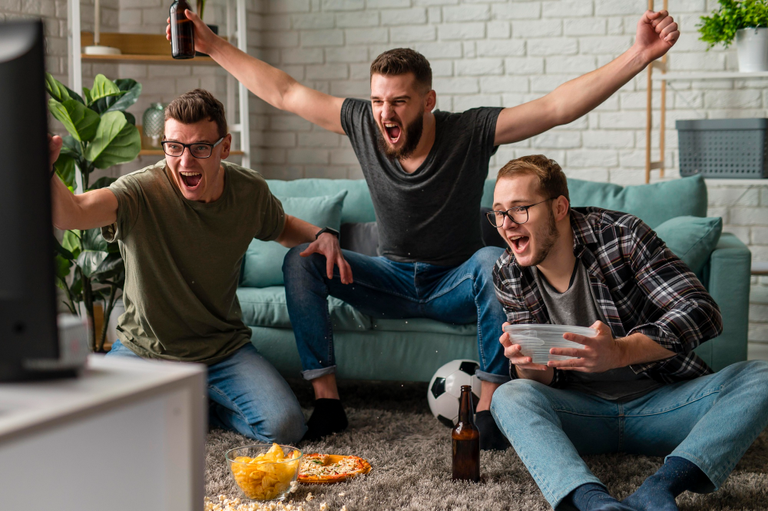 Image source
I slept a little bit late at night, and around 4:00 a.m., when I woke up, the first thought that caught my attention was, "Is the betting slip intact or it's been lost?"
I've heard and seen so many scenarios where people won millions of naira but couldn't cash out because the slip got lost or torn. So I quickly rushed out of bed, reached out to the trouser I wore to the betting shop, checked the four pockets, and hey, the slip wasn't there.
"Jeeeez! It seems it had fallen out of at where I went to buy indomie when returning from the betting office."
A lot of thoughts began to fight in my soft brain, and I just stood on a spot, helpless.
God being so kind, I found the slip in a drawer being missed up with notes of naira. I forgot that I placed it there.
Sure of winning?
Although I don't know anything on the slip but I saw CHELSEA there which means he played on CHELSEA vs LUTON game and I don't know whether he selected Chelsea to lose... I'm having the feeling he selected that. If that's what he selected, that means it's over because Chelsea won yesterday.
Other games are coming up later on Saturday's afternoon.
If he wins and gives me my portion, I'm coming back here to do a giveaway.
Thanks for reading.
---
---