**AFRICAN FOOTBALL TO THE WORLD; A brief peep into the African Cup of Nations**
Who would believe I will be torn between watching an African Cup of Nations (AFCON) match yesterday and an English Premier League (EPL) match, Nigeria/Sudan and Manchester United/Aston Villa respectively?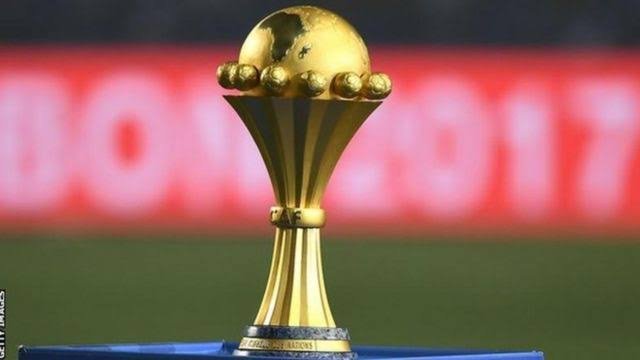 Credit
Has anyone noticed the gradual increase in intensity of matches in the ongoing AFCON football tournament? It is as though every game pump one invisible adrenaline into the remainder of the teams 🤣. If you are not following the tournament, you might just be missing out on much intrigues and actions. You can search the net for clips of the tournament. (I would have loved to drop a link or two, but I'm quite new to hive and still learning the Dos and Don'ts, just to be safe). Then you can make your own comparison between the first few matches and the last few ones and share your thoughts with me in the comments.
I mean, at the start of the competition, I was totally not interested because as compared to the usual weekend EPL matches I watch, the first game between Cameroon and Burkina Faso was 2 hours of average and dry football. I come in peace, friends. So don't get me wrong. I am a proud African and Nigerian, but a very sincere individual as well (I should have mentioned this in my introductory post 😁). The national teams of these African countries have quite good football structures that they work with. If this wasn't true, it wouldn't have been possible for Ghana to have reached the World Cup Quarter final stage in 2010 before losing to Uruguay in a very sad manner. So, their respective qualities are no doubts, however their standards are not at par with that of most European and South American national teams. Therefore, there is still much room for improvement and at this tempo, I can see the African football of our dreams being birthed.
I must sincerely appreciate @tfame3865 for such a brilliant write-up on the ongoing competition and other football write-ups as well. African football and footballers are the next big thing. It might take a little more time and concerted efforts among the involved football federations. It might as well amaze you that African footballers are rapidly dominating European football and this index is fast rising, some of which I will highlight below. This is a brief profiling of the top teams from all 6 groups of the competition. Since I don't intend to bore you, my readers, with much statistics, this profiling is simply based on FIFA World ranking and the percentage of international players playing in the ongoing competition from each team. Let us look at this together guys;
A CONCISE TEAM PROFILING
GROUP A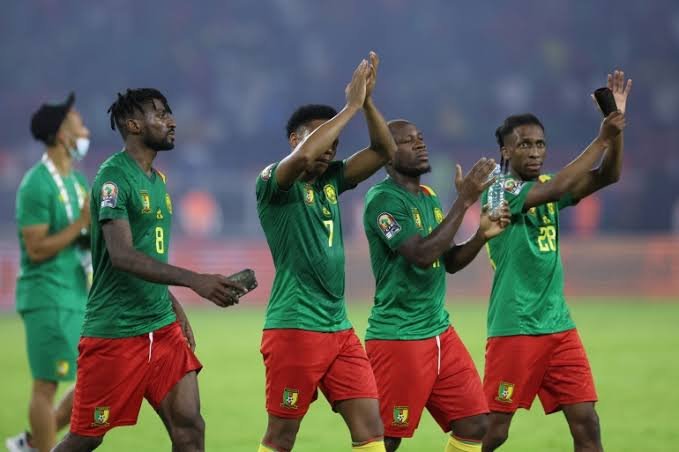 The host appreciating their fans following their opening win
Cameroon; Ranked 50th, they are a team with only 2 players (7.1%) playing club football in African club leagues. The rest, 92.9% of them, including Ajax's Andre Onana and FC Bayern's Choupo-Moting, play club football in top flight clubs in Europe and the rest of the world. Adorned with a well-deserved 6 points and 4 goals difference, they are first to qualify for the next stage of the competition; the round of 16.
GROUP B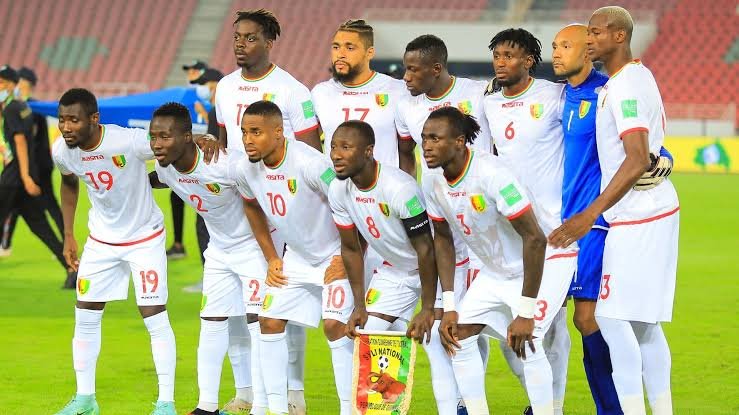 Credit
Guinea; Ranked 81st, 85.1%, including Liverpool's Naby Keita. Not finishing top of the group is the least of their problems right now, as they have a bigger problem of not losing their next match against Zimbabwe if they still wish to continue their AFCON journey. That is not going to an easy walk in the park as another strong team in this group, Senegal, doesn't seem like they would want to leave any time soon. They are a team packed with a number of top players like Chelsea's Edouard Mendy, Liverpool's Sadio Mane, Napoli's Kalidou Koulibaly, Paris Saint-Germain's Abdou Diallo and Idrissa Gueye, Villareal's Boulaye Dia not failing to mention sensational Watford's forward Ismaila Sarr. They are on the same points as Guinea and either a win or a draw against Malawi will be enough to land them safely in the next round.
GROUP C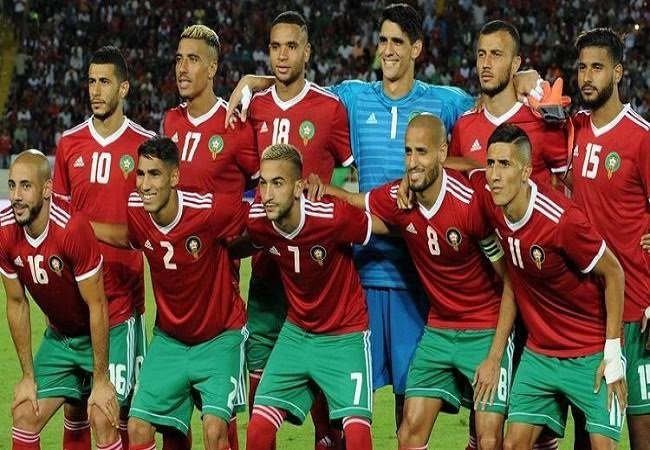 Credit
Morocco; Ranked 28th, 89.3%, including Paris Saint-Germain's Achraf Hakimi and Wolverhampton Wanderers' Romain Saiss. Although assured of a spot in the round of 16 after dramatically winning over Ghana and flawlessly defeating Comoros, they are yet to be assured of finishing top of the group as they are yet to face Pierre-Emerick Aubameyang's Gabonese side who are presently just 2 points short of their 6 points.
GROUP D
The Super eagles just before their gallant defeat over Sudan
Nigeria; Ranked 36th, 89.3%, including Leicester City's Wilfred Ndidi and Kelechi Iheanacho, Everton's Alex Iwobi, Porto's Zaidu Sanusi, Rangers' Joe Aribo, Villareal's Samuel Chukwueze, Union Berlin's Taiwo Awoniyi, Watford's William Troost-Ekong, CSKA Moscow's Chidera Ejuke and Al-Shabab's Ahmed Musa. In like fashion as Morocco, they are yet to secure the top spot of the group, although successfully securing their round of 16 spot after defeating Mo Salah's Egyptian side and Yasin Khalid's Sudanese side.
GROUP E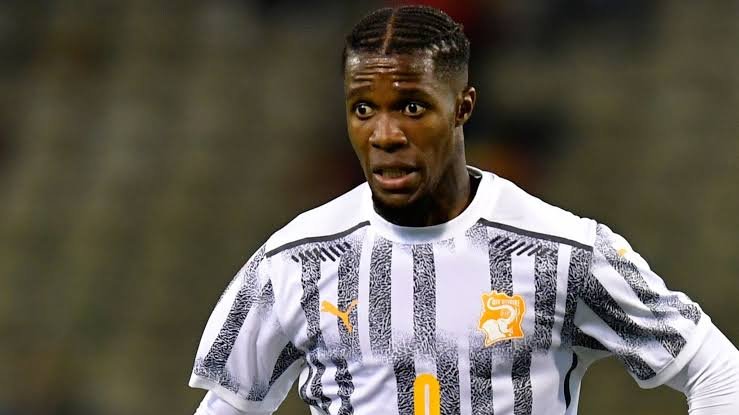 Wilfried Zaha of Ivory Coast and Crystal Palace
Ivory Coast; Ranked 56th, 78.6%, including Manchester United's Eric Bailly, Villarreal's Serge Aurier, Inter Milan's Frank Kessie, Crystal Palace's Wilfried Zaha, Arsenal's Nicholas Pepe and Ajax's Sebastien Haller. Having played and won their first game against Equatorial Guinea, hopefully they can compete favourably with equally strong Riyad Mahrez's Algerian side for the top spot. We will know better after their respective matches later today.
GROUP F
Credit
Gambia; Ranked 150th, only Bologna's Musa Barrow and AS Roma's Ebrima Darboe are known names in this team. It is quite surprising to see that they are presently topping their group following their opening game against Mauritania. Let's hope they go far in the competition.
With Cameroon, Morocco, and Nigeria already in the round of 16, I can't imagine the truck load of intrigue awaiting us. Left with 11 teams to the wagon …lol, kindly drop your predictions for the remaining 11 probable teams to qualify for the next round and let us have a conversation. Also, drop your prediction for the winner of the competition. It's about to get hotter. I promised a brief writer up, but this getting too long already. It wasn't concise after all. Pardon my overexcited mood. Just as they say, "may the better team win".
Thanks for taking out the time to read this if you did.
---
---