What if Messi didn't win the World Cup before he retires?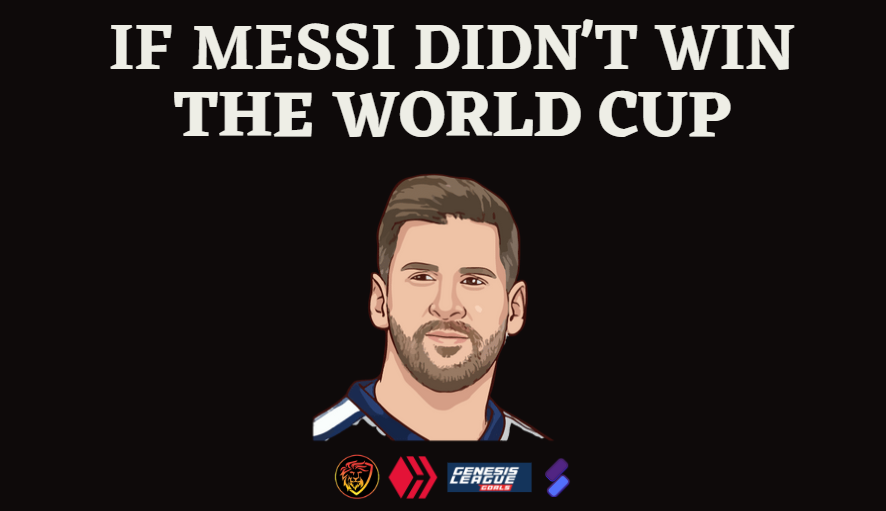 Creative design thanks to Canva
I know it's already annoying to hear and read again such thing time and time again. I believe there were a number of posts regarding GOAT debate here in Sportstalk already but believe me this is not about that. If you'd ask me, I'll answer:
I DON'T CARE
I guess you already know what my reasons are. It's very simple. This is because I enjoy the football. That's it. Not ifs and buts. As long as I see beautiful football, that's all that matters. In today's generation, there's so much politics going on and that diminishes the joy of the game. If we always keep our eyes on these types of things, we will not experience the way it was intended to be.
Everything Messi has achieved and has done in football is just deliberately extras. For me, just seeing him play is as good as he has been delivering more 16 years already is more than enough. As what many have said, he is one of a kind.
The World Cup is only a month-long tournament, I don't think that matters much to Messi. The only reason why it kept being hyped is that it is the only trophy he hasn't won. Even if he won 3 world cups, they will always look for the things that are not in his cabinet. This is media and this is humanity, the never ending craving for what we don't have.
The only thing I care for now is entertainment. The fun, the technicality, the system, and of course, the result no matter if it's Messi or other players, I just want to be really entertained and wowed.
If you don't look at the World Cup, this Argentinian has already achieved so much that we, as fans have to be very thankful of. I think we as football fans, just have to treasure the remaining time of his career. It is obvious that it is ending very soon and I think the world will mourn if this man will be out of the footballing scene.


#
Posted using SportsTalkSocial
---
---