Copa Davis 2022 // Finales definidas. [Esp - Eng]
El histórico torneo de tenis de naciones, ha definido los 8 equipos que disputarán la etapa decisiva de esta prestigiosa competición en el mes de noviembre; por supuesto no podían faltar las sorpresas, al ver eliminadas algunas plantillas con grandes nombres, tal es el caso de Argentina, Serbia, Francia y Gran Bretaña, que no lograron avanzar y se quedaron en el camino en sus respectivas sedes. Mientras que España logró pasar en última instancia ante la valiente selección de Corea del Sur.
The historic tennis tournament of nations, has defined the 8 teams that will play the decisive stage of this prestigious competition in November; of course there were surprises, as some teams with big names were eliminated, such is the case of Argentina, Serbia, France and Great Britain, who failed to advance and were left on the road in their respective venues. Spain, meanwhile, managed to advance in the final round against the brave South Korean team.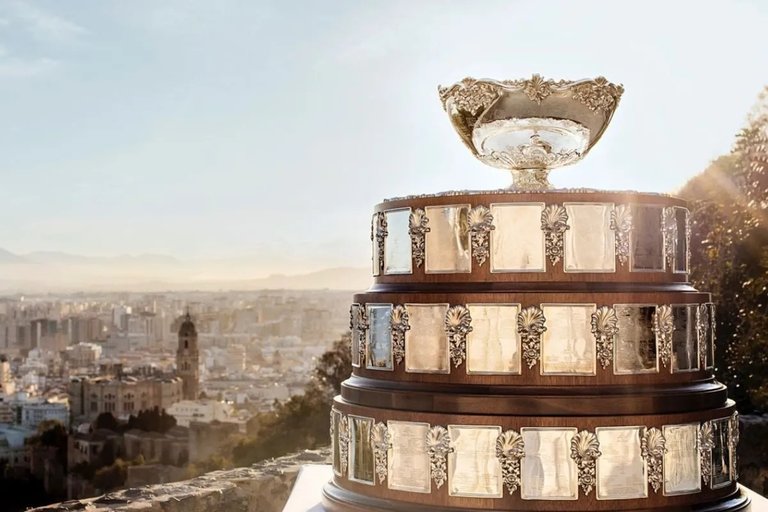 Fuente
Ayer domingo se jugó la última fecha en las cuatro sedes definidas, recordemos que se trataba de 16 equipos distribuidos en 4 grupos, que jugaban en Bolonia, Glasgow, Hamburgo y Valencia; me pareció desalentador algunos giros inesperados con algunas selecciones, que comenzaron ganando, pero luego se cayeron en los pronósticos, tal como pasó con Serbia, incluso Canadá tuvo problemas y en el arranque, pero al final pudieron sortear los obstáculos; también sucedió con España con su traspiés ante los Canadienses.
Yesterday, Sunday, the last date was played in the four defined venues, let's remember that there were 16 teams distributed in 4 groups, playing in Bologna, Glasgow, Hamburg and Valencia; I found it discouraging some unexpected turns with some teams, which started winning, but then fell in the predictions, as it happened with Serbia, even Canada had problems and in the beginning, but in the end they could overcome the obstacles; it also happened with Spain with its setback against the Canadians.
---
Pero lo que más he lamentado es la manera cómo se ha quedado el único equipo sudamericano en competencia, los albicelestes en mi opinión contaban con una gran plantilla; Schwartzman, Báez, Cerúndulo y Coria, conformaban un equipo temerario, balanceado y muy joven. No fue fácil verlos perder contra Suecia, que era el punto más accesible del grupo A; ya que la poderosa Italia y los temibles croatas, representaban un reto mucho mayor en los papeles. No se pudo ganar ningún cotejo, incluso en la modalidad de dobles.
But what I have regretted the most is the way the only South American team in competition has been left, the Albicelestes in my opinion had a great squad; Schwartzman, Baez, Cerúndulo and Coria, formed a reckless, balanced and very young team. It was not easy to see them lose against Sweden, which was the most accessible point of group A; since the powerful Italy and the fearsome Croatians, represented a much bigger challenge on paper. Neither match could be won, even in doubles.
---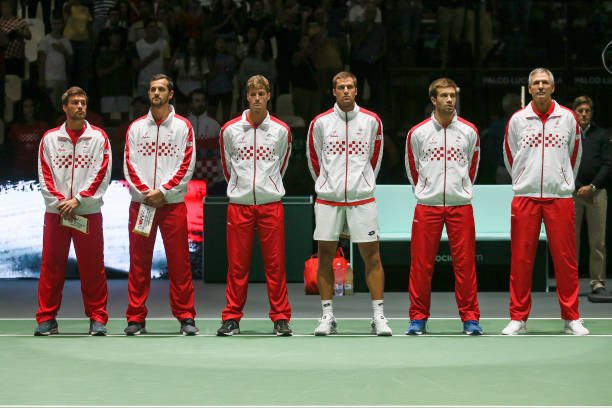 Fuente

Croacia se muestra blindada por sus jóvenes talento
y su mortífera dupla Pavic - Mektic.
---
Como lo he comentado anteriormente, en esto duelos a 3 sets (con tie break), me gustan los planteamientos cara a cara de los jugadores, sin importar el ranking o estatus previos a la competencia; dado que no se trata de ganar un solo partido y ya, sino que se trata de que los mejores representantes de cada país se miden en dos encuentros de manera individual y por último, cierran con el partido de dobles, que muchas veces termina siendo el decisivo para clasificar o quedar eliminado de la contienda.
As I have said before, in these 3-set matches (with tie break), I like the head-to-head approaches of the players, regardless of the ranking or status prior to the competition; since it is not about winning a single match and that's it, but it is that the best representatives of each country are measured in two matches individually and finally, they close with the doubles match, which often ends up being the decisive one to qualify or be eliminated from the competition.
---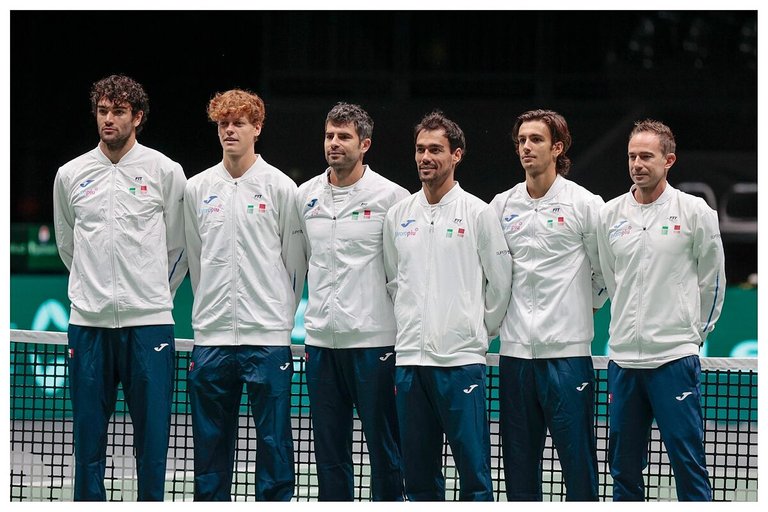 Fuente
La selección de Italia es una de mis favoritas para llegar a la gran final (Con Jannik y Matteo a la cabeza).
---
Recuerdo que en el año 2016 Argentina fue el campeón de esta emblemática justa y alzó la ensaladera de plata ante Croacia, sin embargo este año no se pudo y los balcánicos han tomado revancha. A pesar de que los gauchos tiene a 3 de sus atletas en el top 40 del escalafón, mientras que la raqueta líder de los croatas (Marin Cilic) no jugó por presentar una lesión en su rodilla. No obstante, nada pudo evitar el resultado adverso de los albicelestes y la presencia de Croacia una vez más, en la fase definitoria hacia el título que obtuvieron en el 2018.
I remember that in 2016 Argentina was the champion of this emblematic fair and won the silver medal against Croatia, however this year it was not possible and the Balkans have taken revenge. Despite the fact that the Gauchos have 3 of their athletes in the top 40 of the ranking, while the leading racket of the Croatians (Marin Cilic) did not play due to a knee injury. However, nothing could prevent the adverse result of the Albicelestes and the presence of Croatia once again in the definitive phase towards the title they won in 2018.
---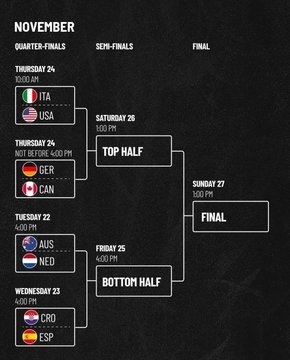 Fuente
Así quedaron los cruces para los cuartos de final, semifinales y final en noviembre.
---
Otra de las selecciones que me causaron una grata sorpresa fue Países Bajos, que en un grupo tan complicado contra Gran Bretaña y Estados Unidos, pudo pasar invicto y clasificando como primero del grupo. Este equipo cuenta con las raquetas de Botic Van de Zandschulp, Tallon Grieskpoor y el joven Tim Van Rijtoven, entre otros. Es de mis selecciones favoritas en cualquier disciplina deportiva que se desempeñen ja,ja,ja; y tienen el talento para llegar lejos, aunque se enfrentarán ante el peligroso equipo australiano.
Another team that caused me a pleasant surprise was the Netherlands, which in such a complicated group against Great Britain and the United States, was able to go through undefeated and qualified as first in the group. This team has the rackets of Botic Van de Zandschulp, Tallon Grieskpoor and young Tim Van Rijtoven, among others. They are one of my favorite teams in any sport discipline they play ha,ha,ha; and they have the talent to go far, although they will face a dangerous Australian team.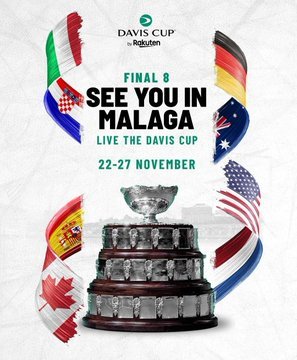 Fuente
El choque entre España y Croacia será a mi parecer uno de los más reñidos, dada la competitividad de ambas selecciones y la condición de sede para los españoles. La presencia de Carlitos Alcaraz será clave para afrontar este reto y por parte de los croatas, se espera la recuperación de Marin Cilic. Aunque también cuentan con Borna Coric, reciente campeón en el Masters de Cincinnati y Borna Gojo, otro destacado guerrero sobre la pista. La tendrán muy duro los españoles y cualquier cosa puede suceder en Málaga.
The clash between Spain and Croatia will be, in my opinion, one of the toughest, given the competitiveness of both teams and the host condition for the Spaniards. The presence of Carlitos Alcaraz will be key to face this challenge and on the Croatian side, the recovery of Marin Cilic is expected. Although they also count on Borna Coric, recent champion at the Cincinnati Masters and Borna Gojo, another outstanding warrior on the court. The Spaniards will have a tough time and anything can happen in Malaga.

La opinión en esta publicación es de carácter personal por parte del autor.
Translated with www.DeepL.com/Translator.
The opinion in this publication is of a personal nature on the part of the author.
Translated with www.DeepL.com/Translator.
.

---
---