¡El Campeón está de vuelta! [Esp - Eng]

Doble Alegría para Novak.




Ha culminado la edición número 79 del ATP Masters 1000 de Roma y me ha dejado grandes sensaciones respecto al statu quo del circuito, con la vuelta del serbio Novak Djokovic, a su mejor forma competitiva (físico y mental); algo que todos esperábamos, desde la normalización de los bloqueos "sanitarios" que sufrió el número 1 del mundo desde inicios de este año. Esta situación que afectó a Nole, hace que ahora su regreso a la senda del triunfo, tenga un dulce sabor de labios, para la gran fanaticada que esperaba la redención.

Double joy for Novak.




The 79th edition of the ATP Masters 1000 in Rome has culminated and has left me with great sensations regarding the status quo of the circuit, with the return of the Serbian Novak Djokovic, to his best competitive form (physical and mental); something we all expected, since the normalization of the "sanitary" blockages suffered by the world number 1 since the beginning of this year. This situation that affected Nole, makes that now his return to the path of triumph, has a sweet taste of lips, for the great fans who expected redemption.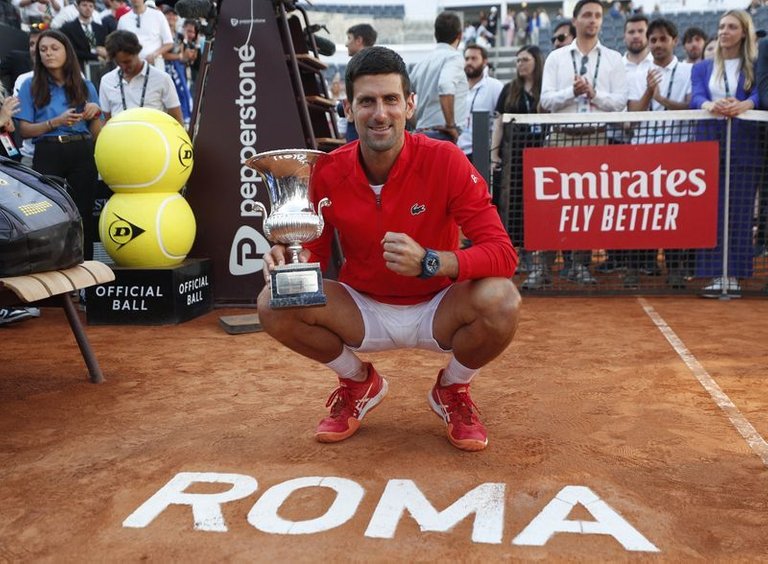 Fuente
El serbio ha tenido una semana más que perfecta, dado el logro deportivo sumado a uno personal para él, por haber alcanzado las 1000 victorias en su partido de semifinal ante el noruego Casper Ruud; y previamente marcó una ruta triunfal por la que desfilaron Aslán Karatsev, Stan Wawrinka, Félix Auger-Aliassime y Stéfanos Tsitsipás en la gran final de ayer. Una llave algo complicada que pudo superar sin ningún problema; dado que Novak no perdió ningún set en los 5 partidos que disputó, lo que habla por sí solo, del nivel que ha recuperado el balcánico.
The Serbian has had a more than perfect week, given the sporting achievement added to a personal one for him, for having reached 1000 wins in his semifinal match against the Norwegian Casper Ruud; and previously marked a triumphal route through which Aslán Karatsev, Stan Wawrinka, Félix Auger-Aliassime and Stéfanos Tsitsipás paraded in yesterday's final. A somewhat complicated key that could overcome without any problem, since Novak did not lose any set in the 5 matches he played, which speaks for itself, the level that has recovered the Balkan.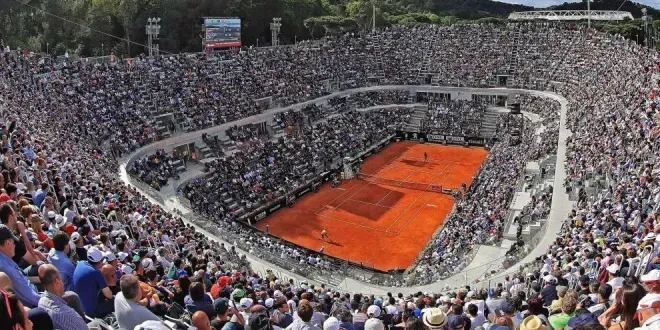 Fuente
Por su parte, Stéfanos también pudo superar los fuertes escollos que se le presentaron en el camino, comenzando con un duro partido ante Grigor Dimitrov, que estuvo a punto de perder pero tuvo la capacidad de salvar dos match points y cerrar a su favor; seguirían los retos ante Karen Kachanov, la estrella local Jannik Sinner y Alexander Zverev. Vi al griego mejorar en su control del juego corto, aunque en cada partido parecía padecer por el fuerte calor en pista (por encima de los 30 grados), sin embargo siempre se mostró concentrado en cada batalla.
For his part, Stefanos was also able to overcome the strong hurdles that came his way, starting with a tough match against Grigor Dimitrov, which he almost lost but had the ability to save two match points and close in his favor; challenges against Karen Kachanov, local star Jannik Sinner and Alexander Zverev would follow. I saw the Greek improve in his control of the short game, although in every match he seemed to suffer from the strong heat on court (above 30 degrees), however he was always focused in every battle.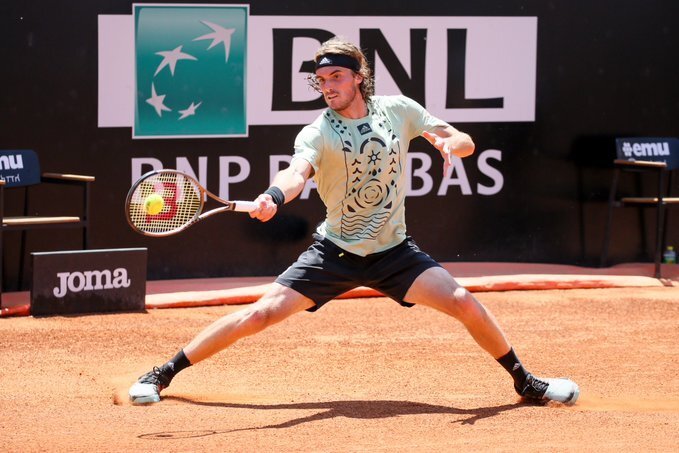 Fuente
No obstante, el griego tuvo un inicio algo lento para ser una final, Stéfanos usó ocasionalmente su saque al centro y cuando lo hizo, obtuvo buenos resultados (ha debido usarlo mucho más), por su parte Novak arrancó en modo muralla para bloquear todo lo que su rival le envió; el drive corto cruzado de Djokovic fue mortal y dejó parado al joven griego en varias ocasiones, además el serbio hizo gala de su repertorio técnico, con una volea muy eficiente y cada vez que subió a la red, pudo sumar puntos. Los quiebres en el 1er, 3er y 5to games, le sirvieron para hacerse con el primer set 6 - 0 en solo 29 minutos.
However, the Greek had a somewhat slow start for a final, Stefanos occasionally used his serve to the center and when he did, he got good results (he should have used it much more), while Novak started in wall mode to block everything his opponent sent him; Djokovic's short cross court drive was deadly and left the young Greek standing on several occasions, also the Serbian showed his technical repertoire, with a very efficient volley and every time he went up to the net, he was able to score points. The breaks in the 1st, 3rd and 5th games, served him to take the first set 6 - 0 in just 29 minutes.
Fuente
Los errores no forzados de Tsitsipás, hicieron mella en su confianza, sobre todo en aquel tercer game cuando estaba arriba 40 - 15 y luego Novak pudo remontarle para quebrar; eso lo desmoralizó un poco ya que se veía que su esfuerzo no estaba dando resultados. Por su parte Novak seguía su ritmo avasallante al ataque; estaba ligero de pies y me daba la impresión que sencillamente flotaba en la pista; este es el nivel que Djokovic estaba buscando, porque a la calladita, venía adaptándose en cada torneo (Montecarlo, Belgrado y Madrid) con la mirada puesta en Paris, donde es el campeón defensor.
The unforced errors of Tsitsipas, dented his confidence, especially in that third game when he was up 40 - 15 and then Novak was able to come back to break him; that demoralized him a little because it was clear that his effort was not paying off. On the other hand, Novak continued his overwhelming rhythm when attacking; he was light on his feet and I had the impression that he was simply floating on the court; this is the level that Djokovic was looking for, because he had been quietly adapting himself in each tournament (Monte Carlo, Belgrade and Madrid) with his eyes set on Paris, where he is the defending champion.
---
El segundo set inició con la recuperación de Tsitsipás, que por fín pudo ganar un game y luego retomó su versión ofensiva; atacando en la red y golpeando con orgullo cada tiro, así pudo quebrar el cuarto game y volver a respirar al colocarse 1 - 4, pero Novak en lugar se resignarse y pensar en el tercer set, volvió a mostrar su fuerte mentalidad para no decaer e iniciar otra épica remontada. Novak estuvo en riesgo de perder su servicio, pero se ajusto con el slice y drop shot, para confundir a su rival y hacerle correr. El heleno estuvo a punto de concretar, al recibir para el set en 5 - 2 y conteo de 30-15, pero nuevamente Djokovic se lo negó.
The second set began with the recovery of Tsitsipas, who finally was able to win a game and then resumed his offensive version; attacking at the net and hitting with pride every shot, so he could break the fourth game and breathe again by placing himself 1 - 4, but Novak instead of resigning himself and thinking about the third set, showed again his strong mentality to not decay and start another epic comeback. Novak was at risk of losing his serve, but he adjusted with the slice and drop shot, to confuse his rival and make him run. The Greek was on the verge of clinching the set at 5-2 and 30-15, but again Djokovic denied him.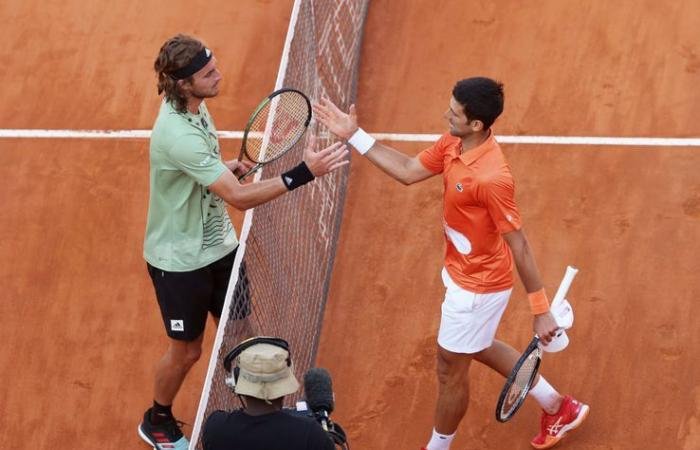 Fuente
Stéfanos sacó 5 - 3 para igualar a set por lado, pero el campeón serbio estaba convertido en una especie de máquina de ataque y defensa; cubriendo cada centímetro de la cancha y afinando muy bien su puntería. Así quiebra Nole para el 4 - 5 y luego sostiene con sangre fría para igualar a 5 games. El serbio pudo mantenerse a la ofensiva hasta forzar un tie break, en el que el griego fue presa de los errores no forzados y del fuerte saque rival; Novak echó fuera una pelota que rozó la red, pero era porque estaba jugando muy corto y rasante, manejando las acciones a su antojo. El partido terminó con otro error largo del Tsisipás que sufrió de lo lindo.
Stefanos took 5 - 3 to equalize the set on each side, but the Serbian champion was becoming a kind of attack and defense machine; covering every inch of the court and fine-tuning his aim very well. Nole broke to make it 4 - 5 and then held with cold blood to equalize at 5 games. The Serb was able to stay on the offensive until forcing a tie break, in which the Greek fell prey to unforced errors and the strong rival serve; Novak threw out a ball that grazed the net, but it was because he was playing very short and flush, managing the actions at will. The match ended with another long error by Tsisipas, who suffered a lot.
El marcador 6 - 0 y 7 - 6 (5) en solo 96 minutos, ha dejado en claro el regreso dominante de Novak Djokovic, quien demuestra que era solo cuestión de tiempo, para recuperar su tenaz y asombroso nivel tenístico. Obtiene así su sexto título en el Foro itálico, en su cuarta final consecutiva. Nole ha superado la barrera de los mil partidos ganados como profesional y suma 38 títulos de maestro, más que ninguno en la historia; afianzándose en el trono del tenis, lejos de sus perseguidores en el ranking. Sin duda hay que tenerle presente para este Roland Garros; y será una pesadilla para todos los rivales que enfrente.
The score 6 - 0 and 7 - 6 (5) in just 96 minutes, has made clear the dominant return of Novak Djokovic, who shows that it was only a matter of time, to regain his tenacious and amazing tennis level. He wins his sixth title at the Foro Italico, in his fourth consecutive final. Nole has surpassed the barrier of a thousand matches won as a professional and has won 38 Masters titles, more than any other player in history, consolidating his position on the throne of tennis, far from his pursuers in the ranking. No doubt he must be kept in mind for this Roland Garros; and he will be a nightmare for all the rivals he will face.

La opinión en esta publicación es de carácter personal por parte del autor.
Para Traducir el Texto he utilizado Deepl en su versión libre.
The opinion in this publication is of a personal nature on the part of the author.
To translate the text I have used Deepl in its free version.

---
---