El Mejor Latinoamericano en Roland Garros avanza. [Esp - Eng]

Remontando como los grandes.




Ha comenzado la edición número 126 del abierto francés, el espectáculo del segundo Grand Slam del año, cuenta con las mejores raquetas del orbe y entre ellas, está la del argentino Diego Schwartzman, que luego de un complicado inicio en primera ronda, ante el ruso Andrey Kuznetsov en cuatro sets, chocó con el español Jaume Munar, un jugador que conoce bien y que había superado en todos sus duelos anteriores. No obstante el nacido en Buenos Aires, sufriría de lo lindo para poder avanzar a la siguiente fase del torneo.

Climbing like the greats.




The 126th edition of the French Open has begun, the show of the second Grand Slam of the year, has the best rackets in the world and among them, is that of the Argentine Diego Schwartzman, who after a complicated start in the first round, against the Russian Andrey Kuznetsov in four sets, collided with the Spanish Jaume Munar, a player he knows well and who he had beaten in all his previous duels. Despite the one born in Buenos Aires, he would suffer a lot to be able to advance to the next phase of the tournament.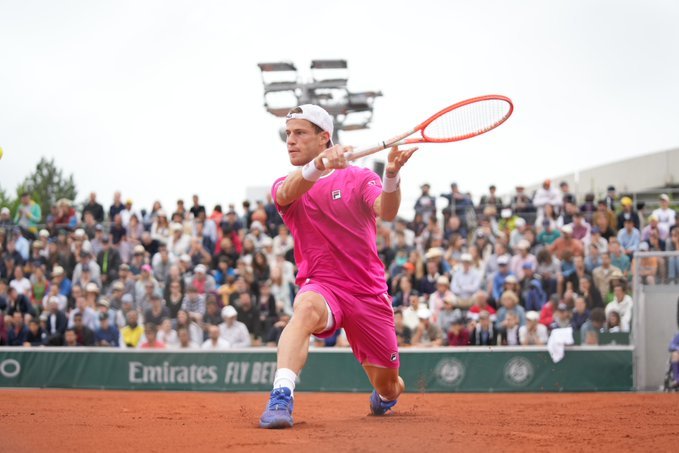 Fuente
Por su parte, el joven balear también tuvo un duro comienzo en París, ante el alemán Daniel Altamier, igual en cuatro sets; lo que le daba igualdad de recorrido ante el Peque. En principio se planteaba como una batalla de estrategias y ciertamente así fue, aunque con mejores resultados para el mallorquín, ayudado por algunas dudas de Diego, quien inició con un break en contra, mostrándose algo lento y con un servicio muy accesible para el rival, lo que facilitó las cosas para Jaume.
For his part, the young Balearic also had a tough start in Paris, against the German Daniel Altamier, equal in four sets; which gave him an equal run against Peque. At first it was planned as a battle of strategies and it certainly was, although with better results for the Mallorcan, helped by some doubts from Diego, who started with a break against, showing himself somewhat slow and with a very accessible service for the rival, which made things easier for Jaume.
---
Durante ese primer set, Diego deslució un poco, quedándose muy atrás en la línea de fondo, incluso le vi enredarse un poco con el juego de pies, lo que le restó capacidad de reacción. Mientras que Munar denotaba orden y control en sus tiros, algo que le ayudó a mantenerse arriba en los puntos y con la soltura suficiente, para ensayar tiros cortos a la red (drop shots). Me preocupó ver perder a Diego por 6 - 2 en 41 minutos, dado que no se veía su despertar y sufrió de lo lindo, con los tiros paralelos que acertaba el español.
During that first set, Diego was a little lackluster, falling far behind the baseline, I even saw him get a little tangled up with his footwork, which reduced his ability to react. While Munar denoted order and control in his shots, something that helped him stay up in points and with enough ease to try short shots to the net (drop shots). I was worried to see Diego lose 6 - 2 in 41 minutes, since his awakening was not visible and he suffered greatly, with the parallel shots that the Spaniard hit.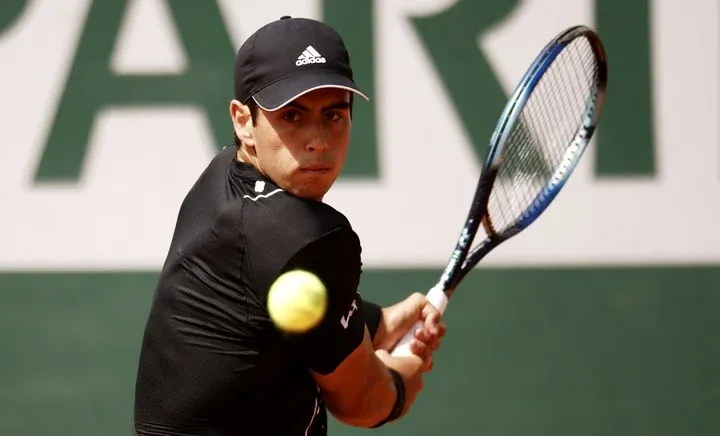 Fuente
Sin embargo, durante el inicio de la segunda manga Schwartzman mostró mejoría en sus respuestas durante los rallis, algo que estuvo dominado por Munar hasta entonces. Pude observar la vuelta al partido del argentino, que despertaba de ese mal sueño del primer set y se adueñaba de su zona de juego. El Peque comenzó a atacar y defender, de la manera que nos tiene acostumbrados y los resultados se hicieron notar de inmediato; sobre todo en la velocidad y colocación de su primer saque, que estuvo errático antes.
However, during the start of the second heat Schwartzman showed improvement in his responses during the rallies, something that Munar had dominated until then. I was able to watch the return to the game of the Argentine, who woke up from that bad dream of the first set and took over his playing area. El Peque began to attack and defend, in the way he has accustomed us, and the results were immediately noticeable; especially in the speed and placement of his first serve, which was erratic before.
---
Ese cambio positivo de Diego, le permitió llegar al tie break, pero el español no aflojaba el acelerador y sin bajar su buen ritmo, logró el mini quiebre para irse arriba en puntos; pudiendo cerrar con 7 - 6 (3). Un nuevo quiebre de Munar al primer set del tercer set, encendía las alertas de los que apoyamos al Peque, dado que él ostenta la decimosexta posición del ranking, mientras que su rival se ubica en la 87. Pero si Diego ha demostrado algo en su carrera, es el gran corazón de guerrero que saca a relucir en la pista, sobre todo sobre arcilla.
That positive change from Diego allowed him to reach the tie break, but the Spaniard did not loosen the accelerator and without slowing down, he achieved the mini break to go up in points; being able to close with 7 - 6 (3). A new break by Munar in the first set of the third set set off the alerts of those of us who support Peque, given that he is in sixteenth position in the ranking, while his rival is in 87th. But if Diego has shown something in his career, it is the great heart of a warrior that he brings out on the track, especially on clay.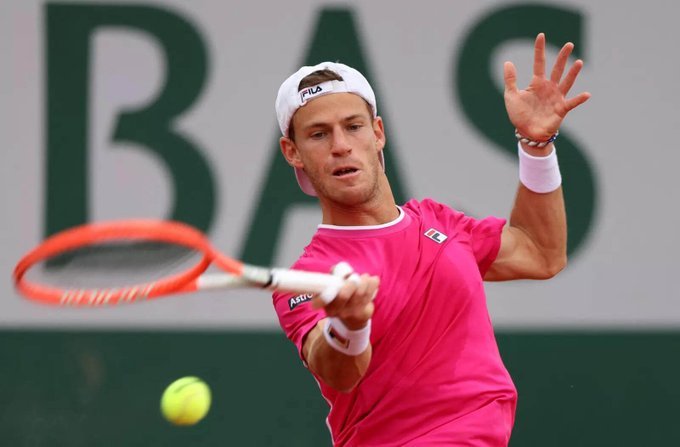 Fuente
El Peque nos hizo despertar de la pesadilla y luego de una hora de trajinar en la pista, finalmente se acopló al ritmo, comenzó a sacar y acertar sus mejores golpes (recuperando la brújula de su forehand). El drive rasante y controlado de Schwartzman, hizo acto de presencia y su efecto positivo se notó de inmediato. Entonces ahora era Jaume Munar, quien se veía complicado para mantener el ritmo del ataque argentino. Diego conquistó dos quiebres de lujo y encontró por fin la senda ganadora.
El Peque made us wake up from the nightmare and after an hour of touring on the court, he finally got into the rhythm, he began to take out and hit his best shots (retrieving the compass from his forehand). Schwartzman's low and controlled drive made an appearance and its positive effect was immediately noticeable. So now it was Jaume Munar, who looked difficult to keep up with the Argentine attack. Diego conquered two luxury breaks and finally found the winning path.
---
El guerrero albiceleste no bajaría más su velocidad, sino que la aceleró cada vez que lo requería. Ahora sí, el peque me hizo disfrutar de ese tenis que lo hace un jugador distinto a los demás, aprovechando el efecto que imprime, el ángulo que forma su forehand (con muñequeo) y su estatura. Al recuperar la confianza, apareció su buena defensa al restar el servicio rival, algo que rompió finalmente, el esquema impuesto por el español. El cuarto y quinto set, fueron una copia al carbón de esa tercera manga; Diego nos hace soñar de nuevo, con sus destacables presentaciones en este prestigioso torneo.
The albiceleste warrior would not lower his speed any more, but accelerated it whenever he required it. Now yes, the little one made me enjoy that tennis that a player different from the others does, taking advantage of the effect he prints, the angle formed by his forehand (with wrist) and his height. Upon regaining confidence, his good defense appeared when subtracting the rival service, something that finally broke the scheme imposed by the Spanish. The fourth and fifth sets were a carbon copy of that third set; Diego makes us dream again, with his remarkable presentations in this prestigious tournament.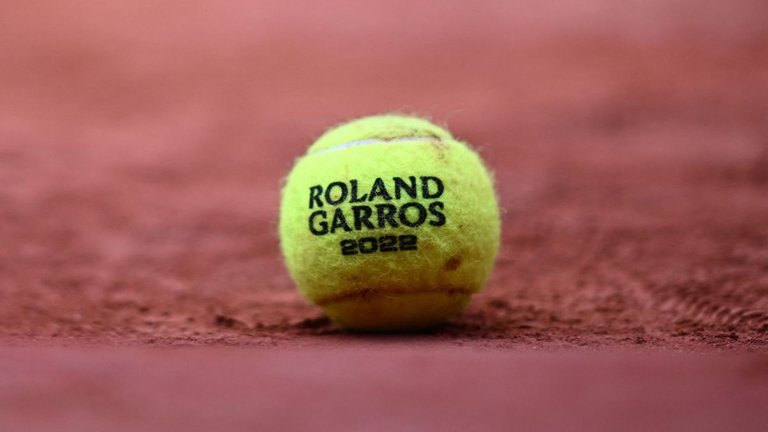 Fuente
El marcador final 2 - 6; 6 (3) - 7; 6 - 2; 6 - 2 y 6 - 2 en una batalla que duró 3 horas y 45 minutos. Luego de estar en serio peligro de eliminación, Schwartzman renace y saca su raqueta mágica, para revertir un marcador adverso ante un jugador complicado, pero que tampoco tuvo el empuje suficiente, para cerrar ese tercer set. Ahora Diego enfrentará en tercera ronda, al búlgaro Grigor Dimitrov, algo que significa un gran reto para ambos. Aunque el peque ha perdido sus últimos 3 compromisos ante este gran jugador, incluido su choque en Madrid hace tres semanas.
No obstante Diego supera a Grigor en ranking, dado el puesto 21 que ocupa el búlgaro. Lo cierto es que tendremos una batalla, sobre la tierra batida del más grande torneo de tenis parisino, en el que contamos con una digna representación latinoamericana.
¡Hasta la Próxima!
The final score 2 - 6; 6(3)-7; 6 - 2; 6 - 2 and 6 - 2 in a battle that lasted 3 hours and 45 minutes. After being in serious danger of elimination, Schwartzman is reborn and takes out his magic racket, to reverse an adverse marker against a complicated player, but who also did not have enough drive, to close that third set. Now Diego will face Bulgarian Grigor Dimitrov in the third round, something that means a great challenge for both of them. Although the little one has lost his last 3 commitments against this great player, including his clash in Madrid three weeks ago.
However Diego surpasses Grigor in ranking, given the 21st place occupied by the Bulgarian. The truth is that we will have a battle, on the clay of the biggest Parisian tennis tournament, in which we have a worthy Latin American representation.
Until next time!

La opinión en esta publicación es de carácter personal por parte del autor.
Texto traducido con Google traductor.
The opinion in this publication is of a personal nature on the part of the author.
Text translated with Google Translator.
.

---
---