El Número 1 del tennis es él.. [Esp-Eng]
Luego de regalarnos un espléndido desarrollo y final de torneo en New York, el español Carlos Alcaraz vive una semana de tranquilidad, su primera semana como flamante número 1 del mundo transcurre en calma, pero no sin las emociones del tenis, dado que a pesar de disfrutar de unos breves días de descanso, ha decidido participar en el equipo ibérico de la copa Davis, un torneo histórico y emblemático, considerado el mayor en lo que a competiciones en equipo se refiere.
After giving us a splendid development and end of the tournament in New York, the Spaniard Carlos Alcaraz is living a week of tranquility, his first week as the brand new world number 1 is calm, but not without the emotions of tennis, since despite enjoying a few days of rest, he has decided to participate in the Iberian team of the Davis Cup, a historic and emblematic tournament, considered the largest as far as team competitions are concerned.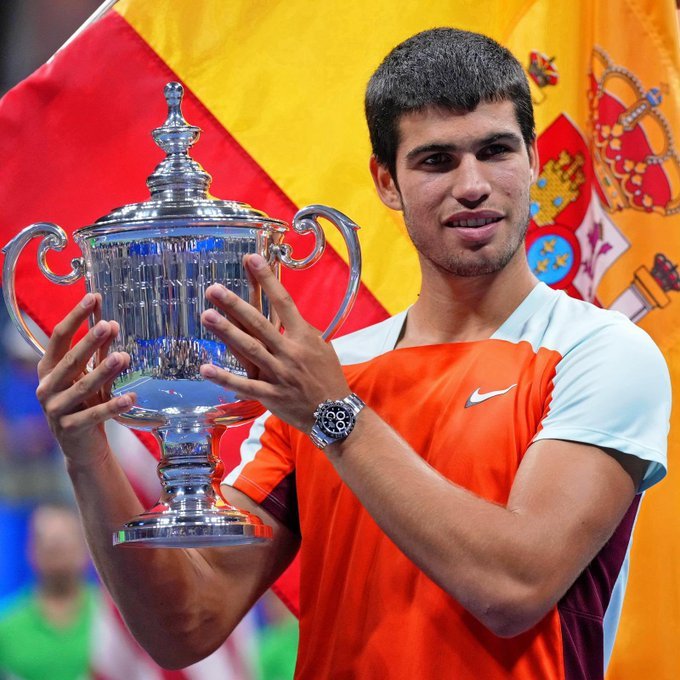 Fuente
En un principio, se había informado que Alcaraz no participaría en el equipo, incluso se indicó que el zurdo Albert Ramos (Nº 40 de ranking), había llegado para sustituir esa plaza tan importante. Pero ya el día de hoy, se ha confirmado la llegada de Carlitos a la concentración del equipo, para debutar mañana en la modalidad de dobles ante su similar de Canadá, actuales campeones del evento. Este choque corresponde al grupo B, que se disputa en la ciudad española de Valencia.
Initially, it had been reported that Alcaraz would not participate in the team, and it was even indicated that the left-handed Albert Ramos (ranked No. 40), had arrived to replace that important position. But today, it has been confirmed the arrival of Carlitos to the team's training camp, to make his debut tomorrow in doubles against Canada, current champions of the event. This match corresponds to group B, which will be played in the Spanish city of Valencia.
---
El equipo capitaneado por el reconocido Sergi Bruguera, cuenta en sus filas con Roberto Bautista Agut, Albert Ramos, Marcel Granollers y Pedro Martínez. Esta plantilla de emergencia, supliría las ausencias por lesión de Pablo Carreño y Alejandro Davidovich; no obstante, la llegada confirmada de Alcaraz, le trae un aire nuevo a la denominada "Armada" española. Que ahora se ve reforzada con la máxima raqueta del escalafón mundial, a pesar de que sea solo un adolescente de 19 años de edad.
The team captained by the renowned Sergi Bruguera, has in its ranks Roberto Bautista Agut, Albert Ramos, Marcel Granollers and Pedro Martinez. This emergency squad would make up for the absence due to injury of Pablo Carreño and Alejandro Davidovich; however, the confirmed arrival of Alcaraz, brings a new air to the so-called Spanish "Armada". Now it is reinforced with the top racket of the world ranking, despite the fact that he is only a 19 year old teenager.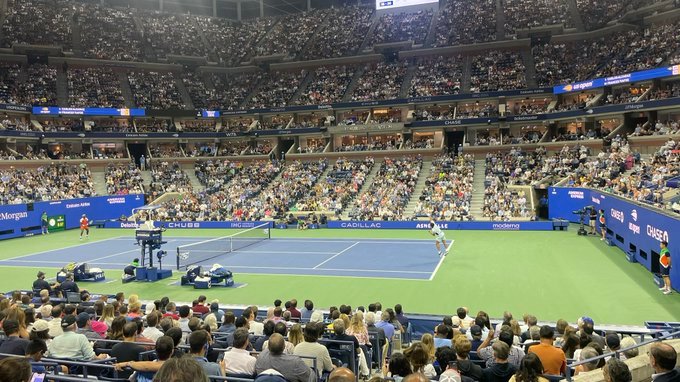 Fuente
Me parece impresionante lo que la sola presencia de Alcaraz esté causando en el deporte blanco, dado que eso habla de su reputación y su fiereza a la hora de competir. Debo destacar su impresionante recorrido de dos semanas en el US Open, teniendo en cuenta que luego de aquella final en Umag, que perdió ante Jannik Sinner; Carlos cayó en primera ronda en el Masters de Canadá y posteriormente, perdería en cuartos de final de Cincinnati contra Cameron Norrie. Y creo que no iniciar como favorito en NY le favoreció.
I find it impressive what the mere presence of Alcaraz is causing in the white sport, since it speaks of his reputation and his fierceness when competing. I must highlight his impressive two-week run at the US Open, taking into account that after that final in Umag, which he lost to Jannik Sinner; Carlos fell in the first round at the Canadian Masters and later, he would lose in the quarterfinals in Cincinnati against Cameron Norrie. And I think that not starting as a favorite in NY favored him.
---
De hecho, al analizar los seis partidos que enfrentó el murciano en la pista central del complejo tenístico de la "Gran Manzana", reconozco el grado de dificultad creciente, que pudo superar Carlitos, escalón por escalón y siempre al ataque. Comenzando con el argentino Federico Coria, a quien despachó por 3-0, cualquiera pudo haber pensado que fue algo muy fácil; pero luego hizo lo propio contra el estadounidense Jenson Brooksby, con un triple 6-3 ante uno de los talentos emergentes en su país.
In fact, when analyzing the six matches that the player from Murcia faced in the center court of the tennis complex in the "Big Apple", I recognize the increasing degree of difficulty that Carlitos was able to overcome, step by step and always on the attack. Starting with the Argentine Federico Coria, whom he defeated by 3-0, anyone could ha8https://www.antena3.com/noticias/deportes/tenis/carlos-alcaraz-vence-sinner-mete-semis-open-increible-partido-mas-5-horas_20220908631990b7a1854f0001794835.htmlve thought that it was something very easy; but then he did the same against the American Jenson Brooksby, with a triple 6-3 against one of the emerging talents in his country.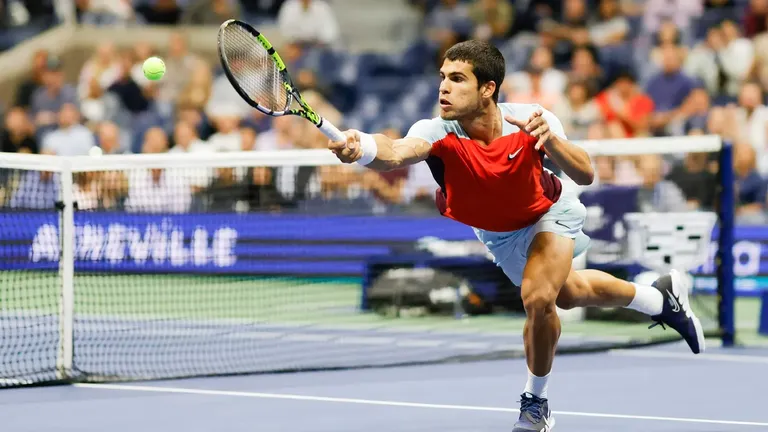 Fuente
Carlitos perdería su primer set en el Arthur Ashe, de la mano del croata Marin Cilic; y este sería el primero de los 3 partidos consecutivos a cinco sets, ya que luego seguirían Jannik Sinner en 4tos de final y Frances Tiafoe en la semifinal. Sin embargo, sería ese encuentro con Jannik, el que en mi opinión, representaría el momento decisivo; por ser el rival que mayor dificultad opuso ante el español. Sinner de verdad puso en apuros a Carlos, aunque eso al parecer, sacó lo mejor del nacido en El Palmar.
Carlitos would lose his first set at the Arthur Ashe, at the hands of the Croatian Marin Cilic; and this would be the first of three consecutive five-set matches, as Jannik Sinner would follow in the quarterfinals and Frances Tiafoe in the semifinal. However, it would be this encounter with Jannik, which in my opinion, would represent the decisive moment; for being the opponent who posed the greatest difficulty against the Spaniard. Sinner really put Carlos in trouble, although that apparently brought out the best of the man born in El Palmar.
---
En el caso de Frances Tiafoe, también hizo un gran trabajo y fue el único jugador que pudo ganarle el primer set a Carlitos. Sin embargo, es obvio que para vencer al invencible, hay que hacer mucho más que eso. En la final contra Casper Ruud, manejó muy bien la presión del rival que mejor venía jugando; el noruego estuvo fenomenal y de verdad demostró su potencial, sobre todo en el segundo set; no obstante, a Casper también le faltó un último empuje al final del tercer set, ya que no pudo mantener el ritmo en ese tie break. Considero que luego de haber dominado y terminar perdiendo el set, fue el momento crítico para Ruud y salió tocado anímicamente a la cuarta manga.
In the case of Frances Tiafoe, he also did a great job and was the only player who could beat Carlitos in the first set. However, it is obvious that to beat the invincible, you have to do much more than that. In the final against Casper Ruud, he handled very well the pressure of the opponent who was playing better; the Norwegian was phenomenal and really showed his potential, especially in the second set; however, Casper also lacked a last push at the end of the third set, as he could not keep the pace in that tie break. I consider that after having dominated and ending up losing the set, it was the critical moment for Ruud and he came out of the fourth set with a bad feeling.
---
Pero hay algo muy importante detrás de esos partidos en el US Open; y se trata de que a esos grandes jugadores, los superó alguien que nunca bajó los brazos y nunca paró de luchar cada pelota y cada punto. De manera que hay que ver a Carlos Alcaraz en toda su amplitud como atleta, dada la soberbia exhibición física, técnica y táctica que ha demostrado este joven prodigio del deporte. Con este gran logro, de levantar su primer título de Grand Slam y catapultarse hasta la cima del ranking, Carlitos ha alcanzado una nueva dimensión como tenista y atleta.
But there is something very important behind those matches at the US Open; and that is that those great players were overcome by someone who never gave up and never stopped fighting for every ball and every point. So you have to see Carlos Alcaraz in all his breadth as an athlete, given the superb physical, technical and tactical display that this young prodigy of the sport has shown. With this great achievement, of lifting his first Grand Slam title and catapulting himself to the top of the ranking, Carlitos has reached a new dimension as a tennis player and athlete.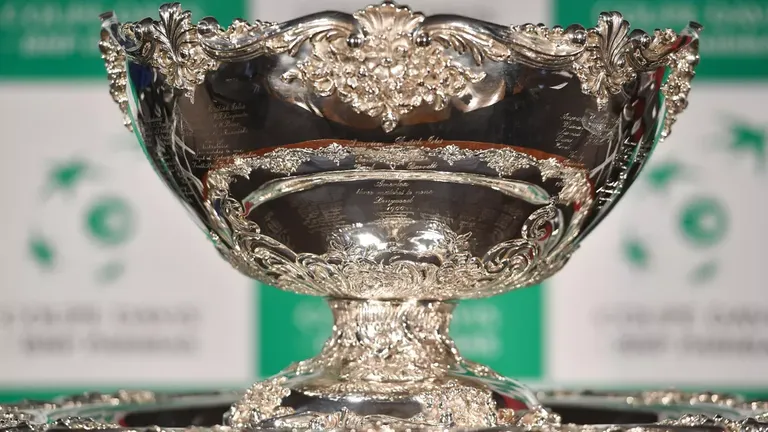 Fuente
Además Alcaraz cuenta con un gran equipo, que lo dirige y aconseja en sus decisiones; en realidad apenas descansó un día, porque desde el martes estuvo entrenando con miras en acompañar a su equipo en la Copa Davis. Lo están necesitando y él ha aceptado jugar. Sobre este detalle, lo considero muy positivo porque le sirve para asimilar la presión y el peso mediático de ser el número 1. Mañana jugará con Félix Auger-Aliassime y se plantea como un duelo emocionante, por el nivel del rival y por la oportunidad de ver el primer encuentro de Carlitos como el mejor del planeta.
In addition, Alcaraz has a great team that directs him and advises him in his decisions; in fact, he barely rested one day, because since Tuesday he has been training with a view to accompany his team in the Davis Cup. They are needing him and he has accepted to play. About this detail, I consider it very positive because it helps him to assimilate the pressure and the media weight of being the number 1. Tomorrow he will play against Felix Auger-Aliassime and it looks like an exciting duel, due to the level of the opponent and the opportunity to see Carlitos' first match as the best on the planet.

La opinión en esta publicación es de carácter personal por parte del autor.
Translated with www.DeepL.com/Translator.
The opinion in this publication is of a persona-l nature on the part of the author.
Translated with www.DeepL.com/Translator.
.

---
---