Partido por honor en Turín // ATP Finals 2022. [Esp - Eng]
Esta semana ha estado colmada de sorpresas y emociones, en la edición número 53 de las finales ATP; el torneo que cierra la temporada para los mejores exponentes del tenis, llevado a cabo en la ciudad de Turín y que está a falta de dos capítulos para definir al Maestro de esta campaña. El telón se abrió el pasado domingo, con la presentación de 2 partidos por día, en el que los ocho clasificados, divididos en dos grupos (Rojo y Verde) miden sus fuerzas en el todos contra todos, para avanzar a las instancias decisivas.
This week has been full of surprises and emotions, in the 53rd edition of the ATP Finals; the tournament that closes the season for the best exponents of tennis, held in the city of Turin and that is missing two chapters to define the Master of this campaign. The curtain opened last Sunday, with the presentation of two matches per day, in which the eight qualified players, divided into two groups (Red and Green), measure their forces in the round-robin, to advance to the decisive instances.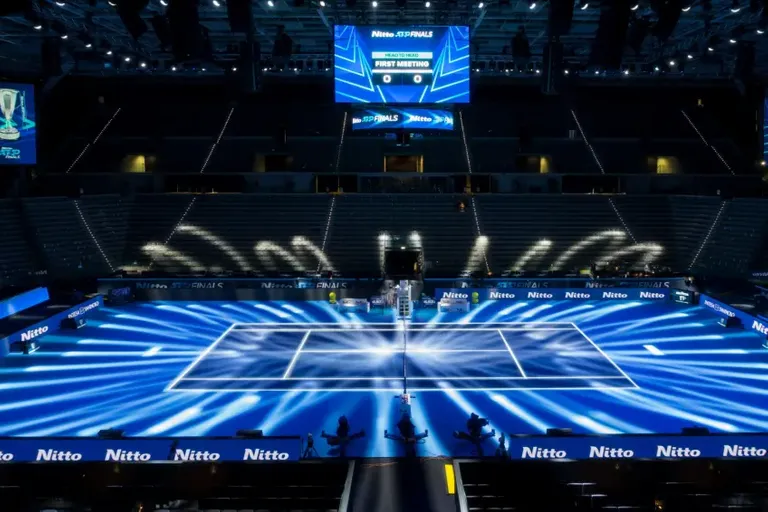 Fuente
En el grupo rojo teníamos a Daniil Medvedev, Stefanos Tsitsipás, Novak Djokovic y Andrey Rublev; mientras que en el grupo verde Rafael Nadal, Casper Ruud, Félix Auger-Aliassime y Taylor Fritz. Esto se traduce en que podía disfrutar de grandes encuentros desde el principio, sin tener que esperar a las fases finales de los torneos a los que asisten este selecto grupo de atletas; así que era una cartelera de ensueño todos los días ja,ja,ja. Por supuesto, este formato le da un plus único en cuanto a emociones consecutivas y es la marca registrada de estas Nitto Finals.
In the red group we had Daniil Medvedev, Stefanos Tsitsipas, Novak Djokovic and Andrey Rublev; while in the green group Rafael Nadal, Casper Ruud, Felix Auger-Aliassime and Taylor Fritz. This means that I could enjoy great matches from the beginning, without having to wait for the final stages of the tournaments attended by this select group of athletes; so it was a dream line-up every day ha,ha,ha. Of course, this format gives a unique plus in terms of back-to-back thrills and is the trademark of these Nitto Finals.
---
El plato fuerte de este viernes, estuvo a cargo del único jugador invicto del evento, el serbio Novak Djokovic ante el ruso Daniil Medvedev, quien a pesar de estar eliminado por sus resultados adversos, salió a dar la pelea convirtiendo el partido en una verdadera batalla deportiva. Debo confesar que me gustó verlos dejarlo todo en la pista del Pala Alpitour, a pesar de que nada cambiaría con el resultado; entonces quedé más convencido del pundonor que mueve a estos súper atletas en cada enfrentamiento, que los lleva a no bajar los brazos por ningún motivo.
The highlight of this Friday, was in charge of the only undefeated player of the event, the Serbian Novak Djokovic against the Russian Daniil Medvedev, who despite being eliminated by their adverse results, came out to give the fight turning the match into a real sporting battle. I must confess that I enjoyed watching them leave everything on the Pala Alpitour court, despite the fact that nothing would change with the result; then I was more convinced of the pundonor that moves these super athletes in each confrontation, which leads them not to lower their arms for any reason.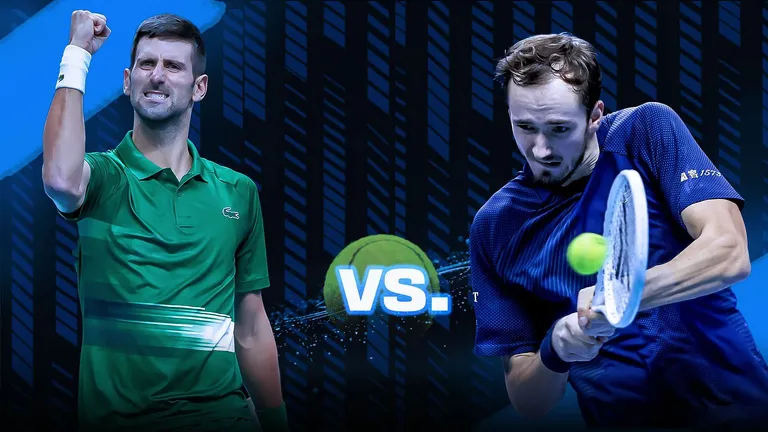 Fuente
Y aunque se trataba del doceavo choque personal entre ellos, es apenas el segundo del año, luego de las semifinales en Astaná hace poco más de un mes. En esta ocasión fue Novak quien inició sirviendo, asumiendo un férreo control desde la línea, poniendo en práctica sus armas letales desde el principio; estas son su forehand paralelo y su inmutable revés cruzado. Pero Daniil no se quedaba atrás, salió a jugar como nos tiene acostumbrados verle, con su ataque perimetral y su poderoso saque al centro de la cancha, afianzado en su ace.
And although it was the twelfth personal clash between them, it is only the second of the year, after the semifinals in Astana just over a month ago. On this occasion it was Novak who started serving, assuming a tight control from the line, putting into practice his lethal weapons from the beginning; these are his parallel forehand and his immutable crosscourt backhand. But Daniil did not lag behind, he came out to play as we are used to see him, with his perimeter attack and his powerful serve to the center of the court, anchored in his ace.
---
Un quiebre sorpresivo al 8vo game por parte de Nole, serviría de diferencia para ganar el primer set por 6-3 en 46 minutos de intensa batalla. Me causó extrañeza ver a Djokovic dando muestras de cansancio extremo durante la siguiente manga; porque el serbio abría la boca como buscando oxígeno y es que el tiempo no pasa en vano, a sus 35 años y con un rival 9 años menor y lanzado al ataque, no resulta cosa sencilla para nadie. Sin embargo, Daniil pudo haber ensayado un juego más esquinado, para romper un poco el ritmo y la resistencia del balcánico.
A surprising break in the 8th game by Nole, would serve as the difference to win the first set 6-3 in 46 minutes of intense battle. It was strange to see Djokovic showing signs of extreme fatigue during the next set; because the Serb was opening his mouth as if looking for oxygen and time does not pass in vain, at 35 years old and with an opponent 9 years younger and on the attack, it is not easy for anyone. However, Daniil could have tried a more corner game, to break the rhythm and the resistance of the Balkan.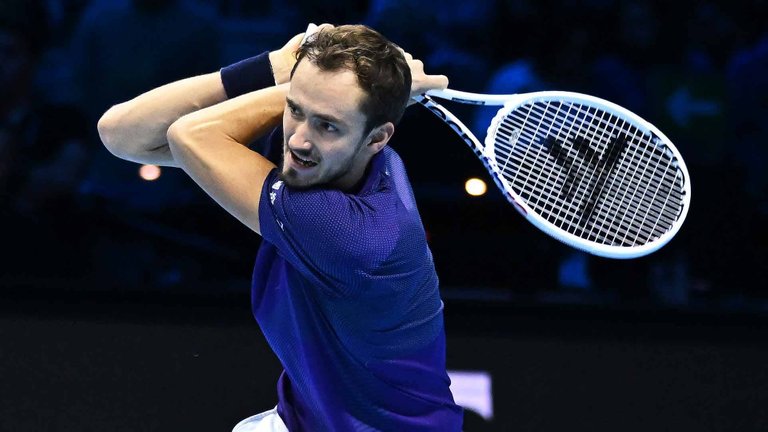 Fuente
Meddy llevaría ese set al extremos del tie break, porque aunque no pudo cerrar sacando en 5-4, pudo aguantar el repertorio del maestro Novak, que le movía hacia todos lados para terminar por la vía rápida; pero no sería así. De verdad fue extraño ver a Nole con las manos temblorosas, echándose agua encima y sin camisa durante el descanso; es obvio que los 70 minutos del set le dejaron extenuado, pero es un torneo bajo techo y en ambiente controlado; quizás si hubiese sido bajo el sol, significaba el abandono, eso me hizo pensar esa situación.
Meddy would take that set to the end of the tie break, because although he could not close serving at 5-4, he could withstand the repertoire of the master Novak, who moved him to all sides to finish on the fast track; but it would not be so. It was really strange to see Nole with trembling hands, pouring water on himself and shirtless during the break; it is obvious that the 70 minutes of the set left him exhausted, but it is a tournament indoors and in a controlled environment; perhaps if it had been under the sun, it meant the abandonment, that made me think that situation.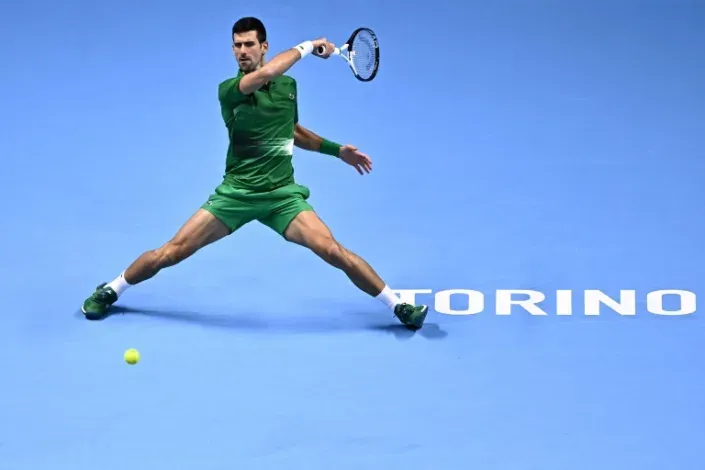 Fuente
La tercera manga fue una locura, ninguno quería ceder espacios y se estaban exigiendo al máximo. Ese es el espectáculo deportivo que enaltece al tenis, esa entrega que va más allá de lo que pase en un torneo, se trataba de una medición de fuerzas casi personal entre ellos, porque Meddy estaba eliminado y Djokovic clasificado. Los rallys marcaban la pauta para el ruso, más entero pero con menor enfoque hacia las líneas. No puedo dejar de mencionar la vista de águila de Daniil, que dejó pasar una bola y varios saques, porque los vio fuera y al consultar con el "Eyehawk" estaba totalmente acertado.
The third set was crazy, neither wanted to give space and they were demanding the maximum. That is the sporting spectacle that exalts tennis, that delivery that goes beyond what happens in a tournament, it was an almost personal measurement of forces between them, because Meddy was eliminated and Djokovic qualified. The rallies set the tone for the Russian, more whole but with less focus on the lines. I can not fail to mention Daniil's eagle eye, who missed a ball and several serves, because he saw them out and when consulting with the "Eyehawk" he was totally right.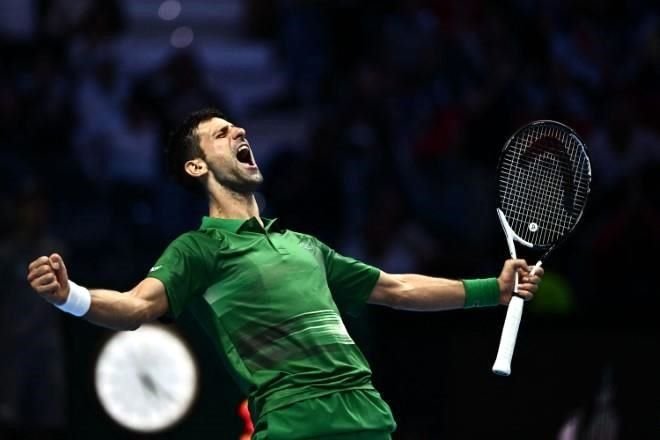 Fuente
Un nuevo desempate se traducía en el 4to disputado para Novak y el 6to para Daniil; y en esos pequeños momentos es donde el serbio saca su casta de campeón; Nole sacó fuerzas de su espíritu deportivo y logró anticiparse a tiros muy complicados; esto lo hace todo el tiempo y pareciera algo fácil, pero definitivamente no lo es. En ese tie break se movió como si estuviese comenzando el partido; y lo mejor fue verle acorralar a un Medvedev que parecía no darse cuenta de los espacios que dejaba abiertos. Hacer esto contra el ruso es algo que muy pocos logran.
A new tie break was the 4th played for Novak and the 6th for Daniil; and in those little moments is where the Serbian brings out his champion's caste; Nole drew strength from his sportsmanship and managed to anticipate very complicated shots; he does this all the time and it seems easy, but it is definitely not. In that tie break he moved as if he was starting the match; and the best thing was to see him corner a Medvedev who seemed not to realize the spaces he was leaving open. To do that against the Russian is something very few do.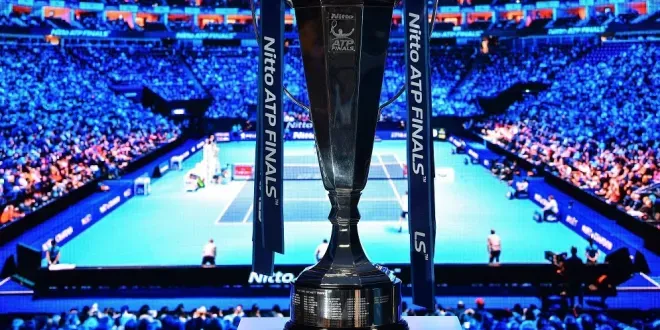 Fuente
Debo ser justo con Medvedev, no ha tenido suerte en los momentos decisivos y ha perdido cada partido en la recta final de éstos por pequeños detalles. Pero verles entregarse a plenitud en esta instancia, es todo un privilegio. Mañana Novak jugará las semifinales contra el estadounidense Taylor Fritz, quien ha hecho un gran torneo en sustitución de Carlitos Alcaraz. Aunque ha perdido en las 5 veces que se ha enfrentado Djokovic, viene con una buena preparación; además de ser su primer choque en este 2022.
Ya le ganó a Nadal en primera ronda, veremos que hace ante otra leyenda del deporte blanco.
I must be fair to Medvedev, he has not been lucky in the decisive moments and has lost every match in the final stretch of these for small details. But to see them give their all at this stage is a privilege. Tomorrow Novak will play the semifinals against the American Taylor Fritz, who has had a great tournament replacing Carlitos Alcaraz. Although he has lost in the 5 times he has faced Djokovic, he comes with a good preparation; besides being his first clash in this 2022.
He already beat Nadal in the first round, we will see what he does against another legend of the white sport.

La opinión en esta publicación es de carácter personal por parte del autor.
Translated with www.DeepL.com/Translator.
The opinion in this publication is of a personal nature on the part of the author.
Translated with www.DeepL.com/Translator.
.

---
---