¿Quién tuvo la mejor temporada? Para mí... Alcaraz. [Esp - Eng]
Por estos días de vacaciones en el calendario de la ATP, he visto algunas encuestas sobre los tenistas con los mejores resultados durante el año; algo que quizás pueda parecer difícil de decidir, por las gratas sensaciones que han dejado los mejores atletas, durante los últimos torneos que disputaron. Sin embargo, el tema se hace más simple cuando recurrimos a los números que los jugadores han alcanzado y que en la mayoría de los casos, van acompañados de los ansiados títulos.
During these days of vacations in the ATP calendar, I have seen some surveys about the tennis players with the best results during the year; something that may seem difficult to decide, due to the pleasant sensations that the best athletes have left during the last tournaments they played. However, the issue becomes simpler when we turn to the numbers that the players have achieved and that in most cases, are accompanied by the coveted titles.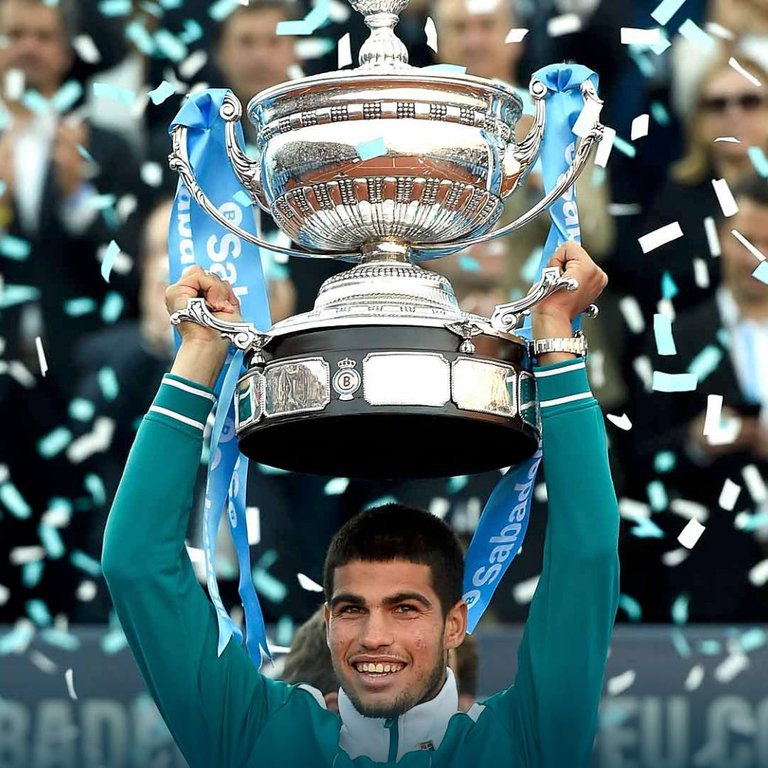 Fuente
Con toda sinceridad, para este autor esta ha sido una de las temporadas más emocionantes de los últimos años, dado que en su transitar pudimos ver cómo un total de 5 tenistas estuvieron luchando por la cima del ranking, con posibilidades reales de ocupar la ansiada primera posición; si embargo, solo 3 tenistas lo lograron. De este proceso fuimos testigos, al ver al serbio Novak Djojkovic, iniciar el año en su habitual puesto de honor, pero luego sería el ruso Daniil Medvedev quien lo ocuparía.
In all sincerity, for this author this has been one of the most exciting seasons in recent years, since in its passage we could see how a total of 5 players were fighting for the top of the ranking, with real possibilities of occupying the coveted first position; however, only 3 players succeeded. We witnessed this process when we saw the Serbian Novak Djojkovic start the year in his usual position of honor, but then it would be the Russian Daniil Medvedev who would occupy it.
---
Aunque el ruso estuvo de manera casi intermitente, el sitial de los grandes sería suyo dos veces, luchando con un Novak que sufrió una de las peores exclusiones deportivas del deporte; ya que su dominio en la afamada pista de Melbourne Park, fue interrumpido por aquellas medidas que ya todos conocemos. Con todo esto, el impresionante arranque del español Rafael Nadal, le dio chances reales de luchar por el podio, aunque a su lado estaría otro español, el joven Carlos Alcaraz, quien también entraba a la pelea del el trono.
Although the Russian was almost intermittent, the place of the greats would be his twice, fighting with a Novak who suffered one of the worst sporting exclusions of the sport; since his dominance in the famous Melbourne Park court was interrupted by those measures that we all know. With all this, the impressive start of the Spaniard Rafael Nadal, gave him real chances to fight for the podium, although next to him would be another Spaniard, the young Carlos Alcaraz, who also entered the fight for the throne.
---
Con Félix Auger-Aliassime ha tenido sus mejores y más parejos partidos.
---
Carlitos pudo disputar 3 encuentros en Australia, pero luego de seguir preparándose, vendría a Sudamérica en febrero para ganar el Río Open de Brasil, ante el argentino Diego Schwartzman en este torneo categoría ATP 500 disputado sobre arcilla. Un mes más tarde irrumpía en las pistas rápidas norteamericanas, llegando a semifinales del Masters de Indian Wells (perdiendo con su compatriota Rafa Nadal); pero dos semanas después, sonaba con fuerza su primer torneo de Maestros en Miami.
Carlitos was able to play 3 matches in Australia, but after further preparation, he would come to South America in February to win the Rio Open in Brazil, against the Argentine Diego Schwartzman in this ATP 500 category tournament played on clay. A month later, he burst onto the North American fast courts, reaching the semifinals of the Indian Wells Masters (losing to his compatriot Rafa Nadal); but two weeks later, his first Masters tournament in Miami came up with a bang.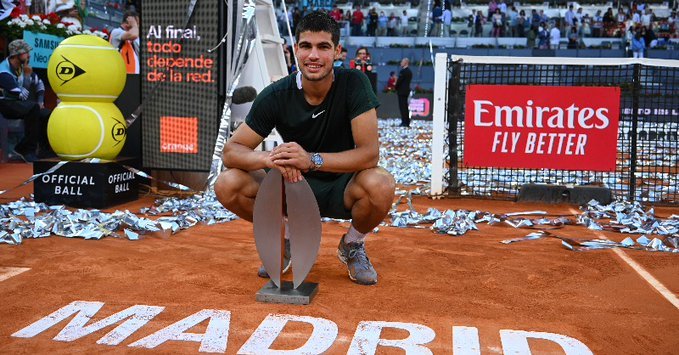 Fuente
Alcaraz tropezaría con el cambio de superficie (de rápida a lenta) en Montecarlo; pero 10 días más tarde daba la sorpresa en Barcelona, con su segundo ATP 500 ante su compañero de selección Pablo Carreño Busta. Y para demostrar que no se trataba de suerte, Carlitos repitió una semana después con su segundo trofeo de maestros en la capital ibérica. En mi opinión personal, ese fue el punto de inflexión que definió su nuevo nivel de juego, ya que el de Murcia logró superar de manera consecutiva a Nadal, Djokovic y Zverev en la final.
Alcaraz would stumble with the change of surface (from fast to slow) in Monte Carlo; but 10 days later he made a surprise in Barcelona, with his second ATP 500 against his teammate Pablo Carreño Busta. And to prove that it was not a matter of luck, Carlitos repeated a week later with his second Masters trophy in the Iberian capital. In my personal opinion, that was the turning point that defined his new level of play, as the Murcia native managed to beat Nadal, Djokovic and Zverev consecutively in the final.
---
El nacido en el Palmar, disputaría 5 encuentros de gran nivel en Roland Garros, hasta verse interrumpido por Sascha en los cuartos de final; y posteriormente, otros 4 encuentros sobre la hierba de Wimbledon, donde se vio interrumpido por la raqueta de Jannik Sinner. Carlos volvería a disputar una final, el 24 de julio en la arcilla alemana de Hamburgo, pero perdería con el italiano Lorenzo Musetti; y una semana después otra final perdida ante Jannik Sinner en Umag - Serbia.
The native of El Palmar, would play 5 high level matches at Roland Garros, until he was interrupted by Sascha in the quarterfinals; and later, another 4 matches on the grass of Wimbledon, where he was interrupted by Jannik Sinner's racquet. Carlos would play a final again, on July 24 on the German clay of Hamburg, but would lose to the Italian Lorenzo Musetti; and a week later another final lost to Jannik Sinner in Umag - Serbia.
---
Con Novak Djokovic será una de las batallas estelares del próximo año.
---
Nadie imaginaría que Carlos tendría su mayor éxito en la gira norteamericana sobre pistas rápidas, dado que a pesar de iniciar perdiendo en su primer partido en Canadá; y luego tendría 3 encuentros de buen nivel en Cincinnati, perdiendo con Cameron Norrie. Ese mes de agosto quedaba en el olvido (el peor del año para él); retomando su senda ganadora en septiembre, con el US Open. Esa sería la competición de la consagración para el español, porque no solo levantaría su primer Slam, sino que ascendería al Nº1 del ranking.
Nobody would have imagined that Carlos would have his greatest success in the North American tour on fast courts, given that despite losing his first match in Canada, and then he would have 3 good matches in Cincinnati, losing to Cameron Norrie. That August was forgotten (the worst month of the year for him); resuming his winning path in September, with the US Open. That would be the competition of consecration for the Spaniard, because he would not only win his first Slam, but also climb to No. 1 in the ranking.
Recuerdo que en esa final, el primer puesto de la clasificación estuvo peleada por los finalistas, es decir, tanto Carlos como Casper Ruud, tenían opciones de ser Nº1. Por ello fueron 5 tenistas quienes tuvieron el chance real de ascender a ese importante puesto; porque Rafael Nadal también estuvo cerca de lograrlo. El trámite de la fase de grupos de la Copa Davis, dejaba impresiones divididas para Carlos, que tampoco pudo en la gira sobre pistas cubiertas (Indoor) con los torneos de Astaná, Basilea y París - Bercy.
I remember that in that final, the first place in the ranking was fought by the finalists, that is, both Carlos and Casper Ruud, had options to be No. 1. That is why there were 5 players who had a real chance to climb to that important position; because Rafael Nadal was also close to achieve it. The Davis Cup group stage left divided impressions for Carlos, who also failed in the indoor tour with the tournaments in Astana, Basel and Paris-Bercy.
---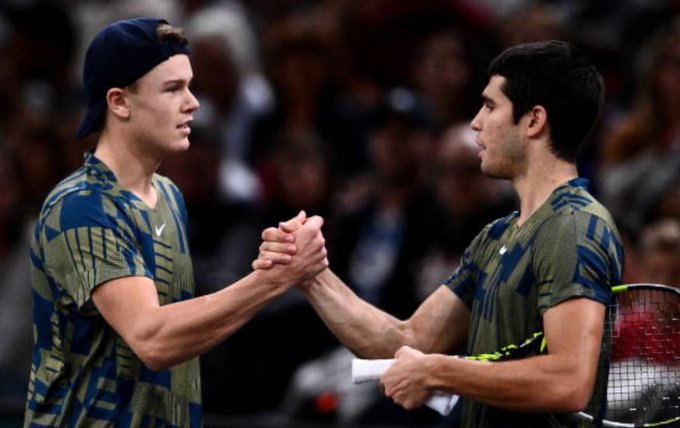 Fuente
---
Su amigo de la categoría juvenil Holger Rune, es uno de los exámenes pendientes para Alcaraz en este venidero año.
---
Con el fracaso de Nadal en las ATP Finals, Carlos pudo sostener su primer reinado como el Nº1 más joven de la historia y de la era abierta en el tenis. Es irónico que haya sido Stefanos Tsitsipás quien más victorias alcanzaba en el año con 61, pero también perdió casi todas las finales que disputó, pudiendo ganar en solo 2 de 7 oportunidades (Montecarlo y Mallorca). Otros atletas obtuvieron grandes logros, pero solo Novak Djokovic pudo igualar los 5 títulos que Carlos, aunque la finalización de Carlos en el Nº1 le da ese plus que lo hace único.
With Nadal's failure at the ATP Finals, Carlos was able to sustain his first reign as the youngest No. 1 in history and in the open era of tennis. It is ironic that it was Stefanos Tsitsipas who achieved the most victories in the year with 61, but he also lost almost all the finals he played, winning only 2 out of 7 opportunities (Monte Carlo and Mallorca). Other athletes had great achievements, but only Novak Djokovic was able to match Carlos' 5 titles, although Carlos' finishing at No. 1 gives him that plus that makes him unique.
Solo Alcaraz pudo ganar dos de los ocho torneos de maestros del año (Faltando solo China por suspensión del evento), además de mostrar gran nivel en todas las superficies posibles y ante jugadores de gran trayectoria, cuya experiencia es bien reconocida en el circuito. Fueron pocos quienes osaron ganarle en más de un encuentro, como Jannik Sinner, Félix Auger-Aliassime y Holger Rune; algo que habla muy bien de este atleta, cuya competitividad representa el nivel del mejor jugador del circuito actual.
Only Alcaraz was able to win two of the eight masters tournaments of the year (missing only China due to the suspension of the event), in addition to showing great level in all possible surfaces and against players of great trajectory, whose experience is well recognized in the circuit. There were few who dared to beat him in more than one match, such as Jannik Sinner, Felix Auger-Aliassime and Holger Rune; something that speaks very well of this athlete, whose competitiveness represents the level of the best player of the current circuit.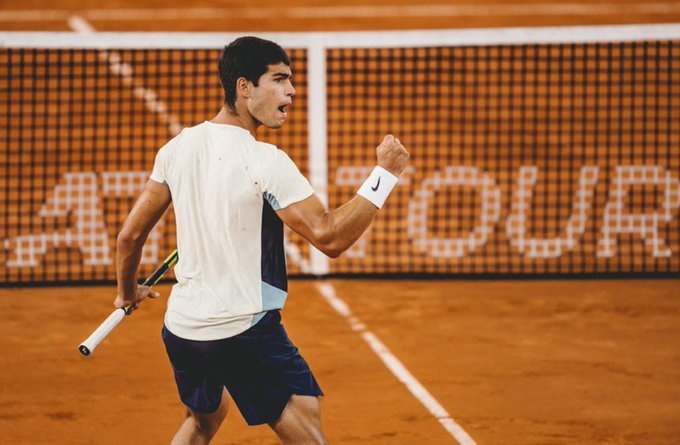 Fuente
Si bien es cierto que Novak cerró de manera espectacular, una temporada truncada por los controles políticos-sanitarios; también lo es que el español representó a la nueva sangre del tenis mundial, igualando las cinco conquistas del serbio y manteniendo un ritmo dominante sobre sus rivales. Sin duda, será este 2023 un año de grandes retos y de medición de fuerzas entre los talentos emergentes y los veteranos que cierran sus carreras. Carlitos es una mezcla de ambos, porque sabe lo que es enfrentarse y ganar ante los mejores.
¿Podrá Alcaraz mantener su reinado naciente?
Definitivamente sí, aunque para ello debe seguir mejorando su juego de fondo y sobre todo su base física. Mientras su cuerpo se aleje de las lesiones tendremos a este joven guerrero dando buena lid ante todos sus retadores. Esta ha sido la mejor performance de un tenista y lo mejor está por venir.
While it is true that Novak closed in a spectacular way, a season truncated by the political-sanitary controls; it is also true that the Spaniard represented the new blood of world tennis, equaling the five conquests of the Serbian and maintaining a dominant pace over his rivals. Undoubtedly, this 2023 will be a year of great challenges and of measuring forces between emerging talents and veterans who close their careers. Carlitos is a mixture of both, because he knows what it is like to face and win against the best.
Will Alcaraz be able to maintain his nascent reign?
Definitely yes, although in order to do so he must continue to improve his ground game and above all his physical base. As long as his body stays away from injuries we will have this young warrior giving a good fight against all his challengers. This has been the best performance of a tennis player and the best is yet to come.

La opinión en esta publicación es de carácter personal por parte del autor.
Translated with www.DeepL.com/Translator.
The opinion in this publication is of a personal nature on the part of the author.
Translated with www.DeepL.com/Translator.
.

---
---