Stan "The Man" // Best Match of Year for him.
This afternoon I was able to see a great match by the Swiss Stanislas Wawrinka, in the round of 16 of the Metz Tennis Open, an ATP 250 tournament, better known as the Moselle Open. Today's match was very busy, with matches of great relevance, such as the clash between Dominic Thiem and Hubert Hurkacz or Arthur Rinderknech vs Nikoloz Basilashvili; but the one I liked the most was the debut of Daniil Medvedev against the aforementioned Swiss player.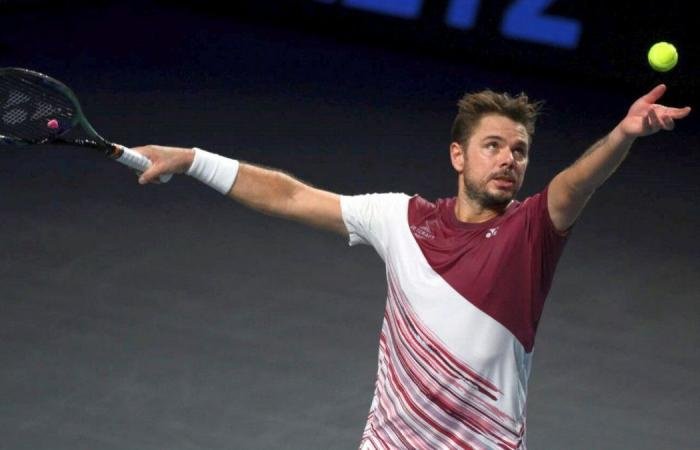 Source
And while preparations continue in London for the great Roger's farewell, his compatriot and friend was preparing to face the first pre-qualifier in Metz. I think it is always difficult to play against an athlete like Medvedev, because he is a very dynamic guy on the court and builds every point very well, so Stan's challenge was twofold, because it was his fourth match in a row and at 37 years old is something that can take its toll.
---
Considering that he spent more than a year injured in his left foot and that this is only his seventeenth match of the year, I consider it an epic triumph for the player from Lausanne. The key for Wawrinka was to hold on to the Russian attacking train, especially in the long rallies, in which he served better and was able to break in the 7th Game, to take the first set 6-4. It was very important to start on top of the scoreboard, because it gave him more confidence in his rhythm of play.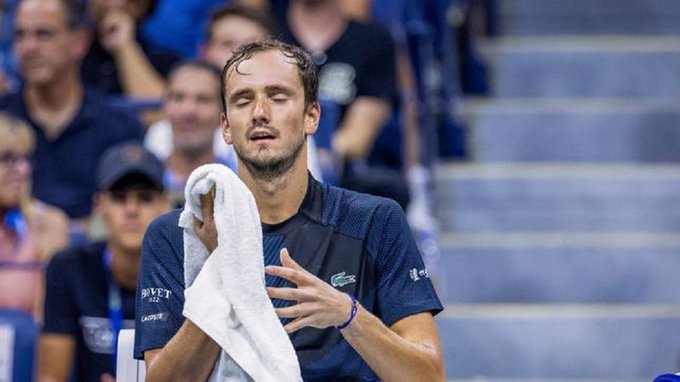 Source
And in a match to 3 sets, it was obvious that Daniil pressed with more pressure on each reception, despite committing some unforced errors, he was able to break and hold, but the Swiss did not let up and defended his serve in a big way, to equalize and remain even until the tie break. There I saw Daniil with problems to maintain the advantage and Stan managed to hit consecutive points, although he was about to close the match and it was the Russian who managed to tie it 1-1.
---
Before the start of the 3rd set I thought Stan would give in to fatigue (as happened in NY), but the controlled atmosphere in Moselle and his physical preparation, worked in his favor. Seeing him up 3-0 was incredible and I can't imagine how annoying it was for Daniil to have the stands openly supporting his opponent; to the point that Medvedev threw his racquet on the floor and argued with the public, something I've seen before in him by the way.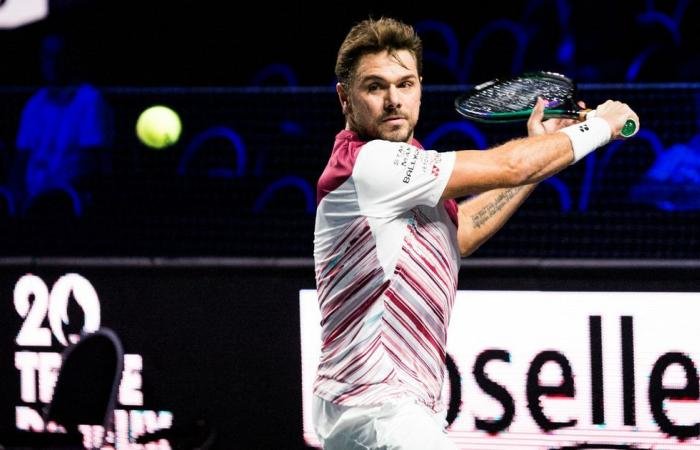 Source
The Russian had a rude behavior with the fans, but he seems to like that and I think that sometimes, he raises his level to silence his detractors. I ended up confirming it when Daniil equalized 3-3, but Stan's beautiful backhand remained under control and was associated with his parallel drive, which made the Moscow-born player suffer, provoking unforced errors at critical moments. Therefore, with the new break in the 8th game, Wawrinka was one step away from winning. It was not at the first attempt, but at the 3rd.
---
It was a demanding battle of 2 hours and 20 minutes, only when Stan knew he was the winner did he open his mouth looking for oxygen, his tiredness seemed to fade away with the joy of beating such a complicated opponent as Medvedev. In the opinion of this tennis fan, "The Man" is still one of the best in the white sport; Daniil also missed a lot in his serve (9 double faults in total). Tomorrow Wawrinka will face Sweden's Mikael Ymer in the QF, a 5th match in a row for someone with only 17 matches including doubles seems a lot, but old school tennis players have proven they can always do it.

La opinión en esta publicación es de carácter personal por parte del autor.
Translated with www.DeepL.com/Translator.
The opinion in this publication is of a personal nature on the part of the author.
Translated with www.DeepL.com/Translator.
.

---
---