Tiafoe vence a Norrie // Potencia vs Técnica en Indian Wells. [Esp - Eng]
La segunda semana del torneo de maestros en el desierto californiano ha transcurrido con enfrentamientos de primer nivel, enmarcados en la edición número 49 del BNP Paribas Open, que ha tenido de todo un poco, desde emocionantes duelos hasta el cuestionamiento de la velocidad de la pista y el peso de la pelota al golpearla. Incluso he visto a varios jugadores caer al piso por resbalar bajo el inclemente sol que ilumina el hermoso complejo del Indian Wells Tennis Garden. La primera ronda de cuartos de final nos regaló otra espectacular función deportiva, con el choque entre el británico Cameron Norrie y el anfitrión Frances Tiafoe.
The second week of the masters tournament in the Californian desert has passed with top-level clashes, framed in the 49th edition of the BNP Paribas Open, which has had a bit of everything, from exciting duels to questioning the speed of the track and the weight of the ball when hit. I have even seen several players fall to the ground from slipping under the inclement sun that illuminates the beautiful complex of the Indian Wells Tennis Garden. The first round of the quarterfinals gave us another spectacular sporting performance, with the clash between the British Cameron Norrie and the host Frances Tiafoe.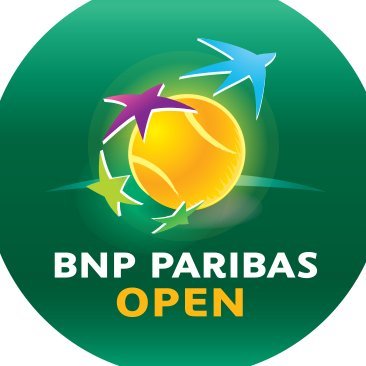 Fuente
En comparación con el duelo entre Medvedev y Davidovich, era éste el encuentro que me parecía de mayor atractivo, dada la marcada diferencia en sus estilos de juego; con la velocidad y potencia física de Tiafoe versus el tenis mesurado y evolucionado de un Cameron que se ha mantenido cera de los mejores del mundo. Incluso Norrie viene de levantar el trofeo en Río de Janeiro y el cambio a esta pista dura parece no haberle afectado mucho; logrando levantar partidos muy duros ante Taro Daniel y Andrey Rublev respectivamente. Y a su vez, representaba la mayor prueba para un "Big foe" cuyo camino parecía más accesible con Jason Kluber y Alejandro Tabilo (Con todo respeto).
Compared to the duel between Medvedev and Davidovich, this was the match that I found most attractive, given the marked difference in their playing styles; with the speed and physical power of Tiafoe versus the measured and evolved tennis of a Cameron who has remained close to the best in the world. Even Norrie has just come off lifting the trophy in Rio de Janeiro and the change to this hard court doesn't seem to have affected him much; managing to lift very tough matches against Taro Daniel and Andrey Rublev respectively. And in turn, it represented the greatest test for a "Big foe" whose path seemed more accessible with Jason Kluber and Alejandro Tabilo (With all due respect).
---
La premisa de la paridad de fuerzas se vio cumplida desde el mismo inicio de la acción, con la disputa de cada game de apertura por alrededor de 12 minutos cada uno; debo confesar que me gustó mucho la manera cómo Cameron sorteó los tiros rápidos del norteamericano, además de ejecutar pelotas de gran colocación con su forehand en topspin corto, que caían muy cerca luego de pasar la red. Ese juego corto le hizo daño al estilo abierto y frontal de Frances, que también aplicó sus armas de ataque a los laterales. Así que la batalla cumplía con mis expectativas al ver la contención de Norrie, plantar batalla a un jugador mucho más veloz.
The premise of the parity of forces was fulfilled from the very beginning of the action, with the dispute of each opening game for around 12 minutes each; I must confess that I really liked the way Cameron dodged the American's quick shots, as well as executing great placement balls with his short topspin forehand, which landed very close after passing the net. That short game hurt the open, frontal style of Frances, who also applied her attacking weapons to the wings. So the battle met my expectations seeing Norrie's containment, battle a much faster player.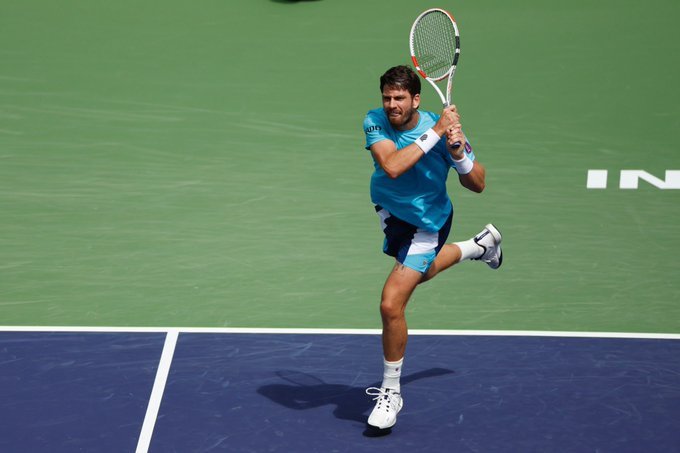 Fuente
Sin embargo la presión del moreno de Maryland fue haciendo mella en las piernas del británico, ya que al parecer Tiafoe advirtió ese punto débil de su rival al correr hacia adelante, es decir, a Cameron se le nota la dificultad de llegar a los drop shots; cosa que no pasa con su alcande hacia los lados y regresando a la línea de fondo ¿Curioso no? Por el contrario, Frances muestra muy pocas brechas y se vuelve implacable con su ataque desde la pintura o sobre la línea final, por eso rompió muy bien al 7mo game y esa pequeña ventaja le dio un importante primer set a su favor por 6-4 en 54 minutos muy intensos.
However, the pressure from the dark-haired man from Maryland was taking its toll on the Briton's legs, since Tiafoe apparently noticed his rival's weak point when running forward, that is, Cameron is noticing the difficulty of reaching the drop shots ; something that does not happen with its mayor to the sides and returning to the bottom line. Curious, isn't it? On the contrary, Frances shows very few gaps and becomes relentless with her attack from the paint or over the finish line, which is why she broke the 7th game very well and that small advantage gave her an important first set in her favor 6-4 in 54 very intense minutes.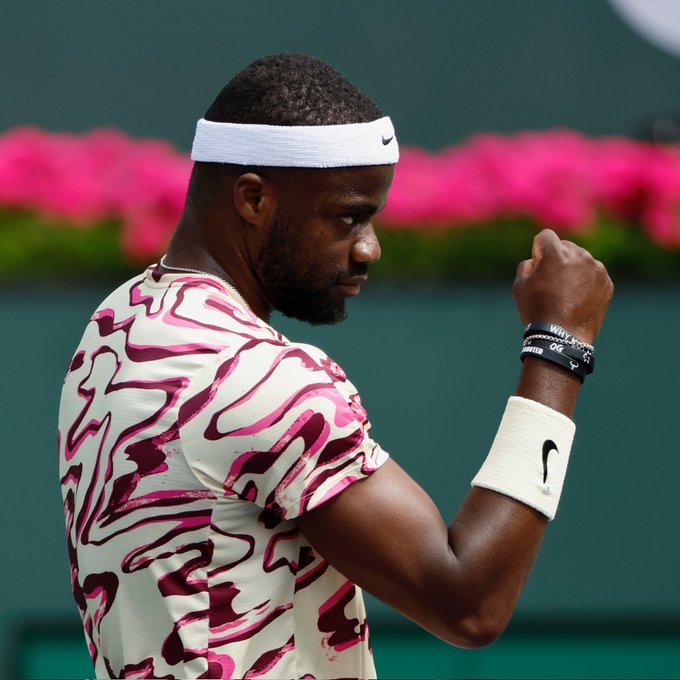 Fuente
El segundo set comenzó con un Norrie extrañamente ansioso (No es fácil ir perdiendo con un Tiafoe crecido y en su patio); y al tratar de acelerar más de la cuenta, incurrió en errores no forzados que le costaron el quiebre en contra. Sin embargo, la capacidad de recomponerse también salió a flote, al lograr maniatar a su rival con combinaciones de distancia y velocidad; o sea, lanzó su buen drive hacia un mismo punto pero a variadas colocaciones, un tiro largo y luego en vez de cruzar la bola, repitió el flanco pero más corto y eso descolocó un poco al contrapié de Frances. Creo haber aplaudido con la recuperación del break por parte de un Norrie que parecía decir "Aquí estoy y no me rindo".
The second set began with a strangely anxious Norrie (It's not easy to trail with a grown Tiafoe in his backyard); and when trying to accelerate more than necessary, he made unforced errors that cost him the break against. However, the ability to compose himself also came to the fore, managing to tie up his rival with combinations of distance and speed; In other words, she launched her good drive towards the same point but at various locations, a long shot and then instead of crossing the ball, she repeated the flank but shorter and that upset Frances's misstep a bit. I think I applauded with the recovery from the break by a Norrie who seemed to say "Here I am and I'm not giving up."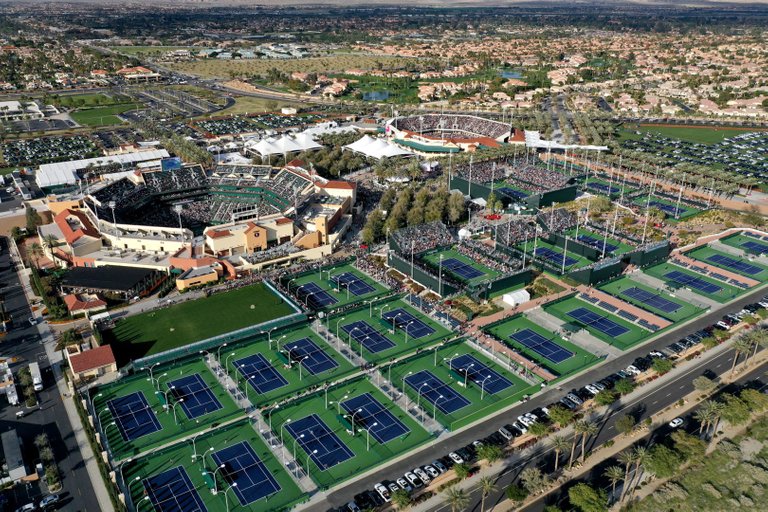 Fuente
No obstante, Tiafoe también demostró su casta y parece haber recordado que en carrera, su rival tiene ciertas debilidades; entonces hizo lo que tocaba hacer, ponerlo a correr ja,ja,ja. Así, Frances castigó al 5to y 7mo games, sacando incluso para partido con un 5-2 que parecía de otro partido; Pero el zurdo nacido en Johannesburgo dio muestras de valentía y buen pulso, al recuperar uno de los quiebres al 8vo game. También rescato su brillante servicio a la T, que por su efecto y excelente colocación se hizo imparable; de hecho superó a su rival en ese departamento (Aces).
However, Tiafoe also showed his caste and seems to have remembered that in the race, his rival has certain weaknesses; then he did what he had to do, make him run ha ha ha. Thus, Frances punished the 5th and 7th games, even serving for the game with a 5-2 that seemed from another game; But the Johannesburg-born lefty showed courage and a steady hand, recovering one of the breaks in the 8th game. He also rescued his brilliant service to the T, which, due to its effect and excellent placement, made it unstoppable; he actually outperformed his rival in that department (Aces).
Tiafoe pudo concretar su victoria en la segunda oportunidad y cerrar con el doble 6-4 en 1 hora y 40 minutos, casi el mismo tiempo del encuentro entre Davidovich y Medvedev (1:46). Ahora veremos la semifinal entre el ruso y el norteamericano, Daniil versus Frances; desde mi perspectiva y por las quejas de Meddy sobre la pista, creo que la velocidad de Tiafoe le va a beneficiar. Sin embargo, el de Maryland debe estar al tanto de esta situación y puede establecer una estrategia de juego corto con ataques laterales (también cortos). Frances tiene un slice muy picante que puede poner en aprietos a Daniil, por el hecho de cambiarle la velocidad, aunque el moscovita es un atleta acostumbrado a estas lides y los 4 triunfos en fila ante el norteamericano lo avalan.
Tiafoe was able to finalize his victory on the second chance and close with the double 6-4 in 1 hour and 40 minutes, almost the same time as the match between Davidovich and Medvedev (1:46). Now we will see the semifinal between the Russian and the American, Daniil versus Frances; From my perspective and from Meddy's complaints about the track, I think Tiafoe's speed will benefit him. However, the one from Maryland must be aware of this situation and can establish a short game strategy with side attacks (also short). Frances has a very spicy slice that can put Daniil in trouble, due to the fact that he changes his speed, although the Muscovite is an athlete used to these battles and the 4 wins in a row against the North American guarantee it.

La opinión en esta publicación es de carácter personal por parte del autor.
Traducido con www.Google.com.
The opinion in this publication is of a personal nature on the part of the author.
Translated with www.Google.com.
.

---
---