Accurizing the Pew - Free Floating Barrel
New stock for my rifle. Do I just bolt it on? Of course not! Those following the community or my posts have seen that I've recently had to modify several of my rifles to accommodate a thermal night scope and quick-release mounts for the normal day scopes so I can easily switch back and forth.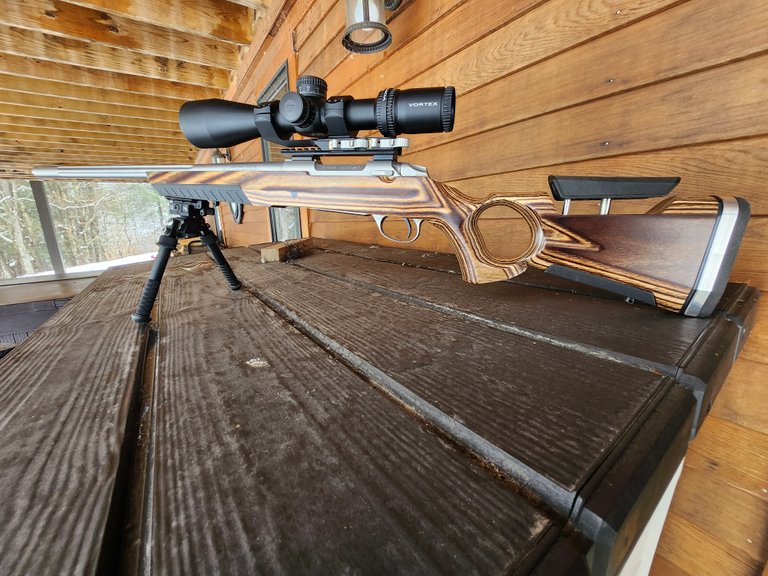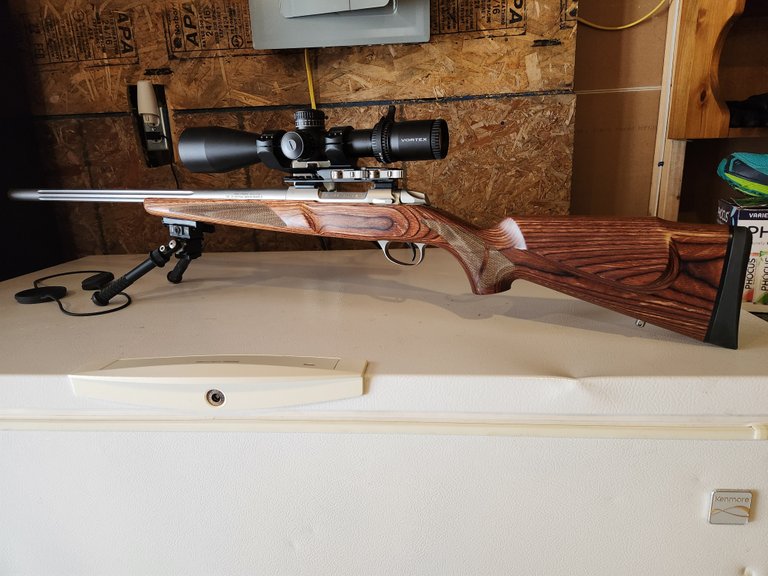 Here is the "before" pic. The eye relief just too far forward, and comb needed to be raised or add-on cheek cushion.
When I added the quick release mounts to my prized Sako model 85 .22-250, the change in scope height and eye relief (distance from end of stock to scope) made it almost unusable. I had to stretch my neck forward and put the comb of the stock nearly on my chin to see through the scope and shoot. Needless to say it was very uncomfortable and did not leave me with the strong, stable shooting posture I am obsessed with used to.
![](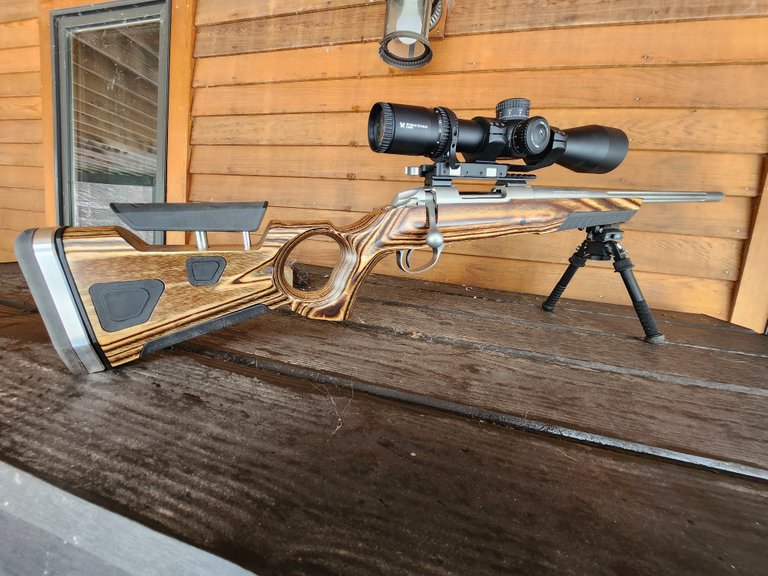 After weighing options, I decided to replace the factory Sako stock. While it was certainly pretty to look at, it had always been a bit long for me. What may work well for tall Finnish or Swede folks, it didn't fit my short, stocky arms as well as I would have liked.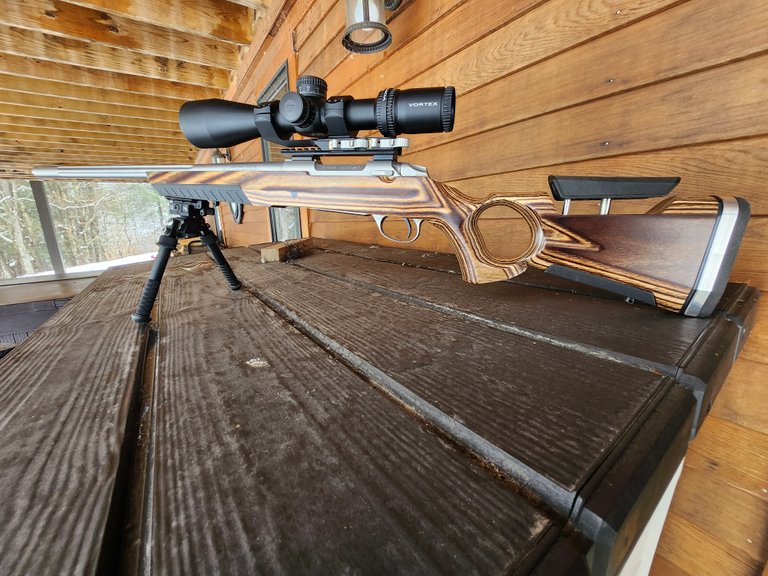 I've been extremely tickled with the Boyd's AT One thumbhole stock I bought a couple years ago for my Ruger 10-22. It has an adjustable length of pull, an adjustable comb, and I like the thumbhole grip style of it. I decided to put the same stock on this Sako. I've kept the length at it's tightest, closed length, which has given me about 2" closer eye relief than the factory stock, and it's MUCH more comfortable with the raised comb as well.
They make a variety of colors, but I'm still kind of an old-fashioned wood look guy. I bought it in the "Nutmeg" color scheme. It is a Laminate wood stock. Laminate stocks do better in changing weather as far as not shrinking or expanding as much as normal wood stocks. Almost as good as synthetic, but of course they look much better imho.
Of course, I couldn't just bolt it on. There is a method and order to this type of thing. First off, we had to add a picatinny rail adapter to the sling swivel mount. This allows me to quickly attach, detach, and swap my absolute favorite bipod, (Atlas) between rifles. I've used a few models of these, this time chose a "Caldwell" because it was easily available.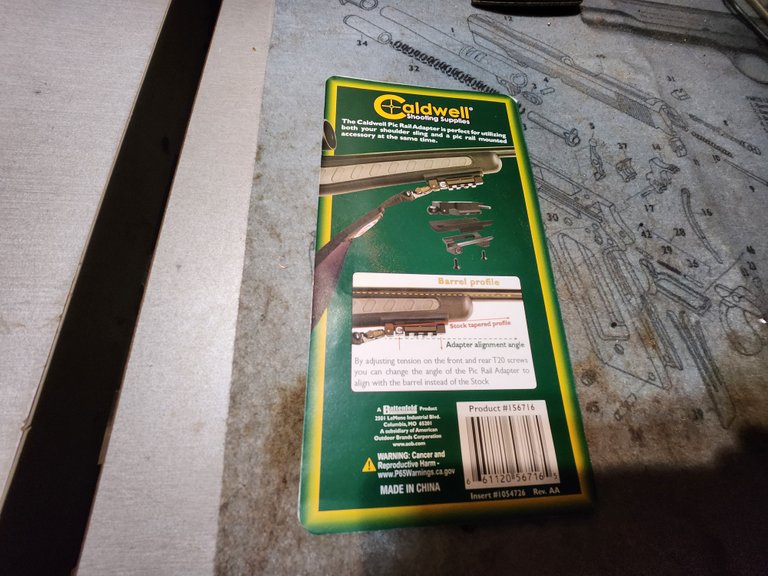 It's kind of slick, because it also has a sling swivel attachment, so you get the choice of using either or both at the same time.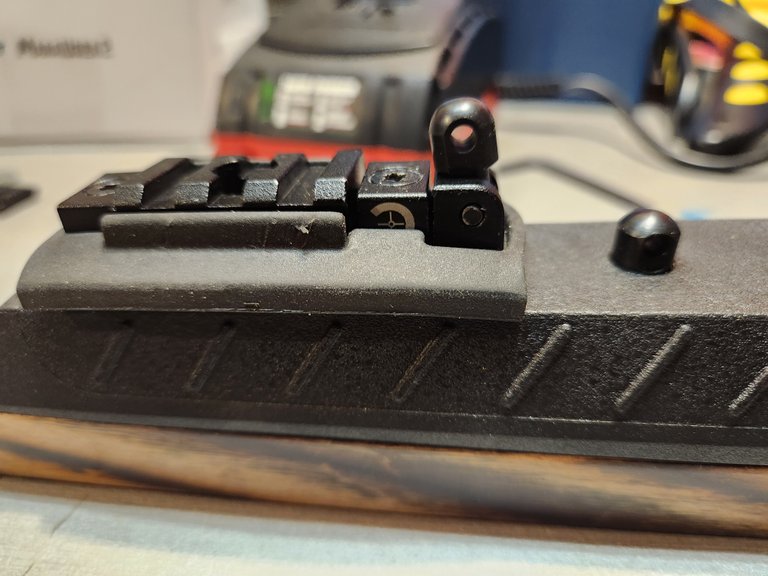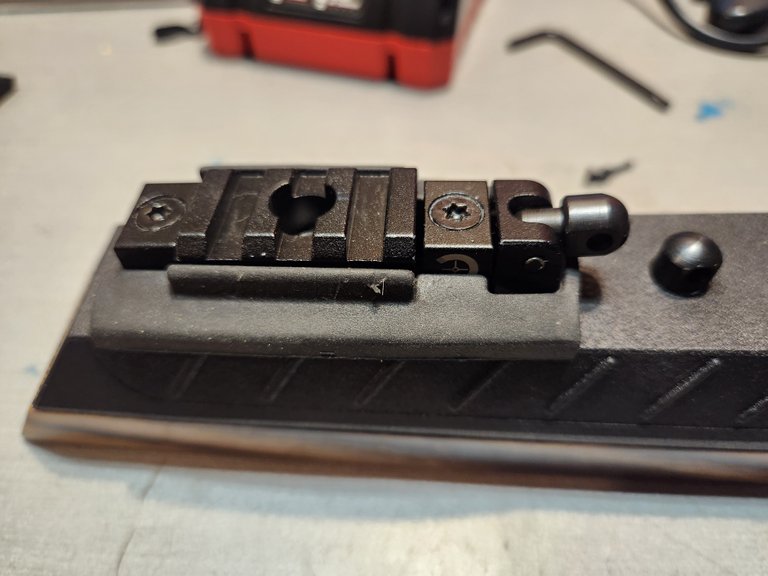 And then of course it's only 2 seconds to snap on the atlas bipod with the picatinny quick release.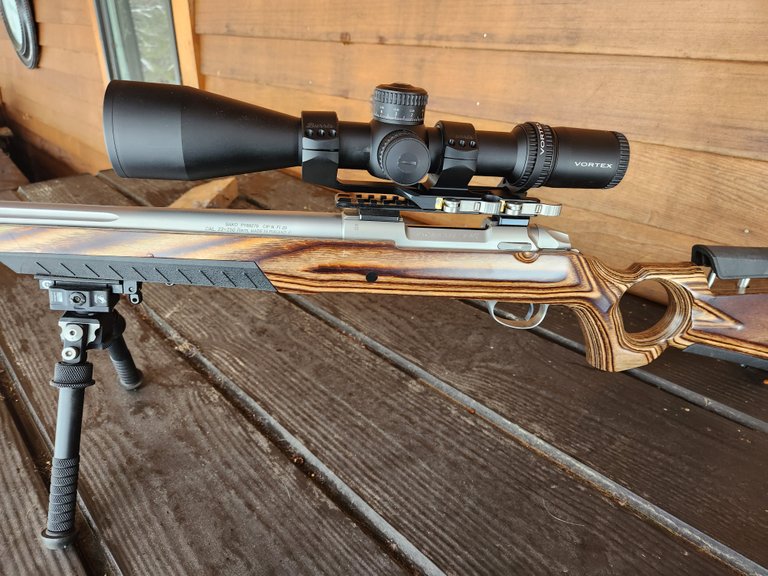 Next up is dealing with the actual subject title. "Free Floating" the barrel. There have been many discussions and testing on the topic. While there are sure to be a few random exceptions, most experienced precision shooters agree that a Free-Floated barrel will increase precision (accuracy). Precision is about repeatability, the ability to consistently put one bullet on top of another. The concept of Free-Floating a barrel is to not have any part of the barrel touching the stock. The chamber should be well anchored, but the main concept is to not have any part of the stock touching the barrel, so that it's vibration and harmonics are not disturbed during the split second that the bullet is traveling down the barrel. If part of the stock is touching the barrel, this could affect the vibration of the barrel inconsistently, especially as the barrel heats up after multiple shots.
The goal is consistency to achieve the highest precision. I've only done and seen anecdotal results, but some folks that have done more real-world testing claim differences of anywhere between 7% to 57% improvement, varying even across ammo in the same rifle. But nearly always significant improvement.
Like many most after-market stocks, this one was not a perfect fit out of the box. Many require some minor "fitting", which basically means filing, sanding, or grinding away some portions to fit properly. While this one needed some very minor "fitting" around the action to fit into the stock properly, my idea was much more.
This barrel didn't fit into the stock at all until I did a little adjustment (sanding). After that, the stock was touching the barrel on the bottom, the sides, and all over, really. Definitely not what I wanted.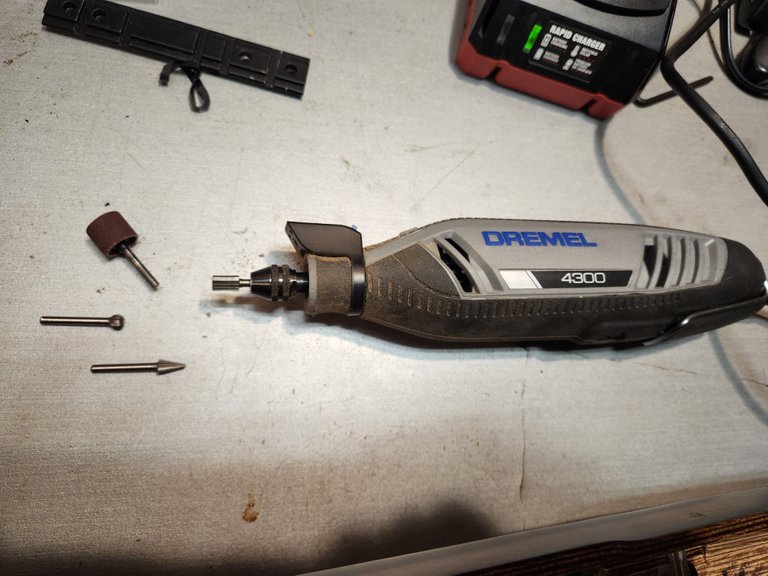 Not feeling much for all the manual filing and sanding this would have taken, I took the handy Dremel tool and used that to file, then sand out the sides and bottom of the stock.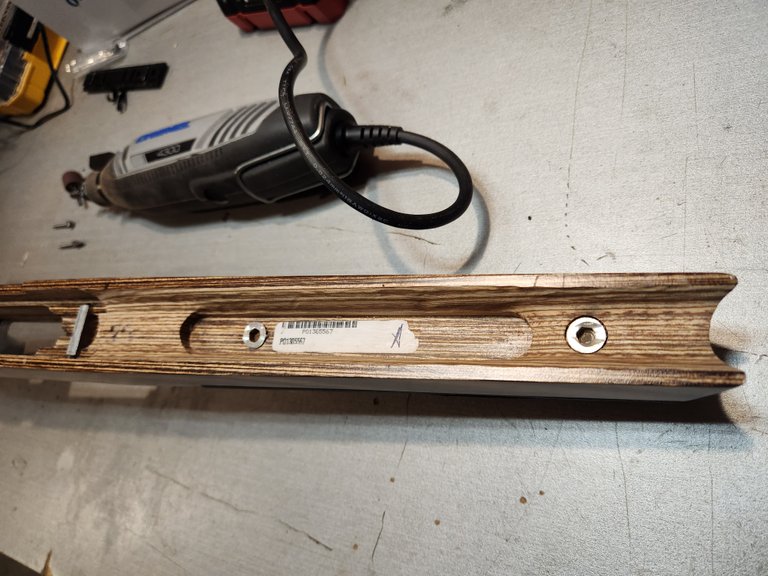 And then the last objective, testing. I actually had to attach and remove the stock 4 times, grinding and sanding until I had achieved my goal, being able to slide a piece of paper, (most choose to use a dollar bill) between the stock and the barrel all the way down without it catching.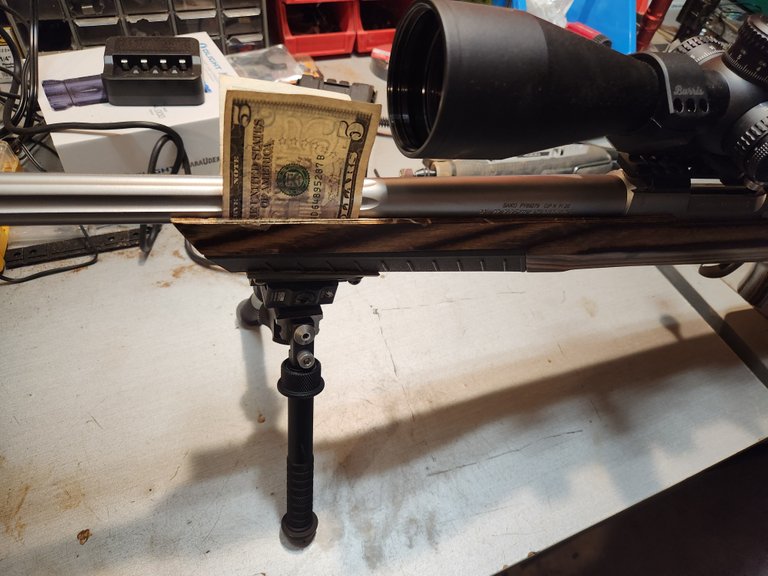 Ahhh, sweet success!
And just for giggles, here it is with the AGM Rattler TC 35-384 1-8x thermal scope mounted vs the Vortex 5-25 x 56 day scope. I can change scopes literally in under 5 seconds and have dramatically increased the versatility of this weapon. I can't wait to get it in the field! Spent last weekend sighting in and ready to go!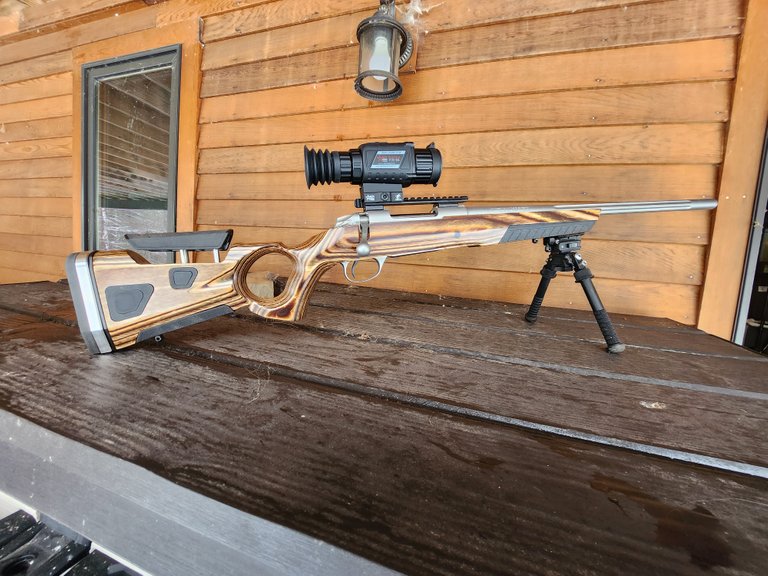 Are there drawbacks to Free-Floating? The only drawback that I am aware of is that the slight gap also means there is opportunity for dirt or debris to sneak it's way into the gap, and then disturb your vibes. Best avoided by periodic removal and cleaning, especially after visiting hostile environments, otherwise, not really. Would love to hear other's experiences with it.
---
---