The pew gear that keeps giving (like groundhog day)
Or, Scope Mounting Groundhog Day. A few months ago, I posted about a new Thermal Scope. I was initially very excited about it, and in a way still am. However, I've had to completely change my plans on how I intended to use it.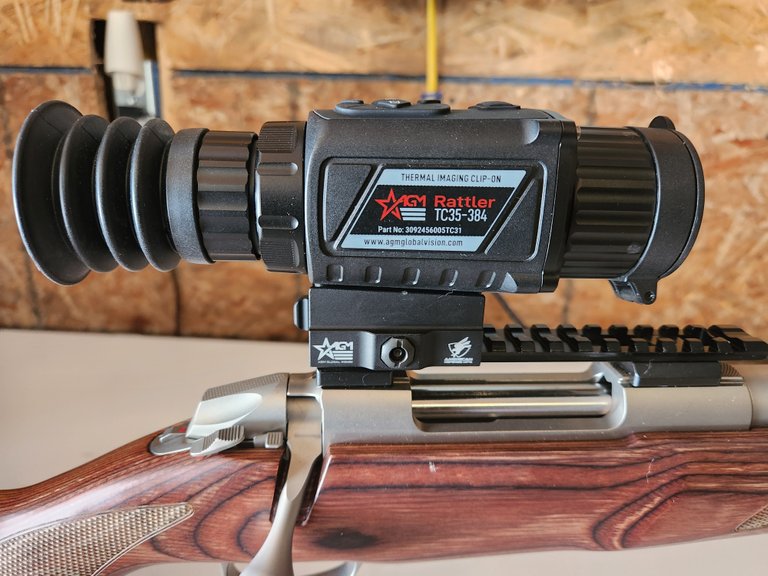 I bought an AGM TC35-384 Rattler Clip-on. The intent behind this was that it would simply "Clip-on" to the end of my existing rifle scopes by sliding over the existing day scope lens and locking it on with a flip of a lever. This would allow me to quickly and easily switch it between rifles (I planned on at least 5 different that all have specific uses) without affecting the use or function of the traditional day scopes that are already sighted in and well-tuned. Luckily, it can also be used as a standalone 1-8x power scope or handheld scanner.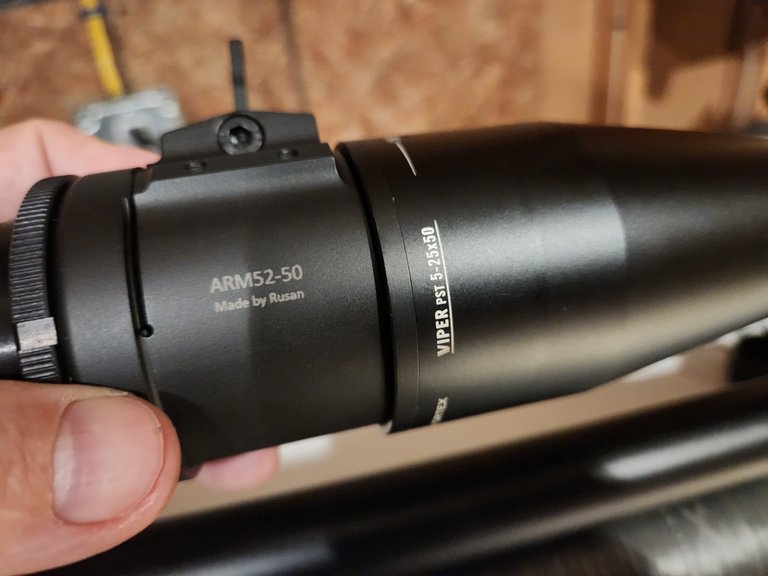 Well, of course the Clip-on adapters were not included. So, I ordered them, waited a month and then found out they didn't fit. Apparently, unlike the rest of the world in photography, scopes, other optics, rather than build their adapters and list them according to the common standard objective lens size (56mm, 50mm, 40mm, etc.), they decided to be different. So, neither the ones they list as ARM52-50 or ARM52-56 will fit any of my scopes, which are all 56mm and 50mm objective lenses.. So, they ask me, well what is the actual outside diameter of your scopes.... So I buy a set of mm calipers (my existing was inches only) of course the outside diameter is larger, 62mm and 58mm. I ask if I can return the others and get larger ones that fit. No response. A couple weeks go by with several unreturned emails... then their support says the previous support person left the company, and offers to help. I ask again.. Ah, they don't make any adapters that size and could provide no date or even if they will ever offer. Arrgghhh! Really? These are probably the most common and widely used scope sizes in the world, and they don't support them? Arrggghh!
So, the problem? is I really do like the scope (clip-on issue aside). It works well as a handheld scanner, as well as a standalone 1-8x scope. I did slap it onto my AR-15 platform .223 and play a bit. It has a nice, well made quick release, and can easily change zero by inputting different numeric adjustment settings once sighted in to allow moving between different rifles and calibers.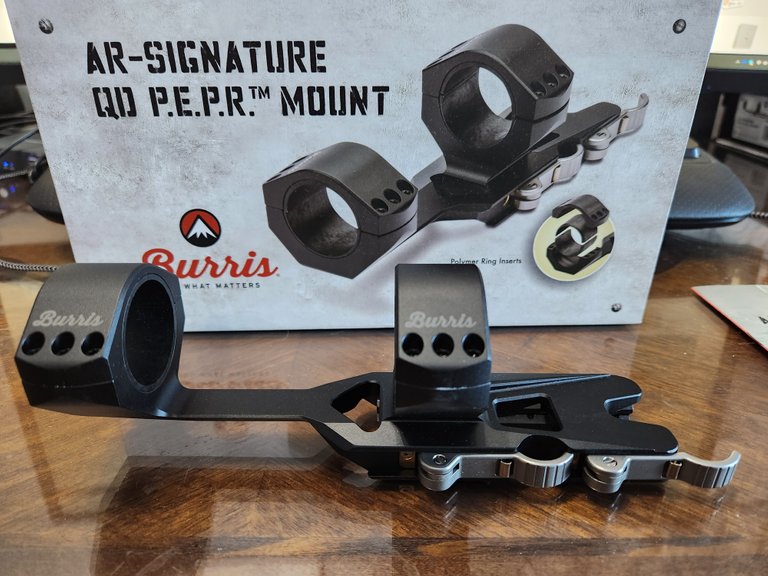 New plan. I decided to keep it and instead invest in some quick release mounts for the day scopes on the primary rifles I plan to use the thermal with. That of course means having to remove the scopes, remove the existing rings and bases, then replace with the new quick release mounts, re-align / level the scopes, and then re-sight the day scopes, then re-sight the thermal for each one and record the settings.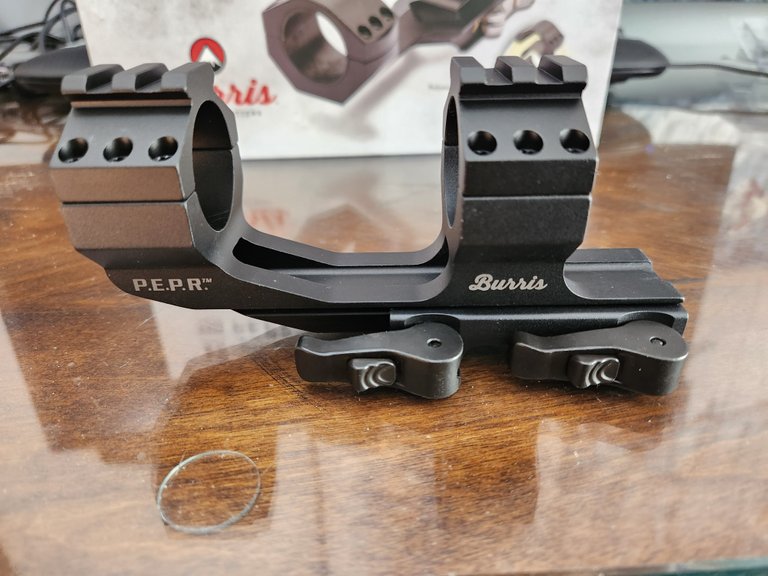 This model slightly different than the other 30mm tube instead of 36mm tube like the other ones, but has the nifty little Picatinny mounts on top for flashlight, camera, or other. This one does not have the adjustable shim rings.
While I was upgrading, I decided a few improvements. First, I got one-piece mount/rings rather than two piece. Some folks swear by one piece, and it certainly seemed more likely to return to zero after removal and reattachment. Second, I decided to add some shim to angle the scopes for more long distance travel. This can be done in several ways, by using an angled base, by using shims in the rings, or by placing shim under existing base. In the old days, some folks used to simply put a layer or two of aluminum can cut to fit under the rear base to shim it up a bit higher. Many folks nowadays use an aluminum angled base or rail. The Signature quick release rings I bought from Burris came with a selection of shims in the rings that allow any where from 0 to 40mm adjustment. I decided to go with 30mm on my setups. That should easily satisfy my distances.
Previously my .30 and .357 cal PCP rifles would max out at about 150 yards, and to shoot 200 yards I would have to max them out and then also max out the holdover within the scope.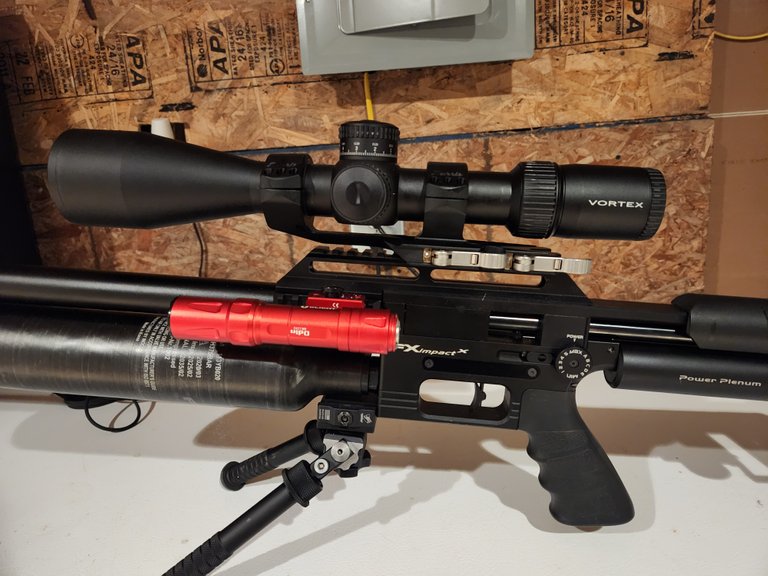 The only thing I don't like is that the quick-release mounts end up being taller than my previous rings. This one way higher than normal given the already elevated built-in rail. I generally like to keep scopes low, about 3/8 of an inch or 9.5mm, these QR mounts raise it up at least an additional half inch (12mm), which is a very different feel when up on the shoulder. This also places the scope uncomfortably far forward on one of my rifles, but still usable. I suppose the price I'll need to pay for the flexibility.
Scope Mounting Process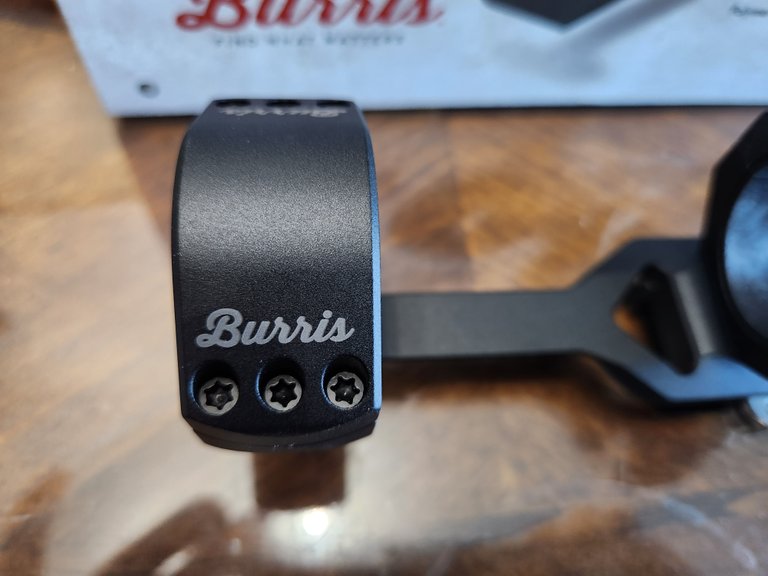 Then there was the mounting. One of the things I really like about the Burris rings (QR and normal) is that they secure with six screws on each ring, not just four, like many others do. This provides a very solid grip, without stressing the scope. I always use a torsion wrench to measure the proper tightness, to avoid damaging the scope, or stripping out the screws. Most manufacturers recommend 20-25 inch lbs. It's not as tight as you would think. This torsion screwdriver, called a "Fat Wrench" is one of the best purchases I ever made. Yes, get you one. Totally worth the cost and so much more comfortable than using those tiny allen wrenches!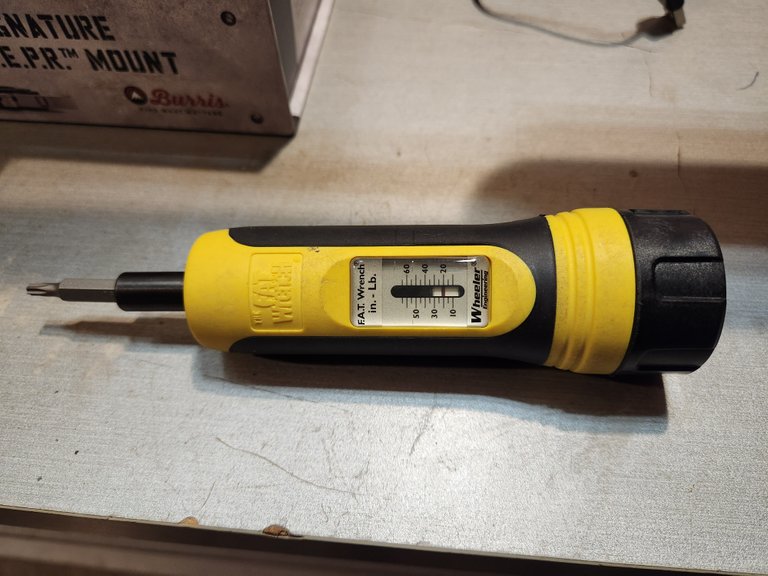 I also have a specific method I use to level and then to tighten the scope. Again why I like the six screws. Although this does lead to the groundhog day repeat of 12 screws, plus four in and out twice, times 4 rifles plus the removal of 12 screws on the original mounts per 4 rifles, and then re-inserting them for storage... let's see 96 plus 96 plus xx ...ugh lost count.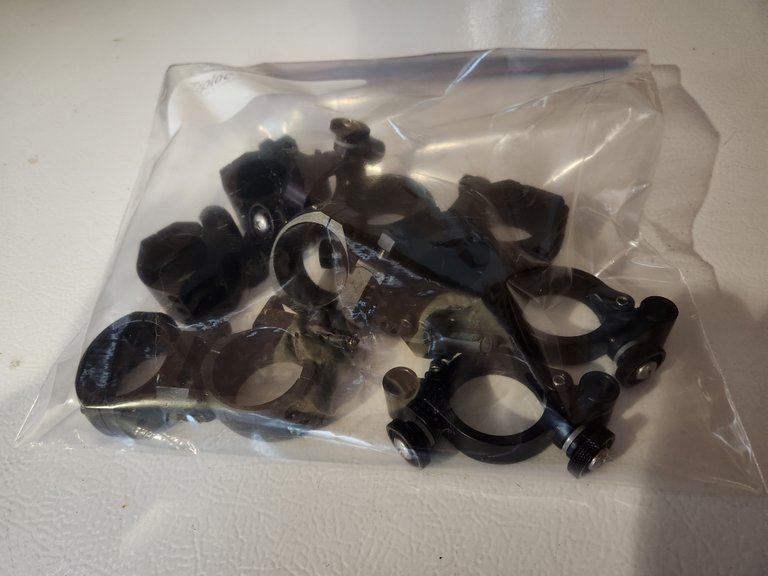 Leftovers from the old mounts.
For my process, I first put a screw in each of the middle holes, leaving the outside ones empty. I put these on just tight enough to hold the scope, but still allow me to move it forward and back, as well as twist with just a little effort so it stays where I put it. I then shoulder it and check for proper eye relief (distance forward) at max power to ensure that it gives proper view.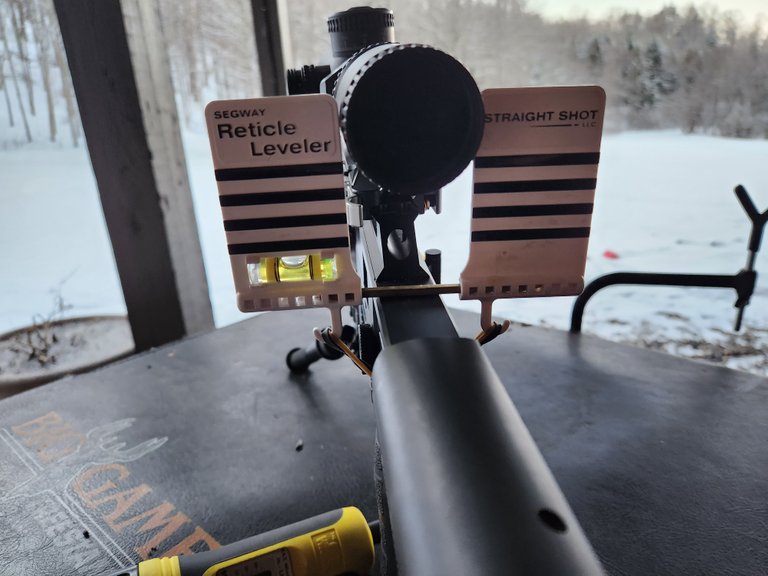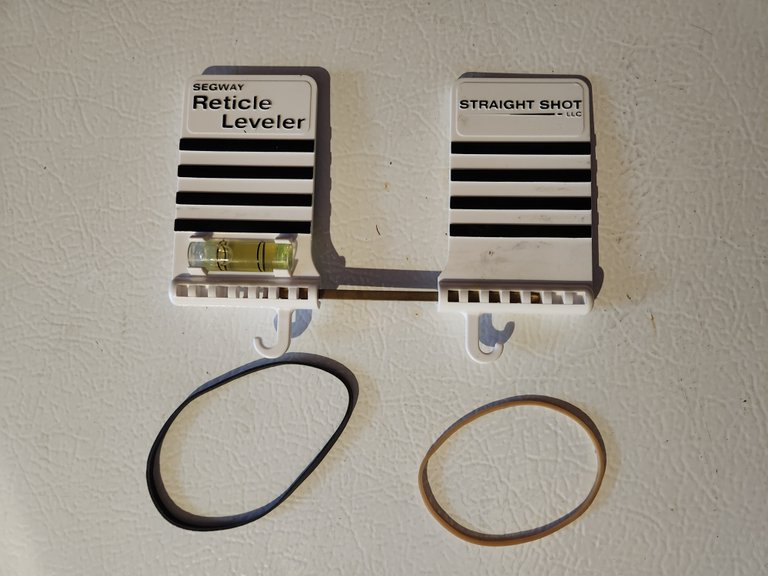 Then, I attach this device, a "Segway Reticle Leveler" Tool with a rubber band (only $15!), ensuring the bar is flat on the top of rifle. Then using a rifle rest or bipod, I then just have to ensure the bubble is level with the rifle, look thru the scope and ensure that the crosshairs inside are level with the lines you see on either side of the scope. It only takes a minute or two to twist the scope into level alignment, then tighten those two middle screws.
Next, I go back to the workbench, apply blue (removable) loctite to the other screws and tighten them in to proper tension with the fat wrench. Once those are completed (altering side to side), I take out the previous two center screws, apply loctite to those and replace. Then we are all ready to sight them in and set our zero stops!
Here's a few shots of the finished ready to go setups.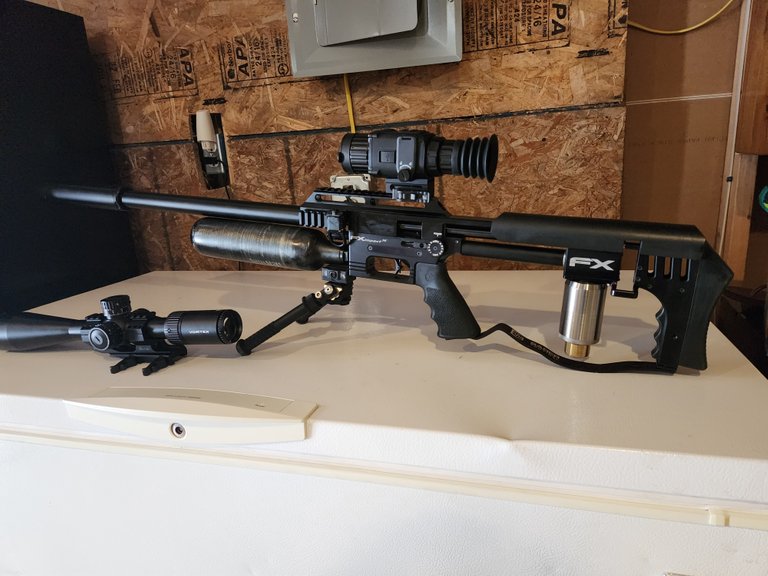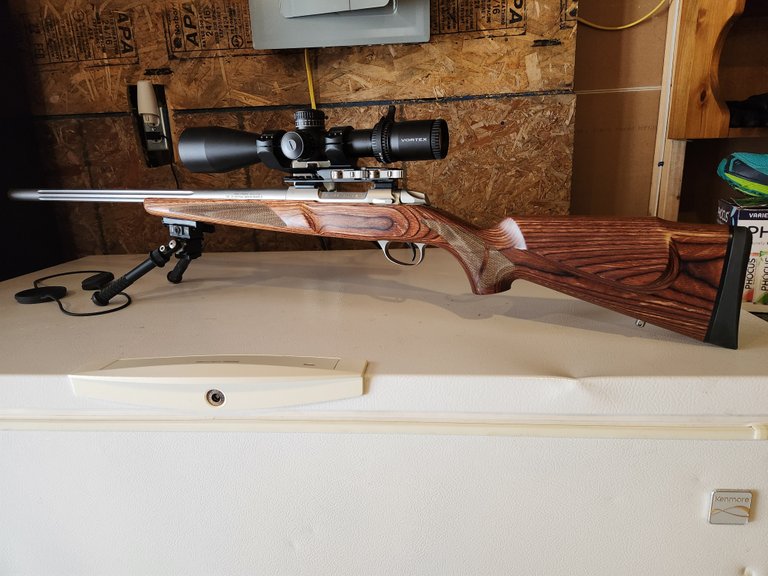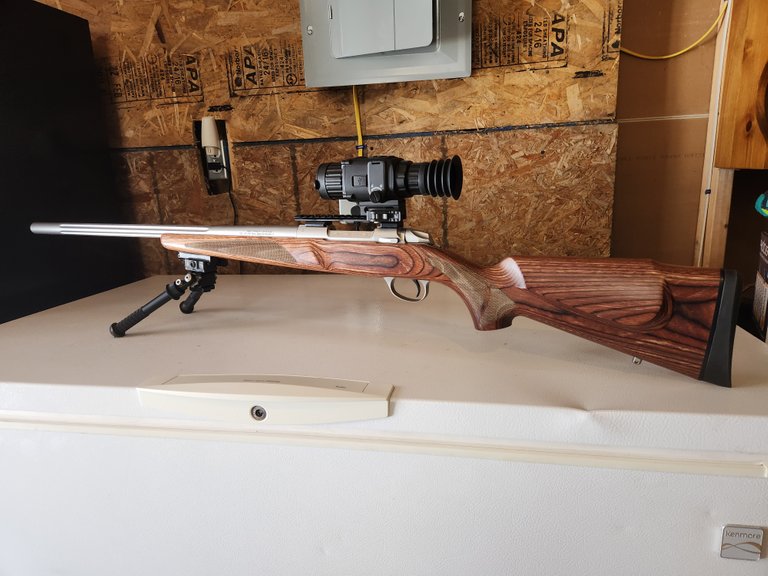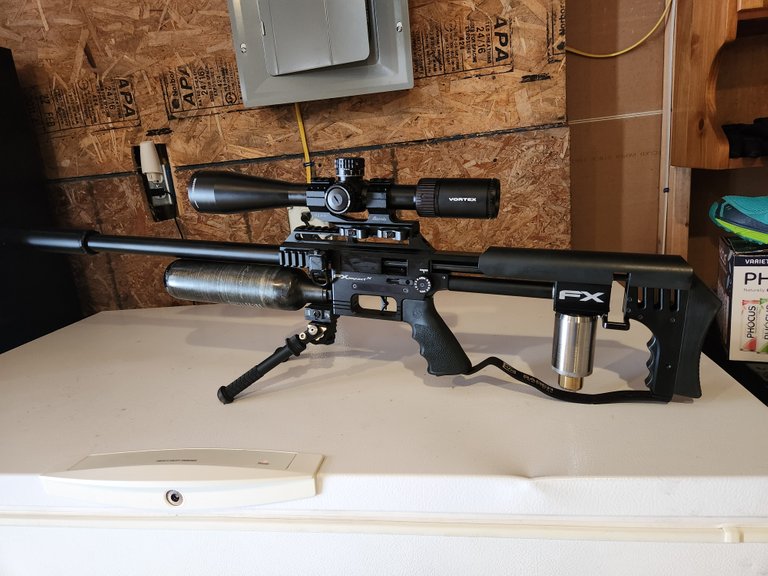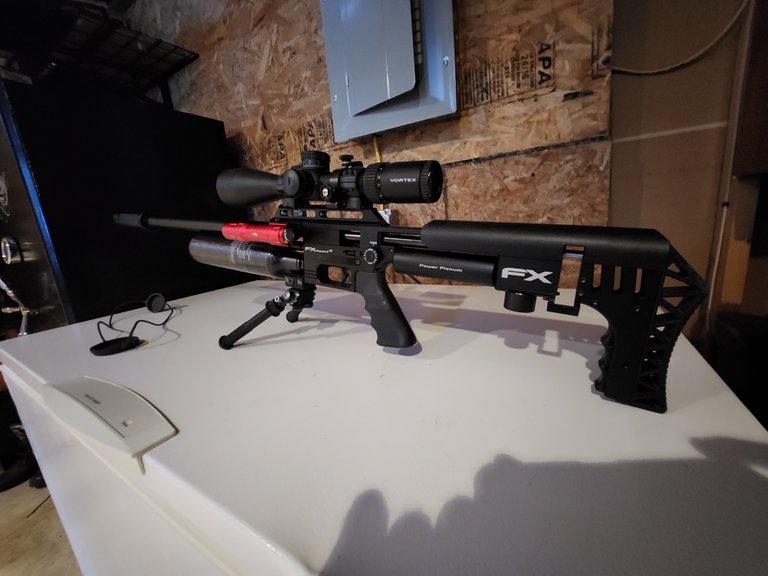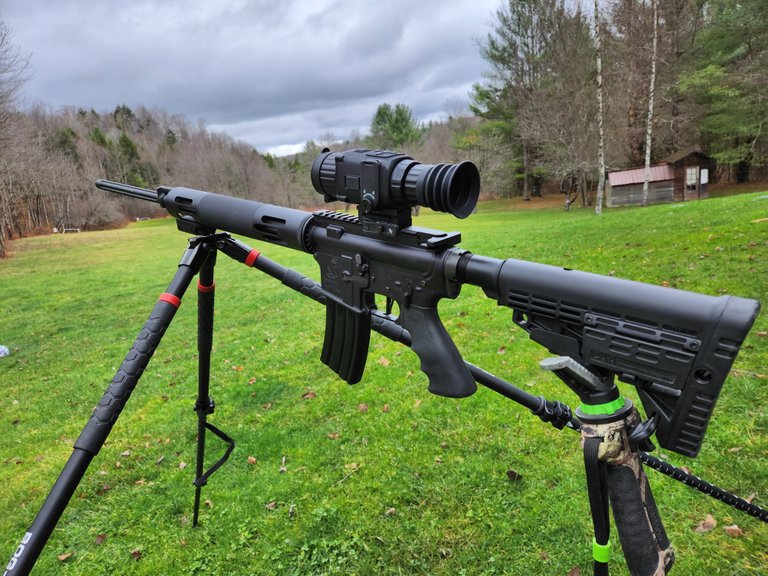 It does fit and work nice on the AR.
Now just one more left to go. My Ruger 10-22 had it's own proprietary rail, and I had to order a picatinny rail so it would be compatible. Next, we are ready for the range, double sight-ins for each rifle, day scope and night scope. Then we'll have some testing on repeatability when switching back and forth. Sounds like I'm gonna need some more ammo and warmer weather!
---
---