500 FREE SPS TOKENS JUST FOR ENTERING! First Goalscorer + Correct Score Comp. No 278: EPL Arsenal v Everton : 23 Apr 2021 - 5000 + 5000 SPS Token
A big result for Leicester and West Brom last night but for opposite reasons! Leicester looks to have taken a huge step closer to Champions League football next season whereas West Brom have all but confirmed their drop back to Championship football!
As for our team, the game was won on the first post of the day with a 100% prediction. Full details at the end as usual.
So on to tonight, and even on a Friday, the games are coming thick and last as we enter the final stages of the season.


@nathen007's Prediction
An interesting encounter between two teams that sit three points, one place and one game apart with the advantage to Everton.

Everton's form has been dire of late and their European hopes are rapidly diminishing, and I'm not quite sure why. Dominic Calvert-Lewin has been out injured and is back tonight as is Yerry Mina, Bernard, Andre Gomes and Fabian Delph so perhaps this will be the spur they need to make one last effort to become contenders again.
Arsenal have serious problems. Both Pierre-Emerick Aubameyang and Alexandre Lacazette are both out and must surely mean a start for Nketiah. David Luiz and Kieran Tierney are also still out.
At this time of the season, injuries become more frequent.
Neither team are scoring many goals so I will take a tentative punt on...
Prediction: Arsenal 0 : 0 Everton
Simply write the name of the FIRST GOALSCORER and the CORRECT SCORE as a comment. The competition closes 5 minutes before kick-off which is 20.00 BST
The Small Print
In the first goalscorer competition, own goals do not count. In the correct score competition, it's the score after 90mins. Extra time and penalties do not count and the pot for each competition will roll over if there is no winner. If more than one person chooses the same first goalscorer or correct score, the prize is shared and everyone gets a little upvote! It seems I also need to add, one entry per person. Don't forget the new rule that only people with a rep of 45 or above are eligible to enter unless they have been approved. The bonus will be added to any winnings ONLY if Leeds United win and/or Man U lose and all payouts will never exceed 50% of post payout. Other bonuses paid out at my discretion.
The Winners were...
As I said at the beginning, the game was won by the first entry of the day and so well done to @hykss.sports. He takes home 5000 for the correct score plus 1200 for also getting Vardy as first goalscorer plus 500 Appearance fee giving him a total of 6700 tokens.
Well done to @friendlymoose, @monsterbuster, @jfang003, @ralph75 and @harpreetjanda who got Vardy as the first goalscorer and they take home 1200+500 tokens each.
Appearance fees go out to @pusen, @jersteemit, @corporateay, @yeckingo1, @cabinet24, @chrisparis and @mcdaymtn.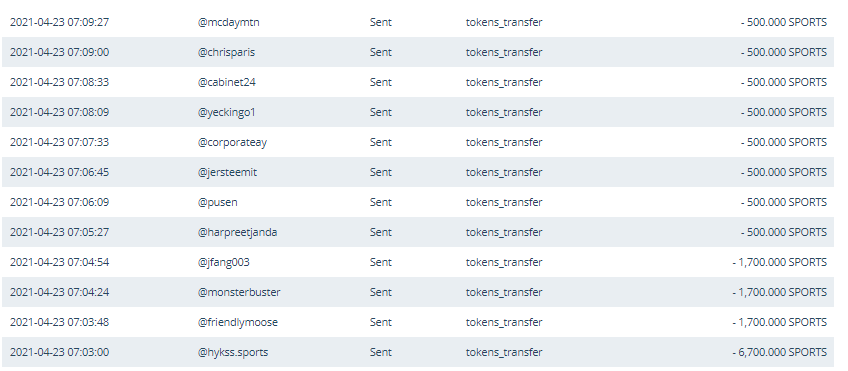 As always, please check I've got the payouts right and let me know in the comments if there are any problems! Best wishes and thanks for playing along and good luck with tonight's game.
Marching On Together (To Old Trafford)
---
---