Leeds United - Pride of the Premiership

I couldn't be ay more prouder than I am at the moment of my football club.
It's been a very difficult season so far with the number of injuries to first-team players and a dip, for a short while into the bottom three and the dreaded relegation places but what's been remarkable is that even during the toughest period, a few weeks before Christmas, has the fanbase, on all the forums and groups of which I read, been calling for the sacking of Marcelo Bielsa.
The newspapers of course, were trying to cause mischief by opining how long Leeds would keep their patience with their manager and there was endless speculation on who would replace him, after all, we've seen Nuno Espirito Santo, Daniel Farke, Dean Smith, Steve Bruse, Ole Gunnar Solksjaer and most recently, Rafael Benitez fired as their clubs have struggled but at Leeds, the management have remained patient and at no times have there been any comment made on Bielsa's future.
Not only is this good for the club, its a huge gold star for the club's board who by not issuing statements or the dreaded vote of confidence that they are trying to build long term and provide stability into a club after the crazy Cellino years.
Bielsa has always said that he works with a small dedicated squad with only two, possibly three players in each position and has been a very testing system as we have blooded Under-23 and even Under-18 players into matchday squads but he has always maintained, that due to the consistency in training throughout the whole academy, anyone could step into his vision and system of football at any time. The press of course, have been speculating that for this reason, we didn't have the strength in depth to overcome our injury issues but Bielsa again proved them wrong.
At West Ham on Saturday without first choice players Bamford, Cooper, Phillips, Gelhardt, Roberts,Shackleton and Llorente and then losing Forshaw and Firpo in the first half through hamstring injusries Leeds still pulled off a 2-3 away win. Other than Rodrigo back for the first time in two months on the bench, the rest of the bench had just 3 first team appearences between them and had SIX teenagers including a 15 year-old. Thisseason, Leeds have handed starts to 8 teenagers, a Premier League record.
Again, to prove Bielsas theory of training, when 18-year-old Leo Hjelde, 2nd appearance and 19-year-old Lewis Bate, making his debut came on, Leeds didn't miss a beat as they slotted smoothly into the positions that had been vacated, and we carried on as we were.
The previous week on the same day and time, we had played West Ham in London in the FA Cup third round and after another extremely ridiculous VAR decision and an opportunistic injury time goal as we pushed hard for the equaliser, we lost 0-2, but before that, it had been a well needed league win, 3-1 against Burnley which saw Bielsa hugging his staff. Even his iceman demeanour must have been feeling a little pressure but again, it is his humanity which has been a major factor in endearing him to the Elland Road faithful.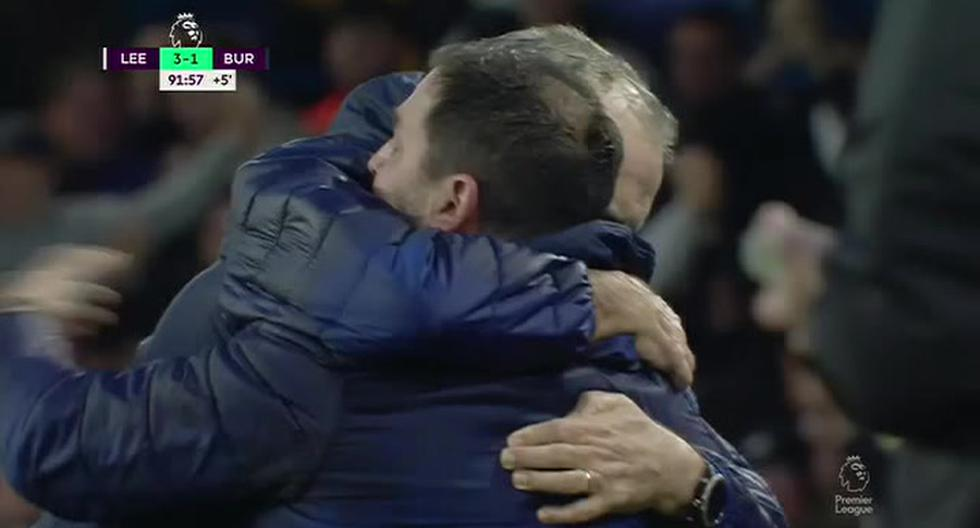 A touching moment of relief after the 3-1win against Burnley. Image taken from Sky Sports footage.
After all the back page headlines and general mischief making and rumour-mongering in the press, Leeds sit in 15th, on 22 points but most importantly, 9 points and a game in hand above the relegation zone. Amazingly, 9 points above us is 8th place. Games against strugglers Newcastle and Villa, either side of a two week-break could see us actually break the top half of the table and with injured players finally returning, us pushing towards bettering last season 9th placed finish. Not bad for a club who according to the press,'staring at relegation' a few weeks ago.
The other thing to mention is that we haven't been panicked into the transfer market, just having made one signing for the U23s and giving an 18 year-old his first professional contract. While other clubs are doing the usual multi-million pound spending, Leeds are minding the purse strings and developing players through our excellent academy. How many academy players have the top six clubs brought through their ranks? Yet another huge tick in the box for our solid and forward thinking board of directors.
Whinging Hypocrites...
I thought Jurgen Klopp was king of the whingers but he's having a stiff challenge to his crown from David Moyes and Mikel Arteta.
If were David Moyes I'd be embarrassed. Complaining about fixtures and having an extra midweek game thrown in while he worroed about his league position and making the Champions League next year, he failed to notice that European games are always midweek. I can't remember listening to such a load of guff. Then there was Arteta complaining about injuries and illness and having players away competing in the African League of Nations cup and he managed to get their game against Spurs at the weekend postponed, even with the size of their squad. A real pair of hypocrites and disgusting that Premier League complied.
It again says so much about the great man that he has never complained or used our massive injury woes a reason for excuse for some previous performances and it has been so nice to see so many pundits and commentators out in force singing Leeds' praise;
Leeds deserve massive credit' for going ahead with the fixture.
Jobi McAnuff on Five Live
When others opted out this weekend Bielsa led a rallying cry rather than crying off. Fortune favoured the brave.
Adam Pope, BBC
Even Graeme Souness has changed his tune...
They're my favourite team to watch. City are great but these are a tremendous watch. They are honest to a man. If you know anything – or even a little about football – you want them in the PL.
Graeme Souness
Leeds have become a model both off and on the field for the rest of the Premier League to follow as well an inspiration to teams in the Championship, especially when you look at the success story of some like Luke Ayling who only a few years ago was playing for lowly Bristol City in Division 1.
In Bielsa we trust. There is no manager with more dignity and integrity, and no team with more honesty and genuine pride for the club they play for in the whole league.
Marching On Together
---
---