WIN CRYPTO! 65000 Sports Tokens Up For Grabs Today - First Goal Scorer + Correct Score Comp. No. 440: EPL: Liverpool v Man.U - 19th April 2022
Bloody hell. One of you is on a right winning streak! Last night's game cost me a small fortune. Again! Full details at the end.
But not as much as Derby County lost as their loss at QPR meant that with their points deduction, they were officially relegated to League 1.
I won't be losing too many tears but I actually feel a little sorry for Rooney who has stuck with them through all the financial problems this last two years. You have to feel (a little!) for the fans but clubs live and die by results, both on the pitch and off it, and as a Leeds fan, I know only too well the consequences of financial tragedy when the on-field results don't go your way! They'll be back.
Anyway, onto today and another huge game in the Premier League...

Before the weekend, Man.U were down and out and facing the prospects of an embarrassing season in the European Poundstretcher Vase Cup or whatever its called but thanks to the idiots in North London who both lost, are now back in with a big shout of the Champions League again!
A win for Liverpool however would put them top, albeit having played an extra game but it makes for a really 'interesting' encounter, if you live in Liverpool or Surrey.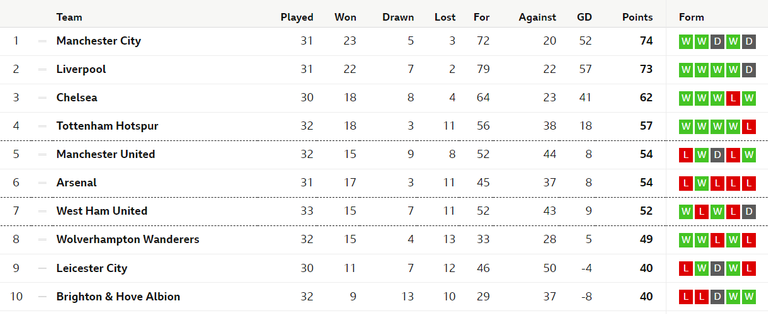 Look at the state of Arsenal!
Liverpool aren't reporting any injury worries and have won their last 10 home games and the psychological advantage over City will be a huge boost should they wake up on top tomorrow morning.
Man.U will be without Fred, Scott McTominay, Luke Shaw and Edinson Cavani and also possibly Ronaldo as he sadly announced the loss of his son yesterday.
In the last 7 meetings between the two teams, it's been four wins for Liverpool and three draws but I wouldn't pay too much attention to this as the Manchester United 'jam' factor looks like its coming into play!
There is only only one result for me today...
Prediction: Liverpool 2 : 2 Manchester United - First goal scorer: Salah
Simply write the name of the FIRST GOALSCORER, the CORRECT SCORE AND the TIME OF THE FIRST GOAL as a comment. The competition closes 5 minutes before kick-off which is 20.00BST
Don't forget, you can't choose the same prediction as me!
In the first goal scorer competition, own goals do not count. In the correct score competition, it's the score after 90mins. Extra time and penalties do not count and the pot for each competition is fixed at 25K except the time of the first goal competition which rolls over daily starting at 1K. If more than one person chooses the same first goal scorer or correct score, the prize is shared, and everyone gets a little upvote! Don't forget, you can't choose the same prediction as me! It seems I also need to add, one entry per person. Don't forget new rule that only people with a rep of 50 or above are eligible to enter unless they have been approved. My game, my decision is final.
And the Winners were...
The game finished 4-0 to Forest, a Johnson penalty after 19 minutes was the first goal so let's have a look...
No one got 4-0, no one got 19 minutes but here's that man @alovely088 for the third day in succession with the correct first goal scorer and along with @jfang003 and @jmis101 split the 25K and take home err....let's call it 8500 tokens each.
Well done to you guys and especially our sharp dressed man, what a great streak you're on!

Another day passes us by! Enjoy the game tonight and thanks for entering and joining in a bit of fun. See you all back here tomorrow as we give another sackful of tokens to @alovelyday
Marching On Together
---
---