WIN CRYPTO! 66000 Sports Tokens Up For Grabs Today - First Goal Scorer + Correct Score Comp. No. 441: EPL: Manchester City v Brighton - 20th April 2022
What a great day to be alive!
Well, well, well! What a spanking Man.U took last night as Liverpool put 4 past them which could so easily have been more if they hadn't taken their foot off the gas.
That makes a total of 9 to no reply this season after they beat them at the theatre of nightmares 0-5 earlier in the season.
I would imagine this morning that @blanchy is as joyous as I am given Spurs recent bout of self sabotage leaving them masters of their own destiny.
Of course the icing on the cake was that Sir Alex Ferguson was there to see it!
As for you guys, one of you got the correct score but full details at the end...
And so we turn to today, it's the turn of the other top team to play tonight as the games come in thick and fast as we enter the final run in...

I think the big question today will be whether Kevin de Bruyne and Ilkay Gundogan will be fit to play. Kyle Walker is definitely still out but whether Pep will want to run the risk with the other pair is debatable given they have such a strong and deep squad that they should respectfully have no worries about overcoming the challenge of Brighton.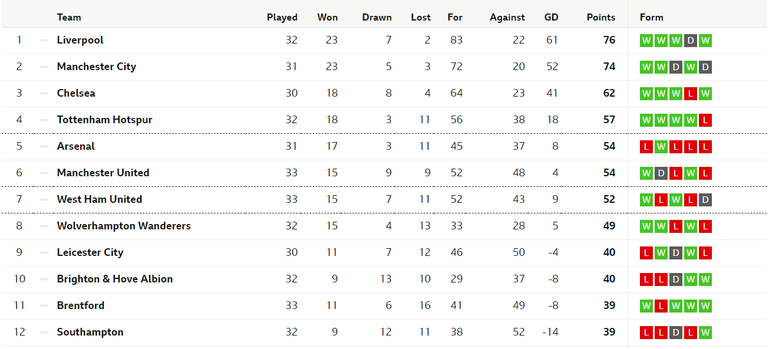 Liverpool sit top and the pressure is back on City. Who would have thought it after the huge gap between the two as the new year dawned!
Brighton are having a decent season and a top half finish beckons and they come into this after two straight wins but previous to that hadn't won in 7. These wins however were against Arsenal and Spurs but it had to be said, they were both on poor form rather than Brighton being spectacular and I think tonight, they will take a hammering if City come into this in the right frame of mind...
Prediction: Manchester City 4 : 0 Brighton - First goal scorer: Phil Foden
Simply write the name of the FIRST GOALSCORER, the CORRECT SCORE AND the TIME OF THE FIRST GOAL as a comment. The competition closes 5 minutes before kick-off which is 20.00BST
Don't forget, you can't choose the same prediction as me!
In the first goal scorer competition, own goals do not count. In the correct score competition, it's the score after 90mins. Extra time and penalties do not count and the pot for each competition is fixed at 25K except the time of the first goal competition which rolls over daily starting at 1K. If more than one person chooses the same first goal scorer or correct score, the prize is shared, and everyone gets a little upvote! Don't forget, you can't choose the same prediction as me! It seems I also need to add, one entry per person. Don't forget new rule that only people with a rep of 50 or above are eligible to enter unless they have been approved. My game, my decision is final.
And the Winners were...
Who in their right mind would have chosen a 4-0 score line? Obviously not in his right mind but the proud recipient of 25000 tokens today is @numpypython! Very well done mate. Tokens should be with you now.

No one got Diaz as first goal scorer or the correct time which was 5 mins so that pot rises up again today.
That's another day done and as well as thanking you guys for playing along, I'd just like to wish Leicester the best of luck as they travel to Everton tonight ;-)
Marching On Together
---
---