WIN CRYPTO! 67000 Sports Tokens Up For Grabs Today - First Goal Scorer + Correct Score Comp. No. 442: EPL: Brentford v Tottenham - 23th April 2022
We have a big weekend ahead as we enter the last stages of the season with some crucial games ahead.
City sit back at the top just a point in front of Liverpool after they held their nerve and took all the points from the Brighton game. It wasn't as straightforward as it should have been though after a dire and edgy 1st half and it wasn't until 8 minutes in that that Mahrez slotted past Sanchez after a wonderful and determined run from De Bruyne who again was incredible. I still rate him the best player in the English leagues.
Anyway, one win won't win the league and they're back again tomorrow for a game against Watford which ought to be a breeze, but that's not our game. Instead we're going for the late kick off between...

This is going to be far from a walk in the park for Spurs with the Bees on a roll having won the last 5 from 6 games including the their last three with a superb defensive partnership developing between Pontus Janssen and Christian Erikson.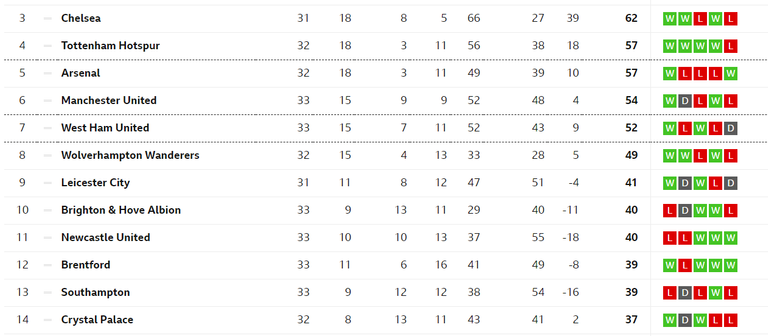 Although Ivan Toney is firing with a goal in each of the last 4 games, the loss of Sergio Canos to injury has to be a worry as does the loss of Ethan Pinnock.
With Arsenal playing Man.U tomorrow, this could be the perfect opportunity for Spurs to tighten their grip on that coveted 4th place but the question is; How's the bottle?
Prediction: Brentford 1 : 3 Tottenham - First goal scorer: Son
Simply write the name of the FIRST GOALSCORER, the CORRECT SCORE AND the TIME OF THE FIRST GOAL as a comment. The competition closes 5 minutes before kick-off which is 17.30BST
Don't forget, you can't choose the same prediction as me!
In the first goal scorer competition, own goals do not count. In the correct score competition, it's the score after 90mins. Extra time and penalties do not count and the pot for each competition is fixed at 25K except the time of the first goal competition which rolls over daily starting at 1K. If more than one person chooses the same first goal scorer or correct score, the prize is shared, and everyone gets a little upvote! Don't forget, you can't choose the same prediction as me! It seems I also need to add, one entry per person. Don't forget new rule that only people with a rep of 50 or above are eligible to enter unless they have been approved. My game, my decision is final.
And the Winners Were...
Well the game finished Manchester City 3 : 0 Brighton, the first goal was scored in the 53rd minute by Mahrez and we had a bag full of winners, so first up, correct first goal scorer and its a big congratulations to @emeka4, @anderssinho who split the pot and take home 12500 tokens each.
As for the correct score, its huge congratulations to @jersteemit and @firstborn.pob who split that 25K pot and take 12500 each.

Dreadful day! You'd take the food out of my mouth you lot! Thankfully, no one got the time of course so that pot rises up again for today to a very tasty 17000 tokens.
That's it for another day, I'm going for a lie down after that and I just want to thank you all for playing along, have a great weekend and good luck with today's game.
Marching On Together
---
---