The Legend of Mercelo Viera the most decorated player in real Madrid history!
The year is 2014. At the Estadio da Luz stadium in Portugal. Diego Simeone the Coach of the La liga champion is looking to the heavens and praying for a divine grace to hold on as Sergio Ramos scores a towering header past the juggernut that is Thibaut Courtois. Atletico Madrid the master of football dark art suffered their greatest heartbreak just at the last minute of stoppage time. Real Madrid pushed the match to extra time. Gareth Bale put the Los Blanco ahead after he headed a rebound in from 2 yards. Mercelo viera put the match beyond reach at the 118 minutes with a well taken low shoots after making a fine run from left midfield through centre and carefully placed the low shoot past a helpless Thibaut Courtois. His celebration afterward seems to sum up a moment that will remain evergreen in the life of this legend as he nears the end of his enviable career with Real Madrid.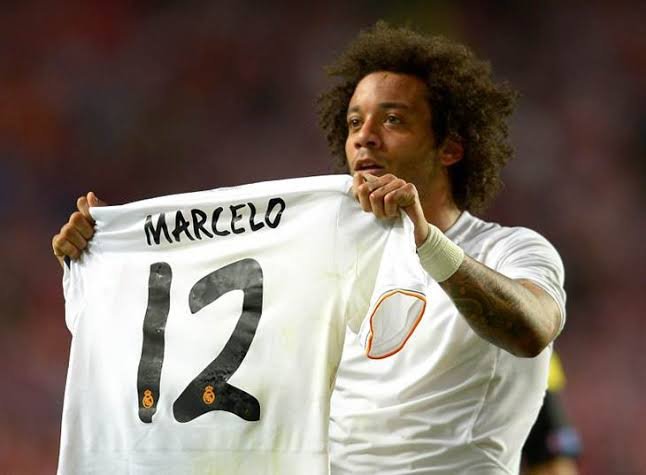 Image source
Marcelo arrived Real madrid in January 2007 and was duped the new Roberto Carlos and didn't disappoint. He went on to become a mainstay and has won six La Liga titles, two Copa de reys, four UEFA Champions League titles among others. After the departure of Sergio Ramos, Marcelo was named Real Madrid captain thereby becoming the first foreign captain of the club since 1904.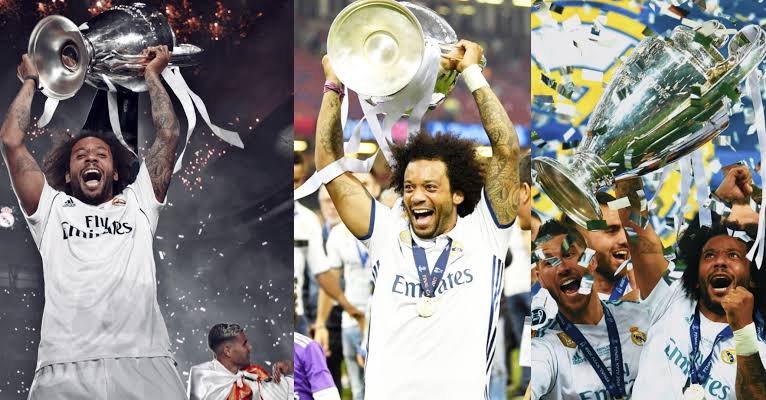 Image source
With everything still to play for in this season UEFA CHAMPIONS LEAGUE against Manchester City, Real Madrid already Won the Supercopa de Espana and La liga under Marcelo Captaincy. Bowing out with the Uefa champions league would be the Greatest send-off one could imagine for the legendary left back.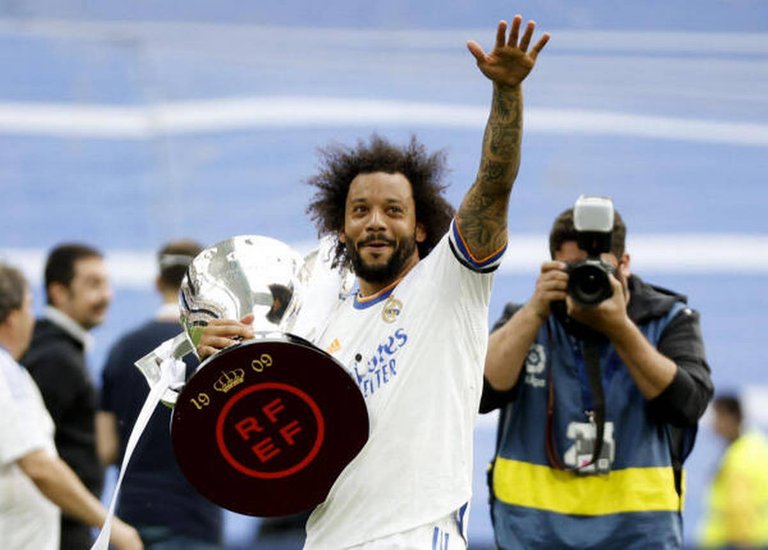 Image source
Marcelo is an epitome of down-to-earth, Free and happy-go-lucky guy. Over his fifteen years, he never assert his authority or ego against managers who played him across various areas of the field. A discipline and faithful servant, Marcelo did as his manager requested and put in 💯 effort anytime he's called upon. He breathes, lives, eats and sleeps Real Madrid and he is a club icon like no other.
A winner, a champion, a familiar face and a joy to all those he endeared during his fifteen years stay at Real Madrid – Marcelo will definitely be missed. His flair, touch, elaborate feints, explosive pace, step overs, agility, energy, clever movement, dribbling skills, and control on the ball that left the fans speechless and made the world stare in awe and admiration will be felt no more at the Santiago Bernabeu. A new era has Already began. But Captain Marcelo shall be definitely be missed and always remembered, fondly.
For Marcelo Viera is a Madridistas Through and Through...
---
---