Three referee's promoted by NBA to 2021-2022 officiating staff
Three referee as been promoted by the NBA to 2021-22 officiating staff.The three referee are Brandon schwab , John Conley and Danielle Scott who are to move up after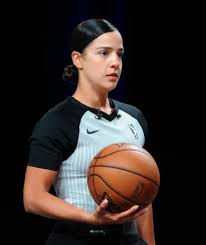 Image Source
spending several seasons in the G league of the NBA
Scott is one of the three referee's promoted up to full time NBA officiating status for the 2021-22 season.
New York -- G league NBA referee John Conley , Brandon schwab and Danielle Scott have been lifted up to full time NBA staff officials for the upcoming 2021-22 season,it was announced today by Monty McCutchen,NBA Senior Vice President,Head of Referee Development and Training.
A very big congratulations to them on their advancement to our full time staff said McCutchen, "Each official has diligently worked at th craft and performed at a level to qualify for the position of officiating NBA games on a regular basis"
Someone like Scott joins lauren Holtkamp-sterling , Ashley Moyer-Gleich ,Simone Jelks,Natalie Sago and Jenna Schroeder as full time female officials for the upcoming season
New full time officials for the NBA:
John Conley has officiated Seven seasons in the G league of the NBA.worked for 25 regular season in NBA games as non-staff official during the 2020-21 season.Cnley as also officiated his first season in the WNBA in 2021,He has 10 years of collegiate officiatiing experience.
Brandon Schwab has also officiated five good season in the G league ,During the 2020-21 NBA games as a non staff official,He also officiated his first season in the WNBA in 2021.schwab has officiated collegiately in the major conferences as well as at junior college level
Danielle Scott has four seasons to her name in the NBA G league officiatiing experience.She has worked in 26 NBA regular season matches as a non staff official during the 2020-22 season,she was also a WNBA official in 2021.Her officiatiing career includes eight. years of experience referring games at the collegiate and school level also.
---
---