[ENG/ESP] Una bestialidad bávara le pasó por encima al PSG de campeones del mundo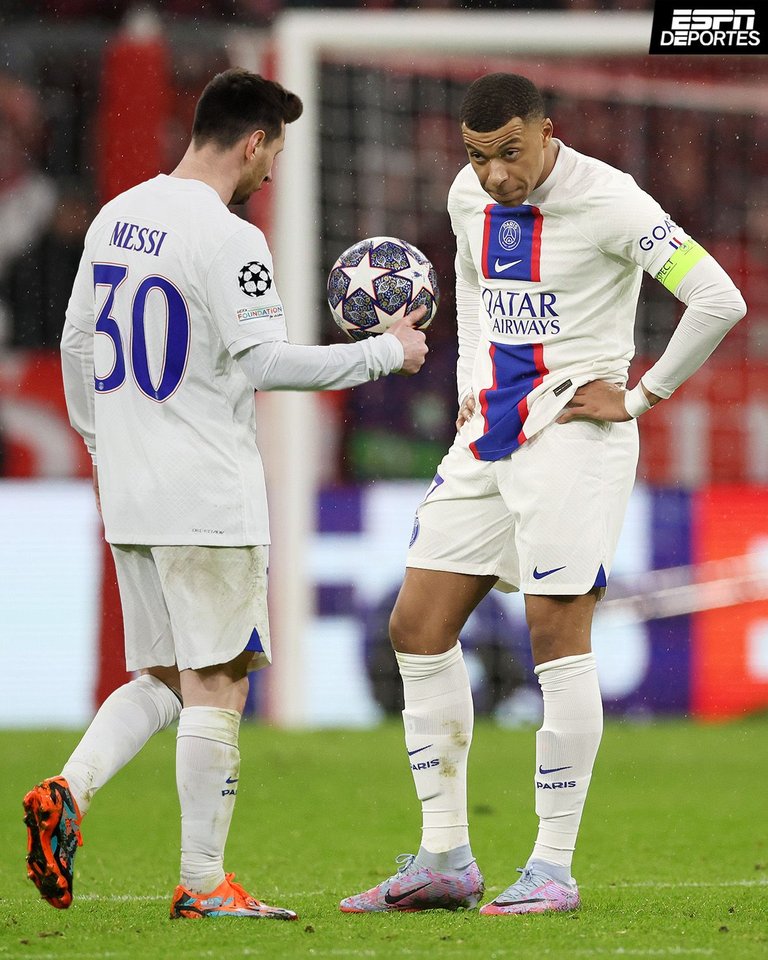 Fuente
---
Una vez más el París Saint Germain se queda eliminado de la UEFA Champions League cómo de costumbre, sin Neymar Jr. con Mbappé, Messi, Sergio Ramos no pudieron en la llave de Octavos contra el Bayern Munich que en la segunda parte del partido de vuelta mostraron ser muy superiores al cuadro francés plagados de campeones del mundo. El partido de ida en Parc de Princes el Bayern hizo la tarea ganando por la mínima y en el choque de revancha en Munich los bávaros terminaron lo que comenzaron y sentenciaron 2-0 con un global de 3-0.
Once again Paris Saint Germain is eliminated from the UEFA Champions League as usual, without Neymar Jr. with Mbappé, Messi, Sergio Ramos could not in the Round of 16 against Bayern Munich who in the second half of the second leg proved to be far superior to the French team full of world champions. In the first leg at the Parc de Princes, Bayern did their homework, winning by the minimum and in the rematch in Munich, the Bavarians finished what they started and won 2-0 with a 3-0 aggregate score.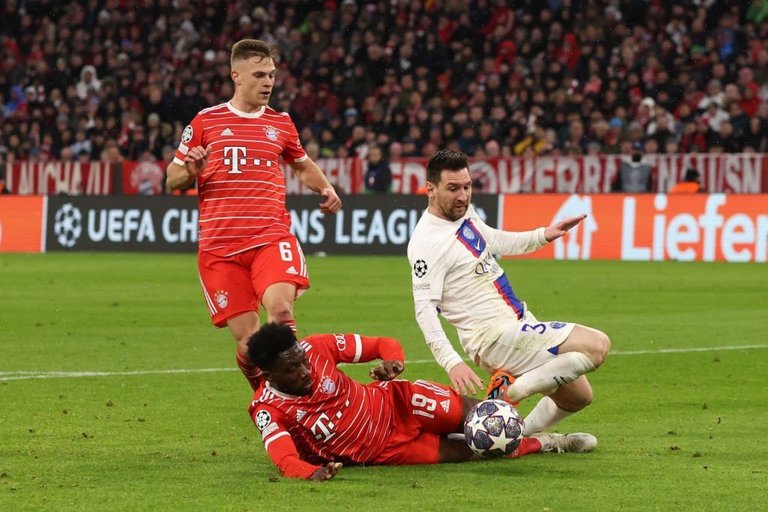 Fuente
---
Con dos de los futbolistas denominados cómo mejores del mundo en la actualidad (Mbappé y Messi) no le fue suficiente al PSG para conquistar la orejona, la próxima temporada veo un nuevo cambio en club parisino, posiblemente nuevo entrenador nuevos jugadores que acompañen a sus delanteros estrellas, Sergio Ramos con un futuro incierto, un cambio total de mediocampistas, un proyecto que sueñe y anhelé la UEFA Champions League que se le ha hecho esquiva en toda su historia, lo más cercano que estuvieron fue en 2020 que perdieron la final ante mismo Bayern Munich.
With two of the best players in the world today (Mbappé and Messi) it was not enough for PSG to win the crown, next season I see a new change in the Parisian club, possibly a new coach and new players to accompany their star strikers, Sergio Ramos with an uncertain future, a total change of midfielders, a project that dreams and yearns for the UEFA Champions League that has eluded them throughout their history, the closest they came was in 2020 when they lost the final to Bayern Munich.
El siempre complicado Bayern Munich mostró nuevamente que está para competirle a cualquier club en esta edición de la UEFA Champions League, con Julian Nagelsmann dirigiendo esta tropa de futbolistas de alto rendimiento y un directiva que lo respalda trayendo fichajes que siempre le responden, dándose el lujo de tener un banquillo plagados de mucho entrega y talento, capaz no tengan jugadores de tanto renombre como el París pero sí de profesionales comprometidos con la dinámica de su entrenador alemán, que cada día nos sorprende más con capacidad para llevar a un grupo y tener las estrategias claras, leyendo cada partido, sin duda este club alemán tiene el fútbol en la sangre.
The always complicated Bayern Munich showed again that they are ready to compete with any club in this edition of the UEFA Champions League, with Julian Nagelsmann leading this troop of high performance players and a board that supports him by bringing in signings that always respond to him, giving them the luxury of having a bench full of a lot of commitment and talent, They may not have players as renowned as Paris, but they do have professionals committed to the dynamic of their German coach, who every day surprises us more with his ability to lead a group and have clear strategies, reading each match, without a doubt this German club has soccer in its blood.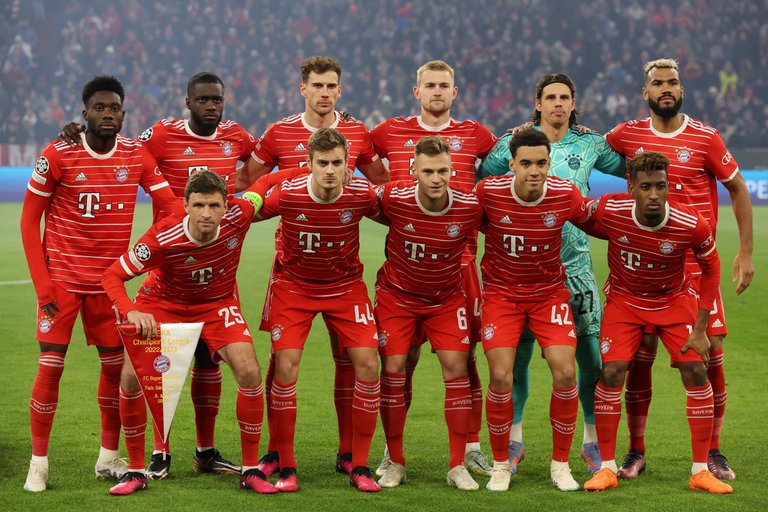 Fuente
---
El nivel físico de los jugadores del Bayern es increíble, cada vez nos sorprenden y se nota el trabajo que hay detrás en los entrenamientos preparando cada partido aunque no compitan en una liga tan competitiva siempre en Champions dan de qué hablar metiéndose en instancias finales en la mayoría de sus casos a pesar de la salida de su máxima figura, Robert Lewandowsky igual sigue siendo un club temible en Europa. Nadie se quisiera enfrentar a este Bayern Munich en Champions.
The physical level of Bayern's players is incredible, every time they surprise us and you can see the work that is behind them in the training sessions preparing for each match, even though they do not compete in such a competitive league, they always give something to talk about in the Champions League, reaching the finals in most of their cases, despite the departure of their top player, Robert Lewandowsky, they are still a fearsome club in Europe. Nobody would want to face this Bayern Munich in the Champions League.
Pobre imagen la del segundo tiempo del PSG // Poor second-half performance by PSG
En el complemento del partido de vuelta del Bayern-París fue cuando el cuadro bávaro sentenció la llave de Octavos de Champions, aunque en los 180 minutos neutralizaron a Kylean Mbappé y a Lionel Messi, tarea para nada fácil, dos especialistas en los duelos uno contra uno, pero sus zagueros fueron impecables, tanta Upamecano y De Ligt, ambos defensores jóvenes pero con un estado físico imperial, la velocidad de Alphonso Davies que parecía más un atacante por la cantidad de veces que apareció en el campo rival, aunque en tarea defensiva también hacía el recorrido en retroceso.
Eso en defensa, pero los encargados de anotar goles son los delanteros y en el segundo tiempo no se hicieron esperar, tanto que hubiera sido un resultado más amplió de tanto que generaron cerca de Donarrumma.
Eric Maxim Choupo-Moting marcó el 2-0 global tras la buena presión que ejercieron y le quitaron la pelota en salida a Verrati que la pagó cara con la anotación y el equipo de París quedaba sin reaccionar antes los golpes que le propinaba el cuadro bávaro.
In the second leg of the second leg of the Bayern-Paris match, the Bavarian team sealed the Champions League Round of 16, although in the 180 minutes they neutralized Kylean Mbappé and Lionel Messi, not an easy task, two specialists in one-on-one duels, but their defenders were impeccable, The speed of Alphonso Davies, who looked more like an attacker due to the number of times he appeared in the opponent's half, although in defensive duties he also played in the back.
That was in defense, but the strikers are the ones in charge of scoring goals and in the second half they did not wait long, so much so that it would have been a wider result if they had generated so much near Donarrumma.
Eric Maxim Choupo-Moting scored to make it 2-0 on aggregate after the good pressure they exerted and took the ball away from Verrati, who paid dearly for it with the goal and the Paris team was left without reacting to the blows dealt by the Bavarian team.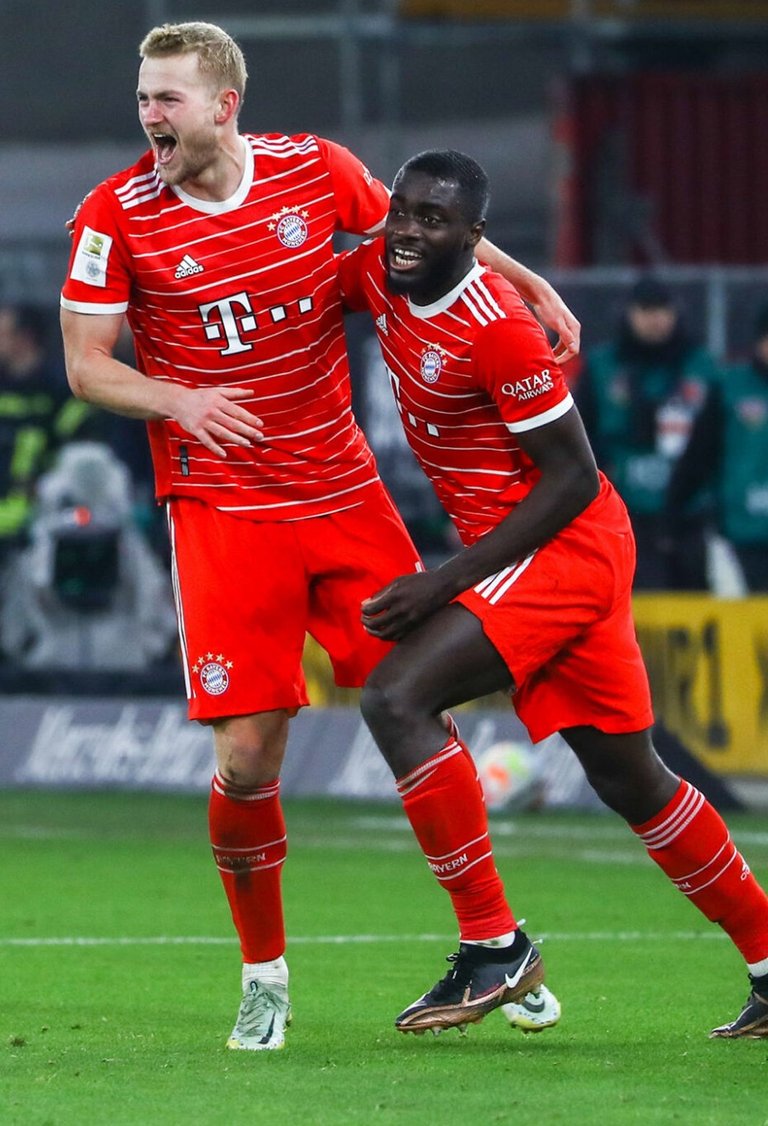 Fuente
---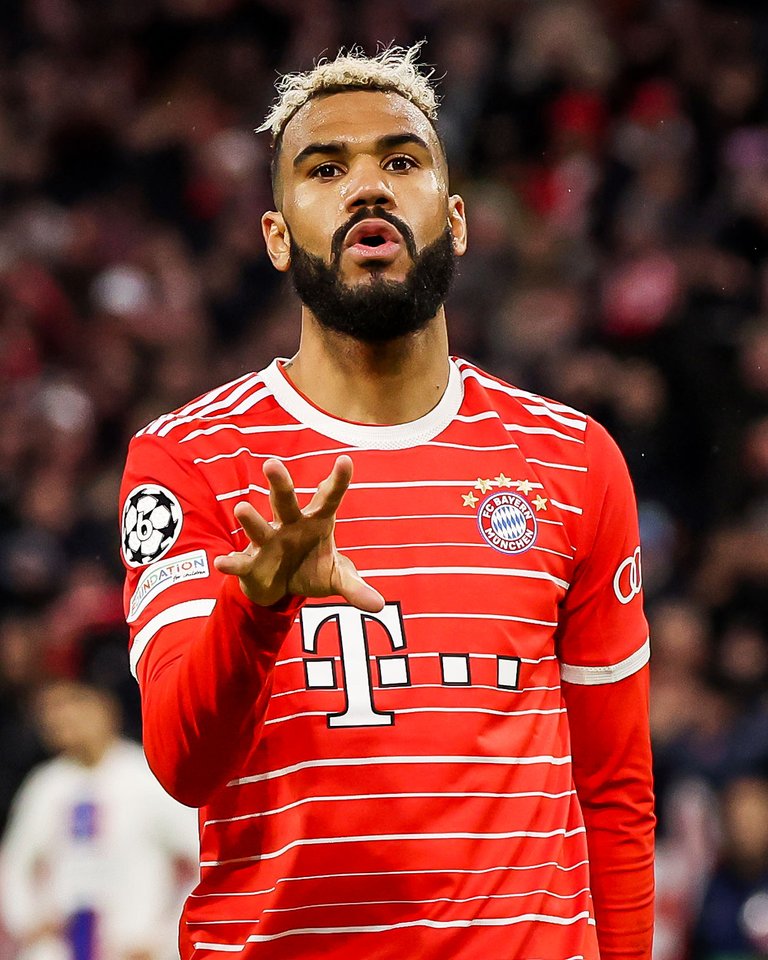 Fuente
---
De los únicos de París en mostrar ganas de revertir las acciones fue el campeón del Mundo, Sergio Ramos que con la salida por lesión de Marquinho le tocó liderar la zaga central y tuvo dos cabezazos en dos tiros de esquina cobrado por Messi, que tuvo apunto de meter en el partido al París, uno de esos testarazos lo tapó el portero Sommer y el segundo se fue por muy poco, eso demostró que Ramos fue de lo único rescatable en el segundo tiempo para el París Saint Germain.
One of the only Parisians to show the desire to turn the game around was the World Champion, Sergio Ramos, who with Marquinho out due to injury had to lead the central defense and had two headers on two corner kicks taken by Messi, which almost put Paris in the game, one of those headers was blocked by goalkeeper Sommer and the second went narrowly wide, which showed that Ramos was the only thing that could be salvaged in the second half for Paris Saint Germain.
Fuente
---
Los nombres del Bayern fueron más determinantes que las estrellas del París, Leo Goretzka, Kimmich, Musiala, Müller, Coman y luego la entrada de Leroy Sané, Sadio Mané y Gnabry, este último encargado de sentenciar el partido con el 2-0 definitivo para el global de 3-0 y avance del Bayern Munich a Cuartos de Champions League.
The Bayern names were more decisive than the Paris stars, Leo Goretzka, Kimmich, Musiala, Müller, Coman and then the entry of Leroy Sané, Sadio Mané and Gnabry, the latter in charge of sealing the match with the final 2-0 for the 3-0 aggregate and Bayern Munich's advance to the Champions League Quarter Finals.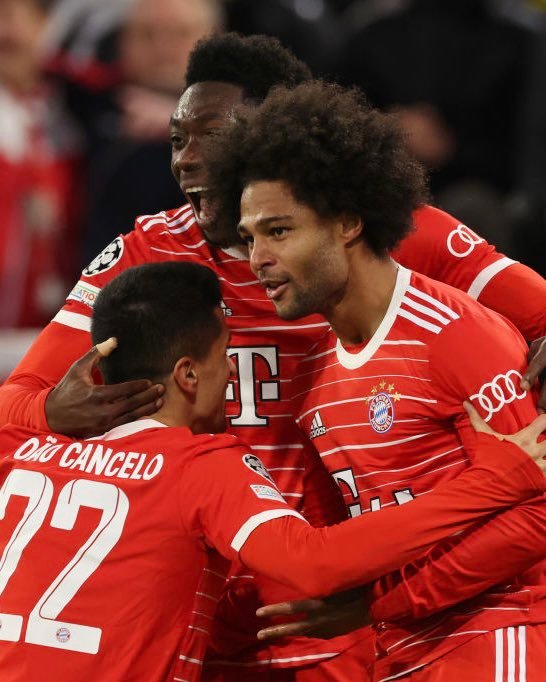 Fuente
---
Gracias por leerme
Thank you for reading
---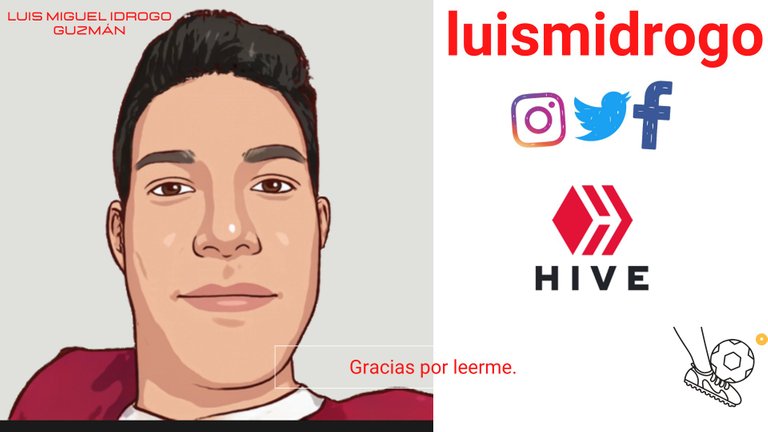 ---
---