[ESP-ENG] Convocatoria Vinotinto para participar y no para competir // Vinotinto call to participate and not to compete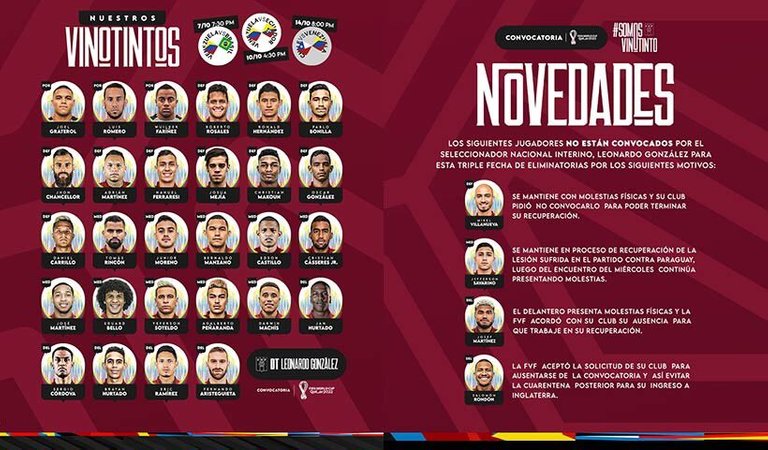 Convocatoria Vinotinto
---
La Vinotinto dirigida por el aún técnico interino, Leonardo González, dio a conocer este viernes la lista definitiva de convocados para los partidos ante Brasil, Ecuador y Chile por Eliminatorias Sudamericanas. Con un total de 28 futbolistas e importantes bajas como ya es de costumbre en la selección de Venezuela.
The Vinotinto led by the still interim coach, Leonardo González, announced this Friday the final list of players called up for the matches against Brazil, Ecuador and Chile in the South American qualifiers. With a total of 28 players and important absentees as usual in the Venezuelan national team.
Todo parece indicar que este tren mundialista para Venezuela ya pasó y es momento de esperar la próxima parada (Mundial 2026).
Everything seems to indicate that this World Cup train for Venezuela has already passed and it is time to wait for the next stop (World Cup 2026).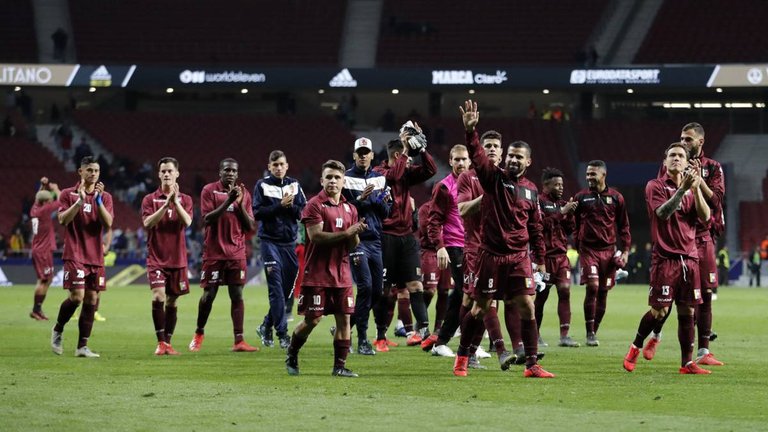 SeleVinotinto
---
Bajas // Low
Analizaremos la lista completa de convocados, pero antes miremos las bajas por lesión para esta triple fecha: Mikel Villanueva, Yordan Osorio, Wilker Ángel, Yangel Herrera, Jefferson Savarino y Josef Martínez. Osorio y Yangel nuevamente están fuera de la convocatoria, mientras que los respectivos clubes de Villanueva y Josef pidieron la no convocatoria de sus jugadores quienes atraviesan problemas musculares.
We will analyze the complete list of called-up players, but first let's take a look at the injury casualties for this triple date: Mikel Villanueva, Yordan Osorio, Wilker Ángel, Yangel Herrera, Jefferson Savarino and Josef Martínez. Osorio and Yangel are again out of the call-up list, while the respective clubs of Villanueva and Josef requested not to call up their players who are suffering from muscular problems.
Lo de Jefferson Savarino es similar su situación, aunque parece un poco más extraña, ya que el zuliano jugó entre semana Copa Libertadores con su Atlético Mineiro, ingresando desde el banco de suplente y viendo minutos en la eliminación del equipo «galo» del torneo continental, y ahora le volvieron las molestias que venía arrastrando desde septiembre cuando Venezuela se midió ante Paraguay en Asunción. En redes se indignaron tras está situación.
Jefferson Savarino's situation is similar, although it seems a little stranger, since the Zulian played during the Libertadores Cup with his Atlético Mineiro during the week, entering from the substitute's bench and seeing minutes in the elimination of the "Gallic" team from the continental tournament, and now the discomfort that he had been dragging since September when Venezuela played against Paraguay in Asunción has returned. In social networks were outraged after this situation.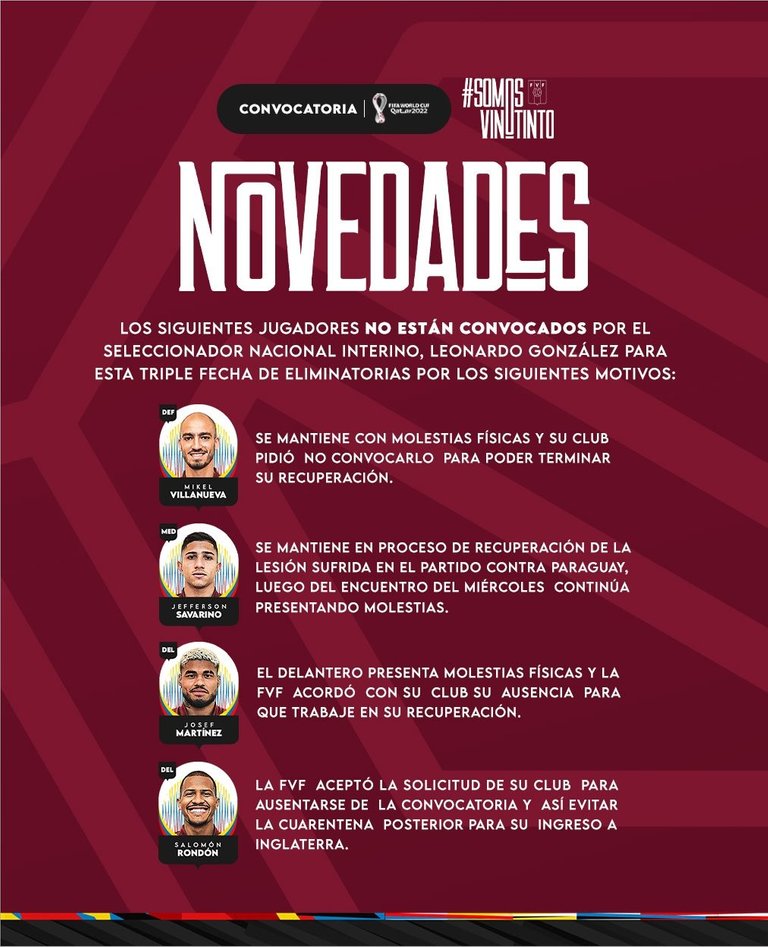 Las bajas anunciadas
---
El caso de Salomón Rondón // The case of Salomón Rondón
El máximo goleador histórico de Venezuela, tampoco dirá presente en esta triple fecha, «Salo» no estuvo el mes pasado con la selección por no tener nada arreglado con el Everton, en esta ocasión, su club pidió a la FVF no convocar al jugador para evitar las restricciones en Inglaterra por el tema del COVID-19, petición que la federación aceptó. Nuevamente sin el gladiador, Venezuela tendrá que buscar nuevas alternativas en el frente de ataque tras la también ausencia de Josef Martínez.
Venezuela's all-time top scorer will not be present in this triple date either, "Salo" was not with the national team last month because he did not have anything arranged with Everton, this time, his club asked the FVF not to call the player to avoid restrictions in England due to the COVID-19 issue, a request that the federation accepted. Once again without the gladiator, Venezuela will have to look for new alternatives in the attacking front after the absence of Josef Martinez.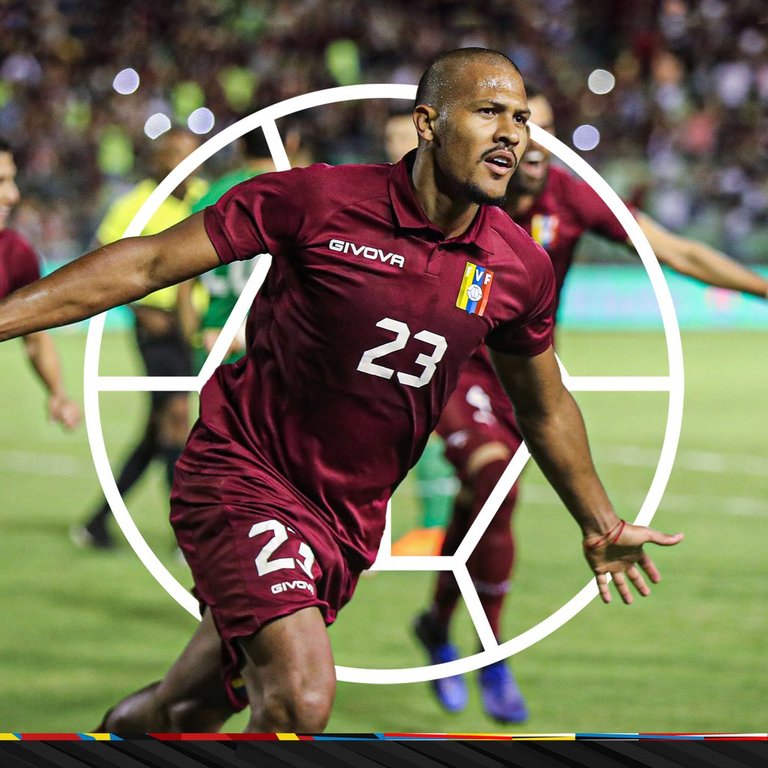 Salomón Rondón
---
Cada vez la expresión, 'venezolanada' toma más fuerza y no tanto por lo deportivo, sino por la mala suerte que ha venido teniendo los últimos meses con bajas de mucho peso.
The expression 'venezolanada' is gaining more and more strength, not so much because of the sporting aspects, but because of the bad luck they have been having in the last few months with heavy losses.
La única vez que la Vinotinto tuvo su plantilla completa, vencieron a Chile en Caracas y perdieron por la mínima en el país amazónico ante Brasil.
The only time Vinotinto had its full squad, they defeated Chile in Caracas and lost by the minimum in the Amazonian country against Brazil.
En las novedades encontramos a el portero del Portuguesa FC, Luis Romero, dejando por fuera de la lista a Rafa Romo, Leo González buscará darle la oportunidad a un guardameta de la Liga FUTVE, experimente estar dentro de una convocatoria final y dejar fuera a un experimentado como Romo, sabiendo que era poco probable que juegue ante la presencia de Wuilker Fariñez y Joel Graterol.
In the novelties we find the goalkeeper of Portuguesa FC, Luis Romero, leaving Rafa Romo out of the list, Leo González will try to give the opportunity to a goalkeeper of the FUTVE League, to experience to be in a final call and leave out an experienced as Romo, knowing that it was unlikely to play in the presence of Wuilker Fariñez and Joel Graterol.
En defensa al fin vemos a Pablo Bonilla, Josua Mejía y a Christian Makoun en una convocatoria final, esto ya pensando en un futuro cercano, todos estos mencionados no pasan de los 24 años. Además mencionar el nuevo llamado de Óscar González y Daniel Carrillo, ambos laterales izquierdos con los que apuesta Leo González. El resto ya están en planes, Roberto Rosales, Ronald Hernández, Jhon Chancellor, Luis Adrián Martínez y Nahuel Ferraresi. Alexander González quedó fuera posiblemente por decisión técnica.
In defense we finally see Pablo Bonilla, Josua Mejía and Christian Makoun in a final call-up, this already thinking about the near future, all these mentioned are under 24 years old. We should also mention the new call-up of Oscar Gonzalez and Daniel Carrillo, both left backs that Leo Gonzalez is betting on. The rest are already in plans, Roberto Rosales, Ronald Hernández, Jhon Chancellor, Luis Adrián Martínez and Nahuel Ferraresi. Alexander González was left out possibly due to a technical decision.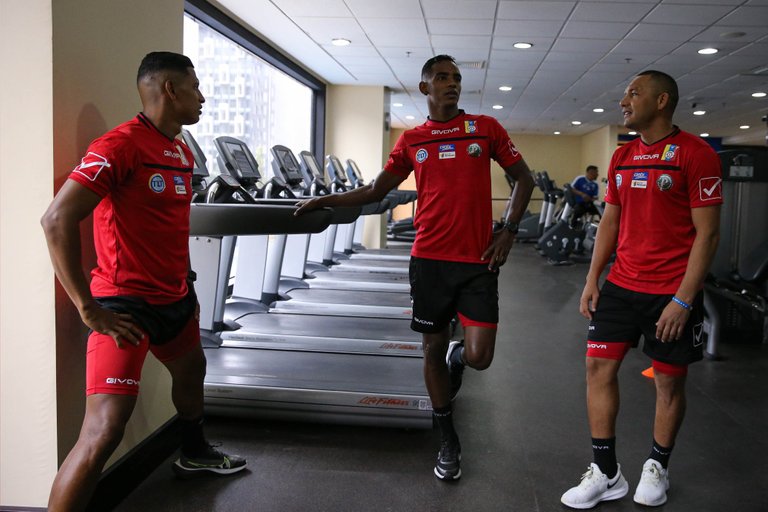 Ya se incorporaron este sábado los jugadores de la Liga local
---
Entre los mediocampistas, está como variante el el regreso de Cristián Casseres Jr., quién se había ausentado la triple fecha pasada por lesión. Y si hablamos de regreso, hay que mencionar la reaparición de Adalberto Peñaranda con la selección, el nacido en El Vigía, no estaba en la órbita Vinotinto desde 2019. Uno de los jugadores venezolanos con mejor talento regresa.
Among the midfielders, there is the return of Cristián Casseres Jr. as a variant, who had been absent last triple date due to injury. And if we talk about return, we must mention the reappearance of Adalberto Peñaranda with the national team, who was born in El Vigía, and was not in the Vinotinto orbit since 2019. One of the most talented Venezuelan players returns.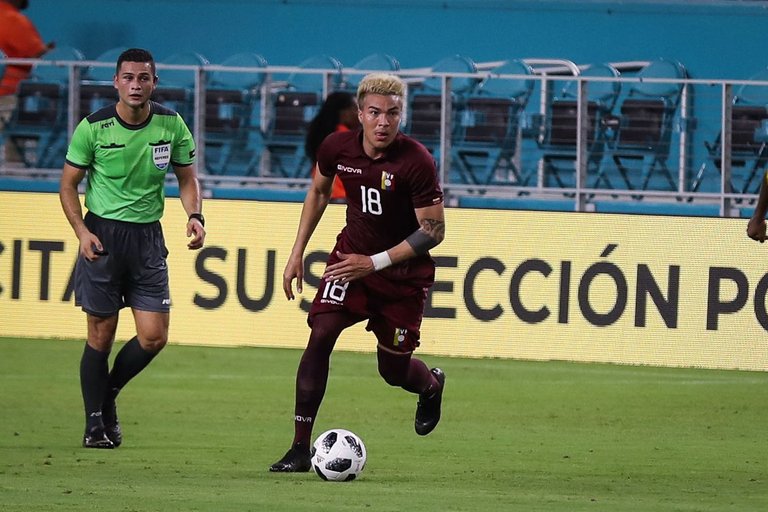 Peñaranda
---
También están, Tomás Rincón, Junior Moreno, Bernaldo Manzano, Edson Castillo, José «Brujo» Martínez, Eduard Bello, Yeferson Soteldo, Darwin Machís. Rómulo Otero y Jhon Murillo, fuera por decisión técnica.
Tomás Rincón, Junior Moreno, Bernaldo Manzano, Edson Castillo, José "Brujo" Martínez, Eduard Bello, Yeferson Soteldo, Darwin Machís**. Rómulo Otero and Jhon Murillo, out for technical reasons.
La delantera es que más novedades posee, Sergio Córdova vuelve a pesar de las críticas y el descontento por su actuaciones, Brayan Hurtado ante todo pronóstico se metió en el listado definitivo para partidos de Eliminatorias, esto se cuenta unos meses atrás y no se creía, pero sus actuaciones en Chile y las bajas en su posición le dió la oportunidad de hacerse presente en este citado Vinotinto. Fernando Aristeguieta no estuvo en la triple fecha pasada por lesión en su lugar lo tomó Jan Hurtado, pero está vez les tocó estar juntos además del buen punta cómo lo es Eric Ramírez, de los delantero que más confianza le tengo y probablemente Leo González también lo tenga claro en caso de usar un solo 9.
Sergio Córdova returns despite the criticism and dissatisfaction for his performances, Brayan Hurtado, against all odds, was included in the definitive list for the eliminatory matches, this was counted a few months ago and it was not believed, but his performances in Chile and the losses in his position gave him the opportunity to be present in this Vinotinto squad. Fernando Aristeguieta was not in the last triple date due to injury and his place was taken by Jan Hurtado, but this time they had to be together in addition to the good striker Eric Ramirez, one of the strikers I trust the most and probably Leo Gonzalez also has it clear in case of using only one 9.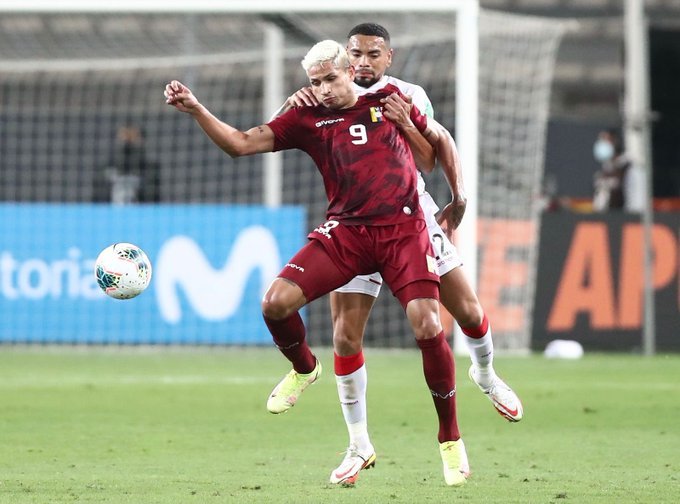 Eric Ramírez
---
Sinceramente este es una lista para competir ante Brasil, para frenar a Ecuador que viene haciendo una buena Eliminatorias o intentar sacar punto en Chile. Muy poco probable salgamos de esta triple fecha con posibilidades matemáticas de ir a Qatar 2022.
Sincerely, this is a list to compete against Brazil, to stop Ecuador, which has been doing well in the qualifiers, or to try to get a point in Chile. It is very unlikely that we will come out of this triple date with mathematical possibilities of going to Qatar 2022
---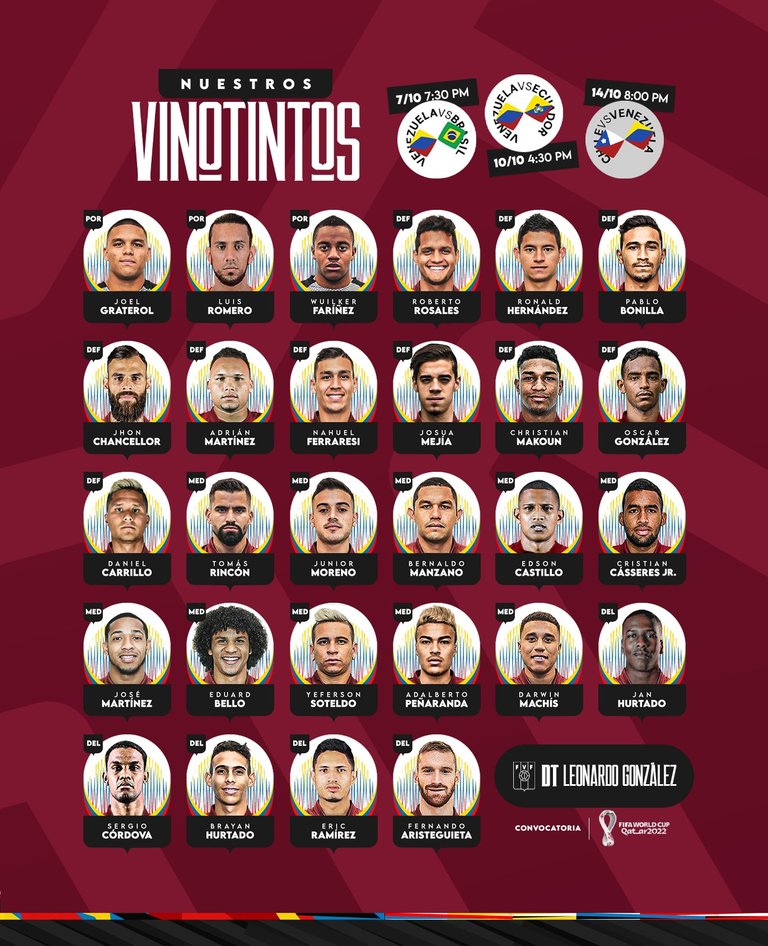 ---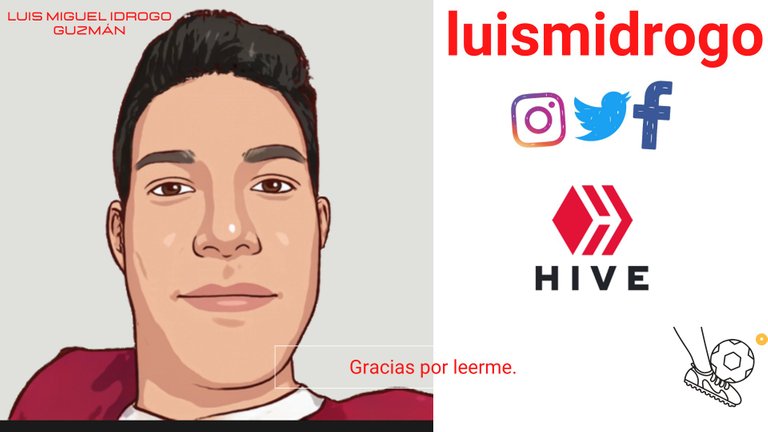 ---
---