[ESP-ENG] El Man. City y el Real Madrid nos regalaron un partido digno de una semifinal de Champions // Man. City and Real Madrid gave us a match worthy of a Champions League semifinal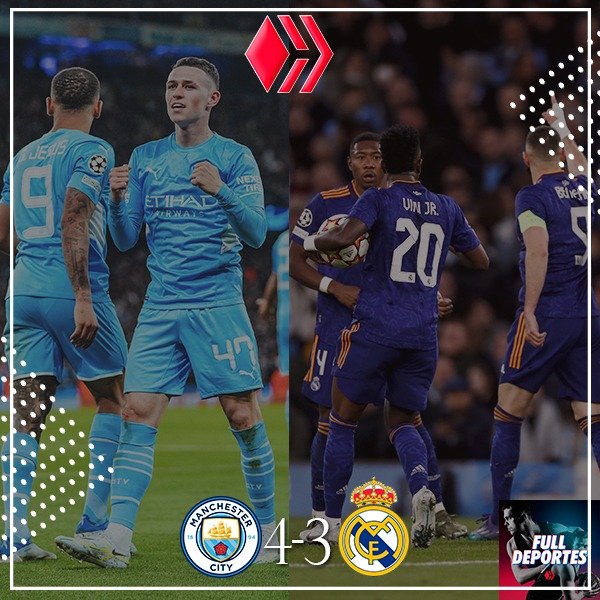 Edición hecha en Photoshop
Fuente 1
Fuente 2

---
Fueron siete goles los que se vivieron en el estadio Ciudad de Manchester. La victoria se quedó en casa con un marcador de 4-3 pero la temporada que viene haciendo el Real Madrid de Karim Benzema y compañía indica que cuadro del Manchester City de Pep Guardiola no debe dar por muerto a los merengues, es por eso que todo fanático del fútbol mundial debe esperar el partido de vuelta para saber cuál será el finalista de Champions de esta peleada llave ente citizen y madridistas.
Seven goals were scored at the City of Manchester stadium. The victory stayed at home with a score of 4-3 but the season that Real Madrid has been doing with Karim Benzema and company indicates that Pep Guardiola's Manchester City team should not give up for dead the Merengues, that is why every soccer fan should wait for the second leg to know who will be the finalist of the Champions League of this fought key between citizen and madridistas.
Fuente
---
Lo que sí es cierto es que todos los que pudimos disfrutar este compromiso nos dimos un banquete, una final adelantada. Con un duelo de dos míster que saber lo que es disputar estos partidos de mucha intensidad de principio a fin, tanto Carlo Ancelotti y Pep Guardiola, saben lo que es quedarse a un paso de una final de la UEFA Champions League, es por eso que considero que está para cualquiera de los dos. Pep viene de perder la final la temporada pasada de la mano del Chelsea y sueñan con volver a meterse en una final para volver a intentar conquistar la UCL por primera vez en su historia.
What is certain is that all of us who were able to enjoy this match were treated to a feast, an early final. With a duel of two coaches who know what it is to play these matches of great intensity from start to finish, both Carlo Ancelotti and Pep Guardiola, know what it is to be one step away from a UEFA Champions League final, which is why I think it is for either of them. Pep comes from losing the final last season at the hands of Chelsea and they dream of getting back into a final to try to conquer the UCL for the first time in their history.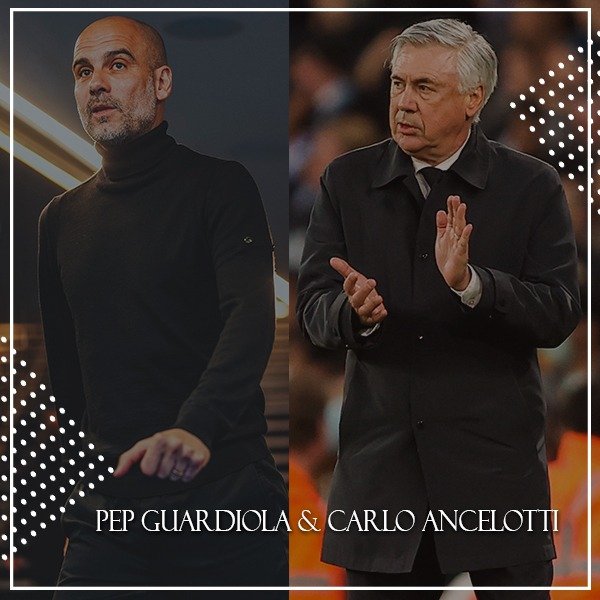 Edición hecha en Photoshop
Pep Guardiola
Carlo Ancelotti
---
Mientras que la historia del Real Madrid hace que el equipo empuje para adelante, tal como sucedió en este 26 de abril ante el City, los merengues desde el minuto 1 estuvieron debajo del marcador y siempre salían hacía adelante en busca de descontar, cumpliendo esa exigencia un delantero como Karim Benzema, con jerarquía, garra y compromiso con la camiseta blanca, volvió a dejar un partidazo en lo personal para el francés, por si teníamos duda de que es actualmente el mejor delantero del mundo.
While the history of Real Madrid makes the team push forward, as it happened on April 26th against City, the Merengues were behind the scoreboard from the first minute and always went forward in search of discounting, fulfilling this requirement a striker like Karim Benzema, with hierarchy, grit and commitment to the white shirt, again left a great game for the Frenchman, in case we had any doubt that he is currently the best striker in the world.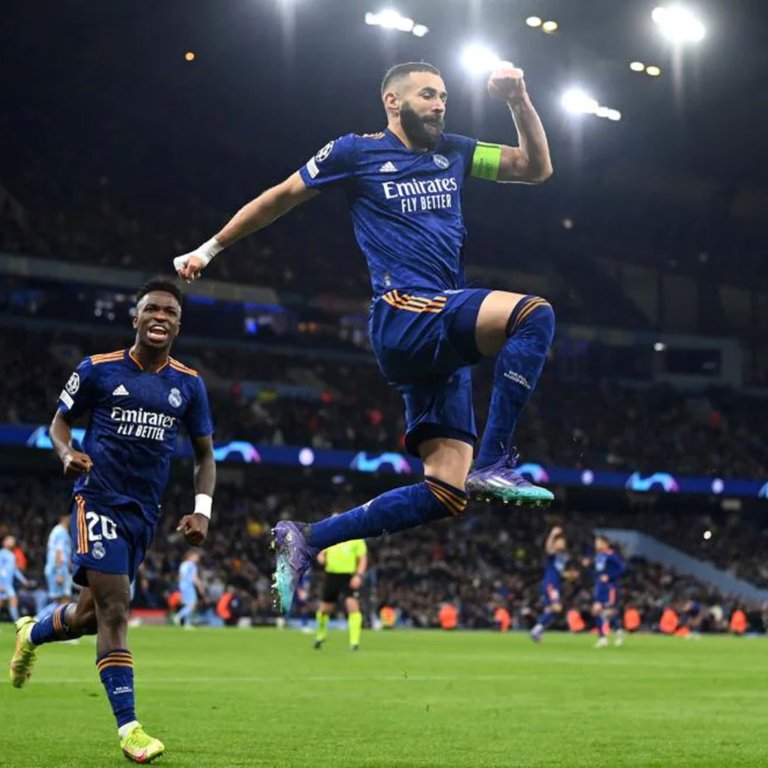 Fuente
---
Y si el Madrid tuvo a Benzema, el City contó con la buena actuación de Kevin De Bruyne, al belga dámelo siempre. De Bruyne marcó la primera anotación del partido y luego dio la asistencia con un centro desde la izquierda para que Gabriel Jesús controlará en el área y mandara a guardar la número 5 ante la salida del golero Courtuos. Gabriel Jesús venía de sorprender a muchos el fin de semana, luego de marcar un póker (cuatro goles) en partido de la Premier League.
And if Madrid had Benzema, City had the good performance of Kevin De Bruyne, the Belgian would give it to me every time. De Bruyne scored the first goal of the match and then provided the assist with a cross from the left for Gabriel Jesus to control in the box and send the number 5 past the goalkeeper Courtuos. Gabriel Jesus had surprised many over the weekend after scoring a hat-trick (four goals) in a Premier League match.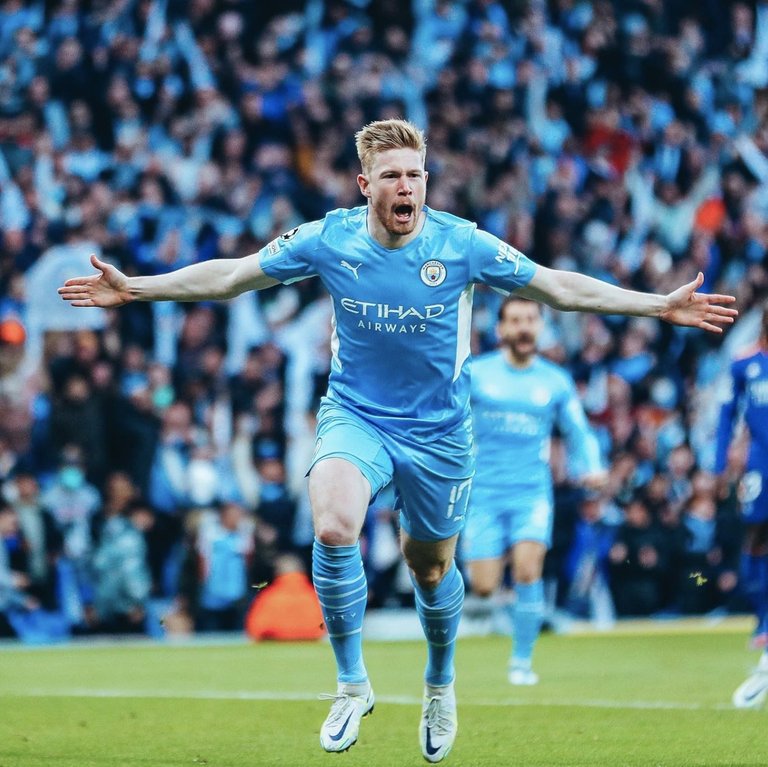 Fuente
---
El primer tiempo era para que el City marcará hasta en cuatro ocasiones, siendo muy superiores al cuadro merengue. El toque-toque que identifica los equipos de Guardiola se hizo presente, pero con la diferencia que se vio que el DT español pidió a los sueños ser más efectivos de cara al arco, toda pelota que entraba al área merengue se intentaba probar a puerta. El chico Foden, quién a veces no goza de los minutos suficientes con Pep, fue titular y mostró que debe estar de arranque en este tipo de partidos, de exigencias, ya que le noto las ganas que tiene de hacer que el equipo saque el resultado deseado. Riyad Mahrez le negó una muy clara en la primera parte, el enfado de Foden y Guardiola fue notable, ya que el rival que tenían al frente era el Real Madrid y al Madrid no hay que bajarle la guardia nunca, ya que saben lo que voltear un resultado en esta edición de Champions.
The first half was for City to score up to four times, being far superior to the Merengue team. The touch-and-go that identifies Guardiola's teams was present, but with the difference that the Spanish DT asked the dreams to be more effective in front of goal, every ball that entered the Merengue area was tried to be tried on goal. The young Foden, who sometimes does not get enough minutes with Pep, started the game and showed that he should be starting in this kind of demanding matches, as I could see the desire he has to help the team get the desired result. Riyad Mahrez denied him a very clear one in the first half, the anger of Foden and Guardiola was noticeable, as the rival in front of them was Real Madrid and Madrid should never let their guard down, as they know what it takes to turn a result in this edition of the Champions League.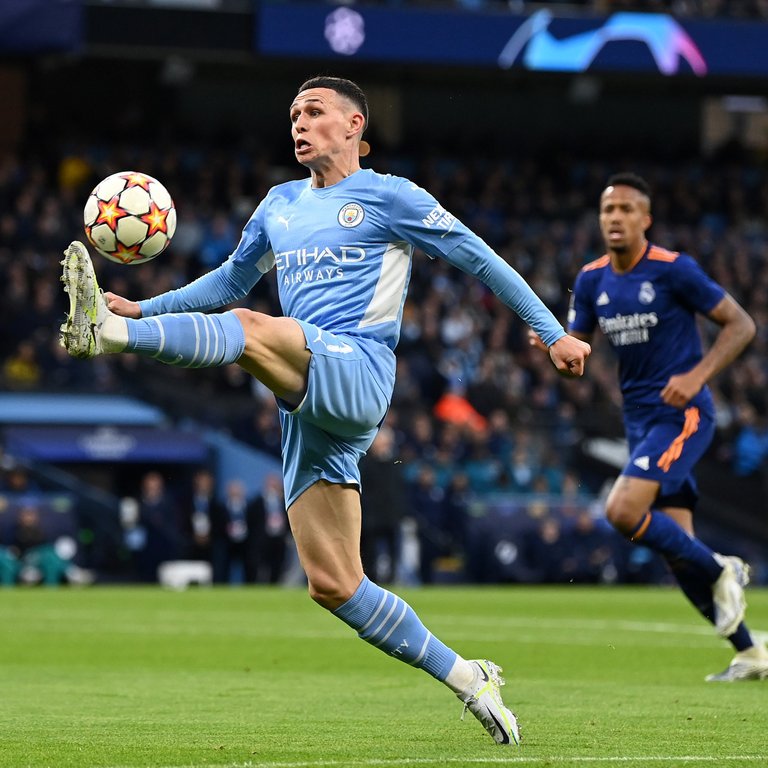 Fuente
---
Benzema con su doblete y uno más de Vinicius, tienen la esperanza de darle vuelta a ese 4-3 en el Bernabéu. El brasileño descontó con su velocidad por banda izquierda, solo hizo el recorrido para mandarla a guardar al fondo de las mallas y Karim anotó en la primera parte con una asistencia de Mendy desde su lateral izquierdo y el francés conectó el remate con su pierna zurda. Para completar su doblete tuvo que enfrentarse nuevamente al punto penal, ya que venía de fallar dos penales en un mismo partido de La Liga española, así que sacó su jerarquía para patear ante Emerson y picarla a lo Panenka.
Benzema with his brace and one more from Vinicius, have the hope of turning around the 4-3 scoreline at the Bernabeu. The Brazilian scored with his speed on the left flank, he only made the run to send it into the back of the net and Karim scored in the first half with an assist from Mendy from his left side and the Frenchman connected the shot with his left foot. To complete his brace, he had to face the penalty spot again, as he had just missed two penalties in the same La Liga match, so he took out his hierarchy to kick it in front of Emerson and put it Panenka-style.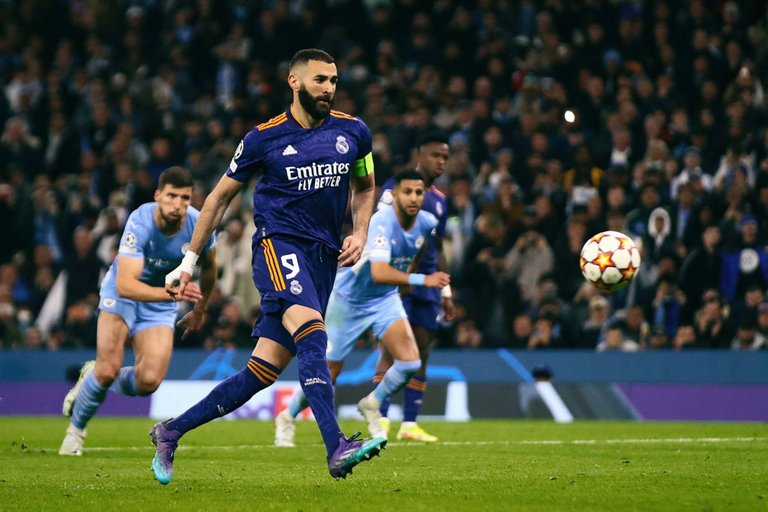 Fuente
---
Pero ya les mencionó el buen partido de Foden, que además anotó de cabeza el tercero del Manchester, pero aún falta hablarles de Bernardo Silva, el responsable de llevar la zona medular del campo, de trasladar el balón de una lado a otro, el encarador que aprovecha su buena técnica en los pies para irse de los rivales con facilidad y que con su pierna zurda bien educada mandó un zapatazo para poner el 4-3 definitivo. El portugués que cerró la noche mágica de muchos goles y fue nombrado MVP del partidazo entre citizen y madridistas. Justo y merecido su premiación individual.
But I have already mentioned Foden's good game, who also scored Manchester's third goal with a header, but I still have to tell you about Bernardo Silva, who is responsible for running the midfield, moving the ball from one side to the other, and who takes advantage of his good foot technique to get away from opponents with ease and with his well-mannered left foot sent a shot to make it 4-3. The Portuguese who closed the magical night of many goals and was named MVP of the great match between citizen and madridistas. A just and well-deserved individual award.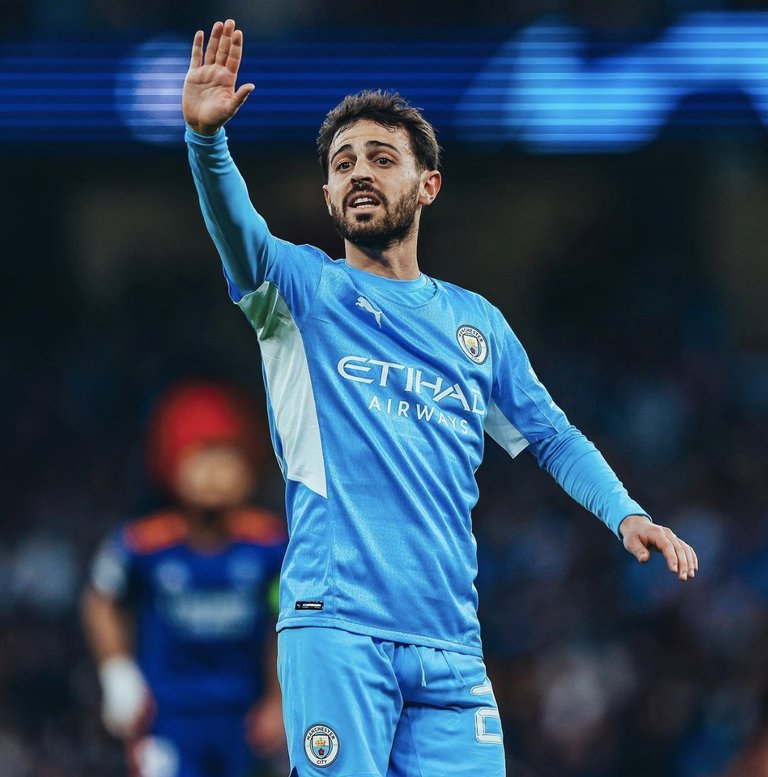 Fuente
---
Todo queda para la vuelta (próximo miércoles), recordándoles que el gol de visitante ya no cuenta doble, es por eso que el Manchester parte con ventaja por ese gol más, pero queda esperar la cara que muestre en Real Madrid en su territorio y con Carlos Enrique Casemiro en el mediocampo merengue, porque vaya que le hizo falta para no ver a la defensa tan expuesta, faltó ese jugador que rompa el juego del City y tenga esa cualidad de quite desde su zona en la medular del campo.
Everything remains for the second leg, remembering that the away goal no longer counts double, which is why Manchester is at an advantage for that extra goal, but it remains to wait for the face that Real Madrid shows in their territory and with Carlos Enrique Casemiro in the midfield, because it was lacking to not see the defense so exposed, missing that player to break the game of City and have the quality of removing from their area in the midfield.
---
Gracias por leerme
Thank you for reading
---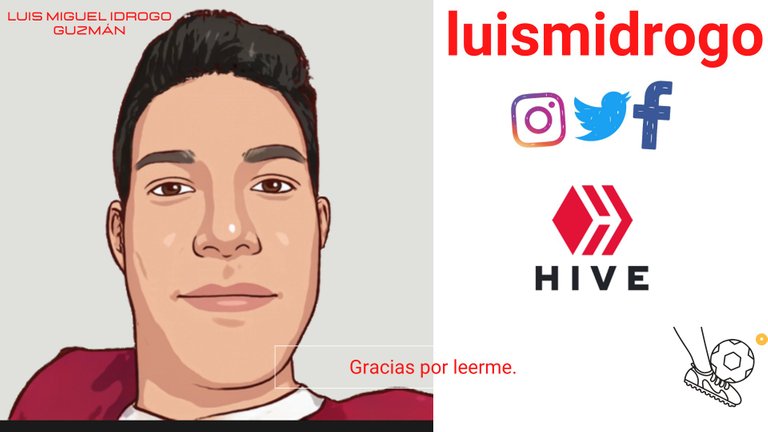 ---
---