[ESP-ENG] Monagas y Táchira igualaron en un partido que estuvo para uno de los dos // Monagas and Táchira tied in a match that was for one of the two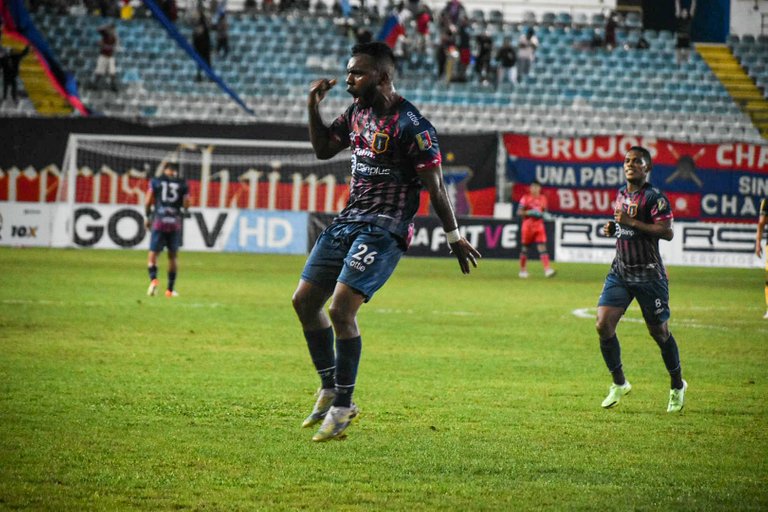 Source
---
El Monagas SC recibió este viernes 19 de noviembre en el estadio Monumental de Maturín al Deportivo Táchira en la jornada 6 de la segunda vuelta del Hexagonal Final A de la Liga FUTVE.
El encuentro se tuvo que jugar una hora después (de las 7:30 lo pasaron para las 8:30), por unos problemas técnicos según anunciaron ambos clubes en sus redes sociales
Monagas SC received Deportivo Táchira this Friday, November 19 at the Monumental de Maturín stadium in matchday 6 of the second round of the FUTVE League's Final A Hexagonal.
The match had to be played an hour later (from 7:30 am to 8:30 am), due to technical problems, as announced by both clubs on their social networks.
El principal fue Jesús Valenzuela, uno de los árbitros venezolanos más conocido en Sudamérica y el que lleva el reconocimiento de CONMEBOL como uno de los mejores de este año 2021. Ayer, Valenzuela era tendencia en la red social Twitter, lastimosamente para el espectador, no fue por buenas actuaciones en el encuentro impartiendo justicia, ya que se acusa de no haber pitado un penal a cada equipo. En el primer tiempo una mano del defensor argentino Lucas Trejo para evitar el primer gol monaguense, en dónde él cuerpo técnico del Monagas acusa al árbitro de irresponsable por no pitar esa mano, que a mí parecer apenas rosa en ante brazo de Trejo y luego impacta en su muslo, difícil de ver con jugadas tan rápida. Con el VAR era claro penal para el Monagas.
The main referee was Jesús Valenzuela, one of the best known Venezuelan referees in South America and the one who has been recognized by CONMEBOL as one of the best referees of this year 2021. Yesterday, Valenzuela was trending on the social network Twitter, unfortunately for the spectator, it was not for his good performance in the match, as he is accused of not having given a penalty to each team. In the first half, a handball by Argentine defender Lucas Trejo to prevent the first Monagas goal, where the Monagas coaching staff accused the referee of being irresponsible for not whistling that handball, which in my opinion just rose in front of Trejo's arm and then hit his thigh, difficult to see with such fast plays. With the VAR it was a clear penalty for Monagas.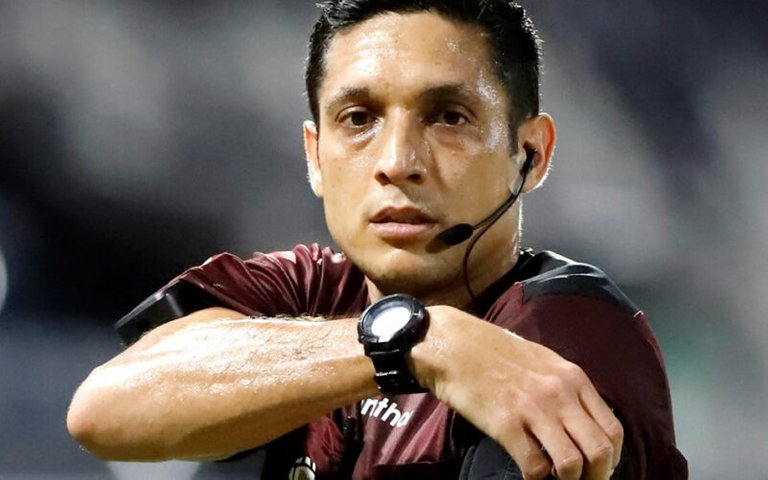 Source
---
Los dirigidos por Jhonny Ferreira, anotaron el primer del partido por medio del panameño Jhamal Rodríguez en jugada de contragolpe que participó el goleador azulgranas Juan Carlos Ortiz.
Los de Juan Domingo Tolisano no se quisieron quedar atrás y marcaron el empate 7 minutos después, con una buena habilitación de Juan Colina para Yerson Ronaldo Chacón, que anota por segunda jugada consecutiva el joven habilidoso a los servicios del Deportivo Táchira, con un buen recorte dejando a los dos defensores del Monagas SC y definir con su pierna izquierda.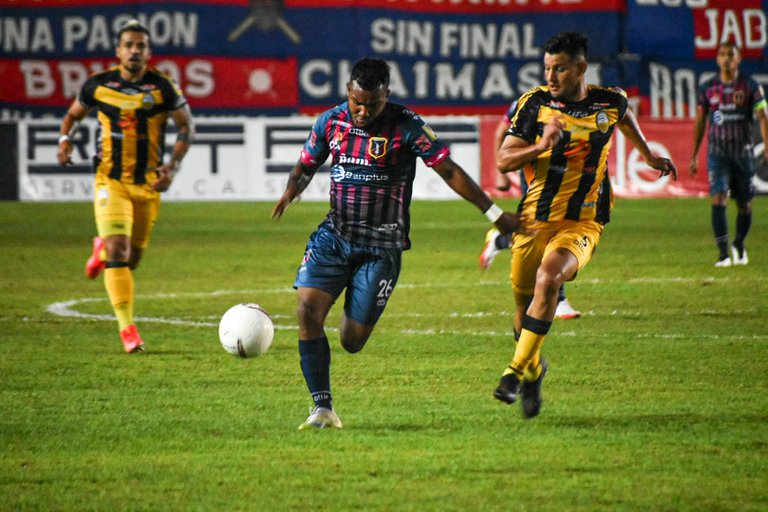 Source
---
The team coached by Jhonny Ferreira, scored the first goal of the match through the Panamanian Jhamal Rodríguez in a counter-attacking play in which the Azulgranas' goal scorer Juan Carlos Ortiz participated.
Juan Domingo Tolisano's team did not want to be left behind and scored the equalizer 7 minutes later, with a good pass from Juan Colina to Yerson Ronaldo Chacón, who scored for the second consecutive play of the young skilful player of Deportivo Táchira, with a good cut leaving the two defenders of Monagas SC and defining with his left foot.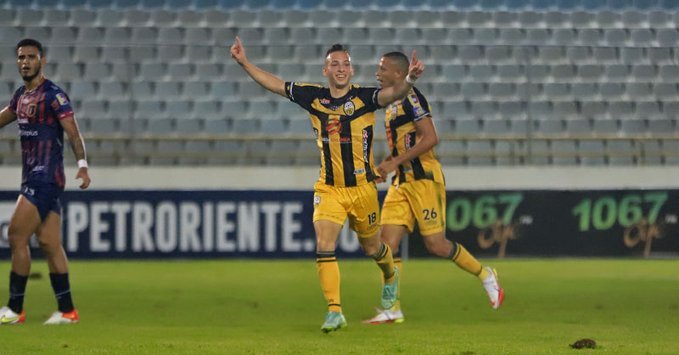 Source
---
En el complemento el aurinegro se quedaba con 10 jugadores en cancha tras la expulsión de José Luis Granados, que acondicionaba el compromiso en la ciudad capital del estado Monagas, y nuevamente Valenzuela tomó protagonismo en el partido, en esa ocasión para no sentencia un penal para el Deportivo Táchira, claro derribo de defensor del Monagas Alan Giménez sobre Carlos Ramos, quién acababa de ingresar. Decisión que me da a entender que decide no conceder el penal al Deportivo Táchira por haber errado en no concederle la pena máxima en el primer tiempo al Monagas.
In the second half, the Aurinegro was left with 10 players on the field after the expulsion of José Luis Granados, who conditioned the match in the capital city of the state of Monagas, and again Valenzuela took the lead in the match, on this occasion to not sentence a penalty for Deportivo Táchira, a clear knockdown of Monagas defender Alan Giménez on Carlos Ramos, who had just entered the field. This decision makes me to understand that he decided not to award the penalty to Deportivo Táchira for having erred in not awarding the penalty in the first half to Monagas.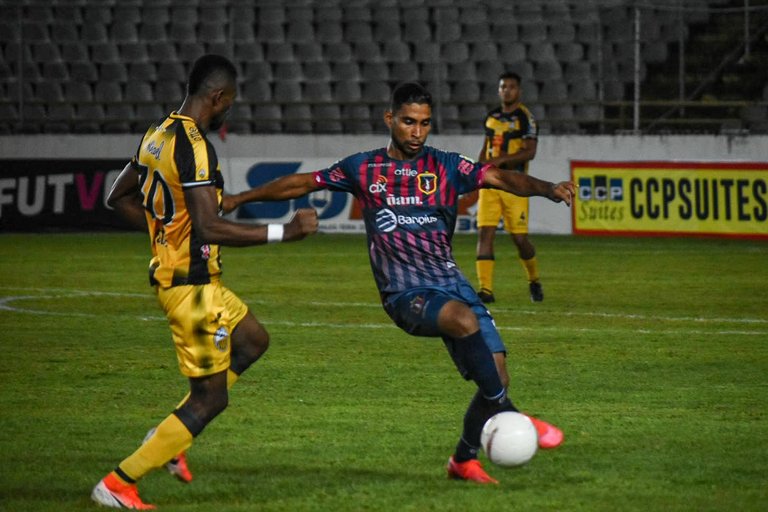 Source
---
Aquí el penal no pitado por Valenzuela
El Monagas SC tuvo para marcar la ventaja en los pies de Johan Arrieche a pase de Juan Carlos Ortiz, Arrieche solo la tenía que empujar para dentro las mallas y terminó tirando la por encima del arco defendido por Christopher Varela. El empate se mantuvo hasta los 90' gracias al trabajo defensivo del Deportivo Táchira y la buena actuación del portero azulgrana Nicolás Caprio.
Monagas SC had the chance to take the lead when Johan Arrieche scored off a pass from Juan Carlos Ortiz, Arrieche only had to push it into the net and ended up shooting it over the goal defended by Christopher Varela. The tie was maintained until the 90' thanks to the defensive work of Deportivo Táchira and the good performance of the azulgrana goalkeeper Nicolás Caprio.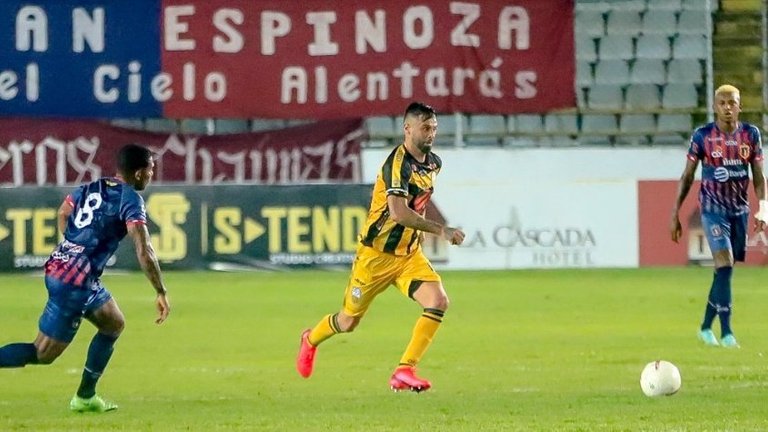 Source
---
Aquí el falló de Johan Arrieche
Deportivo Táchira sufrió en Maturín pero rescata un punto importante de visitante para seguir luchando por el Hexagonal Final A de la Liga FUTVE. Mientras que Monagas sigue como líder igualado con el Caracas FC que posee mayor average de goles.
Deportivo Táchira suffered in Maturín, but managed to rescue an important away point to continue fighting for the Hexagonal Final A of the FUTVE League. Meanwhile, Monagas continues as leader, equal with Caracas FC, which has a higher goal average.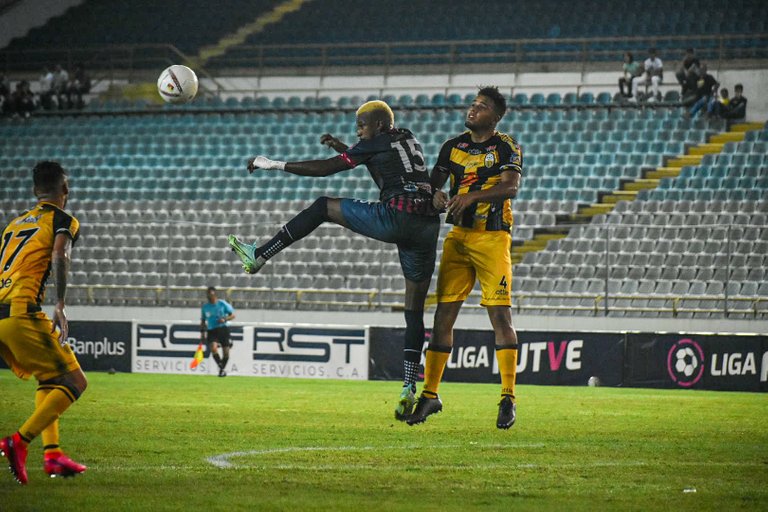 Source
---
---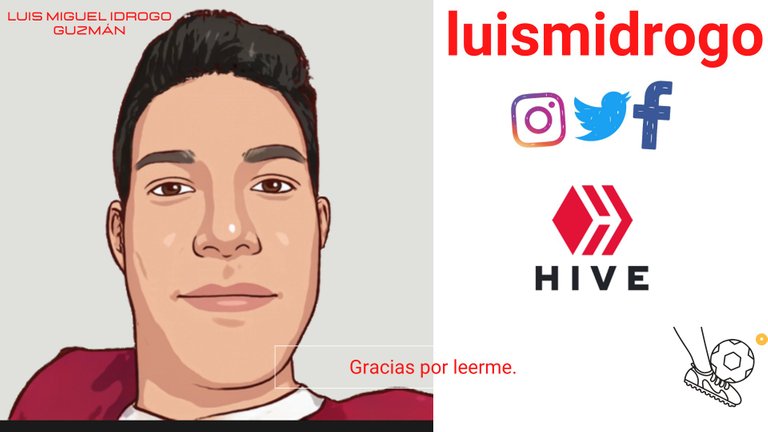 ---
---