[ESP/ENG] «El Clásico» picante como de costumbre // "El Clasico" spicy as usual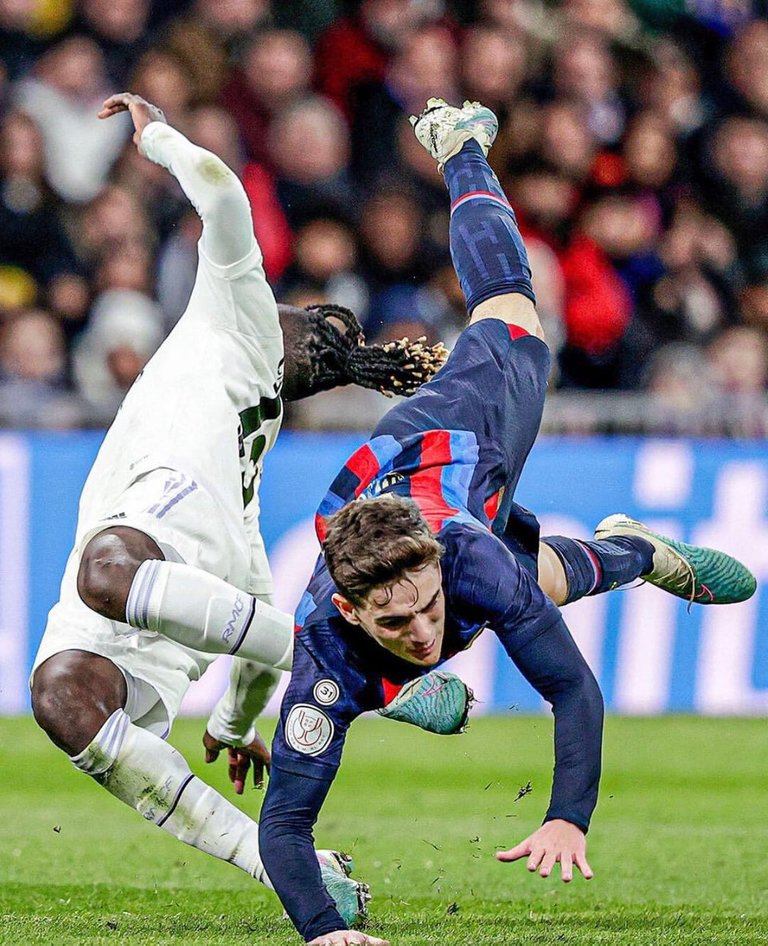 Fuente
---
Este jueves 02 de marzo se llevó a cabo el partido de ida de las semifinales de la Copa del Rey entre el Real Madrid y el FC Barcelona, El Clásico español con más repercusión en el mundo por los intensos que son los partidos de esto eternos rivales en el fútbol y en esta ocasión no fue la excepción, ya que se enfrentan en este duelo directo de 180 minutos, los primeros 90' se les llevó el FC Barcelona al derrotar en territorio ajeno al Real Madrid en su estadio Santiago Bernabéu con marcador de 0-1 anotación de Éder Militão en propia puerta, el Barça con bajas sensibles sacó un resultado positivo a la espera del partido de vuelta.
This Thursday, March 2, the first leg of the semifinals of the Copa del Rey between Real Madrid and FC Barcelona took place, the Spanish Clasico with more repercussion in the world for the intense matches of these eternal rivals in soccer and this time was no exception, The first 90 minutes were won by FC Barcelona, who defeated Real Madrid in their Santiago Bernabeu stadium with a score of 0-1, scored by Éder Militão in their own goal. Barça, with a few casualties, got a positive result while waiting for the second leg.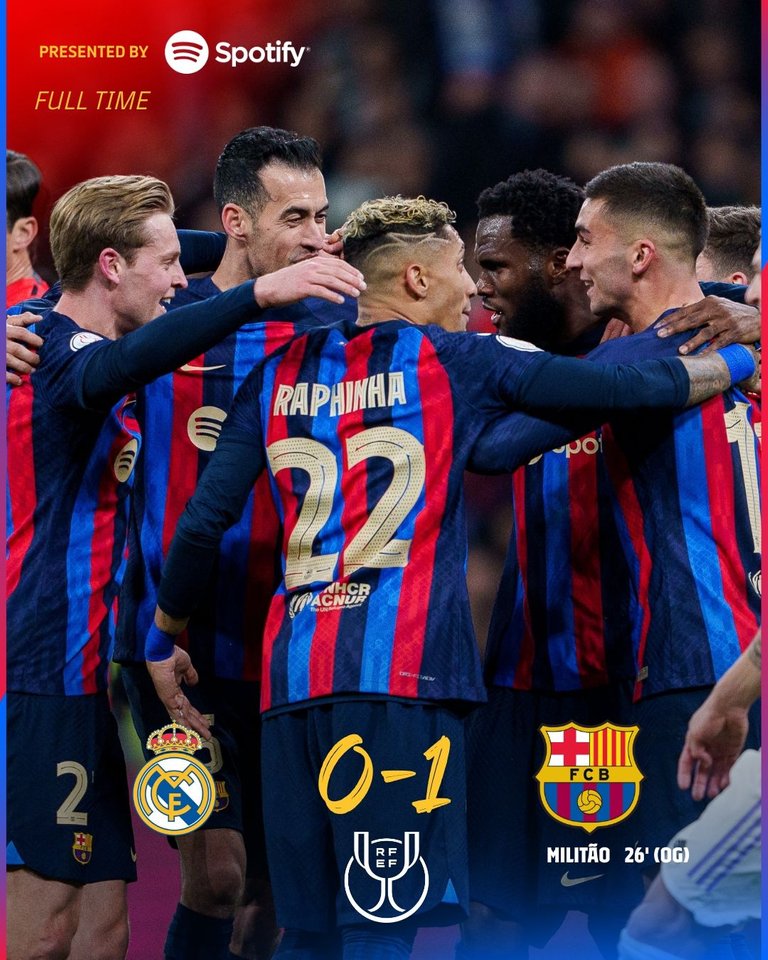 Fuente
---
La previa de este encuentro daba como favorito al Real Madrid, ya que se jugaba en su territorio y el FC Barcelona venía del duro golpe de quedar eliminados de la UEFA Europa League ante el Manchester United y para completar de caer por la mínima en su último partido de La Liga que pudieron estar a 10 puntos de ventana del segundo en caso de que lo hubieran ganado y el segundo de la tabla de posiciones es el mismo Real Madrid que está ahora a 7 unidades del conjunto culé. Los de Xavi también visitaron el Santiago Bernabéu sin tres jugadores de peso en su esquema de juego como lo son Robert Lewandowsky, Pedri y Dembélé, aún así sacaron la victoria por la mínima que pudo haber sido más amplio el resultado final de este partido de ida.
The preview of this match gave Real Madrid as favorite, since it was played in their territory and FC Barcelona was coming from the hard blow of being eliminated from the UEFA Europa League against Manchester United and to complete their last match of La Liga they could have been 10 points behind the second if they had won it and the second of the standings is the same Real Madrid that is now 7 units away from the culé team. Xavi's team also visited the Santiago Bernabéu without three key players in their game plan such as Robert Lewandowsky, Pedri and Dembélé, but they still managed to win by the minimum which could have been the final result of the first leg.
Mientras que el Real Madrid salió a por la victoria a toda costa con todas sus figuras, la dos únicas variantes fue de Camavinga en el medio del campo y Nacho como lateral izquierdo, el resto son todos los fijos de Carlo Ancelotti, que buscó de principio a fin un resultado positivo, la primera parte el Madrid mostró una buena cara sumándole la intensidad que metieron en el primeros minutos, mientras que el Barça no se encontraba. Siempre es raro ver qué el Real Madrid se quede con la posición del balón en los clásicos con el Barcelona, la mayoría de las veces es el club culé el que maneja más el partido con la posición de la pelota durante más minutos, Madrid lo manejó pero no le fue suficiente en el resultado final.
While Real Madrid came out for the victory at all costs with all its figures, the only two variants were Camavinga in the midfield and Nacho as left back, the rest are all fixed Carlo Ancelotti, who sought from start to finish a positive result, the first half Madrid showed a good face adding the intensity they put in the first minutes, while Barça was not found. It is always rare to see Real Madrid keep the ball position in the classics with Barcelona, most of the time it is the club that manages the game with the ball position for more minutes, Madrid managed it but it was not enough in the final result.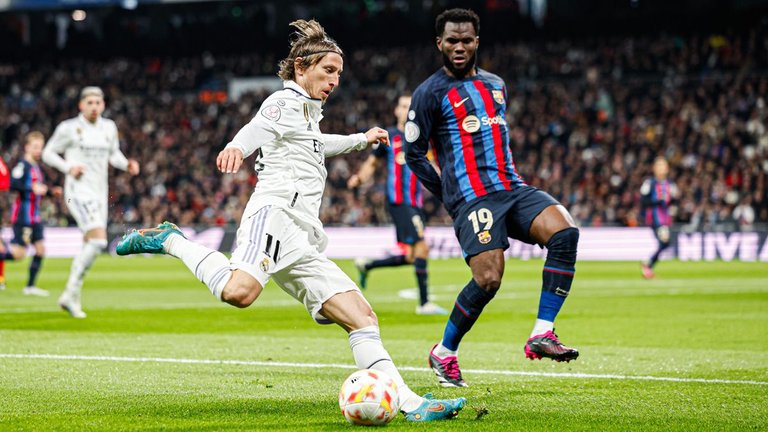 Fuente
---
La intensidad hizo que llegarán las amonestaciones, un total de 7 amarillas mostró el principal del partido, llevando a jugadores al límite de la roja, hasta Xavi vio la cartulina amarilla por reclamos en el banquillo, el principal tenía la dura tarea de mantener el encuentro es sus manos, tratas de mantener los 22 jugadores en el campo parecía imposible pero así fue, Gavi fue uno de los que más hizo infracción y rozó la expulsión, mucho se cuestionó por las tantas amarillas que le perdonaron al joven mediocampista culé.
The intensity made the yellow cards arrive, a total of 7 yellow cards showed the principal of the match, taking players to the limit of the red, even Xavi saw the yellow card for complaints on the bench, the principal had the hard task of keeping the game in his hands, trying to keep the 22 players on the field seemed impossible but it was, Gavi was one of those who did more offense and was close to expulsion, much was questioned by the many yellow cards that were forgiven to the young midfielder culé.
Muchas polémicas en los partidos como estos que se terminan definiendo por una mínima jugada, siempre el principal está al límite de no equivocarse, cada jugada los jugadores se le ensiman reclamando absolutamente todo.
There are many controversies in matches like these that end up being defined by the slightest play, the principal is always on the edge of not making a mistake, every play the players get angry with him claiming absolutely everything.
El Barcelona tuvo para llevarse el partido 0-2 pero Ansu Fati le quitó el segundo del Barça a Kessie, tras buenas galopadas de Ferran por el costado y lanzar el centro rastrero hacia atrás para que el marfileño rematará solo dentro del área pero la esférica impactó en un Ansu Fati que se encontraba delante del balón casi que cubriendo justo el espacio donde Kessie intento meter el gol, Ansu le juego en contra a Xavi para el lamento culé. Raphinha y Ferran Torres jugaron ambos como delanteros tras la ausencia de Lewandowsky, cómo hicieron falta Aubameyang y Memphis Depay por no tener un reecambio del polaco.
Barcelona had the chance to take the match 0-2 but Ansu Fati took away Barça's second from Kessie, after Ferran's good gallops down the flank and threw the cross backwards for the Ivorian to shoot alone inside the box but the ball hit Ansu Fati who was in front of the ball almost covering the space where Kessie tried to score, Ansu played against Xavi for the Culé's regret. Raphinha and Ferran Torres both played as strikers in the absence of Lewandowsky, as Aubameyang and Memphis Depay were missing due to the lack of a replacement for the Pole.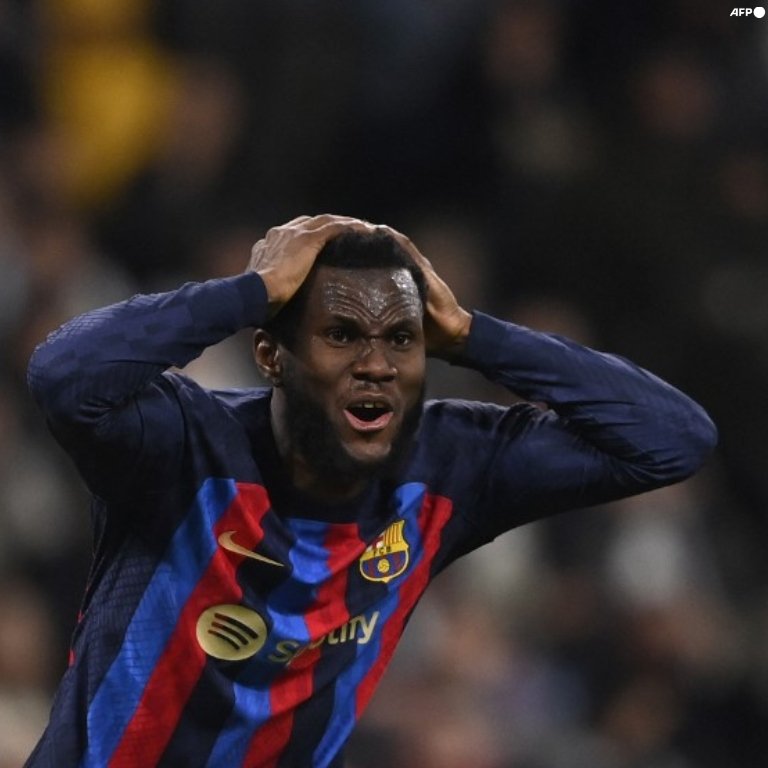 Fuente
---
Aún así Frenkie De Jong, Sergio Busquets y Ter Steger hicieron un partido correcto además de Gavi que a veces se pasa de agresivo y siempre anda involucrado en provocaciones del rival, estando siempre al borde de la expulsión algo que Xavi a intentado controlar en el español desde si llegada, pero tiene ese hambre de triunfar por ser aún muy joven pero muchas veces le puede jugar en contra esa agresividad.
Even so, Frenkie De Jong, Sergio Busquets and Ter Steger had a good game, as well as Gavi who sometimes is too aggressive and is always involved in provocations of the rival, always being on the verge of expulsion, something that Xavi has tried to control in the Spaniard since his arrival, but he has that hunger to succeed because he is still very young, but many times that aggressiveness can play against him.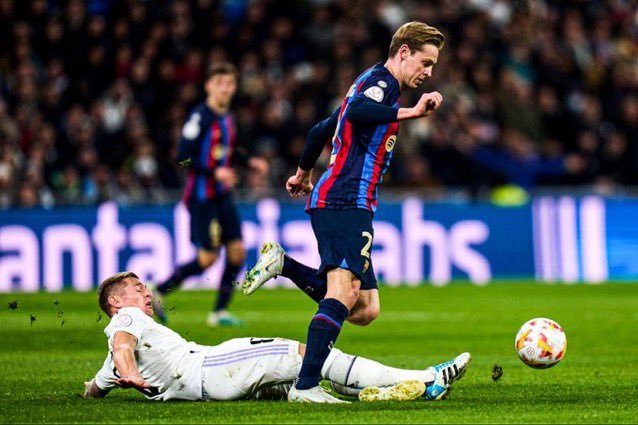 Fuente
---
El partido de vuelta traerá aún más emociones, Ancelotti no se quedará con esa e irá al Camp Nou a batir las mallas a toda costa, Karim Benzema estuvo muy vigilado por la defensa culé al igual que Vinicius Jr., que nuevamente Ronald Araujo lo atajó, el uruguayo repitió la docis cada vez que enfrenta al Real Madrid bloquiando al brasileño cubriendo el lateral derecho aprovechando su físico y su buena velocidad para ponerse muy complicada a Vini. Es momento de que Carlo Ancelotti busque solución para ese partido de vuelta y buscar en el campo Spotify el pase a la Gran Final de la Copa del Rey.
The second leg will bring even more emotions, Ancelotti will not stay with that one and will go to Camp Nou to beat the net at all costs, Karim Benzema was very guarded by the Culé defense as well as Vinicius Jr., which again Ronald Araujo stopped him, the Uruguayan repeated the docis every time he faces Real Madrid blocking the Brazilian covering the right side taking advantage of his physique and his good speed to make it very complicated for Vini. It is time for Carlo Ancelotti to look for a solution for the second leg and look for the pass to the Grand Final of the Copa del Rey on the Spotify pitch.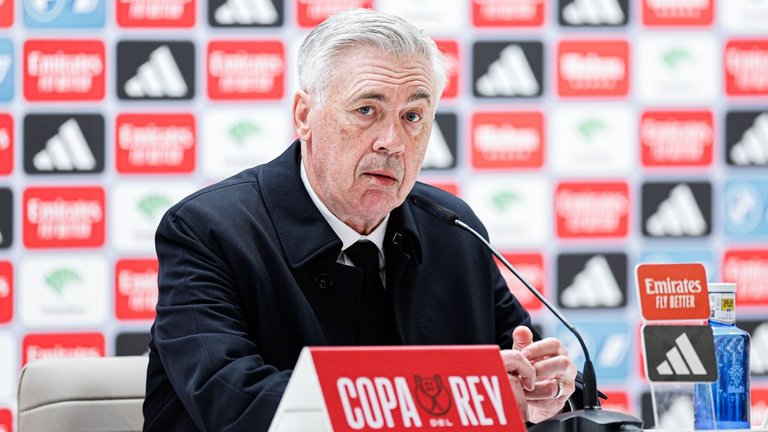 Fuente
---
Puntaje alto para el marfileño Kessie, que fue el que provocó la anotación de Militão en propia puerta, tras pisar el área con buena habilitación de Ferran y el mano a mano ante Coutouis el portero belga le detuvo el remate pero le favoreció la carambola al Barcelona que hizo que se anotarán en su propio arco, Nacho casi evita el tanto pero falló en su intento de despeje, la suerte jugó para el Barça y la vuelta estoy seguro que nos traerá más emociones.
High score for the Ivorian Kessie, who was the one who caused Militão's own goal, after stepping into the area with a good pass from Ferran and one on one against Coutouis, the Belgian goalkeeper stopped the shot but the carom favored Barcelona who scored in his own goal, Nacho almost avoided the goal but failed in his attempt to clear it, luck played for Barça and I am sure that the second leg will bring us more emotions.
---
Gracias por leerme
Thank you for reading
---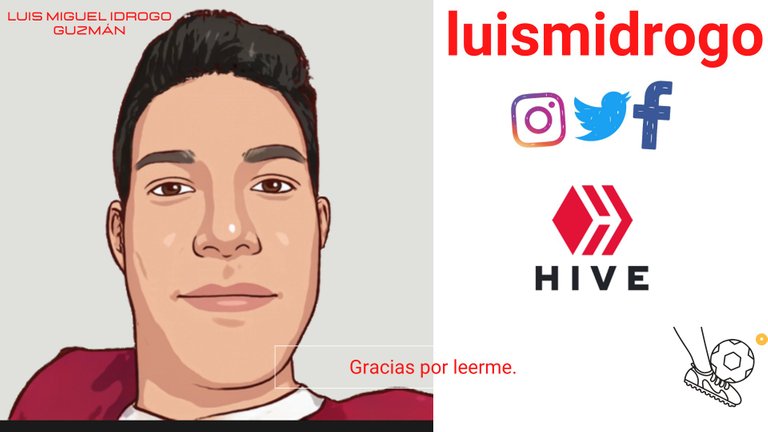 ---
---