[ESP/ENG] El club del Monumental tuvo a punto de complicar al poderoso de América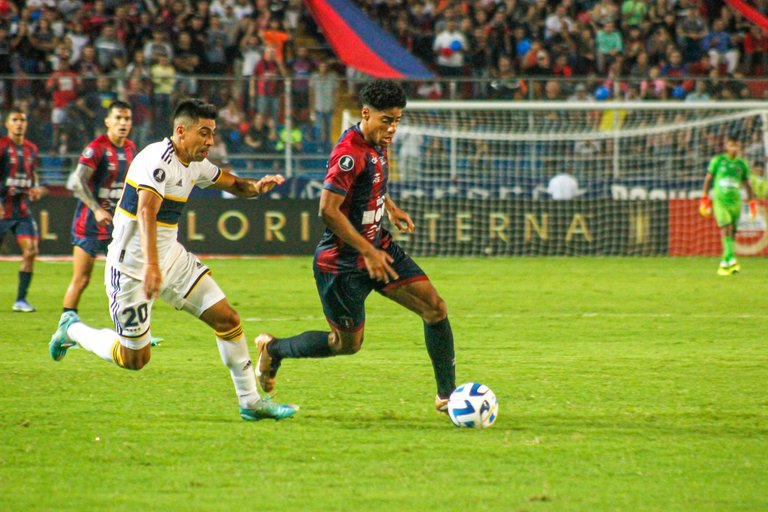 Fuente
---
Volvió la Copa Libertadores cómo también volvió (ahora con una nueva cara) el estadio Monumental de Maturín a ser sede del Monagas Sport Club y no pudo ser de mejor manera que para su debut en Copa internacional ante el histórico Boca Jrs de Argentina. El conjunto azulgrana tuvo la posibilidad de complicar el debut para ambas oncenas en esta nueva edición de la CONMEBOL Libertadores 2023, el restó del grupo F dónde se encuentra Monagas están el Colo Colo de Chile y el Deportivo Pereira de Colombia.
The Copa Libertadores is back and so is the Monumental de Maturín stadium (now with a new face) to host the Monagas Sport Club and it could not be in a better way than for its debut in the international Cup against the historic Boca Jrs of Argentina. The azulgrana team had the chance to complicate the debut for both teams in this new edition of the CONMEBOL Libertadores 2023, the rest of group F where Monagas is located are Colo Colo from Chile and Deportivo Pereira from Colombia.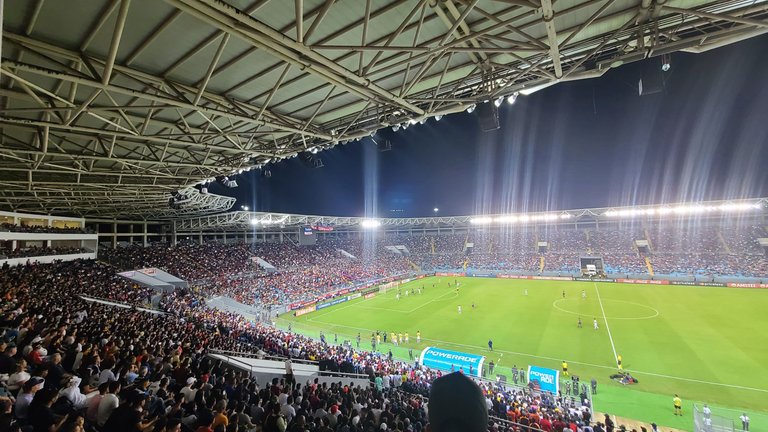 Fuente
---
La noche de este jueves 6 de abril en Maturín se vivió una noche especial, más de 40 mil personas se dieron cita en el estadio Monumental para apreciar el dueño entre el Monagas Sport Club y Boca Jrs, partido correspondiente a la jornada 1 en el que el cuadro visitante sufrió dos expulsiones, la de Bruno Valdez y Facundo Roncaglia eso hizo que el partido se acondicionará un poco, los dirigidos por Jhonny Ferreira tratando de creérselo que tenían en casa, casi en KO a uno de los clubes más poderosos de América y el mundo, con 9 jugadores terminaron y Monagas merodeando el arco defendido por chiquito Romero.
The night of Thursday, April 6 in Maturin was a special night, more than 40 thousand people gathered at the Monumental stadium to appreciate the owner between Monagas Sport Club and Boca Jrs, match corresponding to day 1 in which the visiting team suffered two expulsions, Bruno Valdez and Facundo Roncaglia, that made the match a little more conditioned, the team led by Jhonny Ferreira trying to believe that they had at home, almost in KO to one of the most powerful clubs in America and the world, with 9 players ended up and Monagas marauding the goal defended by Chiquito Romero.
Este enfrentamiento puede que no se haya mostrado la realidad que se esperaba, Boca Jrs mostró ser más que Monagas cómo se esperaba, las ocasiones más claras las generó el conjunto argentino cuando en el campo se encontraban once contra once a pesar que Boca viajo a Maturín con un técnico interino y no en su mejor momento, pero aún así venía que ganar en su torneo local 0-3 de visita y aún así, hombre por hombre Boca tiene más plantel que el Monagas, sin mencionar en lo económico.
Boca Jrs showed to be more than Monagas as expected, the clearest chances were generated by the Argentinean team when they were eleven against eleven on the field, even though Boca traveled to Maturin with an interim coach and not in his best moment, but still came from winning in their local tournament 0-3 away and even so, man for man Boca has more squad than Monagas, not to mention economically.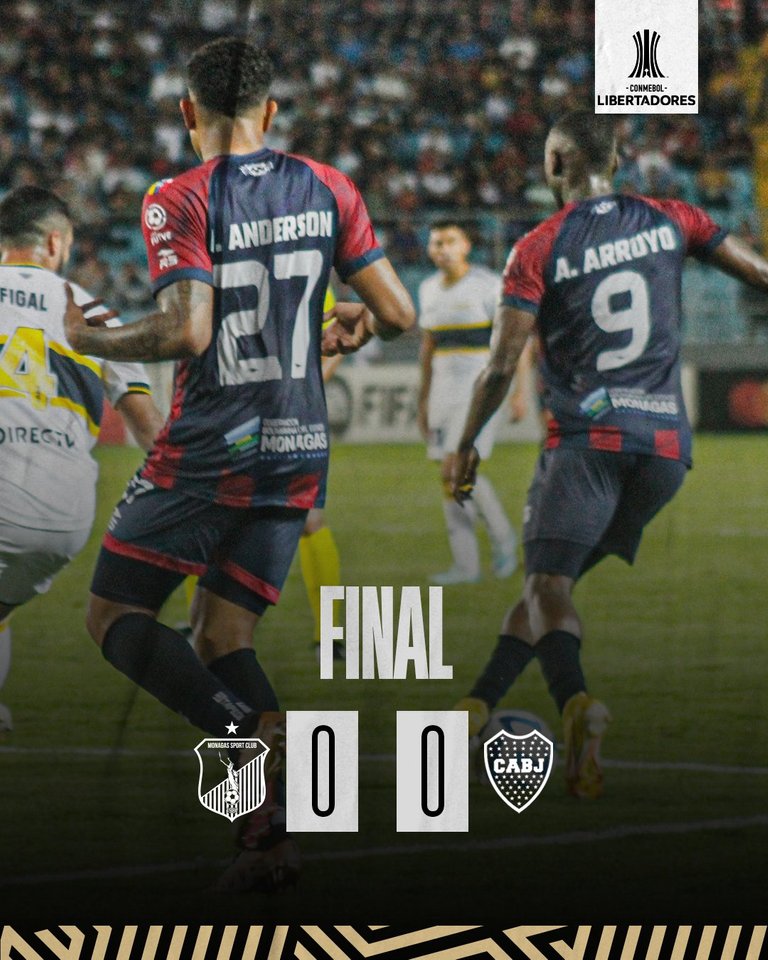 Fuente
---
Para un punto con buen sabor para Monagas a pesar de lo que comenten en redes sociales que debieron ganarle a Boca con 9 jugadores, la expulsión del segundo jugador llega en el final del partido, Monagas jugó menos de 10 minutos con dos jugadores más y aún así el cuadro visitante tuvo ocasiones de peligro con la superioridad numérica en contra. De no ser por las expulsiones, los xeneice sacaban los tres puntos de Maturín, con once jugadores le dieron mucho trabajo al guardameta del Monagas Orlando Mosquera, que se convirtió en figuras con sus intervenciones, con diez jugadores pegaron un disparo en el palo defendido por el panameño al servicio del Monagas SC y con nueve jugadores tuvieron un remate que pasó muy cerca del arco monaguense.
For a point with a good taste for Monagas despite what they comment on social networks that they should have beaten Boca with 9 players, the expulsion of the second player came at the end of the game, Monagas played less than 10 minutes with two more players and still the visiting team had chances of danger with the numerical superiority against. Had it not been for the expulsions, the xeneice would have taken the three points from Maturín, with eleven players they gave a lot of work to the Monagas goalkeeper Orlando Mosquera, who became a star with his interventions, with ten players they hit a shot against the post defended by the Panamanian at the service of Monagas SC and with nine players they had a shot that passed very close to the Monagas goal.
Monagas venía de un revés en la Liga FUTVE, visitando al Carabobo se llevaron una goleada de tres goles por cero en el Misael Delgado de Valencia, el cuadro azulgrana jugaría más pensando en su debut en Libertadores que ese partido de la Liga doméstica, además del cuerpo técnico reservando algunos de los jugadores para que no tuvieran muchos minutos en el partido, como el caso de Miki Romero y Santiago Herrera, que comenzaron ese duelo desde el banco de suplentes.
Monagas was coming from a setback in the FUTVE League, visiting Carabobo they were beaten three goals to zero at the Misael Delgado in Valencia, the azulgrana team would play more thinking about their debut in Libertadores than that game of the domestic league, in addition to the coaching staff reserving some of the players so that they would not have many minutes in the game, as in the case of Miki Romero and Santiago Herrera, who started that duel from the substitutes' bench.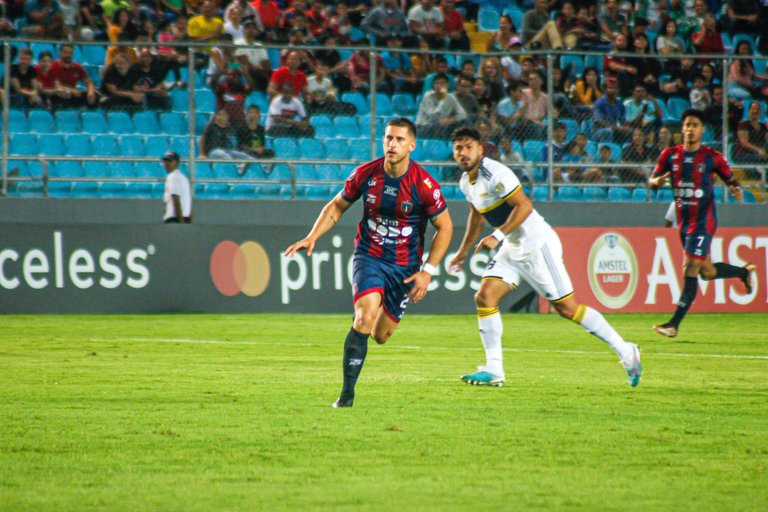 Fuente
---
Jhonny Ferreira, DT del Monagas Sport Club tuvo que salió con un once titular muy particular, en primer lugar el capitán fue Andrés 'Miki' Romero, por la ausencia de Óscar González y Grenddy Perozo, el lateral Vinotinto por molestias de última hora y el central ex selección nacional por decisión técnica. También se lo sumó a la presencia de David Martínez porque se encuentra disputando el Sudamericano Sub-17, a pesar de su edad es clave su presencia, es por eso que por la falta de lateral izquierdo Ferraira tuvo que colocar por ese carril a Iban Anderson a pierna cambiada y el lateral izquierdo lo cubriría Rubén Ramírez, una posición nueva para él, los defensores centrales fueron Christopher Rodríguez y Harold Cummings, en el mediocampo, Aldo Quiñones, Miki Romero, Fernando Basante y Edanyilber Navas caían como volante ofensivos por los costados y como doble puntas, el goleador azulgrana de la temporada Santiago Herrera y Abdiel Arroyo. A primera vista pensé que se trataba de una línea de cinco con tres zagueros centrales pero la realidad fue que Rubén Ramírez se adueñó del lateral derecho, además que terminó el partido siendo capitán por la salida de Miki.
Jhonny Ferreira, DT of Monagas Sport Club had to come out with a very particular starting eleven, first of all the captain was Andrés 'Miki' Romero, due to the absence of Óscar González and Grenddy Perozo, the Vinotinto fullback due to last minute discomfort and the former national team center back due to a technical decision. David Martínez was also absent because he is playing in the South American U-17 Championship. Despite his age, his presence is key, which is why Ferraira had to place Iban Anderson on the left flank and Rubén Ramírez would cover the left flank because of the lack of a left back, The central defenders were Christopher Rodríguez and Harold Cummings, in the midfield, Aldo Quiñones, Miki Romero, Fernando Basante and Edanyilber Navas played as attacking midfielders on the flanks and as double strikers, the Azulgrana goal scorer of the season Santiago Herrera and Abdiel Arroyo. At first glance I thought it was a line of five with three central defenders, but the reality was that Rubén Ramírez took over the right wing, and he ended the match as captain due to the departure of Miki.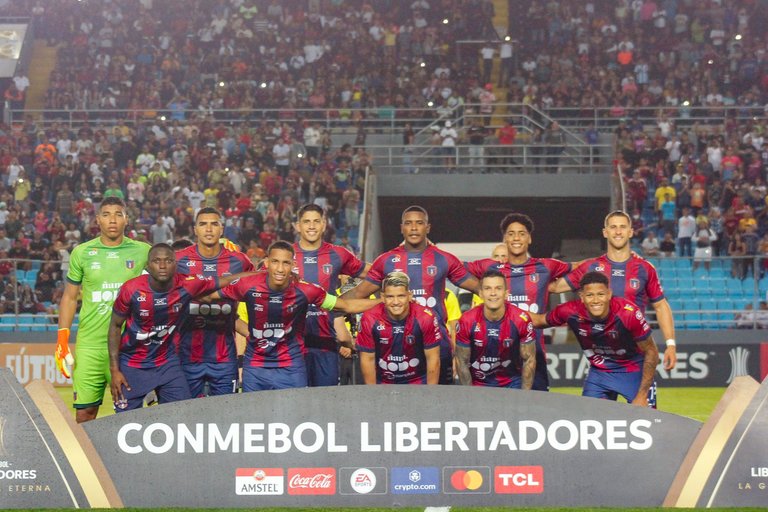 Fuente
---
El punto contra el más difícil del Grupo F termina siendo valiosísima a mi entender, entendiendo todo el contexto de que se le puso hacer daño al poderoso Boca con la superioridad, pero la realidad es que no pudieron ni siquiera tener una ocasión clara que yo recuerde, apenas un remate de Miki pero no fue con dirección al arco. Todos en el Grupo terminaron la jornada 1 con un punto cada uno, ya que Colo Colo y Deportivo Pereira igualaron también pero con empate a un gol.
The point against the toughest team in Group F ends up being extremely valuable in my opinion, understanding the whole context that they were able to hurt the powerful Boca with superiority, but the reality is that they could not even have a clear chance that I remember, just a shot by Miki but it was not goal-bound. Everyone in the Group ended Matchday 1 with one point each, as Colo Colo and Deportivo Pereira also drew but with a one-goal draw.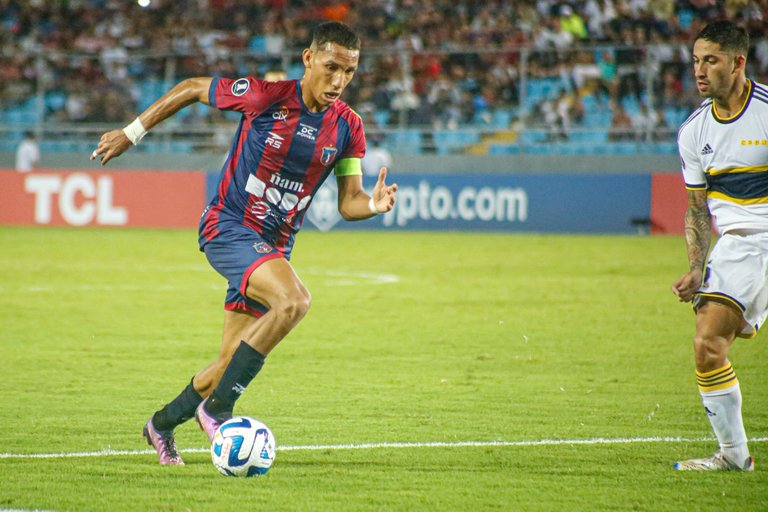 Fuente
---
Gracias por leerme
Thank you for reading
---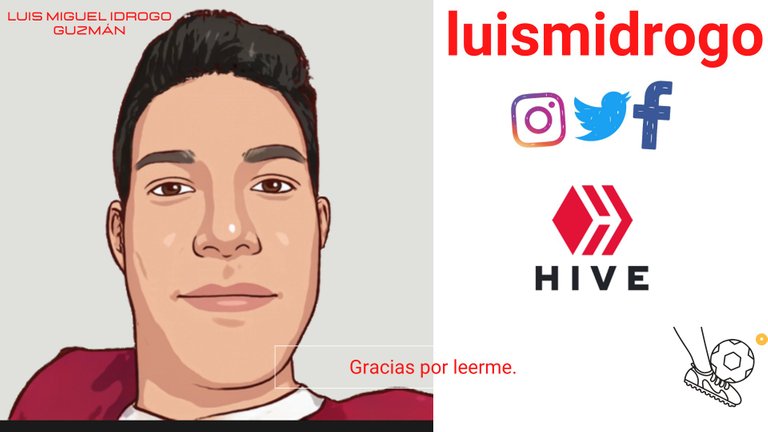 ---
---