[ESP/ENG] Partidazo fantástico el Barcelona vence al Betis en penales // Fantastic match as Barcelona beats Betis on penalties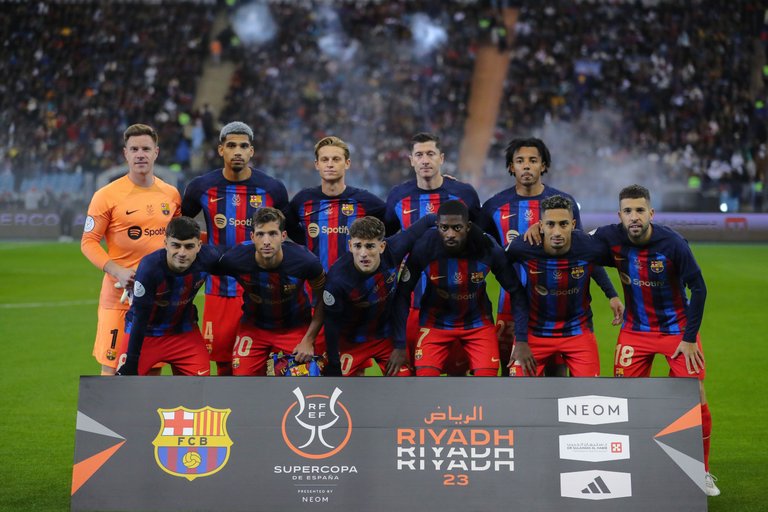 Fuente
---
Paso mucho tiempo de la última vez que ví jugar al FC Barcelona, este jueves 12 de enero de año nuevo se disputó la semi de la Supercopa de España en Arabia Saudita entre el Barcelona y el Real Betis, choque que nos dió un partidazo de clubes que luchaban por meterse en la final de la competición este domingo, el Betis se ha convertido en un club de gran nivel y respeto desde la llegada Manuel Pellegrini al banquillo verdiblanco, el Barça con Xavi en busca de conseguir este título para tomar confianza en lo que resta de la temporada 22/23.
It has been a long time since the last time I saw FC Barcelona play, this Thursday January 12, the semi of the Super Cup of Spain was played in Saudi Arabia between Barcelona and Real Betis, a match that gave us a great game of clubs fighting to get into the final of the competition this Sunday, Betis has become a club of great level and respect since the arrival of Manuel Pellegrini to the green and white bench, Barça with Xavi looking to get this title to take confidence in the remainder of the season 22/23.
El partido nos regaló buenos goles, duelo parejo, expulsión, salvadas en la raya, jugadas individuales muy vistosas, atajadas espectaculares, prórroga y penales para conocer quién era el finalista para disputar la final de la Supercopa ante el Real Madrid.
The match featured good goals, an even duel, a sending-off, saves on the line, very eye-catching individual plays, spectacular saves, extra time and penalty kicks to determine the finalist for the SuperCopa final against Real Madrid.
Barcelona es el club favorito a meterse en la Gran Final de la Supercopa, contra su eterno rival, el Real Madrid, es por eso que comenzó ganando el compromiso con un gol de Robert Lewandowsky, tras gran jugada individual de Osmane Dembélé, que lució con jugadas individuales desde el inició del compromiso, el Barça jugó con Koundé y Araujo en la zaga central, Sergi Roberto como capitán en el lateral derecho y Jordi Alba por la izquierda, De Jong jugó en la posición de cinco de Sergio Busquets, y como volantes externos, Gavi y Pedri ese dupla de presente y futuro que cada vez ilusiona más al aficionado culé por la experiencia que están adquiriendo desde el inicio de su carrera. Raphinha, Dembélé y Lewandowsky en el frente de ataque, alineó Xavi con Tere Steger en el arco, que volvía a tener un partido destacado en el arco, intentando retomar su buen nivel.
Barcelona is the favorite club to get into the Grand Final of the Super Cup, against their eternal rival, Real Madrid, that is why they started winning the match with a goal by Robert Lewandowsky, after a great individual play by Osmane Dembélé, who shone with individual plays since the beginning of the match, Barça played with Koundé and Araujo in the central backline, Sergi Roberto as captain at right back and Jordi Alba on the left, De Jong played in the position of five of Sergio Busquets, and as outside midfielders, Gavi and Pedri that duo of present and future that increasingly excites the culé fan by the experience they are acquiring since the beginning of their career. Raphinha, Dembélé and Lewandowsky up front, Xavi lined up with Tere Steger in goal, who once again had an outstanding game in goal, trying to resume his good level.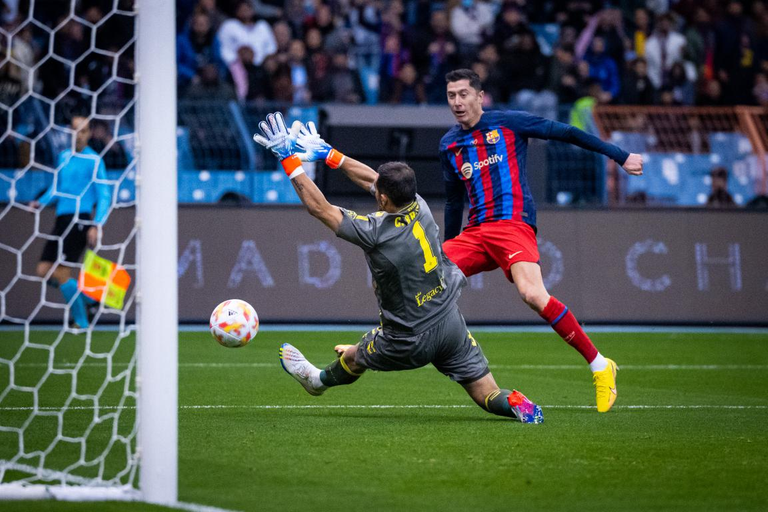 Fuente
---
El Real Betis contó con buen partido de Luiz Henrique, jugador con buena técnica y velocidad algo parecido a Dembélé, se mandó un buen partido para el Betis, asistiendo en el primer gol en la segunda parte, los ida y vuelta del Betis les favorecía por su buena velocidad que les aporta muchísimo al juego, el Barcelona siendo muy frágil en defensa, Ronald Araujo con un gran nivel, pero en ocasiones se descuida en la marca y pierde terreno ante los ataques rivales, Ter Steger salvó unas cuantas veces la valla culé.
Real Betis had a good game with Luiz Henrique, a player with good technique and speed somewhat similar to Dembélé, he had a good game for Betis, assisting the first goal in the second half, the back and forth of Betis favored them for their good speed that brings a lot to the game, Barcelona being very fragile in defense, Ronald Araujo with a great level, but sometimes is neglected in the mark and loses ground before the rival attacks, Ter Steger save a few times the culé fence.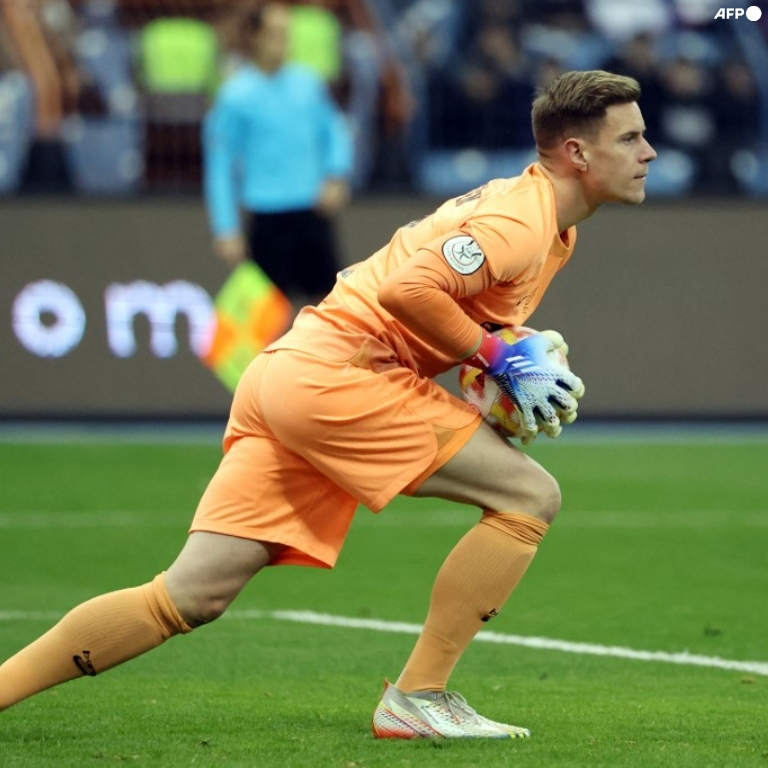 Fuente
---
Dembélé siendo de los jugadores más determinantes en el frente de ataque del FC Barcelona junto a Lewandowsky fue sustituto en el complemento, tanto Dembow como Frenkie De Jong salieron del terreno de juego, ambos teniendo un buen partido, el neerlandés con muchas llegadas siendo el volante cinco y el francés con muchas jugadas individuales que le sacaba mucha ventaja en el uno contra uno. Los cambios no favorecieron al juego del Barcelona, Busquets entró pensando en ser más defensivos en un partido que se encontraba igualado, Gavi pisaba poco el área como si lo hacía De Jong, Ferran Torres no entró para nada sido, aportó muy poco en ataque, apenas dió una buena asistencia a Lewa que terminó siendo anulado el gol por fuera de juego del Ferran.
Dembélé being one of the most decisive players in FC Barcelona's attacking front along with Lewandowsky was substituted in the complement, both Dembow and Frenkie De Jong left the field, both having a good game, the Dutchman with many arrivals being the midfielder five and the Frenchman with many individual plays that took a lot of advantage in one on one. The changes did not favor Barcelona's game, Busquets came in thinking of being more defensive in a match that was evenly matched, Gavi did little in the area as De Jong did, Ferran Torres did not come in at all, he contributed very little in attack, just gave a good assist to Lewa that ended up being annulled for offside Ferran's goal.
El que sí entró enchufado fue Ansu Fati, que mandó a guardar un espectacular remate en el tiempo extra para colocar el 2-1 en el marcador, el Barcelona me parece que se complicó sin querer ante el Betis, no pensó que resistirian tanto y menos que se atrevieran a reaccionar estando dos veces debajo en el marcador, ya que en el mismo primer tiempo de la prórroga marcaría el 2-2 tras un buen tacón dentro del área que Araujo permitió.
The one who did come on strong was Ansu Fati, who sent a spectacular shot in extra time to put the score at 2-1. It seems to me that Barcelona was unintentionally complicated against Betis, they did not think they would resist so much and even less that they would dare to react being twice behind on the scoreboard, as in the first half of extra time they would score the 2-2 after a good backheel inside the area that Araujo allowed.
El FC barcelona sigue teniendo altos y bajos, con jugadores que no terminan de aportar lo suficiente y cuenta con más minutos de lo normal, teniendo jugadores que pudieran aportar más y simplemente que debería tener más minutos en cancha, Xavi a tomado hecho rotaciones muy confusas en los cambios, ambos laterales los sustituyó, Marcos Alonso y Koundé terminaron como laterales, siendo jugadores más defensivos, poco y nada lo que podían conseguir en ataque teniéndolos a ellos, así que tuvo que ir a penales para conocer al finalista.
FC Barcelona continues to have ups and downs, with players who do not end up contributing enough and has more minutes than normal, having players who could contribute more and simply should have more minutes on the field, Xavi has made very confusing rotations in the changes, both fullbacks replaced them, Marcos Alonso and Koundé ended up as fullbacks, being more defensive players, little or nothing they could get in attack having them, so it had to go to penalties to know the finalist.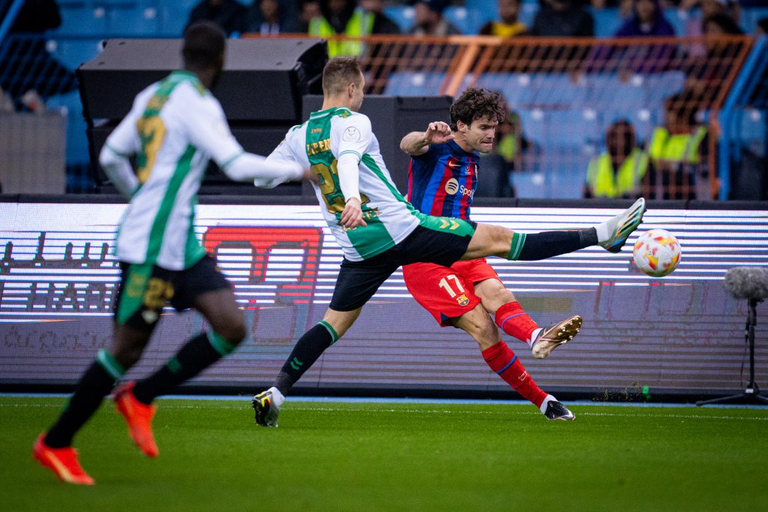 Fuente
---
El 10 del Barcelona pasando por un mal momento respondió desde que ingresó hasta en la tanda de penales, marcando desde el punto penal ante Claudio Bravo con mucha confianza, los cuatro primeros lanzadores del Barcelona marcaron y con eso bastó para conseguir el pase a la final de este domingo ante el Real Madrid, tendremos Clásico español en la Supercopa de España.
The 10 of Barcelona, going through a bad moment, responded from the moment he entered until the penalty shootout, scoring from the penalty spot against Claudio Bravo with great confidence, the first four shooters of Barcelona scored and that was enough to get the pass to the final this Sunday against Real Madrid, we will have the Spanish Clasico in the Super Cup of Spain.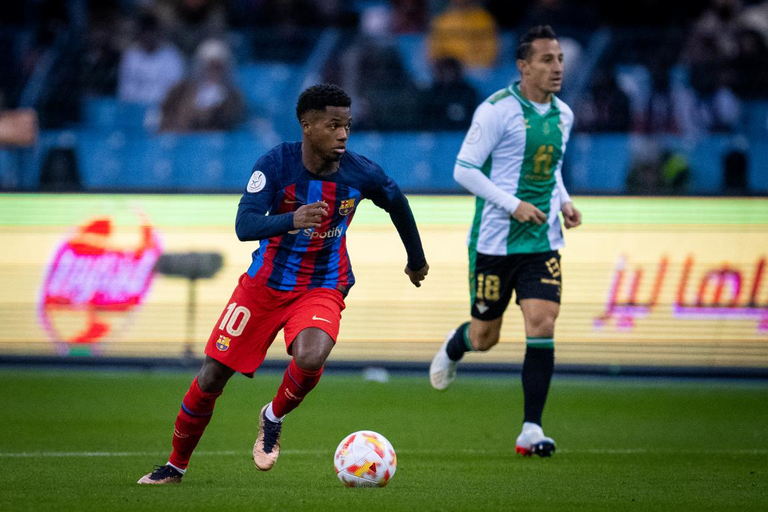 Fuente
---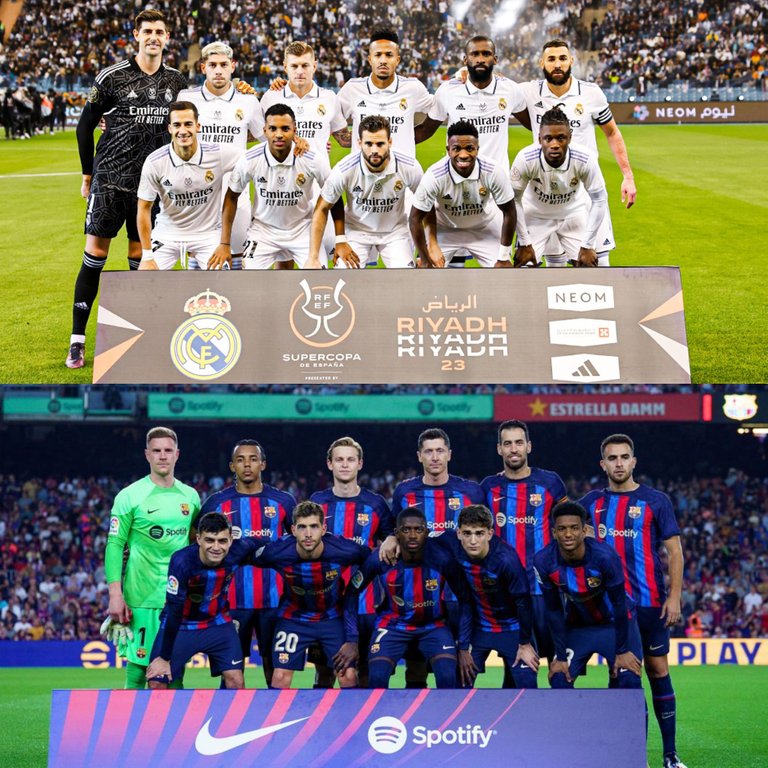 Fuente
---
Gracias por leerme
Thank you for reading
---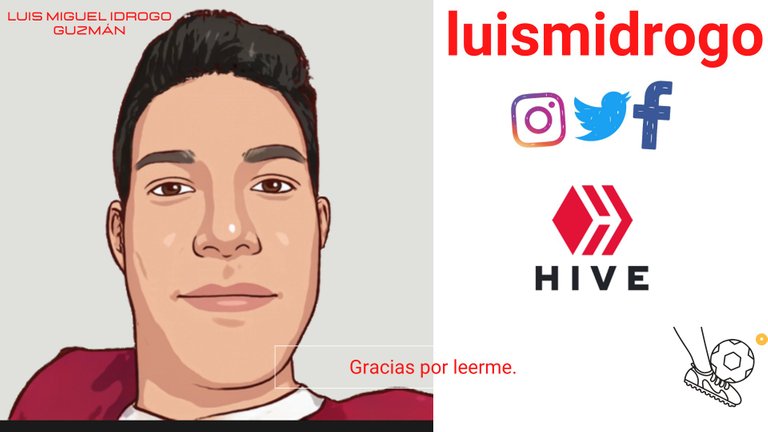 ---
---