[ESP-ENG] Ejercicios de parada de cabeza con múltiples beneficios - Multi-benefit headstand exercise
---
Los ejercicios de cabeza son excelentes tanto para fortalecer varios grupos musculares como para mejorar el equilibrio tanto físico como mental, hoy quise mostrarles 4 ejercicios especiales para deltoides y core pero que nos aportan múltiples beneficios, algunos de ellos son avanzados, es importante ser sumamente cuidadosos al momento de realizarlos para evitar una lesión, si eres principiante puedes realizar progresiones hasta lograrlos, recuerda que no hay una frase más verídica que "la práctica hace al maestro" 😁
Parada de cabeza:
Conocida en el yoga como "Sirsasana", es una postura que tiene una infinidad de beneficios tanto físicos como mentales, es importante realizarla con la máxima concentración posible para lograr estabilidad, la respiración consciente es sumamente importante, de hecho, es posible meditar en esta postura mientras disfrutas de los increíbles beneficios que te aporta. Algunos de ellos son:
Mejora la circulación de la sangre y los problemas respiratorios.
Incrementa el oxígeno que llega al cerebro y al sistema nervioso.
Al mantenerte invertido utilizas todos los músculos del cuerpo, por lo tanto los tonificas.
Mejora la concentración y facultades sensoriales.
Ayuda a aliviar el dolor lumbar.
Encogimiento abdominal para oblicuos:
Los ejercicios de suspensión utilizando una herramienta como el TRX te ayudan a crear mayor tensión en la musculatura, este ejercicio tiene múltiples variaciones, una de ellas es tocar la rodilla con tu mano cuando se acerca al codo. Al ser un ejercicio bastante exigente, te ayuda a fortalecer tanto los brazos y hombros como el core y la zona lumbar. En esta oportunidad realizamos 60 repeticiones, si no cuentas con TRX puedes realizar escaladores en el piso.
Press de hombro en pino
Este ejercicio es una combinación de press de hombro y parada de manos utilizando nuestra genial herramienta TRX, consiste en colocar uno de tus pies en ambos estribos y caminar hacia atrás hasta quedar de cabeza apoyando tus manos en el piso, en este punto realizar un pequeño press de hombros, el rango de movimiento no será tan alto pero el trabajo será mucho mucho mayor que un press de hombros común pues estás realizándolo con todo tu peso corporal. Este ejercicio lo realicé el día de ayer y hoy me duelen los trapecios increíblemente jajaja, pero este es un tipo de dolor que disfruto mucho pues me ayuda a reconocer que mi entrenamiento fue efectivo.
Plancha lateral
Conocida en yoga como "Vasisthasana" y siendo una de sus posturas más comunes, nos aporta beneficios como el fortalecimiento de nuestro tren superior y las articulaciones de los hombros, codos y muñecas. Yo la realicé en mi TRX pero puede ser fácilmente ejecutada en el piso, nos mantenemos en esta postura durante 30 segundos, descansamos 10 segundos y posteriormente cambiamos de brazos, se puede repetir 2 veces de cada lado. Es muy importante no olvidar nuestra respiración consciente y no forzar a nuestro cuerpo ya que todo avance es progresivo 🙌

ENGLISH
Head exercises are excellent both to strengthen various muscle groups and to improve both physical and mental balance, today I wanted to show you 4 special exercises for deltoids and core but that bring us multiple benefits, some of them are advanced, it is important to be extremely careful when performing them to avoid injury, if you are a beginner you can make progressions until you achieve them, remember that there is no truer phrase than "practice makes perfect" 😁.
Headstand:
Known in yoga as "Sirsasana", it is a posture that has a myriad of benefits both physical and mental, it is important to perform it with the maximum concentration possible to achieve stability, conscious breathing is extremely important, in fact, it is possible to meditate in this posture while enjoying the incredible benefits it brings you. Some of them are:
Improves blood circulation and respiratory problems.
Increases oxygen to the brain and nervous system.
By staying inverted you use all the muscles of the body, therefore toning them.
Improves concentration and sensory faculties.
Helps relieve lower back pain.
Abdominal shrug for obliques:
Suspension exercises using a tool like the TRX help you create greater tension in the musculature, this exercise has multiple variations, one of them is to touch the knee with your hand as it approaches the elbow. Being a fairly demanding exercise, it helps you strengthen both arms and shoulders as well as the core and lower back. In this opportunity we perform 60 repetitions, if you do not have TRX you can perform climbers on the floor.
Shoulder press on pine
This exercise is a combination of shoulder press and handstand using our great tool TRX, is to place one of your feet in both stirrups and walk backwards until you are upside down resting your hands on the floor, at this point perform a small shoulder press, the range of motion will not be as high but the work will be much greater than a common shoulder press because you are doing it with all your body weight. I performed this exercise yesterday and today my trapeziuses hurt incredibly hahaha, but this is a type of pain that I really enjoy because it helps me recognize that my workout was effective.
Lateral plank
Known in yoga as "Vasisthasana" and being one of its most common postures, it brings us benefits such as strengthening our upper body and the joints of the shoulders, elbows and wrists. I performed it on my TRX but it can be easily executed on the floor, we stay in this posture for 30 seconds, rest 10 seconds and then change arms, you can repeat 2 times on each side. It is very important not to forget our conscious breathing and not to force our body as all progress is progressive 🙌.

Traducción/Translation: DeepL translate
Diseño/Desing: Por mí utilizando CANVA/By myself using CANVA
Video & Photography: Por mí /By myself
Audio: Fuente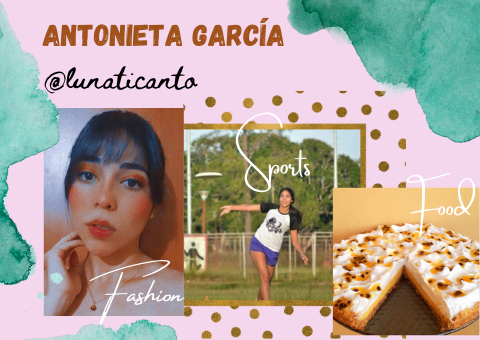 A walk through my mind
I write about the things I am passionate about, my beloved sport, delicious food that brings a smile to my face, traveling around my beautiful country and my research in fashion. I am a fashionista, sportswoman, foodie and petlover. I love working for my dreams and creating cool things with my hands but most of all I enjoy inspiring those around me to be their best version.

"Everything is created twice, first in the mind and then in reality " Robin Sharma.
---
▶️ 3Speak
---
---