[ESP-ENG] Fecha FIFA Clave para el planeta - FIFA Date Key to the planet
Todas las selecciones del mundo que aún tienen posibilidades de clasificar a Qatar, se baten a duelo
---
All the teams in the world that still have a chance of qualifying for Qatar, duel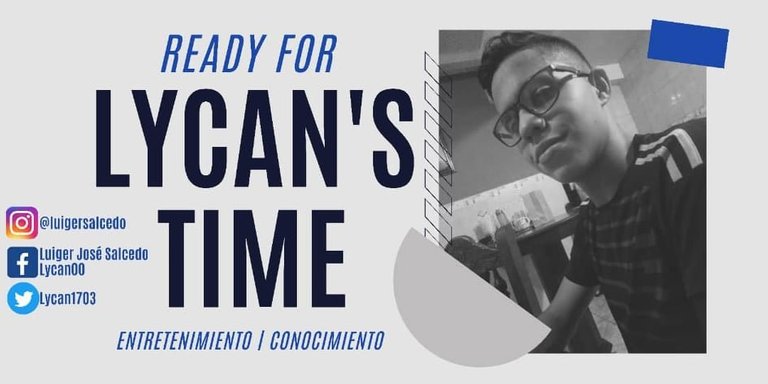 Oceanía en busca de su representante, África, define los suyos. - Oceania in search of its representative, Africa defines its own.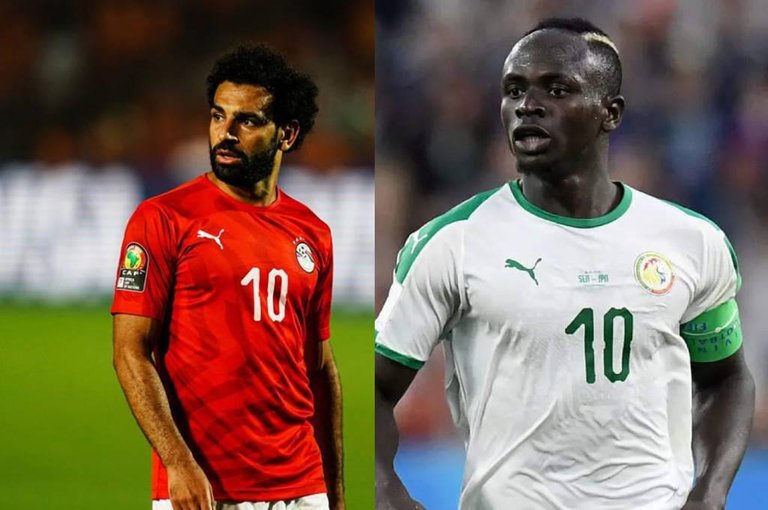 Fuente
La Clasificación de la OFC para la Copa Mundial de Fútbol cuenta con un curioso formato, básicamente realizan un torneo que incluye una fase de grupos, semifinales y una final, el ganador de dicho torneo será el representante en el repechaje mundialista que tendrá Oceanía, como sabemos, esta federación cuenta con tan solo medio cupo al mundial, es decir, no es seguro que logren meter a alguien a la Copa del Mundo, de hecho desde el año 2010 que no lo logran y solo en otras 3 ocasiones pudieron hacerlo, y es que la FIFA incluso ha llegado a reducir a 0.25 el cupo de Oceanía al mundial, poniéndole prácticamente imposible su clasificación, se espera que para el siguiente mundial, el cual incluirá a más seleccionados, los cupos para los equipos de Oceanía lleguen al menos a 1.
El punto es que, ahora mismo, Islas Salomón, Tahití, Islas Cook y Vanuatu disputan el grupo A en busca de dos clasificados, mientras que Nueva Zelanda, Papúa Nueva Guinea, Fiyi y Nueva Caledoniam disputan el grupo B en busca de otros dos clasificados, el 30 de este mes, conoceremos al campeón y por lo tanto, al representante de Oceanía (seguramente Nueva Zelanda debido a su amplio dominio en el área). Los africanos, por su parte, ya se encuentran en la última y decisiva ronda de clasificación, donde en un sorteo se deceidieron los 5 cruces de ida y vuelta que disputarán para sacar los 5 clasificados a Qatar 2022, Nigeria se verá las caras con Ghana, Argelia ante Camerún, Marruecos hará lo propio ante Congo y Túnez con Malí, además, tenemos el enfrentamiento de dos de las estrellas del Liverpool y del fútbol mundia, en el cual una de ellas se quedará sin disputar la Copa del Mundo, hablamos de la Senegal de Sadio Mané y la Egipto de Salah, el egipcio, viene de caer ante Mané y Senegal en la final de la Copa de África, por lo que otra dura derrota contra uno de sus más habituales compañeros de equipo, sería sumamente dolorosa. En mi opinión, Nigeria, Argelia, Marruecos, Túnez y Senegal clasifican.
---
The OFC Qualification for the Soccer World Cup has a curious format, basically they carry out a tournament that includes a group stage, semifinals and a final, the winner of said tournament will be the representative in the World Cup playoff that Oceania will have, as We know, this federation has only half a place in the World Cup, that is, it is not certain that they will be able to get someone into the World Cup, in fact since 2010 they have not succeeded and only on 3 other occasions were they able to do so, and is that FIFA has even reduced Oceania's quota to the World Cup to 0.25, making it practically impossible for them to qualify, it is expected that for the next World Cup, which will include more selected teams, the quotas for the Oceania teams will reach at least 1.
The point is that, right now, Solomon Islands, Tahiti, Cook Islands and Vanuatu are in Group A in search of two qualifiers, while New Zealand, Papua New Guinea, Fiji and New Caledoniam are in Group B in search of two other qualifiers. , on the 30th of this month, we will meet the champion and therefore the representative of Oceania (probably New Zealand due to its extensive domain in the area). The Africans, for their part, are already in the last and decisive qualifying round, where the 5 round-trip matches that they will play to get the 5 qualified for Qatar 2022 were decided in a draw, Nigeria will face Ghana , Algeria against Cameroon, Morocco will do the same against Congo and Tunisia against Mali, in addition, we have the confrontation of two of the stars of Liverpool and world football, in which one of them will not play the World Cup, we talk about Sadio Mané's Senegal and Salah's Egypt, the Egyptian, has just lost to Mané and Senegal in the African Cup final, so another tough defeat against one of his most usual teammates would be extremely painful. In my opinion, Nigeria, Algeria, Morocco, Tunisia and Senegal qualify.
CONCACAF define el grupo, igualmente Asia - # CONCACAF defines the group, also Asia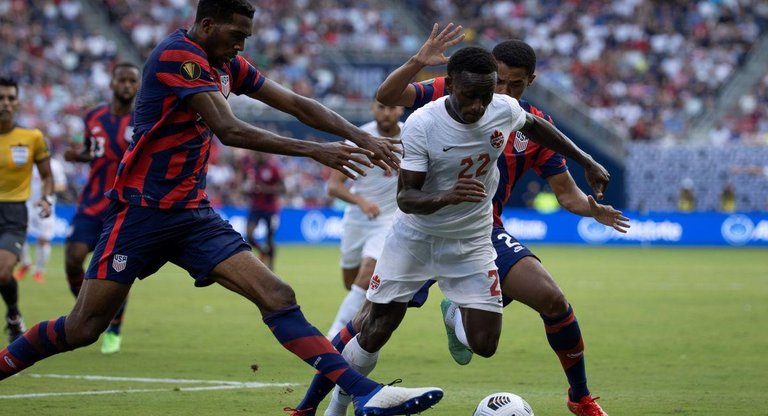 Fuente
CONCACAF estrena formato, esta vez con un octogonal final, en el cual 8 seleccionas buscan los tres primeros puestos que entregan una clasificación directa a la Copa del Mundo, mientras que el cuarto puesto les permitirá asistir al repechaje en el que enfrentarán a la selección que arroje Asia en su repechaje, actualmente la situación se ve sumamente favorable para Canadá, que ha logrado ganar sus últimos 5 partidos sumando 15 puntos de manera consecutiva y colocándose con 25 puntos como líder de las eliminatorias de CONCACAF, sacando 8 puntos al cuarto puesto, con lo que con una victoria mañana ante Costa Rica, estarían matemáticamente clasificados y disputarían con más tranquilidad los duelos ante Jamaica y Panamá, USA, por su parte, es el segundo clasificado, empatado en puntos con México, ambos con 21 y se enfrentan mañana en el estadio Azteca, en lo que podría ser una posibilidad enorme para Panamá de acercarse a alguno de ellos en su intento de enviarlos al repechaje y alejarse de la persecución de los "ticos" que siguen muy de cerca ese cuarto puesto, México cierra su eliminatoria contra selecciones más sencillas, Honduras, que es último lugar y frente a El Salvador, mientras que Estados Unidos enfrenta a 3 rivales directos, México, Panamá y Costa Rica, por lo que una victoria ante México mañana es crucial para sus aspiraciones de decir presente en el mundial, cosa que no lograron hacer en la pasada Copa del Mundo.
La AFC ya tiene a 3 clasificados, Qatar, que es el anfitrión de la Copa del Mundo y el actual campeón de la Copa de Asia, Irán y Coreal del Sur que arrasaron con el grupo A, en el grupo B, Japón y Arabia Saudita están a 1 victoria de lograr su clasificación, Japón enfrenta a Australia, al que aventaja por 3 puntos, por lo que una derrota ante los australianos complicaría enormemente su clasificación, mientras que Arabia Saudita enfrenta a una deshauciada China, Australia, mantiene su tranquilidad en el tercer puesto pues Omán, cuarto clasificado, ya no tiene posibilidades de alcanzarlo, por lo que mínimo, veremos a los australianos disputando la clasificación al repechaje, aunque deberán buscar la clasificación directa en su encuentro final frente al líder del grupo, Arabia Saudita. Los dos terceros de ambos grupos, se enfrentarán en un partido único en una sede neutral en busca del a clasificación a la repesca intercontinental, en el grupo A, Emiratos Árabes Unidos es el tercero a 3 puntos de Líbano, muy interesantes las eliminatorias de Asia.
---
CONCACAF launches a new format, this time with an octagonal final, in which 8 teams seek the first three places that deliver a direct classification to the World Cup, while fourth place will allow them to attend the playoff in which they will face the team that Asia throws in its playoffs, currently the situation looks extremely favorable for Canada, which has managed to win its last 5 games adding 15 points consecutively and placing itself with 25 points as leader of the CONCACAF qualifiers, taking 8 points to fourth place, so with a victory tomorrow against Costa Rica, they would be mathematically classified and would play the duels against Jamaica and Panama more calmly, USA, for its part, is the second classified, tied in points with Mexico, both with 21 and will face each other tomorrow in the Azteca stadium, in what could be a huge possibility for Panama to get close to one of them in their attempt to send them to the playoffs and get away from e the persecution of the "Ticos" who closely follow that fourth place, Mexico closes its tie against simpler teams, Honduras, which is last place and against El Salvador, while the United States faces 3 direct rivals, Mexico, Panama and Costa Rica, so a victory against Mexico tomorrow is crucial for their aspirations to be present in the World Cup, which they failed to do in the last World Cup.
The AFC already has 3 qualifiers, Qatar, which is the host of the World Cup and the current champion of the Asian Cup, Iran and South Korea who swept group A, in group B, Japan and Saudi Arabia are 1 win away from qualifying, Japan faces Australia, which they lead by 3 points, so a loss to the Australians would greatly complicate their qualification, while Saudi Arabia faces a hopeless China, Australia maintains its calm in third place as Oman, fourth classified, no longer has a chance of reaching it, so at the very least, we will see the Australians disputing the qualification for the playoffs, although they will have to seek direct classification in their final match against group leader Saudi Arabia. The two third parties of both groups will meet in a single match at a neutral venue in search of qualification for the intercontinental playoffs, in group A, the United Arab Emirates is third, 3 points behind Lebanon, the Asian qualifiers are very interesting .
Conmebol y UEFA, los únicos campeones mundiales. - # Conmebol and UEFA, the only world champions.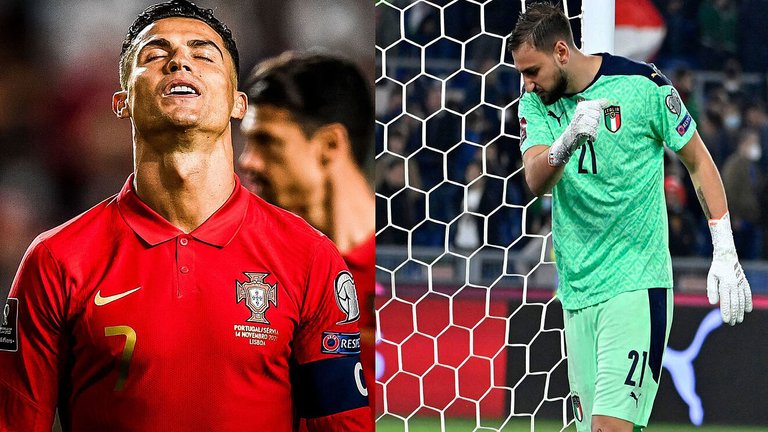 Fuente
Solo de Conmebol y UEFA han salido los seleccionados que han logrado alzarse alguna vez con la Copa del Mundo, 3 por parte de Conmebol y 5 de parte de los europeos, mañana se disputa el primer encuentro del repechaje europeo, con Rusia eliminada y Polonia como primer clasificado a la final de su llave y con el duelo entre Escocia y Ucrania, también pospuesto, los duelos que si se llevarán a cabo mañana son el de Portugal y Turquía, Gales y Austria, Italia y Macedonia del Norte y Suecia y la República Checa, los ganadores de estos emparejamientos, disputarán el encuentro que decidirá su clasificación a la Copa del Mundo, el día 29 de este mes, actualmente, los dos últimos campeones de europa se encuentran en la misma llave y si nada extraño ocurre, veremos a Cristiano Ronaldo jugándose su clasificación al mundial frente a la poderosa Italia de Mancini, increíble que alguno de los dos se vaya a perder el mundial, triste, muy triste.
CONMEBOL ya cuenta con Brasil y Argentina clasificados al a Copa del mundo, aún y cuando estos dos se adeudan un partido entre ellos, mientras que Ecuador, prácticamente tiene un pie metido dentro del mundial, resultados escándalosos y nunca antes vistos se tendrían que dar para que Ecuador no clasifique, lo que nos dejan 1 cupo directo y el cupo al repechaje intercontinental, para disputarse entre Uruguay, Perú, Chile y Colombia, mientras que Venezuela, Paraguay y Bolivia se encuentran ya sin posibilidades, si Chile cae ante Brasil en territorio carioca, sería un golpe casi letal para sus aspiraciones, mientras que si Uruguay o Perú ganan el duelo entre ellos (en caso de darse el resultado anterior), se aseguran su presencia en el mundial, Colombia, que no ha sido capaz de anotar en varios partidos consecutivos debe vencer a Bolivia y luego a Venezuela como visitantes para intentar seguir teniendo chances, eso si, a sabiendas de que si el perdedor entre Uruguay y Perú (en caso de existir) vence en la jornada 18 (Perú v Paraguay (Uruguay v Chile) los de Reinaldo Rueda se quedan fuera del mundial. No obstante el empate entre uruguayos y peruanos complicaría aún más a Chile y a Colombia, que deben rezar para que los resultados necesarios se den, Chile, increíblemente y tal como en la eliminatoria pasada, se ve en la obligación de sacar puntos a Brasil para mantener su sueño mundialista, una Brasil que viene de dejarlo fuera del mundial en Octavos del 2014 y de no permitirles clasificar a Rusia 2018 al golearlos por 3-0, Conmebol y sus historia, siempre tan increíbles.
---
Only from Conmebol and UEFA have the national teams that have managed to win the World Cup come out, 3 from Conmebol and 5 from the Europeans, tomorrow the first match of the European playoff will be played, with Russia eliminated and Poland as first classified at the end of their key and with the duel between Scotland and Ukraine, also postponed, the duels that will take place tomorrow are Portugal and Turkey, Wales and Austria, Italy and North Macedonia and Sweden and the Republic Checa, the winners of these pairings, will play the match that will decide their qualification for the World Cup, on the 29th of this month, currently, the last two European champions are in the same bracket and if nothing strange happens, we will see Cristiano Ronaldo risking his qualification for the World Cup against the powerful Italy of Mancini, incredible that one of the two is going to miss the World Cup, sad, very sad.
CONMEBOL already has Brazil and Argentina qualified for the World Cup, even though these two owe each other a match, while Ecuador practically has one foot in the World Cup, scandalous results and never seen before would have to be given to that Ecuador does not qualify, which leaves us with 1 direct quota and the quota for the intercontinental playoff, to be disputed between Uruguay, Peru, Chile and Colombia, while Venezuela, Paraguay and Bolivia are already without possibilities, if Chile falls to Brazil in territory Rio de Janeiro, it would be an almost lethal blow to their aspirations, while if Uruguay or Peru win the duel between them (in case of the previous result), they ensure their presence in the World Cup, Colombia, which has not been able to score in several consecutive games must beat Bolivia and then Venezuela as visitors to try to continue having chances, that is, knowing that if the loser between Uruguay and Peru (in case there are tir) wins on matchday 18 (Peru v Paraguay (Uruguay v Chile) Reinaldo Rueda's men stay out of the World Cup. Despite the tie between the Uruguayans and the Peruvians, it would complicate Chile and Colombia even more, which must pray for the necessary results to come about. Incredibly, and just as in the last tie, Chile is forced to take points from Brazil to maintain his World Cup dream, a Brazil that comes from leaving him out of the World Cup in the 2014 Round of 16 and not allowing them to qualify for Russia 2018 by beating them 3-0, Conmebol and its history, always so incredible.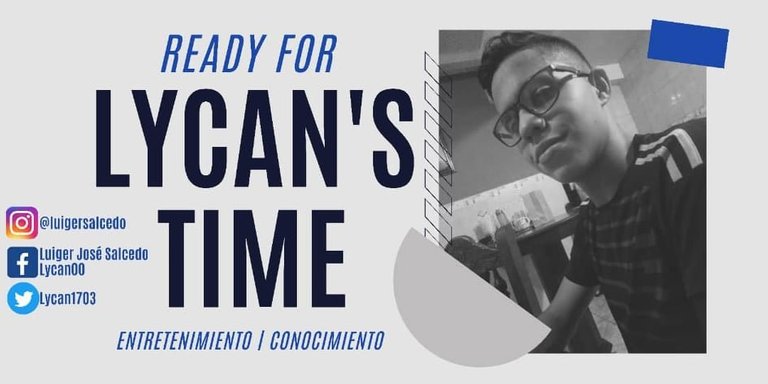 ---
---