Tyson Fury - The Heavyweight Champion the World Needs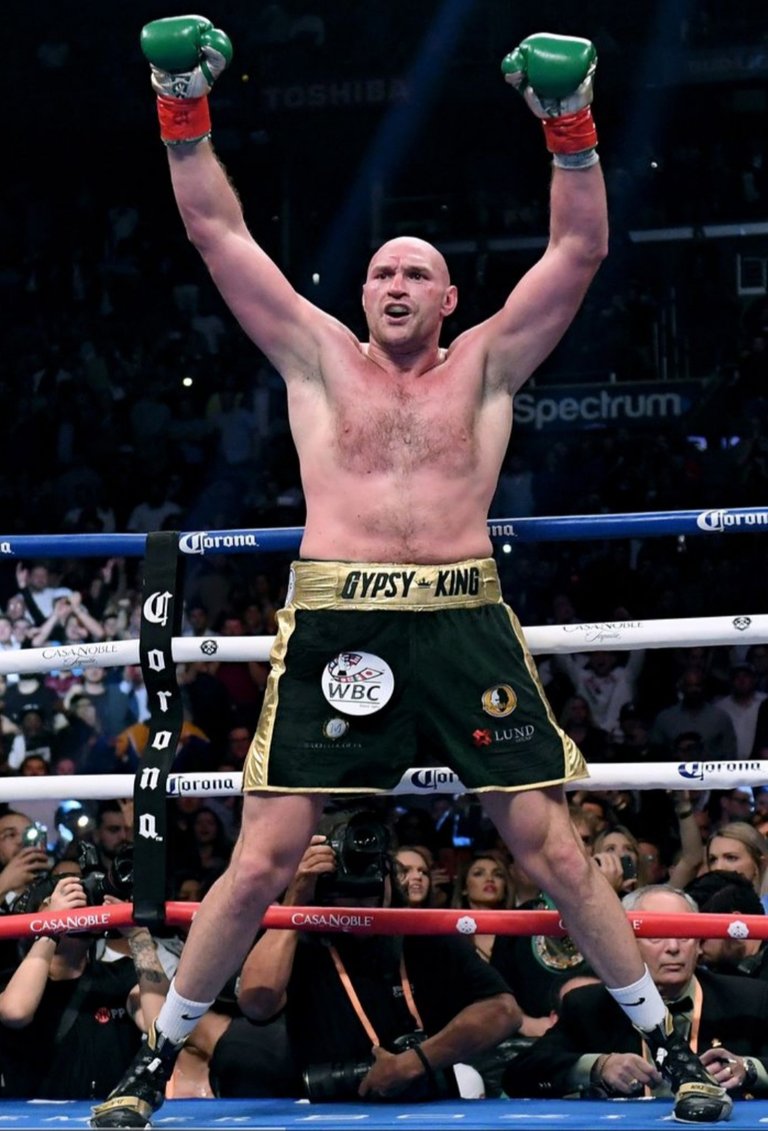 It was the 28th November 2015, when Tyson Luke Fury, shocked the boxing world by dethroning the long reigning Russian King Wladimir Klitschko, with an unanimous points victory in Dusseldorf, Germany. Klitschko had dominated the heavyweight division for almost 10 years, the second longest reign in the history of the heavyweight division. He possessed an aura of invincibility about him, an intimidating force that time after time just couldn't be beaten. However Tyson Fury is no ordinary man, it's fair to say, he's cut from an entirely different cloth.
Tyson Fury, better known by many as the Gypsy King. Born in Manchester United Kingdom, three months premature. From day one Tyson was in the fight of his life. Miraciously against medical experts beliefs he survived, after initially only weighing 450grams. Its obvious from the day he was born he possessed a fighting spirit, surviving what most others wouldn't. Hard to believe he'd blossom into a 6ft 9" 300 pound giant of the heavyweight division.
After becoming crowned the unified WBA, IBF, WBO, and IBO heavyweight champion of the world, you would have thought he'd be on top of the world, literally. However, this was the beginning of the fight of his life, a fight that he would come inches from losing.
It was only 10 days after his supremacy, that he was stripped from his IBF title. He was unable to provide the mandatory challenger a fight, due to a rematch clause in his contract. Later in 2016, he further vacated all his world titles after being charged with anti-doping violations. A fall from grace.
Behind the scenes, Tysons life was spiralling out of control. Alcoholism, recreational drug use, and physical inactivity had caused him to blow up enormously. One year after his success on the highest pedestal, you wouldn't even have recognised the bloke if he walked past you. What the bloody hell was going on.
Tyson had suffered from severe depression for a large proportion of his life. A battle that he would partake silently on his own. Furthermore during this period he was diagnosed as suffering from bipolar disorder. He was obviously going through hell, and there was nothing his loved ones could do but watch. He had hit rock bottom, and attempted to end his life on one fateful day.
Speeding 100 miles an hour towards the bridge, he was adamant this was the end. Suffering concluded. Inches before devastation, the thought of his family rushed into his head, an epiphany. He slammed on the brakes, shaking ferociously. Trembling, he broke down into tears. What the hell just happened.
This is one of the fiercest, strongest, and most dangerous men on the planet, and if mental health can bring him down on to his knees it can bring anyone down. Take a second and absorb that. If mental health can cripple the heavyweight champion of the world it can cripple anyone.
But Tyson Fury isn't just a heavyweight champion, he is a peoples champion. He is a man that has transformed the stigma that exists around mental health today. His openess is refreshing, and provides hope to countless others who are facing their own unique ordeals. If the toughest man in the world can openly talk about his emotions, then anybody can.
Personally I believe we can learn a phenomenal amount from the story of Tyson Fury. Firstly, never judge a book by its cover. In his early days prior to his breakdown, he often put on a facade, a persona in front of the media that portrayed him as abnoxious, arrogant, and a bit of a larakin. But truth be told, this was nothing more than a coping mechanism to deal with a side of the sport he wasn't particular accustomed to. Hiding behind a mask.
After hitting rock bottom, and being written off by countless doubters, The Gypsy King would once again rise to the top. After 2 years of inactivity, he fought undefeated heavyweight Deontay Wilder for the WBC title. Wilder is renowned as the most devastating puncher on the planet, and after being absolutely dominated for 11 rounds, landed a shuddering overhand that sent Fury crashing to the canvas in the final round. Fury was out cold, had to be. There's nobody in the world that could get up from that. Nobody except Tyson Fury. Controversially the fight was judged a draw at the end of the 12 rounds, but everybody in the stadium that night knew Tyson was back on top of the world.
He would go on to fight Wilder twice more, putting on two master class and warrior like performances dismantling and knocking Wilder out in both fights. Tyson was well and truly on top of the world again, and after all he'd endured over the years he truly felt it too.
Tyson Fury isn't just a heavyweight champion, he is champion to the people. He epitomises toughness. He portrays that no matter how hard life hits you, you can rise above. He gives hope to the masses that on the otherside of the darkness, there is true light.
Sports an amazing thing, and when you have a once in a generation athlete, it's even more phenomenal to watch. Like I said, he epitomises a fighting man. A role model to the masses, that so many can relate.
Tyson Fury - The Heavyweight Champ the World Needs.
---
---