Moto GP Mandalika 2022 Indonesia
Here Comes MotoGP Indonesia !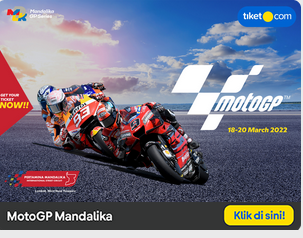 Six days before the official Motogp race in Indonesia, the news is buzzing. So much excitement around it and even many news outlets mentioning all the tickets are sold out. Not to mention, accommodation and transportation are fully booked. Though this is not the first Motogp race held in Indonesia, Indonesia is back hosting it after a 24 years hiatus from this international race. Since it's going to be held in Indonesia, the organizers tried to make it really spectacular. A few days before the race, they are going to hold a parade in Jakarta alongside the presidentwhich also sparks debate among people. Even it's still up to debate if they're going to hold the parade due to covid-19. Recently, a new movement regulation was also rolled out by the government. We no longer have to present the PCR test and/ Antigen test to fly and watch the event. This also caused quite a stir and some disagree about it. So much about the stir, I personally anticipated watching the race not from the comfort of my couch but live from Mandalika Circuit.
A childhood dream comes true!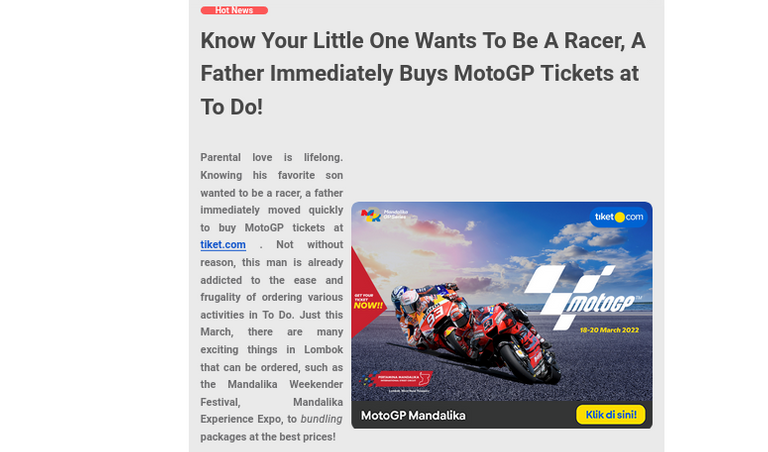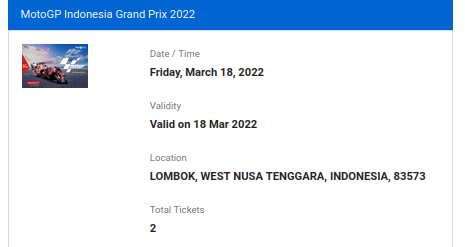 I booked the ticket in early February when the ticket became available online. Right at that point, I started booking flights, hotels, and everything necessary. I got all of them for really cheap which now I just checked, everything went up to 6-10x. I got the C zone which according to motogp site, it's a short straight after the turns and we could probably see the drivers speeding down. But from what I gather, we are not allowed to record the race nor take pictures. We'll see about that! I will be touching down around the circuit 2 days early which would give me a somewhat nice tour around the area. It said that around the circuit, they have stunning beaches!
One thing that I am most excited about is seeing bastianini and also marquez. Many people I know won't be watching it because there's no valentino rossi or simoncelli. The motogp that I grew up with is surely different from moto gp these days. In the past I used to follow it closely but in the last 2-3 years not so much. Just occasionally checking them when I have the time. During this time, there's also moto2 and moto3. Here's the full schedule GP indonesia .
In this circuit, I wonder if Bastiannini is going to keep his position as he was first in the Qatar race which was recently concluded. If you see this below, do you think the position will be the same?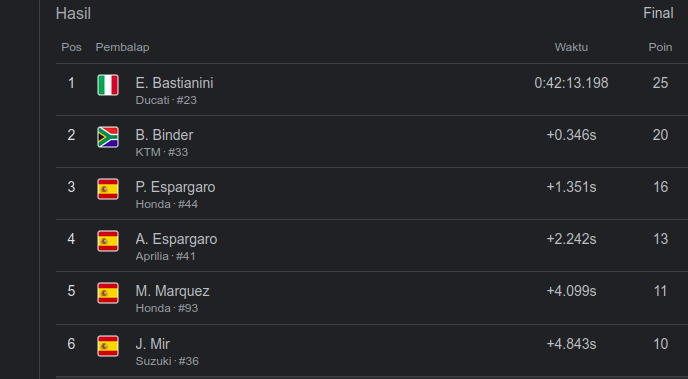 Who is going to win this race?
Submit your prediction until the 18th and I'll announce the winner when the race concluded! The correct one will share 15 hive 😃
Stay tuned for my adventure watching MotoGP!


Don't hesitate to upvote for more content like this !

---
| | |
| --- | --- |
| | Mac is a jack of all trades. A typical introvert in love with literature, books, technology and philosophy. She is also so into nootropics, productivity, minimalist lifestyle, cybersecurity, and languages. Other than that, she is passionate about cooking and traveling. In her free time, she enjoys learning various things. If you like her content, don't hesitate to upvote, leave a comment or a feedback. A re-blog is also appreciated. |
---
---