Champions League Eliminations - Round 1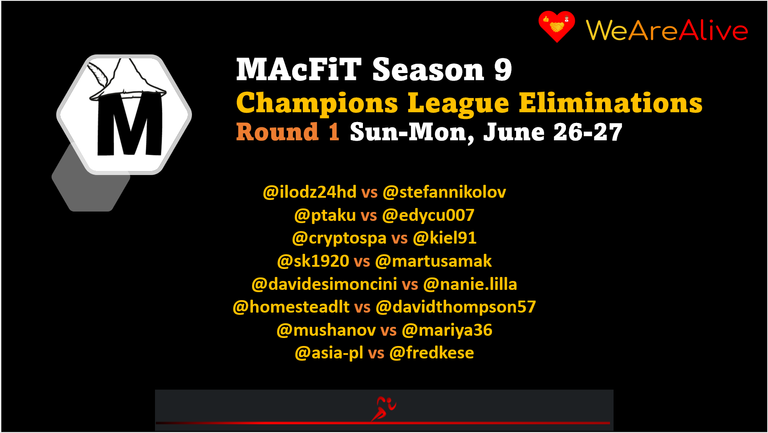 Champions League path
Champions League players - you enter the scene on Sunday. The play-off is also over two games played on consecutive days.
Sunday, June 26 AND Monday, June 27
@ilodz24hd vs @stefannikolov
@ptaku vs @edycu007
@cryptospa vs @kiel91
@sk1920 vs @martusamak
@davidesimoncini vs @nanie.lilla
@homesteadlt vs @davidthompson57
@mushanov vs @mariya36
@asia-pl vs @fredkese
Winners advance to Round 2, losing sides are transferred to Consolation Cup.
Consolation Cup path
Reminder for you to publish reports
Friday, June 24 AND Saturday, June 25
@racibo vs @atongis
@drlobes vs @titusfrost
@krakonos vs @venan
@axel-mccornstack vs @davidxxl
@assassyn vs @griega
@pjansen vs @cindee08
@romualdd vs @elizabethbit
@kwsnomzys vs @silvertop
The winners advance to Round 2 where they will face losing sides from Champions League path.
Players who lose in Round 1, end their play in Season 9.
Season 9 Schedule
Pre-qualifiers - Completed
Friday, June 17 - Monday, June 20
Round 1 of Eliminations - In Progress
Friday, June 24 - Monday, June 27
Round 2 of Eliminations
Friday, July 1 - Monday, July 4
The following players enter the stage:
(S1) @danmaruschak
(S2) @new.things
(S3) @flaxz
(S4) @matthew1
(S5) @practicaleric
(S6) @cezary-io
(S7) @alzee
(S8) @awah
(S9) @sandraa1
(S10) @deepresearch
Main Season Kick-off
Friday, July 8 - Monday, July 11
The following players are looking forward to see who joins them in the group phase:
Seeded players:
(S1 - group A): @allonyx.ngs (Champions League Season 8 Winner)
(S2 - group B): @dragokazo Consolation Cup Season 8 Winner
(S3 - group C): @browery (@poliac 8.1 Winner)
(S4 - group D): @merthin (@poprzeczka May Winner)
(S5 - group D): @bucipuci (Rank)
(S6 - group C): @manuvert (Rank)
---
Beneficiaries
All Season 9 @MAcFiT updates will have Season 8 Winners as beneficiaries:
---
---