Season 9: Results of pre-qualifiers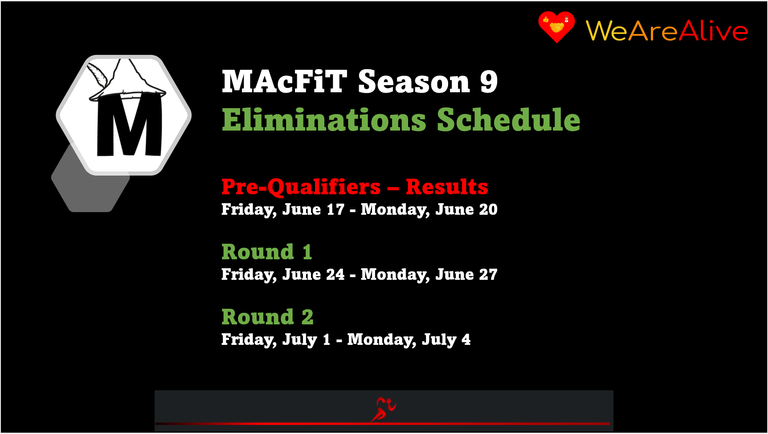 Good Day,
Interesting situation has happened in the pre-qualifiers. The candidates were supposed to post 4 report cards over the 4 days of qualifications. Some bonuses were applied and then the sum of the best 3 scores made the final ranking. The rule however was that at least two report cards were required over the 4 days of pre-qualifiers.
A player named @ghostlybg topped the ranking table with a score of 123. However, they did all their steps on a single day (!) and didn't care to post reports for the other days. Thus, failing to produce at least two reports, @ghostlybg has been disqualified. So close - if @ghostlybg had just published a dummy report with 1000 steps, they would have advanced to the Champions League Eliminations...
Pre-qualifiers Results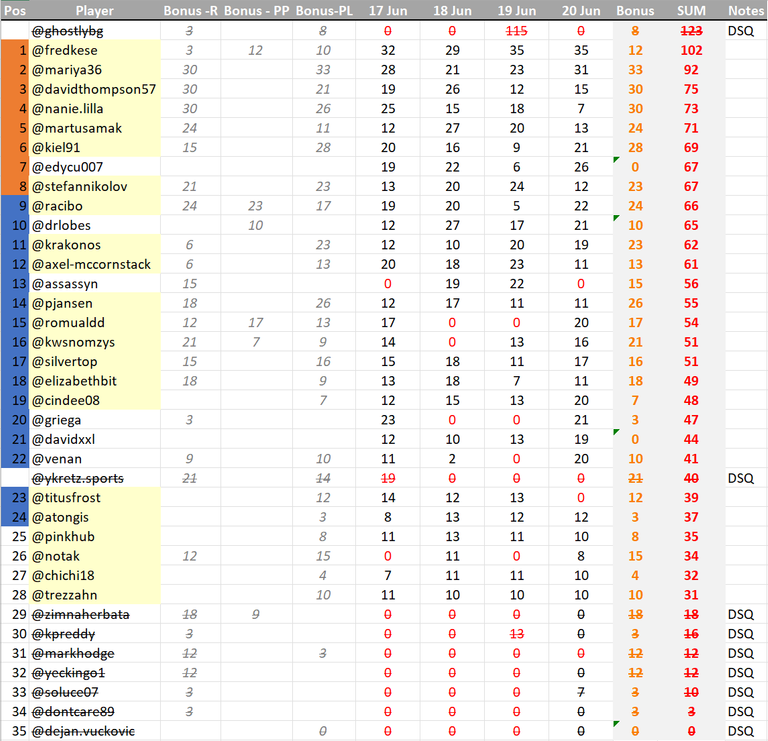 The top 8 advance to Champions League Eliminations, where they will face the seeded players.
Players who finished in positions 9-24 will play in Consolation Cup Eliminations.
9 @racibo
10 @drlobes
11 @krakonos
12 @axel-mccornstack
13 @assassyn
14 @pjansen
15 @romualdd
16 @kwsnomzys
17 @silvertop
18 @elizabethbit
19 @cindee08
20 @griega
21 @davidxxl
22 @venan
23 @titusfrost
24 @atongis
The remaining four players (@pinkhub, @notak, @chichi18, @trezzahn) will have to wait for Season 10 for another chance. And I can reveal here a little secret. Season 10 will be a special one - 10th Jubilee and 1 year Anniversary. More players will participate in the main phase (52 instead of 32) and there will be an exciting change to the format. More on this later on.
Season 9 Eliminations - Round 1
Champions League Path
Seeded players face the best from pre-qualifiers. Play-off mode, two matches. The winners advance to Round 2 while the losing sides will be transferred to Consolation Cup.
Sunday, June 26 AND Monday, June 27
(S1) @ilodz24hd vs @stefannikolov (Q8)
(S2) @ptaku vs @edycu007 (Q7)
(S3) @cryptospa vs @kiel91 (Q6)
(S4) @sk1920 vs @martusamak (Q5)
(S5) @davidesimoncini vs @nanie.lilla (Q4)
(S6) @homesteadlt vs @davidthompson57 (Q3)
(S7) @mushanov vs @mariya36 (Q2)
(S8) @asia-pl vs @fredkese (Q1)
Consolation Cup path
Play-off mode, two matches. The winners advance to Round 2 while the losing sides will end their play in Season 9.
If any player in Champions League path fails to produce two reports for the match days, their will be replaced by best Lucky Losers from Consolation Cup path.
Friday, June 24 AND Saturday, June 25
(Q9) @racibo vs @atongis (Q24)
(Q10) @drlobes vs @titusfrost (Q23)
(Q11) @krakonos vs @venan (Q22)
(Q12) @axel-mccornstack vs @davidxxl (Q21)
(Q13) @assassyn vs @griega (Q20)
(Q14) @pjansen vs @cindee08 (Q19)
(Q15) @romualdd vs @elizabethbit (Q18)
(Q16) @kwsnomzys vs @silvertop (Q17)
Season 9 Schedule
Pre-qualifiers - Completed
Friday, June 17 - Monday, June 20
Round 1 of Eliminations - Up Next
Friday, June 24 - Monday, June 27
Round 2 of Eliminations
Friday, July 1 - Monday, July 4
Main Season Kick-off
Friday, July 8 - Monday, July 11
Season 9 Starting List
Round 2
Seeded players:
(S1) @danmaruschak
(S2) @new.things
(S3) @flaxz
(S4) @matthew1
(S5) @practicaleric
(S6) @cezary-io
(S7) @alzee
(S8) @awah
(S9) @sandraa1
(S10) @deepresearch
Direct access to Group Phase
Seeded players:
(S1 - group A): @allonyx.ngs (Champions League Season 8 Winner)
(S2 - group B): @dragokazo Consolation Cup Season 8 Winner
(S3 - group C): @browery (@poliac 8.1 Winner)
(S4 - group D): @merthin (@poprzeczka May Winner)
(S5 - group D): @bucipuci (Rank)
(S6 - group C): @manuvert (Rank)
---
Beneficiaries
All Season 9 @MAcFiT updates will have Season 8 Winners as beneficiaries:
---
---