Super League - Weekend Four Announcement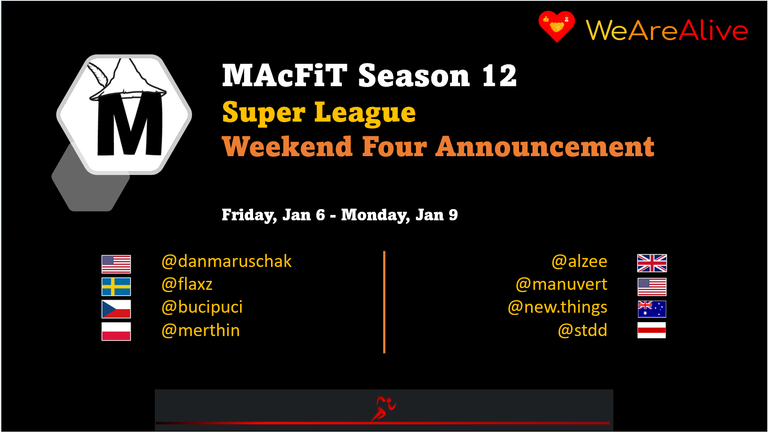 Hello @MAcFiT Players and Fans,
8 players have remained in the game and they will battle for a place in the Final Four. As usual, we have 4 days and we can choose our two best.
Weekend Four
Friday, Jan 6 - Monday, Jan 9
Choose your two best days by commenting THIS POST with your step counts (deadline: Tuesday, 20:00 UTC). Friday, Jan 6 is mandatory, the other day is up to you. For players who do not pick their days, the default is Friday and Saturday.
Remaining in the game:
Standings
Previous weekends' scores are counted in the Grand Total with decreasing weights:
W1 - 40%
W2 - 60%
W3 - 80%
Weekend Four scores will be of course counted at 100%.

You can always view the standings online.
It's pretty tight at the top and even the 8th player can think of making it into the Final Four. So, get ready and plan your activities for the weekend. Good luck!
Schedule
Weekend 1**: Fri-Sat, Dec 16-17
Weekend 2: Fri-Mon, Dec 23-26
Weekend 3: Fri-Mon, Dec 30-Jan 2
Weekend 4: Fri-Mon, Jan 6-9 (Holidays in some regions)
Final Four: Fri-Sat, Jan 13-14
Note: Weekend One and Final Four are played over 2 days (Fri and Sat), whereas Weekends 2-4 are played over 4 days (Fri thru Mon).
---
Beneficiaries
All Season 12 @MAcFiT updates have the following beneficiaries:
Total: 15%
85% of the HBD collected via upvotes/tips will make up the Season 12 Award Pool.
---
---