Gianfranco Zola : Pioneer Of Chelsea Relevance
Gianfranco Zola is a legend of the game. And a very special figure in Chelsea's history, and it's upbringing. Some 25 years ago, this talented Italian signed for Chelsea at 30 years of age. Now why suddenly would someone talk about this man?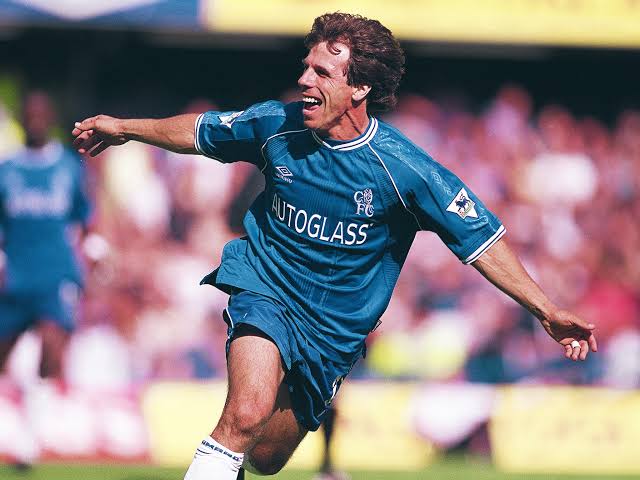 Source
"Chelsea did not have much success before the Roman Abramovich era" - Gianfranco Zola has a big influence in proving this quote wrong. Zola is the only player in the history of the Premier League to enter the Premier League in the middle of any running season and become the Player of the Season.
Back in the time there were only a handful amount of foreign players in the premier league. It was hard to imagine anyone coming from a different league at the age of 30 to adapt to the high physicality of the Premier League. Zola was the X-Factor for Chelsea, during his time at Chelsea, the 7 years he's been there (1996-2003), was the first time Chelsea had won a trophy in 26 years. Chelsea had played in the Champions League three times in those years and had reached the quarter finals twice. In 2003, Chelsea fans named him the best player in Chelsea's history. No Chelsea player has ever worn the number 25 jersey in respect of his contributions to the club. Zola played in Napoli in the dawn of his career, the Napoli of the Great Maradona. After Napoli signed him, Maradona said that finally he had seen someone smaller than him so talented. Zola won the Serie A playing side by side with Maradona in the 1989/90 season. Later, Maradona went on and said that Napoli won't be in any kind of trouble after he left. Because he had left his successor there for them. Maradona's influence on Zola's career is clear. Napoli had to sell after they went under financially. Zola moved to Parma in 1993. Although he won several trophies in the first two years there, at the beginning of the 1995/96 season, coach Carlo Ancelotti brought in youngsters such as Hristo Stoichkov, Hernan Crespo and Enrico Chiesa. Ancelotti started playing in a 4-4-2 formation, where Zola did not have a role in the natural right wing, so he was forced to play as a left midfielder. Zola was disappointed with the decision despite having being their best player last season. Meanwhile, Chelsea's new coach Ruud Gullit was scouting for young talented players from the Serie A for Chelsea, but the 30 year old "old" Zola was made Gullit tempted and the temptation got to him as he made himself available at the time. Chelsea then went on to sign Zola for a measley 4.5 million pounds in the 1995/96 season.
And the rest as they say is history. Zola went on to be tremendous figure for Chelsea. During his time he won 2 FA cups, 1 league cup, one UEFA cup winners cup, and a UEFA super cup. Chelsea's wings have been blessed ever since. After Zola Chelsea were entertained by Joe Cole. A broad English talent who had heaps of potential. Someone we shall talk about soon. After Joe Cole there came Eden Hazard. Making Stamford Bridge his very own, Garden of Eden. And after Hazard left for Real Madrid, now it's up to the young ones, Callum Hudson Odoi and Christian Pulisic. Both are heavily talented and have what it takes to be successful at the very top of the game. But above all, there is Gianfranco Zola, the Italian Magic Box.
---
---