Ian Wright : Legend Of Two Clubs

"You ain't born a Londoner, you're made one."
This is a famous line from Arsenal's kit launching video for the 2019-20 season. We hear it from Ian Wright. No one really is anything by birthright, everyone make themselves. Did Wright also think that he would start his football career at the age of 22? Or spend the rest of the time in the tunnel refinery? How many can get the love of the fans of both the parties in the same way. Or how many people can take a place in the top 5 greatest players for two clubs? The club, club fans did not return him empty handed. He's at the heart of the two fanbases was, is and hopefully he will be.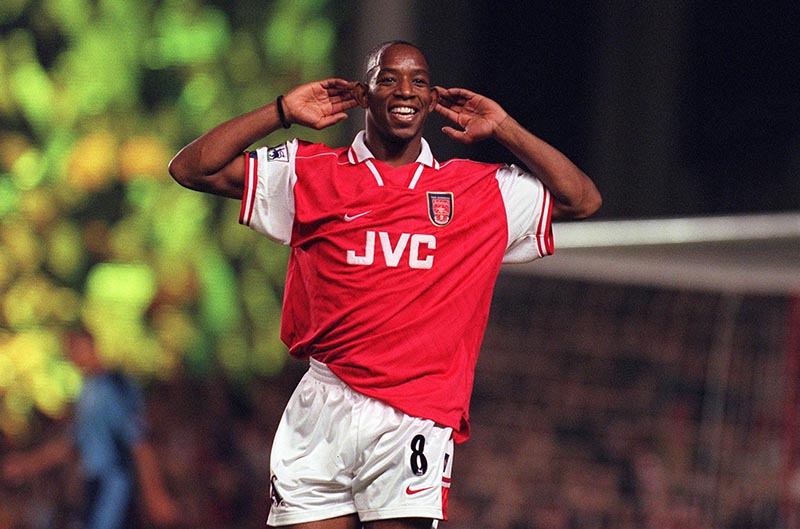 Source
He never had a good relationship with his stepfather. It was better to leave home and stay out. He and his older brother were both footballers, and they used to play in the neighborhood. However, the responsibility increases when you become the guardian of two children. He was around 19 then. Rejected in Millwall, Charlton, Chelsea, got a chance in the six-week trial in Brighton. In training, his scoring with the main team or reserve becomes very simple. But he did not have the money to return home from Brighton. He asked the club for the money. For which they made him wait 6 hours. He didn't join Brighton after that. He came back and joined the tunnel refinery. Was a regular Sunday league player. An offer comes from Crystal Palace, did not take the offer out of income worries. Even though he didn't, his boss at work did. He called Wright in the canteen and explained everything. Wright got a 3 month contract offer at the Palace. He devoted himself to training. Because that was his last chance. He puts away all thoughts and concentrates on training. Palace gets a new gem. They bring out the pearl inside the oyster. He was then offered a professional contract. A new footballer was officially born in August 1985.
He scored 9 goals for the Eagles in the first season. Looks low but it was the second highest of the club that season. His contribution caught the eye when Palace was promoted to Division 1. Wright scored 33 goals in that promotion season. The 98-90 seasons was ruined by breaking his leg twice. Palace also reached the 1990 FA Cup Final. He had to start from the bench came on in the 62nd minute and score a goal to level the game at 3-3. In the replay, however, they lost 1-0 to Manchester United. Wright's 177 goals are by far the third highest of the club. The Premier League started in 1990/91. Arsenal, who lost the title the previous season, are starting to recover. They also won the first Premier League. But there was a lack something at that time. Wright's name came up at the beginning of the 1991/92 season. He was brought in by George Graham for a club record 2.5 million. Wright scored in his debut match in the League Cup with Leicester City. He then scored a hat-trick in his away match in his league debut with Southampton. What could be a better start than this? He was Arsenal's top scorers in the next 6 seasons. Tasting the League Cup, FA Cup, UEFA Cup Winners Cup under Graham. After Graham's departure, the caretaker coach brought Dennis Bergkamp. Wright was a great pair with him. Then came Arsene Wenger. In Wenger's first season, 23 goals came from Wright's feet. They won both the Premier League and the FA Cup in 1998.
This was the end of Wright's time in the team. Considering Wright's age, Arsene brought a new guy, Nicholas Anekla. Anelka was then younger and sharper than Wright, so Wright had to move to make room for the new. After that he joined West Ham, Celtic, Burnley, Nottingham but did not pursue a career. Wright having got very little time, retired in the turn of the century in 2000. Wright was Arsenal's top scorer until Thierry Henry broke his record of 175 goals. Wright was an example of a lethal finish. There are a lot of goals that came in strange ways. He made his England debut at the age of 26. No coach could rely on him. Most matches he played as a substitute
Ladies and gentlemen, this is Ian Wright, the same guy who we see as a pundit in TV shows and analytics. Arsenal's number one fan, an MBE.
---
---