Juventus : The Shameful Fall And Then The Heroic Rise
A relegation is when a club is demoted into the lower division of football. Which is as sad as it is embarrassing. No matter how small or how big a club it is the reality of a relegation hits hard. But it actually hits a lot more hard when it's a European powerhouse facing the drop. And well, it was Juventus of all people. In the recent history this is the only time when a club like the stature of Juventus actually got relegated. Back in 2006. And no it wasn't a usual cause where they lost and season and they couldn't climb up the table. In fact it was quite the scandal. Some of the top Italian team tried to fix the League to their own advantage. As a result Juventus won the league that season. Later an investigation took place and Juventus were found guilty. As a punishment they were stripped off their newly won serie A title and they were relegated to serie B. Second division of Italian football. This was a very tough time for the club and the players.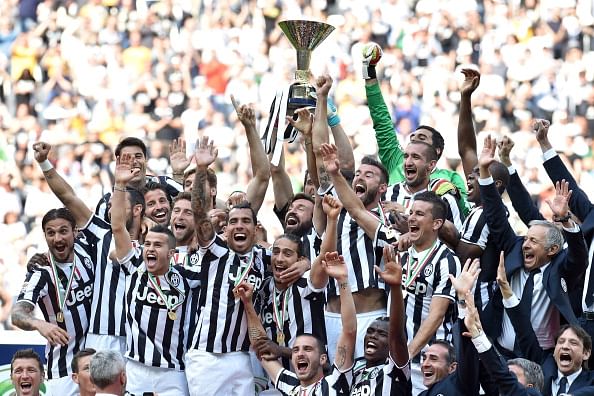 Source
Many of the stars who played for the Turin club had left Juventus upon that relegation. But those who were loyal to the old lady were ever present. Players like Gianluigi Buffon, Pavel Nedved, Alessandro Del Piero, also Trezeguet stayed at the club during this season. It was quite a sight to see such stars playing in the second division. But it did happen. And Juventus went on to win the league at that point. It's was only obvious though. And another obvious case was Alessandro Del Piero becoming top scorer of the serie B with 20 goals. These players overcame one of the most stern loyalty tests that can come to these kinds of player's careers.
The most amusing part in this whole getting relegated and coming back saga is that after their relegation Juventus rose back stronger. Well yes the first years of being back in the Italian top flight wasn't the most merriest of times as even though Claudio Ranieri took Juventus to a consecutive 3rd and 2nd place finishes in the serie A, after his departure Juventus fell apart and they finished 7th, that too twice in a row. Along with series of worthless signings, none of which actually clicked. As a result they also did not qualify for any European competitions. Also an embarrassing performance against a team managed by Roy Hodgeson, someone who actually put Harry Kane in corner duties during his time at the England national team. But good times were just in front. The Agnelli family took over the club and Andrea Agnelli became president of the club, bringing in changes. He brought in Antonio Conte. Who would turn around Juventus' fate in the next years. Juventus went on to win their first serie A title in 2012, ending a 10 year stretch since 2003. They were also undefeated in that season. Which means fans witnessed another invincible season by a club after arsenal back in the 2003/04 season. Antonio Conte stayed for about three years at the club. And yes they were glamorous. They won three straight serie A titles along with other trophies. This tenure attracted talents from across Europe. Even players from rival clubs like AC Milan also joined Juventus. This power shift dethroned AC Milan from the top podium of Italian football and were replaced as the dictator of premiership of Italy across Europe. Well Conte was a resounding success in the domestic competitions but in Europe it wasn't do much the case.
Juventus were a disappointment when to came to European football under Conte. This wasn't a fault of the players fully. As we can still see today that wherever Conte goes his team in the league is so formidable but equally inferior in continental football. This scenario needed a change and it was responded as Juventus appointed Massimiliano Allegri. This helped Juventus shape their face in the continental football as they were seen in the latter stages of the competition more than before. And since the early 2000s Juventus finally reached the champions league finals twice in 2015 and 2017. Though both times they lost to the two biggest clubs from spain, who are also out of sorts now. Along with the champions league, Juventus also faced competition in the league too. From Napoli and Inter, in most cases. But they stood their ground and retained the scudetto for 9 years in a row. Until finally Inter Milan caught up and ended Juventus' one sided reign. And with Inter Milan it was none else but the same old Antonio Conte.
In the last 10 years Juventus have won 9 Scudettos and 4 Coppa Italias. This story is quite remarkable as it is explains how Juventus actually catapulted themselves from the pit of serie B to being back amongst the European heavyweights. They aren't in the best of conditions today too. A rebuild is required. But just like back then Juventus will rise again.
---
---