Marcus Rashford MBE - A Pioneer Of The Next Generation
Marcus Rashford. Quite the talent. And quite the hunger. The fine young Englishman has entered his 25th just today. Being born in 1997 in Manchester. The glitteringly speedy young winger has set the theater of dreams alight in many occasions. Scoring goals for his club and many clutch moments under his belt.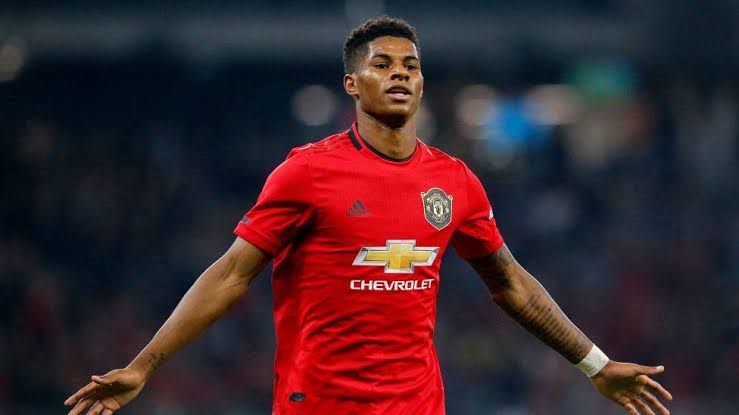 Source
Growing up in the same place, Rashford's footballing career began at the age of 5 as a goalkeeper for a club called Fletcher Moss Rangers in Manchester. While there, he called former United goalkeeper Tim Howard his idol. The Manchester United Scouts then saw him and brought 6 year old Rashford to their academy. several years later in United, Marcus Rashford made his first team debut under Dutchman Louis van Gaal in the Europa League against Midtjyland in 2016, in which Rashford scored two goals, then also scored two goals in his Premier League debut. Rashford has been a member of the Red Devils team ever since. With a goal in the Derby against Manchester City, or the crucial performances against other teams in the Big Six, or with a great performance in European matches like the one in Paris, a hat-trick against Leipzig, or the goals after a recent injury, Atlanta, Leicester and spurs, Rashford got up and running.
His status for Manchester United-
265 matches
91 goals
56 Assists
Rashford wasn't just talented, but he was also a hard worker. At Fletcher Moss Rashford's first coach Dave Horx said that Rashford has been a hard worker since childhood. He described that ever since Rashford came in at the age of six, he played every match with his full dedication. He left everything on the field and always running for the ball. He used to give a lift to little Marcus back then. And after the ride he would then jump out again and start playing with the ball again. This hard work and determination has helped him to perform as well on the playground as he is now doing off the field. Rashford's own childhood was not a happy one either. His mother would go to great lengths to take care of her five children, sometimes without food, and sometimes without good clothes. As a result, Rashford is aware of the struggle that is there in the lower ranks of society, and that not everyone is privileged. And in October 2019, he launched a box campaign with Selfridges to supply homeless people with Christmas essentials. He and his mother went personally and came with all the materials in hand. They've also worked during the coronavirus pandemic about child food poverty, with housing for helpless children. During the lockdown posted by the Boris Johnson government, Marcus teamed up with FairShare to provide food for young children, raising a fund 20 million pounds. Although the initial target was. 400,000 pounds. He was able to feed 3 million children at first. Eventually rising up to 4 million. He then wrote an open letter to the UK Government, and the UK Government changed its policy in this regard. As a result of his outstanding work, millions of children have received food and shelter. As a result, he received the Member of the Order of the British Empire Award, with MBE added to the back of the name. And received an honorary doctorate from the University of Manchester a few days ago.
Rashford is just 24 now. And already he has achieved so much. More to come in the future both on and off the pitch. The new age hero of Manchester. A very good luck to him in his way forward and a fabulous birthday!
---
---