COREY KLUBER LOSES SPEED / COREY KLUBER PIERDE VELOCIDAD ENG/ESP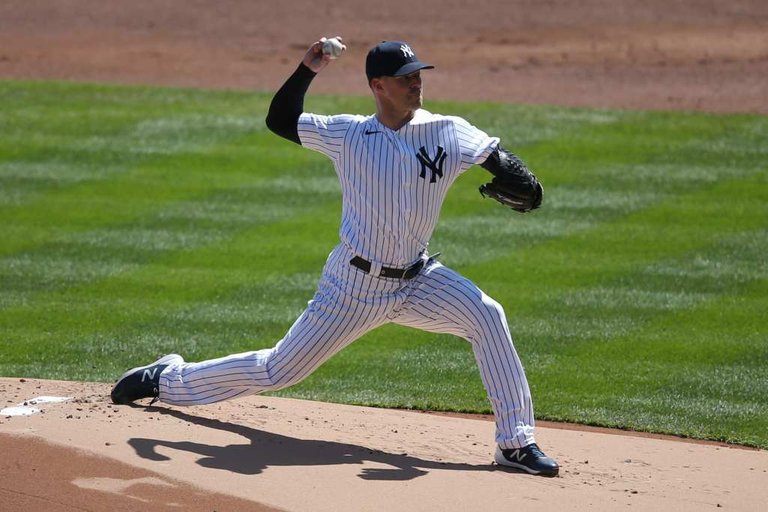 ENGLISH
The straight line has been the main pitch in the pitcher's repertoire for as long as baseball has existed.
In 2021 most pitchers are characterized by easily reaching 95 MPH, it is easy to see how teams have in their bullpen a number of relievers called 'Flamethrowers' who have an average velocity in their straightaway close to 100 MPH.
In today's baseball, seeing a 100 MPH pitcher is not as amazing as it was a few decades ago, we can even see how starting pitchers have the facility to reach those speeds for a longer period of time without fatigue weakening their pitches, on several occasions we have seen how the Yankees star pitcher, Gerrit Cole, past a hundred pitches in a game, can reach 100 MPH at a given time. Other examples of such barbarity are: Justin Verlander, Jacob Degrom, Noah Syndergaar and Max Scherzer.
Now, this article is not about those 'Flamethrower' pitchers but the opposite of that, pitchers in their slump due to the wear and tear on their arm and their inability to become dominant again.
The New York Yankees signed former American League Cy Young Corey Kluber to a one-year, $11 million contract in the offseason.
The 34-year-old right-hander is coming off two injury-plagued seasons in which he has been inconsistent and joins the Bronx team this season as they look to win the World Series ring they haven't won since 2009.
But the season has not started in the best way for the Yankees, nor for Kluber who has a 0-2 record with a 5.40 ERA in four starts on the season.
One of the main reasons for the right-hander's lack of dominance is his slow speed in the stretch at the start of the season with an average of 89.8 MPH, hindering his ability to surprise hitters.

According to Statcasts measurements, Kluber is not only using much less of his straight line than in other years, but his sinker, his most effective pitching, is also seeing a lower percentage of use compared to other years.

In 2017 the year he won the American League Cy Young with a record of 18 wins and only 4 losses you can see how Sinker was his primary pitch to dominate hitters, something that is not happening this early in the season.
There are already several pitchers who have to reinvent themselves with the passing of the years and the loss of speed in his arm, lately we have seen Cy Young winners finish the last years of his career with a bulky effectiveness of runs allowed, time passes for everyone and more for pitchers who have a very tiring job, the human arm is not made to work that way for so many years.
In another post I will talk about pitchers who, for me, their careers promised stardom and due to the loss of velocity in their straight line they stopped being dominant.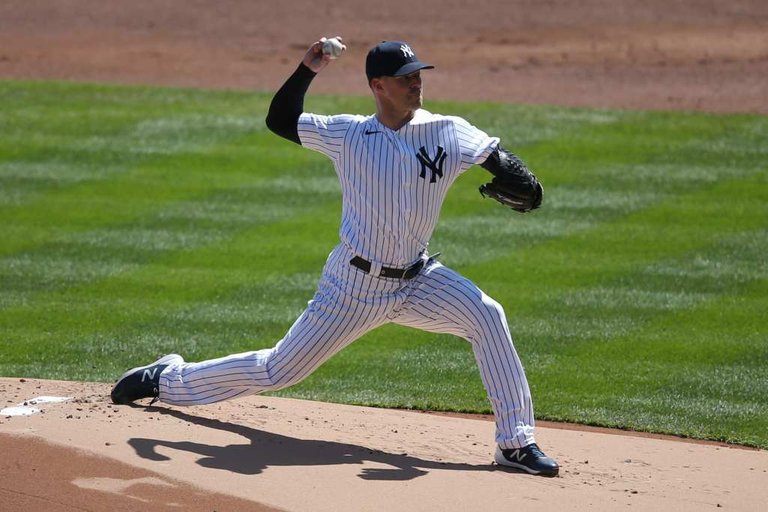 ESPAÑOL
La recta sigue siendo el lanzamiento principal en el repertorio de los pitchers desde que existe el béisbol.
En el 2021 la mayoría de los lanzadores se caracterizan por llegar con facilidad a las 95 MPH, es fácil ver cómo los equipos tienen en sus bullpen una serie de relevista llamados 'Lanzallamas' los cuales tienen una velocidad promedio en su recta cercano a las 100 MPH.
En el béisbol de hoy en dia ya ver un lanzador de 100 MPH no es tan asombroso como lo era hace unas decadas atras, inclusive se puede observar como lanzadores abridores tienen la facilidad de llegar a esas velocidades por un periodo de duración más largo sin que la fatiga debilite sus lanzamientos, en varias ocasiones hemos podido ver como el lanzador estrella de los Yankees, Gerrit Cole, pasados los cien lanzamientos en un juego, puedo llegar alcanzar las 100 MPH en un momento determinado. Otros ejemplos de semejante barbaridad son: Justin Verlander, Jacob Degrom, Noah Syndergaar y Max Scherzer.
Ahora bien, este artículo no se trata acerca de esos lanzadores 'Lanzallamas' sino de lo contrario a eso, los lanzadores en su bajón debido al desgaste de su brazo y a su incapacidad para volver a ser dominantes nuevamente.
Los Yankees de Nueva York firmaron en la temporada baja al ex Cy Young de la liga americana, Corey Kluber, con un contrato de un año a cambio de 11 millones de dólares.
El derecho de 34 años viene de dos temporadas plagadas de lesiones en la que no ha tenido regularidad y se une esta temporada al equipo del 'Bronx' en busca de conseguir el anillo de serie mundial que no ganan desde el 2009.
Pero la temporada no ha empezado de la mejor manera para los Yankees, ni para Kluber quien tiene record de 0-2 con 5.40 ERA en cuatro aperturas durante la temporada.
Una de las principales razones a la falta de dominio del derecho, es su baja velocidad en la recta en este inicio de temporada con un promedio de 89.8 MPH dificultando la habilidad para sorprender a los bateadores.

Según las mediciones de Statcast Kluber no solo está utilizando mucho menos su recta que en otros años sino que su sinker, su pitcheo más efectivo también se encuentra con un porcentaje menos de uso en comparación a otros años.

En el 2017 el año que ganó el Cy Young de la liga americana con un récord de 18 victorias y solo 4 derrotas se puede comprobar como el Sinker fue su lanzamiento principal para dominar a los bateadores, algo que no esta ocurriendo en este comienzo de temporada.
Ya son varios los lanzadores que les toca reinventarse con el pasar de los años y la pérdida de velocidad en su brazo, últimamente hemos visto como ganadores de Cy Young terminan los últimos años de su carrera con una abultada efectividad de carreras permitidas, el tiempo pasa para todos y más para los lanzadores quienes tienen un trabajo sumamente desgastante, el brazo humano no está hecho para trabajar de esa manera durante tantos años.
En otro post hablaré de los pitchers los cuales, para mi, su carrera prometía para el estrellato y debido a la pérdida de velocidad en su recta dejaron de ser dominantes.
---
---