Double Challenging Myself — 100 Shots and 1 Digital Drawing
Greetings, Fellow Autoportraiting Basketball Enthusiasts!
Have you recently drawn a picture of yourself while playing sports at the same time? Me neither. I had to do one first, then the other.
Today, I came back home from work and it was already dark. I was kind of hungry so I had a snack. I looked again at my recent post about going to the basketball court for a few minutes yesterday and...I said to myself:
Why not go out and throw a few shots again? It might be fun in the darkness.
I have a relatively good night vision, so... It would be a nice thing to do before coming back for a shower. Besides, I was thinking of a follow up to that previous post, anyway.
But before I proceed with the shooting session...which had a nice psychological aspect, too...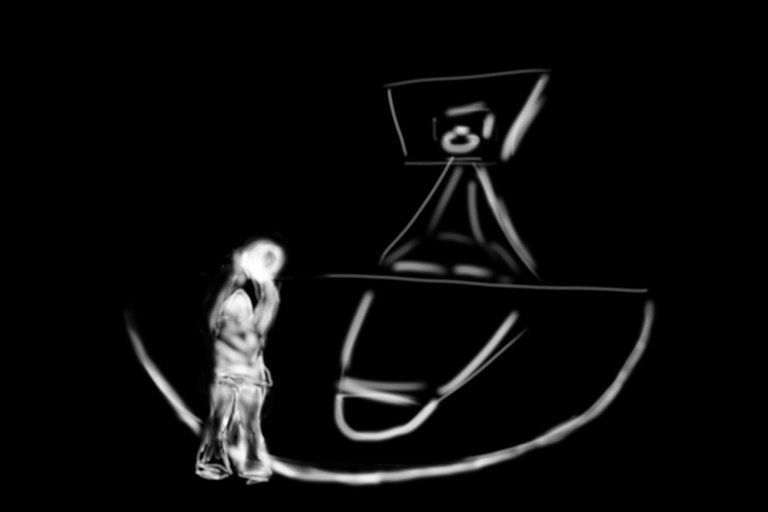 This be my second ever digital drawing with a tablet and a pen.
I was tempted to mint it as an NFT but...would that prove to you that I am quite narcissistic from time to time?
If not, just read on.
A lot of my paragraphs shall begin with "I" or "My". Which reminds me of a beautiful quote from The Last Dance, an ESPN Documentary about Michael Jordan and the Chicago Bulls. At some point his coach or his one of his teammates (I don't remember if that would be Phil Jackson, his previous coach, or whomever...) told him there was no "I" in "Team", to which MJ replied:
There's "I" in "Win".
How cool is that? Yup, he was hellbent on winning and being super competitive.
All right, back to tonight's shooting session...
Going there, I had already decided on the today's challenge. I wanted to shoot a hundred times from the three points line and see how much I would score. I was not certain how my body would react to a hundred shots, though. Would it be too many for my arms to handle or would I stay in shape to the end...
My style is shooting with my hands overhead, using mostly my right hand and throwing from my wrist, but also from my elbow at such distance.
My strength is not that great and it's just about enough to get the ball to the ring. And I have to tell you my shots fell short a couple of times during the first ten attempts. It was pretty discouraging at first.
So...how it went?
After the first ten shots I had scored...
1 out of 10
...then...
2 out of 20
...I sucked...
3 out of 21
...a bit better. Then...
6 out of 33
...and this was the first time I wondered if I should just extrapolate, calculate some 18 out of 99 and go home. But I wasn't that tired yet now. By striking through "yet" and typing "now" I mean I had caught my breath under control by that time. Because before that I had to chase the ball quite a few times out in the night. Oh, wait...we were out in the night. I mean me and the ball, not the royal "We"...
8 out of 40
...getting better. That was an average 2 out of 10 by then and I intended to keep it that way and see if I can improve it...
11 out of 50
...a second chance to extrapolate and go home. But I was already getting into it by that point...
12 way before 60
12 out of 60
18 out of 72
...could I make it to 20 before 80 and secure the 20% accuracy early on? Yes? But...
18 out of 80
...no...
20 out of 85
22 out of 94
...one more to the magic number of 23! Because 23 is a magic number in basketball. No need to explain why...
...I got to...
23 somewhere between shot 95 and shot 97
..and then...
Use The Force, Luke!
24 out of 99
25 out of 100
I am not making this up. It was a great finish and I was quick to pack my things and go home while feeling great.
I'm competitive, too, by nature. Although, I am way out of competitive sports by now, I am old at 36 (and a half). A nobody nowhere for the sports world in general. But I am competing with my previous self. Have I become better?
In terms of technique, yes. It now became a part of my mind and I'm constantly developing it. In daydreams.
In terms of physical condition...I've put on some excess weight. To the point that my wife thinks I am not a sports person. Damn, I would live by sports if I could but I just can't find the energy and I can't give them enough priority right now so that I could spare the time.
Not a sports person...Yeah, I've only been into football, basketball, fencing, archery, jogging, cycling, hiking...and I had some hours in badminton, swimming...and I want to get into rock climbing...
Actually, the more I am drawn away from those, the more I miss them.
Anyway. It was a night to remember.
But let me put it on the blockchain, just in case ;)
Yours,
Old Fat'n'Busy
---
---