September Sunrise Part II
Greetings, fellow early get-uppers!
How's your morning?
I bring another shot of the series I started with September Sunrise Part I a couple of days ago.
This time, it is my other camera working...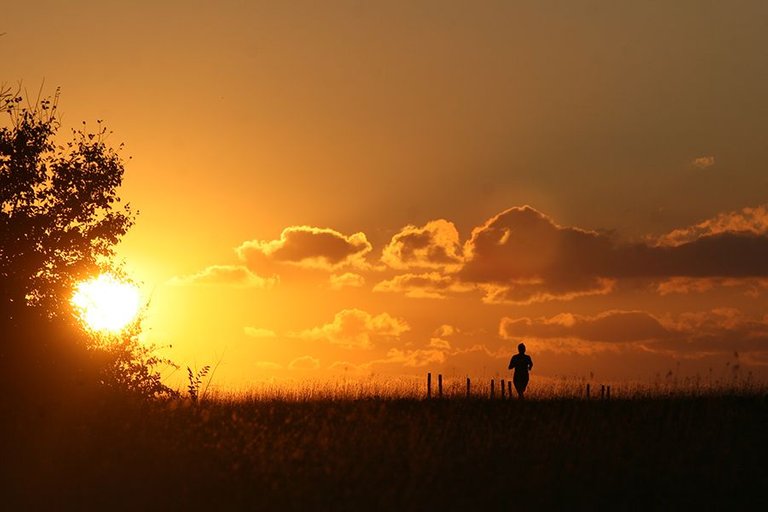 Camera Settings:
Aperture F 8; Shutter Speed 1/1000 of a sec.; Light Sensitivity ISO 100; Focal Length 200 mm.
Camera Model:
Canon EOS 30D with a Canon 70-200 F 4 L lens.
But it is the same morning, though. Same Sun, same location, although...a hundred paces or so to the west, or...back inland. And around a thicket of oak trees, the local wealth, growing on a slope above the sea shore.
Another early get-upper we see here, jogging her way around, running on solar batteries.
I used to be like that, once upon a bachelor's life. Although, in the morning, I would rather take photos than do sports. Jogging would be after sunset. Basketball would preferably be...before sunset.
Nah, whom am I kidding...When I go playing sports, I usually forgo shooting...but not at the basket, I mean...I have to forgo taking pictures. Otherwise I would miss a part of the fun.
Basically, it's like that — you either miss a part of the fun, or a part of the Sun- (rises and sets).
You can't have it all. Well, in a way, you do have it all, it's just not yours to capture or yours to participate in. But it's there in your world.
And that's an encouraging thought!
as Gandalf, the Wise would say.
Peace!
Manol
---
---