Hive and Hive Engine Power Up Day - October 2022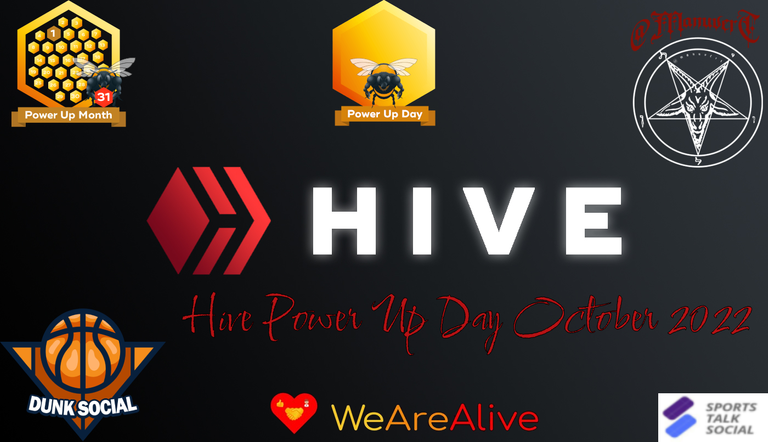 Hey Hivers,
I can hardly believe the calendar, October 1st! Where did the last six years months go?... And it's already getting late in the day, actually it's October the 2nd in many places in the world already. But it's Power Up day, I need to quickly look at my account, and post my monthly update. It was another successful PUM in September, only missed one this year. And today is my 23rd Power Up Day in a row, I'm pretty proud of that, and of course of the associated badges. But let's not wait any longer, let's check out the details.

HIVE
Still a bit of a slow down here, quite similar compared to last month. That means I only powered up the bare minimum with 10.666HP. I also only sent 1.666HBD to savings. It's obviously more symbolic than anything else, but I just didn't want to not send anything to savings at all. Small numbers this month, but like I always say, steady is the name of the game, a little bit every month will pay off eventually.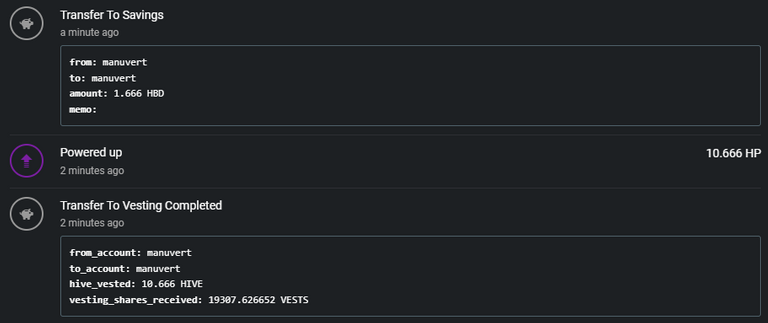 As for the account growth, it was pretty steady as well. Starting the month at 2748HP, I finished at 2829HP. 81HP is a little less than last month, but still ahead of my revised target of 2.5HP added every day. I wasn't sure I could keep this target (from my 2HP previous one), but it seems it worked out okay.
Taking into account today's Power Up, I am now at 2839HP, 91HP more than last month. That's the confirmation: still a little slow down, but still progressing, and for sure in line with my original targets.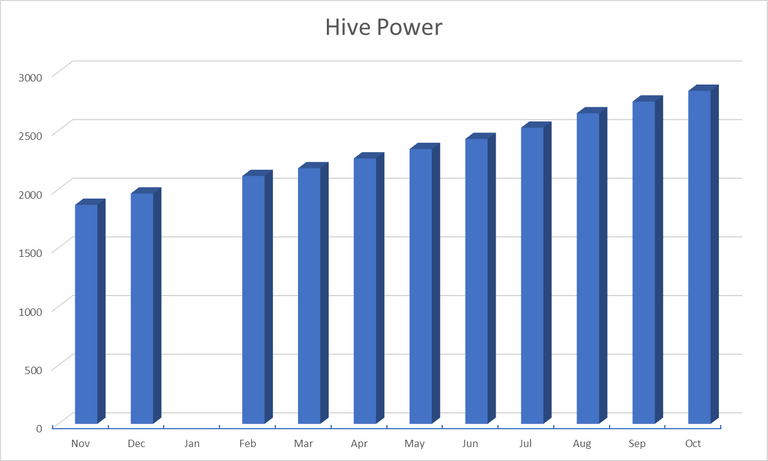 SPORTS
Seems that I just repeat myself every month here, but I still don't know what to think of this token. However, I could achieve what I was hoping for, and reached the 10M milestone by the end of September. I added almost 450k to my stake this month, which is a pretty decent month, especially for something I don't focus on as much as I used to do.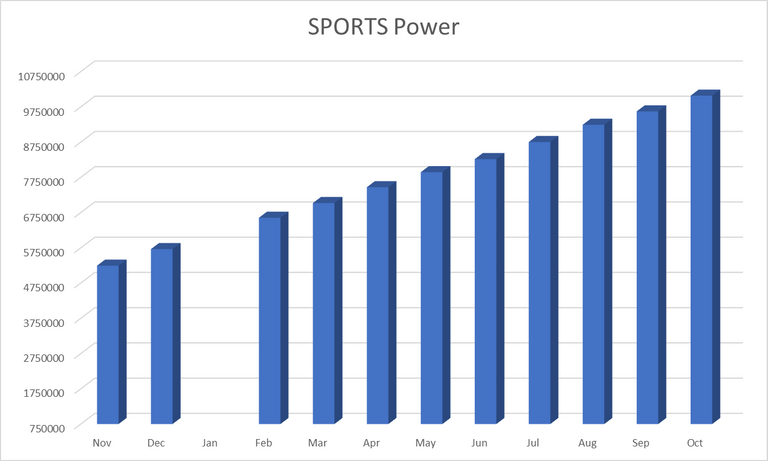 DUNK
We're getting very close to the NBA new season, so hopefully this tribe will get revived. Right now, it's pretty dormant, and instead of wasting my stake, I delegated it to get some $LOLZ dividends, and it's been a decent return. I'll keep it there for now.


ALIVE
On the other side of the spectrum, the We Are Alive tribe with plenty of things happening, and more members every day, and of course the #AliveAndThriving project. A little over 700AP added to my stake this month, that's more than last month, and I hope to keep similar growth in the months to come.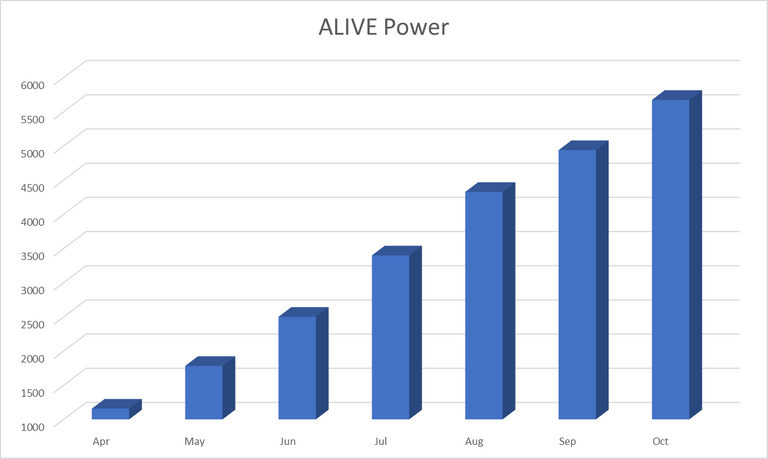 Targets
Two months in a row, I thought I couldn't make the 2.5HP daily increase, but I did. I really think this month it will be difficult to achieve again, but let's be aggressive and go for it!
With SPORTS, now that the 10M milestones is reached, I am not sure what target to set for myself. I'll just stake everything I make and see where it gets me.
For DUNK, like I said, let's wait for the NBA new season and see what happens then.
With ALIVE, the 5k milestones is reached. New logical target is 10k, but it will take time of course. I am hoping to keep adding about 150 to 175AP every week.
With a few delegations and compounding, I increased again very slightly the drip tokens in my account, especially DHEDGE and UTOPIS. I will keep doing so, I see that as an easy passive income in the future.
Same thing with HUSTLER, COM and LIST. It's growing slowly, but like I said last month, I like the 'cross-dripping' of these tokens.
I mentioned $LOLZ and $FUN for the first time last month. It's also growing slowly. I am now fairly confident I can get to 512 $LOLZ before the end of the year (and even quite sooner), so I can start getting some dividends.
And a final word: I started looking a lot more at liquidity pools this month. It appears as a good way to get high APR in various tokens. I started adding some very tiny amounts there, and will try and increase that with time.
That is it for this month: slow and steady again! Like I said, it's already late in the day, and I was really hoping to go for a night run, so I will conclude here and wish you a great October ahead!
Posted Using LeoFinance Beta
---
---