Longest run since May
I just finished a 13.466km running that lasted about 1hh:4mm:29ss !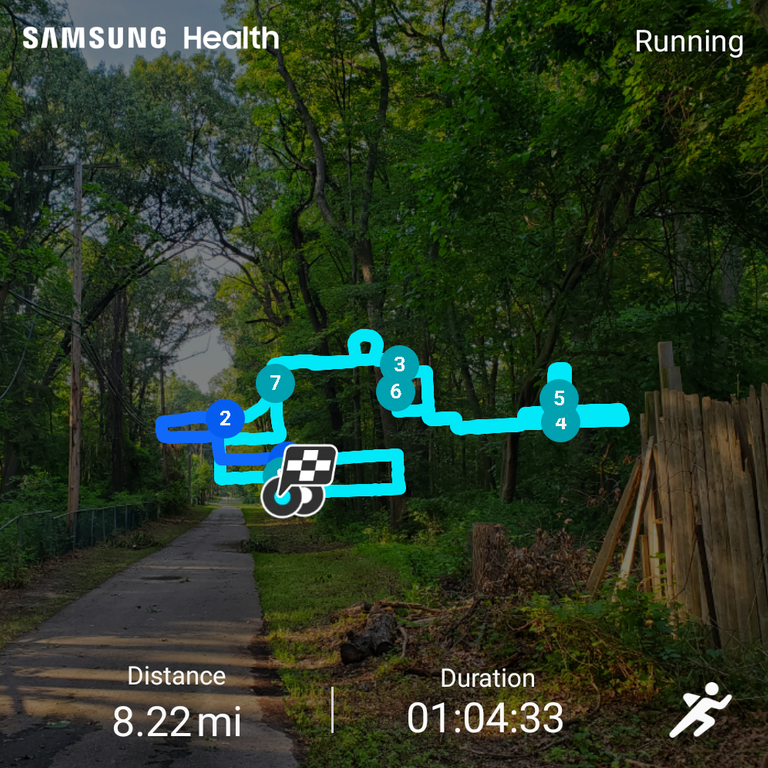 Yes, I know, I know, I keep doing the exact opposite of what I said I should try... Instead of running shorter distances at faster paces, my runs gets longer... There is a somewhat reasonable explanation though: the past few runs, when I start, I don't feel like I have the energy to run fast, but after a couple of miles, when I get into a good stride, I feel like I can run much longer, and so I do! And tonight, the pace didn't change much compared to last run, even if added almost a mile. The start was difficult though, my legs were quite sore from Friday run and it took slightly longer to loosen them up, even though it was very hot, still around 83F at 9pm (or 28 degrees Celsius). But again, after that, I felt I could run some miles. Only the last part really got difficult, and I had to trick my brain with a lot of 'just 10 more minutes, come on, 5 minutes, etc...'. In the end, the overall pace isn't even that bad with 7:42 min/mile.
The route was very different from my usual. I started heading East, which I almost never do. Then 2 left turns to go full West to come back to more familiar streets. East again all the way to one major road, I wasn't expecting to hit it so soon. So I went back and after a few zig and zags again, I was back in known terrain. Since I started just a couple minutes before 9pm, most of the run was of course in the dark. At the end, it was a bit tricky, car headlights can be very blinding. Luckily the terrain is flat and smooth.
And that's 135km for July, already 30km more than last month and above the 120km total I hope to reach every month. But it's not done, I still have 3.5 days before I leave the country for 3 weeks (I should still be able to run there sometimes, but there will probably be a few days break), so I believe there is a chance to reach 150km and for sure it will be my monthly record since I started monitoring my running stats. We will see...
Till then, keep Exhausting!
Check out some detailed info at my EXHAUST page
Join me in testing out EXHAUST!
---
---