El Bayern Munich es una autentica aplanadora - Análisis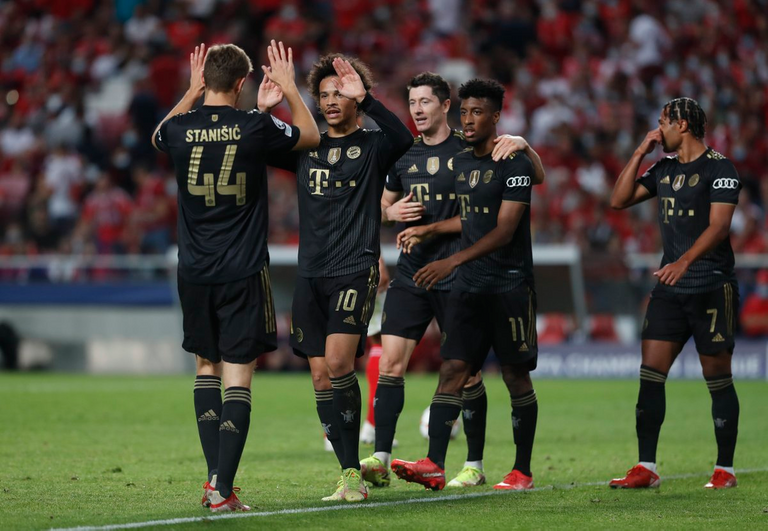 Español
Ayer se cumplió con el resto de partidos de esta hermosa jornada de Champions que nos regaló un total de 59 goles en 16 partidos, 35 el día martes y 24 el día miércoles, una autentica locura que registró un promedio de 3.69 goles por partido, una cifra bastante elevada que habla mucho de lo emocionante que fue cada partido disputado en suelo europeo.
Un club que se unió al festín de las goleadas en esta jornada fue el Bayern Munich, propiciando un total de 4 goles en su visita a la casa del Benfica, un resultado que se quedó corto para la innumerable cantidad de ocasiones que generó en el partido el conjunto alemán, que incluso antes del minuto dos de partido ya tenían una ocasión completamente clara que sacaba el portero rival y que ayudaba a mantener el cero de momento en el marcador, un Bayern aplastante, que no espera para saber cómo jugará el rival, sino que sale a asfixiar y dejar sin oportunidades a cualquier equipo que se le ponga en frente, hoy en día me atrevería a decir que el conjunto alemán es uno de los clubes más fuertes de toda europa, uno con el que pocos rivales muestran recursos para hacerle frente, y en donde la mayoría terminan siendo sencillamente destrozados por su nivel de juego.
English
Yesterday the rest of the matches of this beautiful day of Champions League were played, which gave us a total of 59 goals in 16 matches, 35 on Tuesday and 24 on Wednesday, a real madness that registered an average of 3.69 goals per match, a fairly high figure that speaks volumes about how exciting each match played on European soil was.
One club that joined the feast of goals in this day was Bayern Munich, scoring a total of 4 goals in their visit to Benfica, a result that fell short for the innumerable amount of chances that the German team generated in the match, which even before the second minute of the match already had a completely clear chance that the rival goalkeeper saved and that helped to maintain the zero for the moment on the scoreboard, A crushing Bayern, which does not wait to know how the opponent will play, but goes out to suffocate and leave no chances to any team that gets in front of them, today I would dare to say that the German team is one of the strongest clubs in Europe, one with which few rivals show resources to face them, and where most of them end up being simply destroyed by their level of play.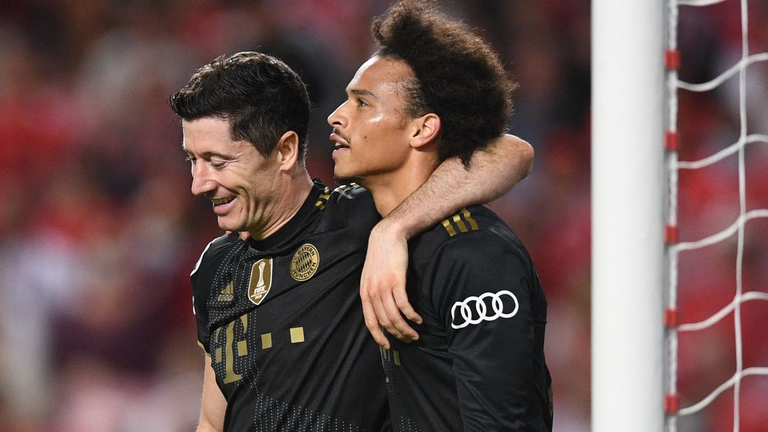 ¿Qué hace que este equipo juegue tan bien? || What makes this team play so well?
No soy un experto en fútbol, pero los 25 años que llevo siguiendo este maravilloso deporte me brindan la experiencia para deducir o generar supuestos que me permitan determinar algunas de las razones que acrediten el formidable trabajo realizado por el Bayern Munich.
El primer aspecto a mencionar es la capacidad física del Bayern, los 11 futbolistas en cancha corren al mismo ritmo durante los 90 minutos de juego, el cansancio no es un factor que les afecte y la frescura en el terreno de juego les permite mantener una idea de juego muy concreta y efectiva, el día de ayer se pudo notar en un partido en el que llegaban las ocasiones, el balón no ingresaba a la red pero se mantenían firmes y con la misma intensidad de juego, mientras que el Benfica simplemente iba disminuyéndose y viendo más grises sus ideas y opciones de juego.
I am not a soccer expert, but the 25 years that I have been following this wonderful sport give me the experience to deduce or generate assumptions that allow me to determine some of the reasons for the formidable job done by Bayern Munich.
The first aspect to mention is the physical capacity of Bayern, the 11 players on the field run at the same pace during the 90 minutes of play, fatigue is not a factor that affects them and the freshness on the field allows them to maintain a very concrete and effective game idea, Yesterday's game was a match in which the chances came, the ball did not enter the net but they kept firm and with the same intensity of play, while Benfica was simply decreasing and seeing their ideas and game options grayer.
---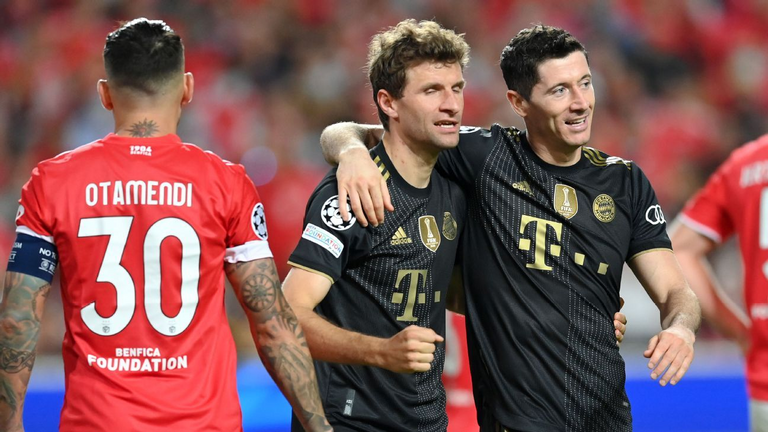 Experiencia y juventud, el Bayern ha tenido que ir renovando como cualquier equipo sus lineas, han visto como grandes futbolistas de su plantilla han cumplido su etapa y se han ido por la puerta grande, y los que quedan aportan virtudes a las nuevas generaciones del club. Manuel Neuer, Robert Lewandowski y Thomas Müller ofrecen espíritu y se contagian de las energías de la juventud de la plantilla, su muy buen futbol contempla un Feedback con los demás jugadores, prevaleciendo la calidad y verticalidad de un equipo que nunca se ve conforme con el marcador y que siempre va por más, comprendiendo perfectamente el hecho de que un partido dura 90 minutos y que la mejor forma de respetar a un rival es jugando al máximo nivel durante todo el partido. Ayer, el Benfica probó un poco de extrema calidad y supo aguantar un partido que se le escapó de las manos a partir del minuto 70.
Experience and youth, Bayern has had to renew like any other team its lines, they have seen how great players of their squad have completed their stage and have left through the big door, and those who remain bring virtues to the new generations of the club. Manuel Neuer, Robert Lewandowski and Thomas Müller offer spirit and are contagious of the energies of the youth of the squad, their very good soccer contemplates a feedback with the other players, prevailing the quality and verticality of a team that is never satisfied with the scoreboard and always goes for more, understanding perfectly the fact that a match lasts 90 minutes and that the best way to respect an opponent is playing at the highest level throughout the match. Yesterday, Benfica showed a little bit of extreme quality and was able to hold on in a match that got out of hand from the 70th minute onwards.
---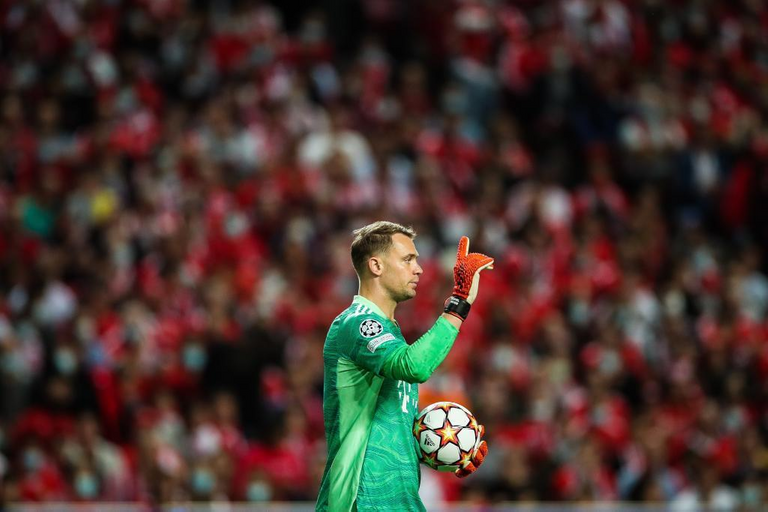 Garantía y confianza, son dos elementos con los que cuenta el equipo, en todas sus lineas el Munich demuestra fortalezas, incluso en donde no las hay buscan la forma y se las inventan, siempre hay una opción que les resulta efectiva y que los conduce al éxito, las buenas decisiones hacen parte del lema de un equipo ganador, Neuer es un portero formidable, su confiabilidad permite que el equipo juegue tranquilo, y verticalice sin miedo, la defensa es modesta pero contundente, la incorporación de Upamecano ha sido una gran apuesta, siendo un jugador joven, que aún comete ciertos errores pero que tarde o temprano perfeccionará su juego, de igual forma sucede en otras posiciones, Davies con tan solo 20 años es titular indiscutible en el club, y Musiala empieza a deslumbrar con un fútbol de alto nivel con tan solo 18 años, el Bayern demuestra que el trabajo que realizan es bastante efectivo a excepción de algunos malos días en los que los buenos partidos no se dan, algo que demuestra lo humanos que son.
Guarantee and confidence are two elements that the team has, in all its lines Munich shows strengths, even where there are none, they look for ways and invent them, there is always an option that is effective and leads them to success, good decisions are part of the motto of a winning team, Neuer is a formidable goalkeeper, his reliability allows the team to play calmly, and verticalize without fear, the defense is modest but forceful, The incorporation of Upamecano has been a great bet, being a young player, who still makes some mistakes but sooner or later he will perfect his game, the same happens in other positions, Davies with only 20 years old is an undisputed starter in the club, and Musiala begins to dazzle with a high level soccer with only 18 years old, Bayern shows that the work they do is quite effective except for some bad days when good games are not given, something that shows how human they are.
---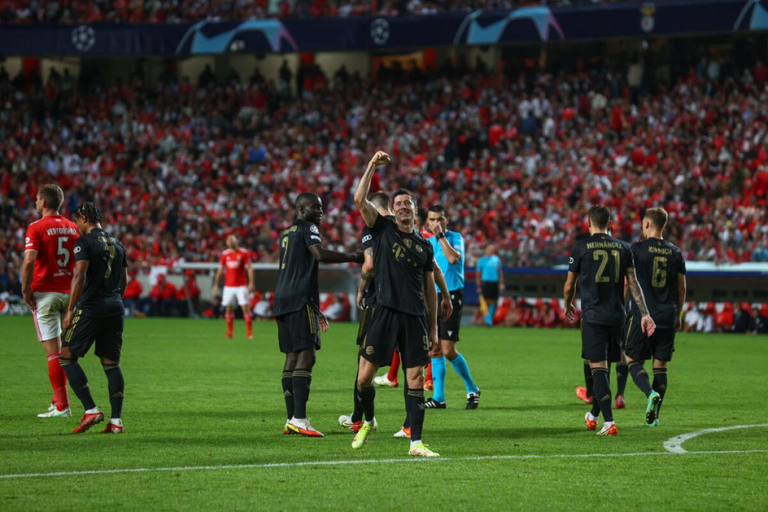 Podría pasar todo el día hablando de virtudes de este gran equipo, aunque también hay que estar claros que para ganar la Champions se necesita mucho más que buen fútbol y buenos nombres, este torneo está hecho para equipos que dejen todo en el campo y se amotinen sin piedad contra sus rivales, este año se espera mucho del Bayern, aunque hay un Ajax, un PSG, un Chelsea y un Manchester City que aguardan en silencio para las fases decisivas.
I could spend all day talking about the virtues of this great team, although we must also be clear that to win the Champions League you need much more than good soccer and good names, this tournament is made for teams that leave everything on the field and rampage mercilessly against their rivals, this year much is expected of Bayern, although there is an Ajax, a PSG, a Chelsea and a Manchester City that await quietly for the decisive stages.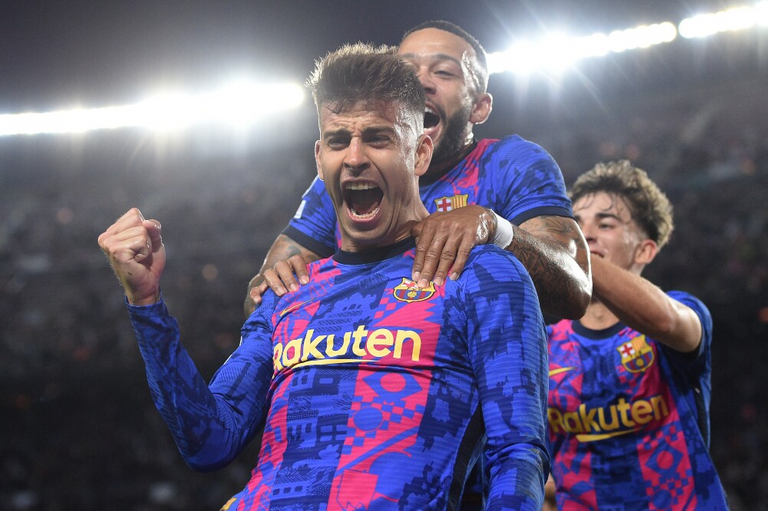 Hablando un poco de los demás encuentros del día de ayer, el FC Barcelona consiguió una victoria por la mínima diferencia ante el Dinamo de Kiev, un rival que no ofreció mayores problemas, y con el que afortunadamente alcanzó más que un gol para alzarse con el triunfo y tomar un nuevo aire en esta fase de grupos. Por su parte, el Manchester United remontó un partido épico contra el Atalanta, luego de ir perdiendo 0x2, terminaron remontando el encuentro con goles de Rashford, Maguire y el gol de la remontada lo conseguía Cristiano Ronaldo, con esta victoria ahora el United es puntero en su grupo escoltado por el Villareal.
En otro de los partidos destacados, el Chelsea se impuso 4x0 en un partido sin mayores problemas para los ingleses ante el Malmo, El Villareal asaltó Suiza y se llevó los tres puntos ante el Young Boys en una dura visita a tierras ajenas, 1x4 fue el marcador final. La próxima semana no habrá Champions y se retomará el certamen los días 2 y 3 de noviembre.
Talking a little about the other matches yesterday, FC Barcelona won by the minimum difference against Dynamo Kiev, an opponent that did not offer major problems, and with which fortunately was more than a goal enough to win and take a new breath of fresh air in this group stage. For their part, Manchester United came from behind in an epic match against Atalanta, after losing 0x2, they came from behind with goals from Rashford, Maguire and the goal of the comeback was scored by Cristiano Ronaldo, with this victory United is now top of their group escorted by Villareal.
In another outstanding match, Chelsea won 4x0 in a match without major problems for the English against Malmo, Villareal assaulted Switzerland and took the three points against Young Boys in a tough visit to foreign lands, 1x4 was the final score. Next week there will be no Champions League and the competition will resume on November 2 and 3.

Fuente de imágenes || Source of images
---
1 - 2 - 3 - 4 - 5 - 6 - 7

---

---
---